Tangy goat cheese, lemon zest, and fresh thyme make this Mini Goat Cheese Cheesecake recipe a decadent dessert. With a rich, creamy filling baked over a crunchy lemon cookie crust, it's hard to resist these little personal-size desserts!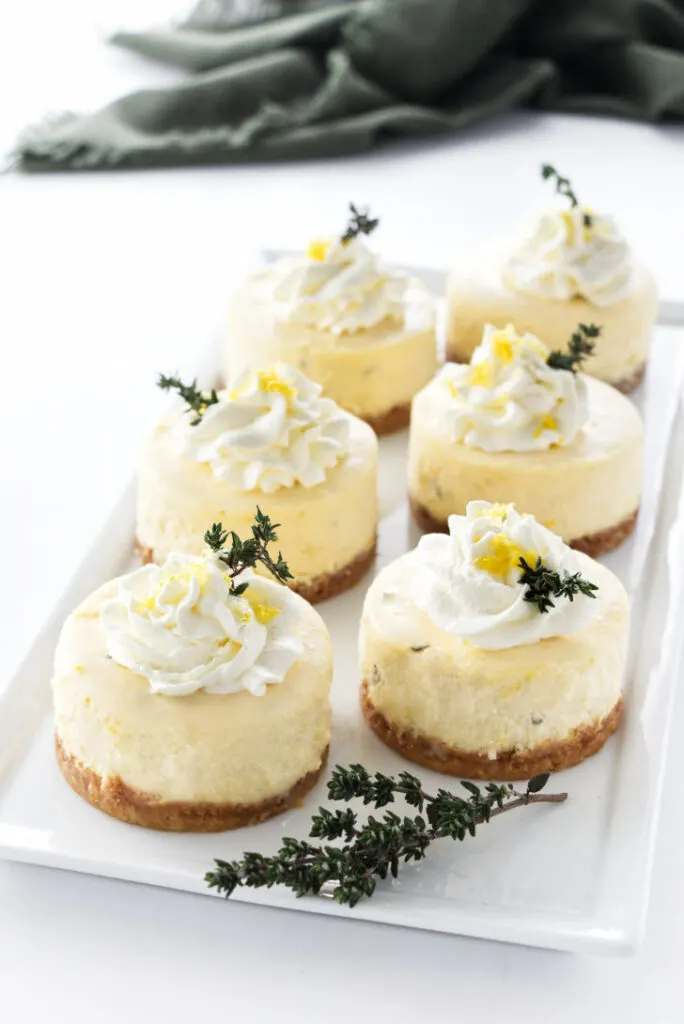 These mini cheesecakes are a make-in-advance dessert that can be whipped up in less than an hour. If you're looking for a dessert with a special flair for your next dinner party or family gathering these small treats would be perfect!
Herbs are not just for savory recipes, they taste great in desserts as well. The thyme in these cheesecakes adds a subtle flavor that compliments the lemon flavor.
Other herbs like rosemary go well with chocolate as in our rosemary chocolate chunk cookies and our chocolate-dipped rosemary almond brittle. It also goes well with lemon and we added it to our rosemary lemon loaf.
If you are looking for more delicious recipes check out our Chocolate Amaretto Mousse, the easy eggless Tiramisu, or our Chocolate Mint Tart. If you're are looking for a lighter dessert to finish off that spectacular dinner, Roasted Apples and Aged Goat Cheese would be a refreshing option.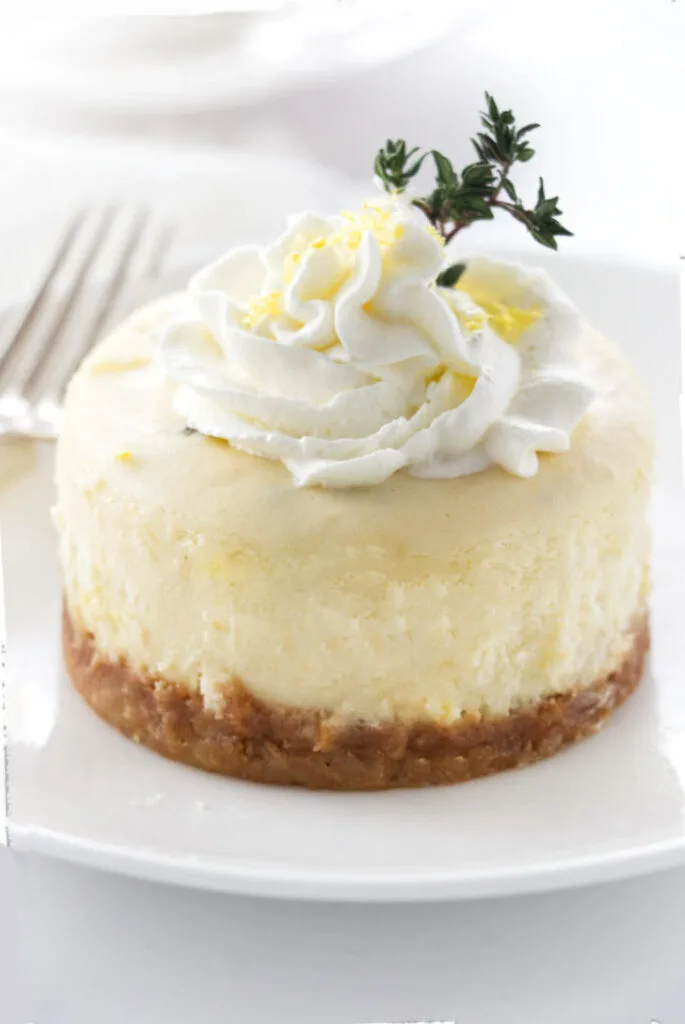 Ingredients Needed to Make Mini Goat Cheese Cheesecakes:
There are only a few ingredients required to make these rich and creamy mini cheesecakes. We love the crunchy crust from the lemon Oreo cookies (affiliate link) and it is a welcome change from the standard graham cracker crust.
If you are wondering why we are not using just the rich, creamy goat cheese, the answer is that goat cheese by itself does not result in a stable, creamy cheesecake. The texture will be crumbly without adding cream cheese. Here is the list of ingredients and some notes:
Lemon Oreo Sandwich Cookies. You can also make your own crispy lemon cookies.

Butter. You can use salted or unsalted butter.

Goat cheese. Make sure you purchase un-aged soft goat cheese. It is usually sold in logs.

Cream cheese. Use the type of cream cheese that comes in blocks, not the kind that comes in tubs and gets used to spread on bagels.

Sugar. Granulated white sugar.

Cornstarch. Makes the cheesecake slightly firmer.

Eggs. Let the eggs come to room temperature.

Vanilla extract. Vanilla enhances the flavors.

Fresh thyme leaves. Any variety of thyme will work but if you can find lemon thyme, use that.

Lemon zest. Use a microplane (affiliate link) to get very fine zest.
How to Make These Mini Goat Cheese Cheesecakes:
You will spend more time zesting the lemons and striping the leaves from the thyme sprigs than mixing up the batter for these little cakes. The cheesecakes are baked at a low oven temperature to prevent cracking and overbaking. Here's a brief run-down on the process.
Please Scroll down to the printable recipe card for all the details.:
Make the cookie crust and spoon it into the cavities of a mini cheesecake pan. Bake until crisp around the edges.
Reduce the oven temperature before you bake the cheesecakes.
Make the filling and spoon it on top of the prebaked crusts.
Bake the cheesecakes at a low temperature.
Turn off the oven, leave the pan in the oven for 20 minutes with the door slightly cracked.
Remove from the oven and finish cooling on a wire rack, then refrigerate overnight.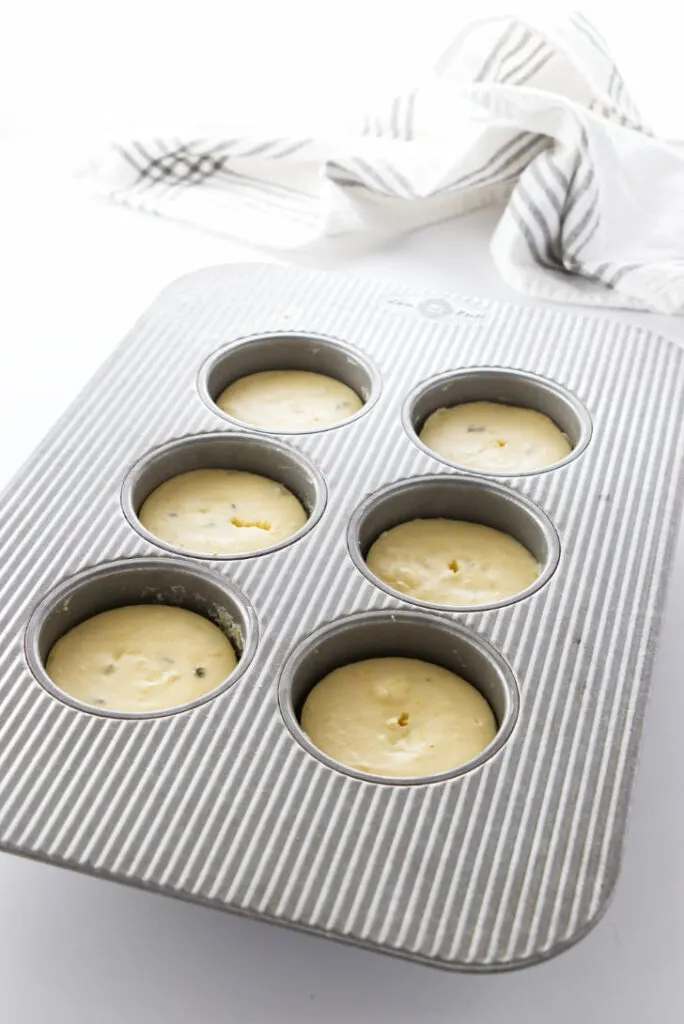 When ready to serve these desserts, garnish each one with a swirl of whipped cream, lemon zest, and a sprig of fresh thyme.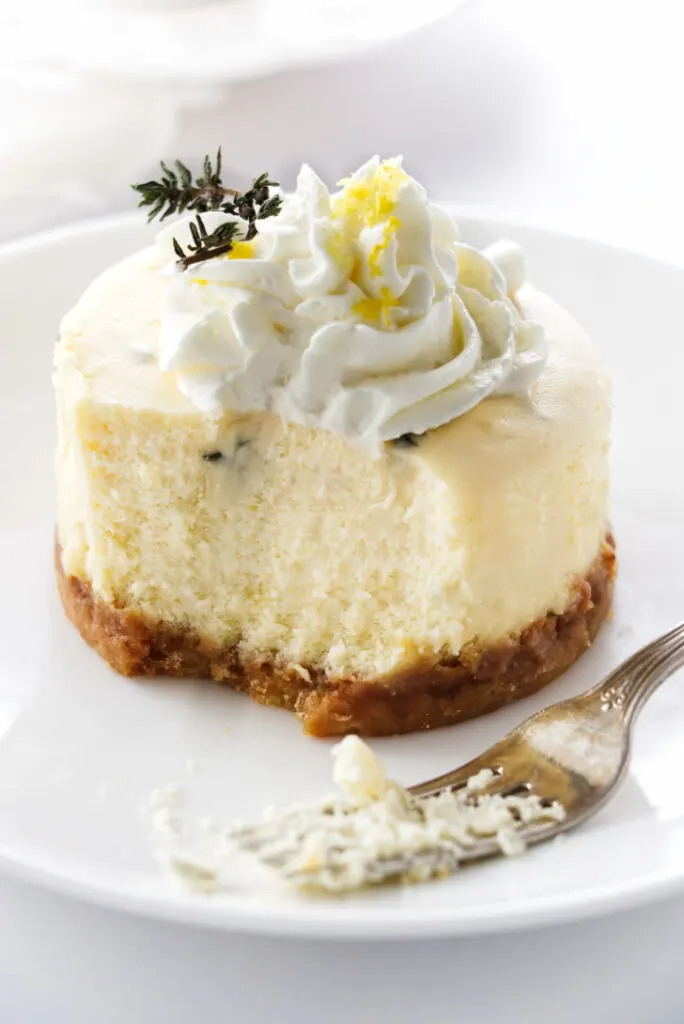 What if I Don't Have A Mini Cheesecake Pan?
Oh, I know not everyone has one of these specialty pans, but they are such fun and can create the cutest little cheesecakes. Our chocolate covered strawberry cheesecakes are a great example.
Here is a link to the mini cheesecake pan we used (affiliate link).
You can substitute a cheesecake pan with a standard size muffin pan although they would be about half the size. If you use muffin pans, reduce the baking time to 30 to 35 minutes.
More Chilled or Frozen Desserts
Some Other Recipes We Are Sure You Will Love:
This is a rich, decadent Chocolate Caramel Tart. The tender shortbread crust is filled with a truffle-like chocolate custard, a layer of thick caramel, covered with ganache and sprinkled with flaky salt! What a dream dessert!
This is a gluten-free dessert! A Flourless Chocolate Cake that everyone will want seconds of. It is velvety smooth with an intense chocolate flavor that is unforgettable!
Move over, pumpkin pie and make room for our Pumpkin Mousse! This recipe makes the most deliciously light and airy dessert! It may just become one of your favorite pumpkin desserts.
Connect With Savor the Best:
Please follow us on our social media accounts
Facebook * Instagram * Pinterest * Youtube * Twitter
Did you make this recipe? We would love to hear from you. Drop us a comment below.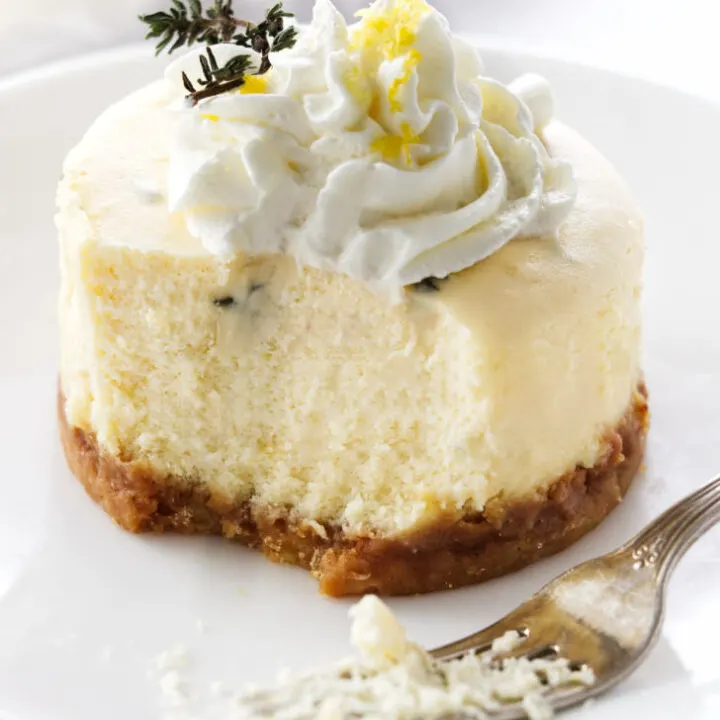 Mini Goat Cheese Cheesecakes
Total Time:
1 hour
20 minutes
A crunchy lemon-flavored crust is the base for these personal size cheesecakes. The tangy flavor of the goat cheese compliments the flavor of lemons and fresh thyme in these decadent mini goat cheese cheesecakes.
Ingredients
For the Crust:
12-14 Lemon Oreo Sandwich cookies
2 tablespoons butter, melted
For the Custard Filling:
10 ounces goat cheese log, room temperature
12 ounces cream cheese, room temperature
2/3 cup sugar (134 grams)
1 tablespoon cornstarch
3 large eggs, room temperature
1 egg yolk
1 teaspoon vanilla extract
1 tablespoon thyme leaves
Grated zest of 3 lemons
Instructions
For the Crust:
Preheat the oven to 350°F and coat the bottom and sides of a 6-cavity cheesecake pan with oil spray. Set aside.
Place the cookies in the bowl of a food processor and process them to fine crumbs. Tip the crumbs into a bowl and stir in the melted butter.
Spoon the mixture in equal portions into the cavities of the cheesecake molds, pressing with your fingers or the flat bottom of a water glass.
Place the pan on a rimmed baking sheet and transfer to the oven, bake for 10 minutes. Remove from the oven and cool before filling.
Make the Custard:
Reduce the oven temperature to 225°F
Place the goat cheese and cream cheese in a mixing bowl. Use an electric mixer and beat for one minute to break up the cheeses.
Add the sugar and cornstarch and beat on medium-high speed for 3-4 minutes until smooth and creamy. Be sure to stop the motor at least twice to scrape down the sides and bottom of the bowl.
Reduce the speed to low and add the vanilla, then add the eggs and yolk, one at a time, blending well before adding the next egg. Scrape down the sides and bottom of the bowl occasionally.
Stop the motor and stir in the thyme and lemon zest by hand.
Spoon the mixture equally into the 6 cavities of the prepared pan, filling almost to the top. (you may have a little batter left that you can spoon into a custard dish and bake).
Set the cheesecake pan back on the baking sheet and transfer it to the oven.
Bake for 48 to 55 minutes until set. An instant read thermometer will read 145-147 when done.
Turn off the oven and leave the pan in the oven for 20 minutes to cool slowly. Use a wooden spoon to keep the oven door cracked open about 2-inches.
Remove the mini cheesecakes from the oven and finish cooling on a wire rack, then refrigerate overnight.
To serve, remove the cheesecakes from the pan by running a thin knife around each one and push up from the bottom, place on a serving plate.
Garnish each serving with whip cream, lemon zest, and a sprig of fresh thyme.
Notes
For best results, the cheeses and eggs should be at room temperature.
The cavities of the mini cheesecake pan each hold 8 ounces. Custard dishes or jumbo muffin pans can be substituted for a mini cheesecake pan. If you use standard-sized muffin pans, reduce the cooking time to 30 to 35 minutes.
Set the pan on a larger sheet pan when baking the crusts and the filled pan
Be sure to reduce the oven temperature after removing the crusts from the oven.
There may be a little batter remaining after filling the cavities, spoon it into a custard cup and bake.
An instant-read thermometer makes it easy to perform multiple quick checks without leaving the oven door open too long.
Recommended Products
As an Amazon Associate and member of other affiliate programs, I earn from qualifying purchases.
Nutrition Information:
Yield:

6
Serving Size:

1
Amount Per Serving:
Calories:

791
Total Fat:

52g
Saturated Fat:

28g
Trans Fat:

0g
Unsaturated Fat:

14g
Cholesterol:

201mg
Sodium:

679mg
Carbohydrates:

64g
Fiber:

2g
Sugar:

43g
Protein:

19g
Nutrition information is a guideline only, is calculated automatically by third-party software, and absolute accuracy is not guaranteed.