This flourless chocolate cake will be an elegant finish to a fine-dining experience. Rich and velvety smooth with an intense chocolate flavor that is unforgettable! This is truly a chocolate-lover's dream dessert.
Our flourless chocolate cake is made with only three ingredients, yes, only three! It is amazing that a dessert that tastes like heaven includes just three ingredients. This cake is dense, rich and decadent with a flavor reminiscent of the inside of a chocolate truffle.
To create this incredibly easy dessert you will need only chocolate, butter, and eggs, which we are betting you already have on hand.
The cake takes just minutes to mix together and 15 minutes to bake. The most difficult thing about making this cake is waiting a couple of hours for it to firm up after it is baked. You will be rewarded with a confection that is so rich and intensely chocolatey that you really only need a small slice.
Choose the finest quality of chocolate for this dessert even if it means paying a little more money than you normally would as it will be well worth the extra cost.
The chocolate and butter are melted together and while they are cooling down, the eggs are whipped to the pale, ribbon stage.
The chocolate-butter is folded in and the batter is poured into a spring-form pan set into a water bath and baked for 15-minutes in the oven. That's it! We promise you that this flourless chocolate cake will impress even the most sophisticated guest.
This cake is an adaptation of the Chocolate Oblivion Torte in the Cake Bible by Rose Levy Beranbaum. We made a small but significant change to the ingredients by using salted butter instead of unsalted butter. That seemingly minor change magnifies the flavor of the chocolate.
If you don't have salted butter then just add a pinch of salt to the melted chocolate.
We served our flourless chocolate cake with some lightly sweetened whipped cream and a fast and easy raspberry sauce. The combination was absolutely sublime.
More Chocolate Choices: Chocolate Amaretto Mousse Intense Chocolate Cake with Cream Cheese Frosting Einkorn Brownies with Cocoa Nibs
How to make our Flourless Chocolate Cake
Yield: 10 servings
Flourless Chocolate Cake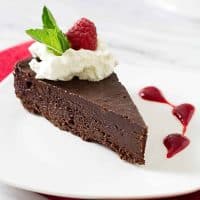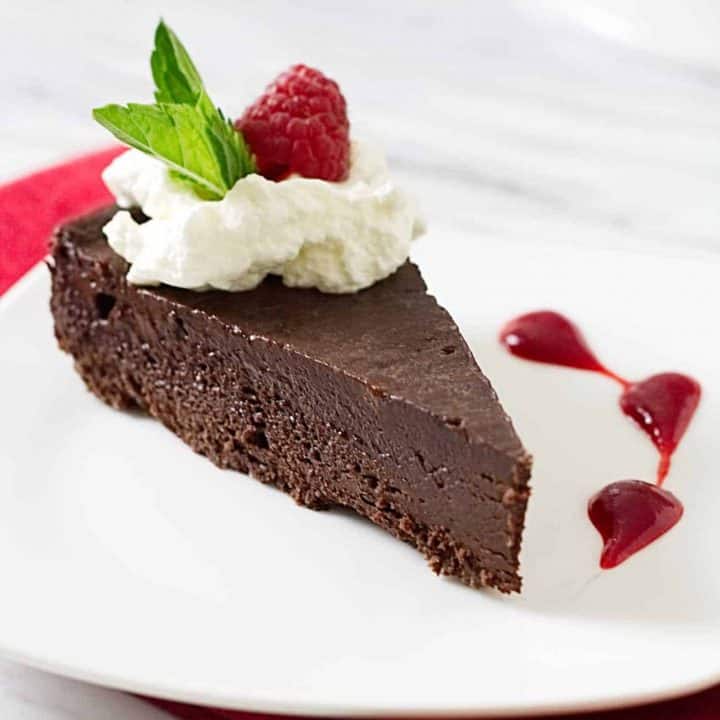 This flourless chocolate cake is made with only three ingredients and is incredibly easy to make. Rich and velvety smooth with an intense chocolate flavor that is unforgettable, this is truly a chocolate-lover's dream dessert.
Ingredients
Flourless Chocolate Cake
1 pound bittersweet chocolate, chopped (454 grams)
1/2 pound salted butter (2 sticks)
6 large eggs (at room temperature)
Easy Raspberry Sauce
4 cups fresh or frozen raspberries
1/4 cup sugar
1 tablespoon lemon juice
Instructions
For the Flourless Chocolate Cake
Preheat the oven to 425°F. Grease an 8 inch springform pan and line the bottom of the pan with parchment paper. Wrap the outside of the pan with heavy duty foil.
Combine the butter and chocolate in a large bowl. Place the bowl over a pan of hot water and stir occasionally until the chocolate is completely melted. (You can also melt the chocolate and butter in the microwave if you stop the microwave every 15 to 20 seconds to stir).
Optional step: While the eggs are still in their shells, place them in warm water (about body temperature or slightly warmer) for about 10 minutes. Warm Eggs will beat with a higher volume.
Crack the eggs into a large mixing bowl and whisk until tripled in volume and soft peaks form. This may take 4 to 5 minutes.
Using a wide spatula, fold 1/2 the egg mixture into the chocolate mixture until almost all the streaks are gone. Gently fold in the rest of the eggs until no streaks appear and all the chocolate is blended with the eggs.
Pour the batter into the prepared springform pan and smooth the batter with a spatula.
Place the pan into a larger pan and pour hot water into the larger pan until the springform pan is sitting in about 1 inch of water. Try not to get any water in the springform pan.
Bake for 5 minutes then cover loosely with foil and bake for another 10 minutes.
Remove from the oven and let cool at room temperature for 40 to 50 minutes. The cake will look wet and jiggly while it is still warm. After the cake comes to room temperature, cover it with plastic wrap and refrigerate it for 2 to 3 hours until firm.
To unmold
Run a thin spatula or knife around the sides of the pan and release the ring of the springform pan. Place a plate on top of the cake and invert the cake onto the plate.
Remove the bottom of the pan from the cake. If the bottom does not come off easily, place a hot rag on the bottom of the pan and it will release like a dream.
Remove the parchment paper then re-invert the cake onto a serving platter.
Serve with whipped cream and raspberry sauce.
Easy Raspberry Sauce
Place all the ingredients in a saucepan and cook over medium heat, stirring frequently for 10 to 12 minutes. Push everything through a strainer to remove the seeds.
Store the raspberry sauce in the refrigerator for 10 days or in the freezer for 1 year.
Notes
When the cake is finished baking, it will appear jiggly and undercooked. This is how you want it to look. The chocolate is still in a melted state at the time it is finished baking so the wet/jiggly appearance is normal. Once the cake cools, it will be perfectly firm, creamy and smooth. Do not bake it longer than the instructions indicate or the texture will become gritty.
Warm or room temperature eggs will beat at a higher volume than cold eggs. If you place the eggs (while still in their shell) in a bowl of warm water for a few minutes before beating them they will triple in volume with less time beating them.
Baking the cake in a water bath will create a creamier texture and prevent the edges from over-cooking.
This is a rich, indulgent chocolate cake and is best when served at room temperature.
Nutrition Information
Yield
10
Serving Size
1
Amount Per Serving
Calories 557
Total Fat 45g
Saturated Fat 27g
Trans Fat 1g
Unsaturated Fat 15g
Cholesterol 161mg
Sodium 201mg
Carbohydrates 28g
Fiber 13g
Sugar 9g
Protein 11g
Nutrition information is a guideline only, is calculated automatically by third party software, and absolute accuracy is not guaranteed.