If you like brownies, you will love this recipe for einkorn brownies with cocoa nibs! They have that wonderful rich chocolate flavor, enhanced with a little expresso coffee powder and a nice crunch from the cocoa nibs.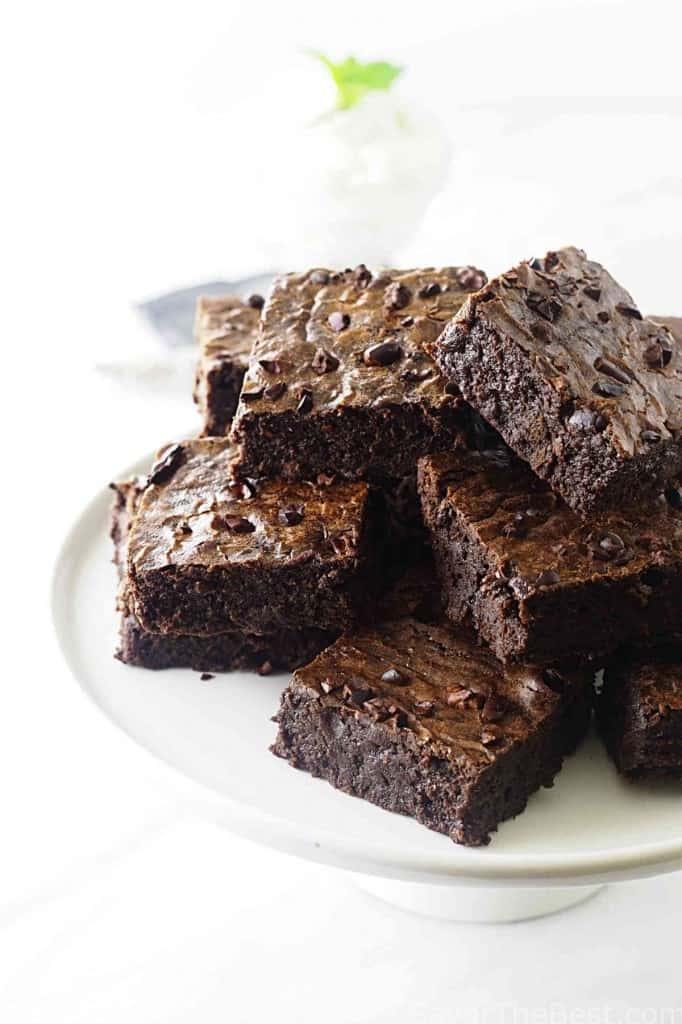 Chocolate is a 'love food' and Valentine's Day should be named Chocolate Lovers Day. Every year during Valentine's Day week manufacturer's sell almost 60 million pounds of chocolate in the United States. It is rumored that chocolate is an aphrodisiac, hmmmm.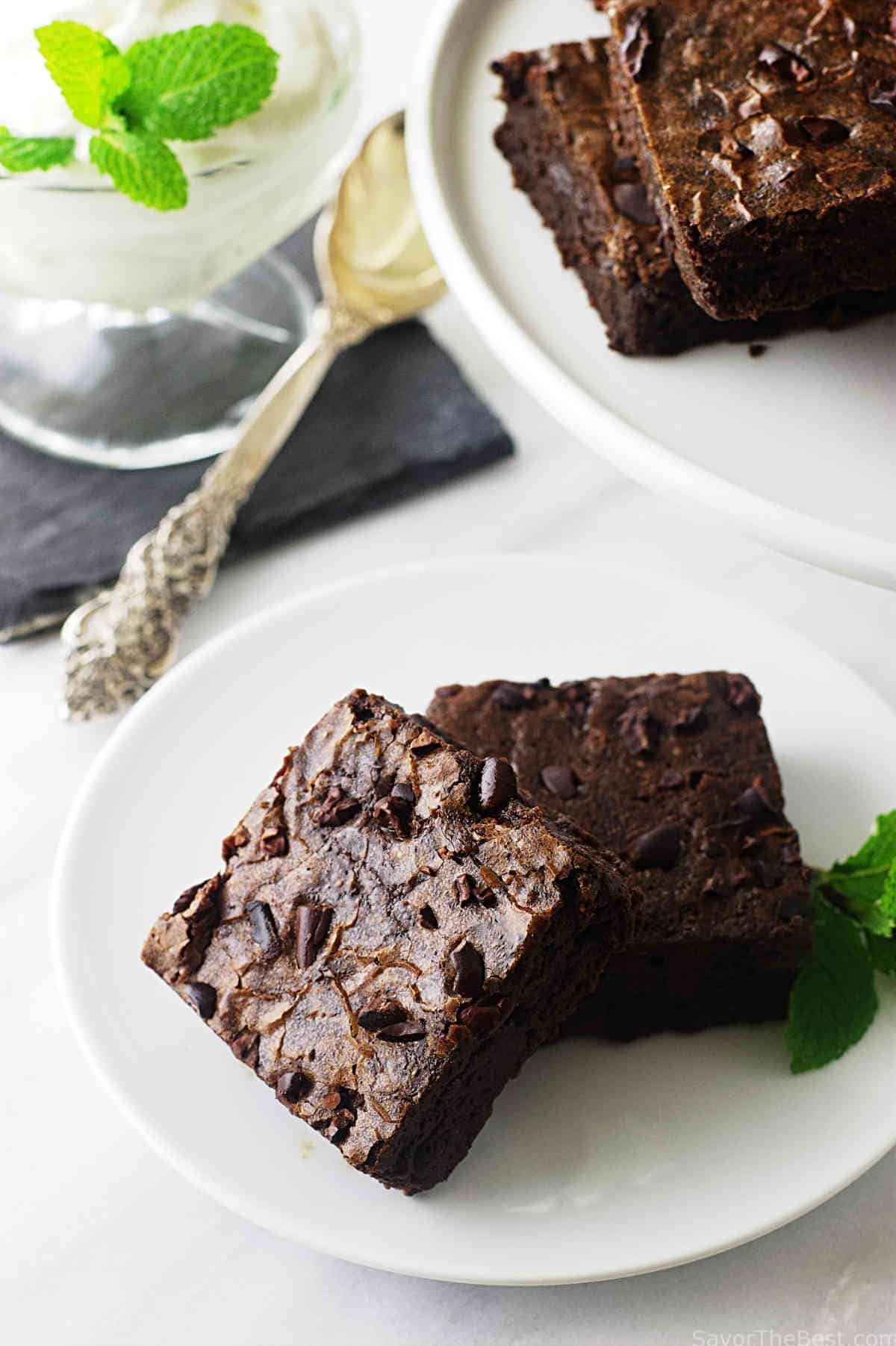 Chocolate has acquired a bad rap for being responsible for weight gain. But, in my opinion, it isn't the chocolate that is the bad-guy. It's the refined white sugar that the manufactures add to the chocolate. Medical research indicates that the dark, bittersweet chocolate has many health benefits.
When purchasing chocolate check the ingredient list and note the chocolate-to-sugar ratio. Generally, the higher percentage of chocolate, the less sugar will be in it. Milk chocolate will be the least healthy.
Einkorn Brownies with Cocoa Nibs:
These chocolate einkorn brownies are not just for February 14th though and after tasting one you will be making them again and again. They are easy to whip up and way too delicious for only one day per year.
This is a moist and gooey brownie treat and they have the full flavor of that love-potion, chocolate, they are decadent, and almost like eating a piece of fudge. Plus, those little cocoa nibs are just plain crunchy goodness. This is going to be a delightful dessert to top off that fabulous entrée, sake-red miso glazed sablefish with wasabi emulsion!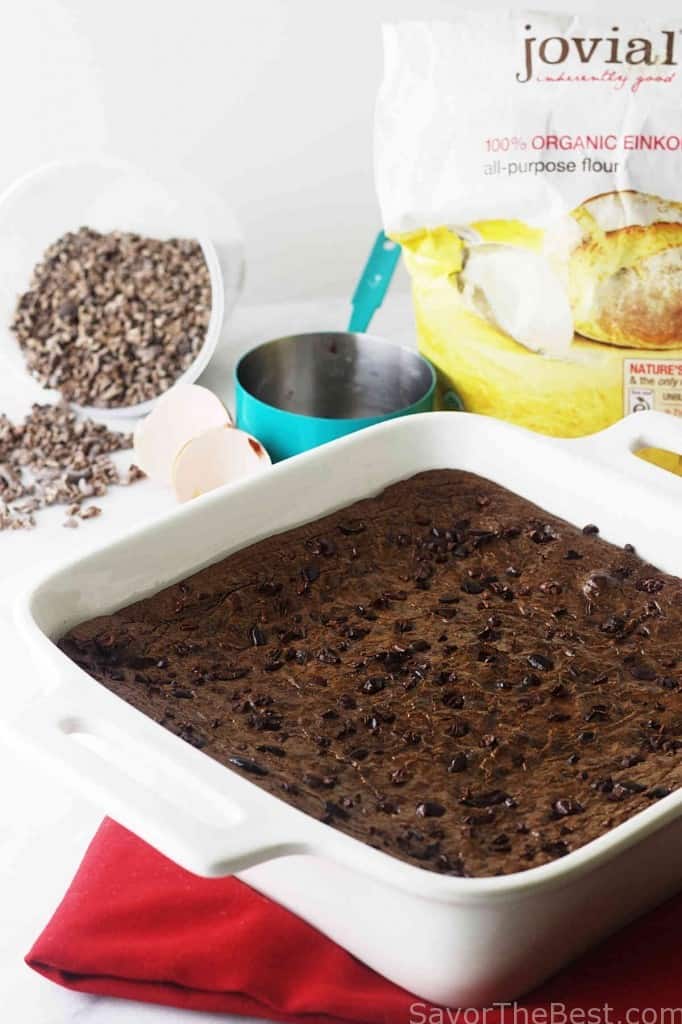 I have only recently been introduced to cocoa nibs and it was in a savory entrée of pork tenderloin crusted with cocoa nibs and chopped fresh rosemary. It was to die for.
What are Cocoa Nibs?
Cocoa nibs are chopped bits of roasted cocoa beans. They are the nature's purest form of chocolate. The cocoa bean is fermented, dried and roasted.
Once roasted the shell of the bean is removed, exposing the cocoa bean which is then chopped into bits of cocoa. At this point they are ground into cocoa powder or pressed into chocolate bars.
The cocoa nibs have a deep chocolate flavor and they are crunchy like nuts. If you have ever tasted chopped roasted coffee beans in cookies then you will have an idea of the crunch the cocoa nibs have in these brownies.
We chose to serve these sinfully delicious brownies with a dollop of unsweetened whipped cream. Oh, but a scoop of vanilla ice cream sounds wonderful, although that may just be 'over-the-top' too rich.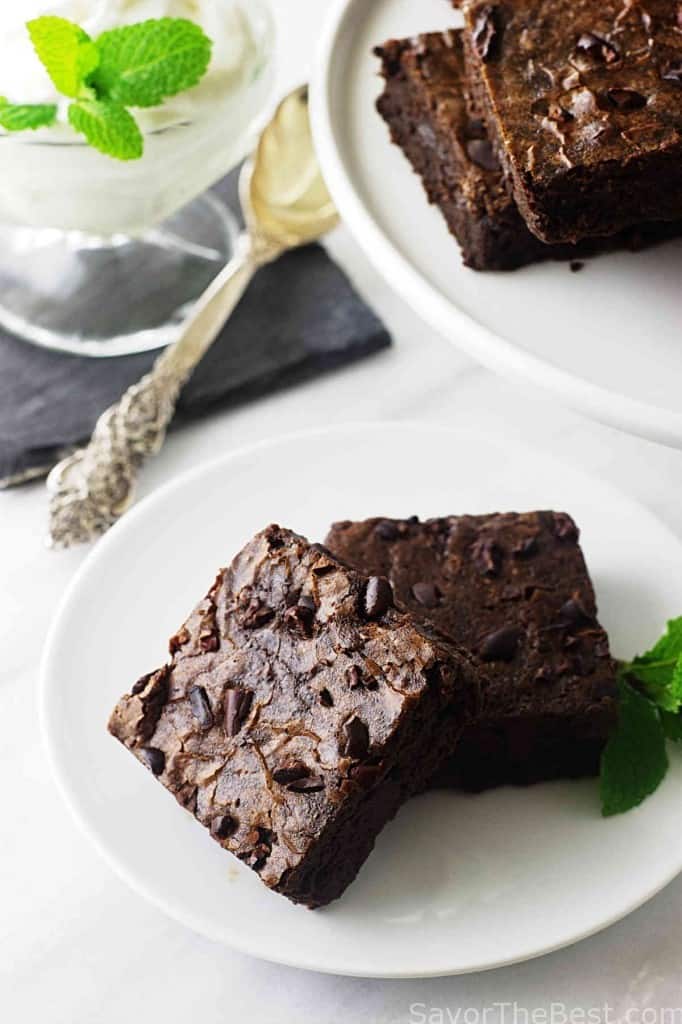 Other recipes using ancient grain einkorn flour: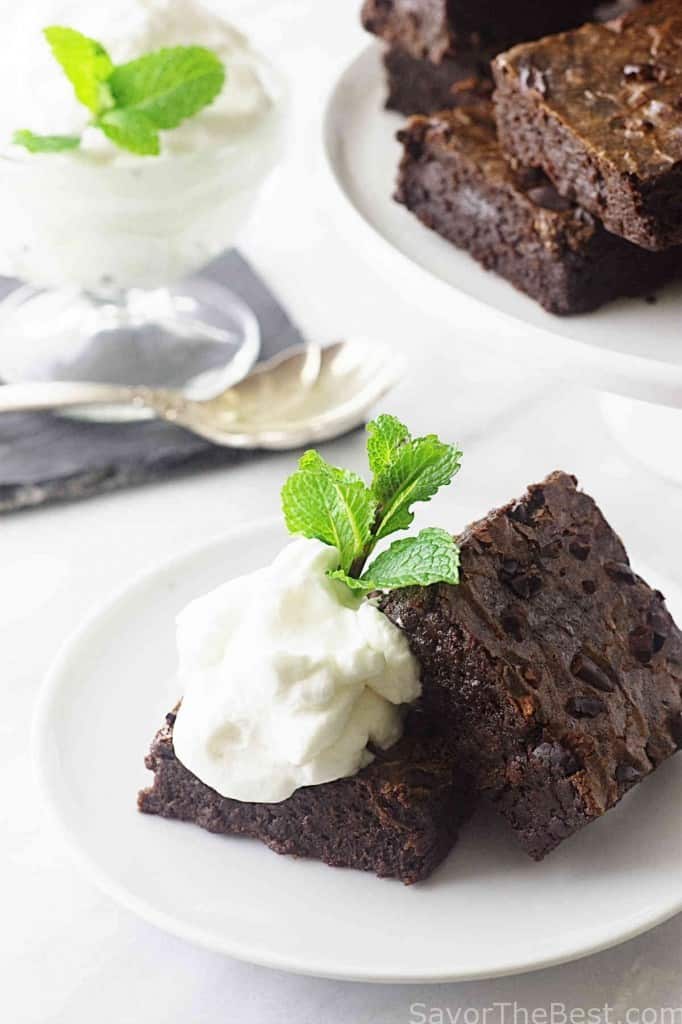 CONNECT WITH SAVOR THE BEST!
Be sure to follow us on our social media accounts
Facebook * Instagram * Pinterest * Twitter * Youtube
Did you make this recipe? We would love to hear from you. Drop us a comment below.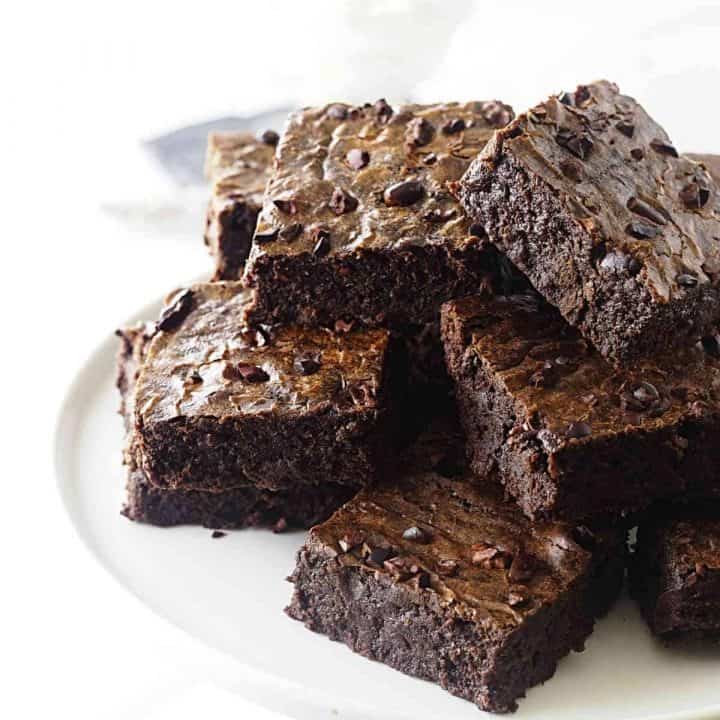 Einkorn Brownies with Cocoa Nibs
Yield: 16 servings
Prep Time: 20 minutes
Active Time: 30 minutes
Total Time: 50 minutes
Rich, moist and decadent brownies with cocoa nibs that give them some crunch. These brownies are fudgy and delicious guaranteed to please any chocolate lover!
Ingredients
8 ounces bittersweet chocolate, chopped
1-1/2 sticks butter (12 tablespoons)
1-1/4 cups coconut sugar or granulated sugar (300g)
1 teaspoon instant coffee espresso powder
1/2 teaspoon table salt
4 eggs, whisked well
2 teaspoon vanilla
1 cup All-Purpose Einkorn flour (120 grams)
1/2 cup cocoa nibs (60 grams)
Instructions
Preheat oven to 325°F Fit a piece of parchment paper to the bottom of an 8x8x2 ovenproof baking dish, allowing several inches to over hang on two sides. This will be used to lift the finished brownies from the dish after baked and cool. Spray the dish and parchment paper with cooking oil.
In a large saucepan set over low heat, add the chocolate and butter, stirring constantly until they are melted. Remove the saucepan from the heat and add the espresso powder, sugar and salt, stir until well combined. Let cool slightly, then gradually stir in the beaten eggs and the vanilla extract. Add the flour and stir until blended. Set aside 2 tablespoons of the cocoa nibs and fold the remainder of the nibs into the batter and pour the batter into the prepared baking pan. Sprinkle the top with the additional 2 tablespoons of cocoa nibs.
Bake the brownies in the center of the oven for 30-32 minutes, it should still be a little jiggly in the center but will firm up as it cools. Transfer to a cooling rack. Once cool, loosen the edges with a sharp knife and lift the entire brownie out of the dish with the parchment paper. Slice the brownies into 16 squares with a sharp knife dipped in hot water and wiped clean after each slice. These freeze well.
Nutrition Information:
Yield: 16
Serving Size: 1
Amount Per Serving:
Calories: 280
Total Fat: 18g
Saturated Fat: 10g
Trans Fat: 0g
Unsaturated Fat: 6g
Cholesterol: 70mg
Sodium: 123mg
Carbohydrates: 26g
Fiber: 4g
Sugar: 15g
Protein: 5g
Nutrition information is a guideline only, is calculated automatically by third party software, and absolute accuracy is not guaranteed.