This is an incredibly decadent and moist cake with an intense chocolate flavor. It is easy to make and will quickly become your go-to chocolate cake recipe.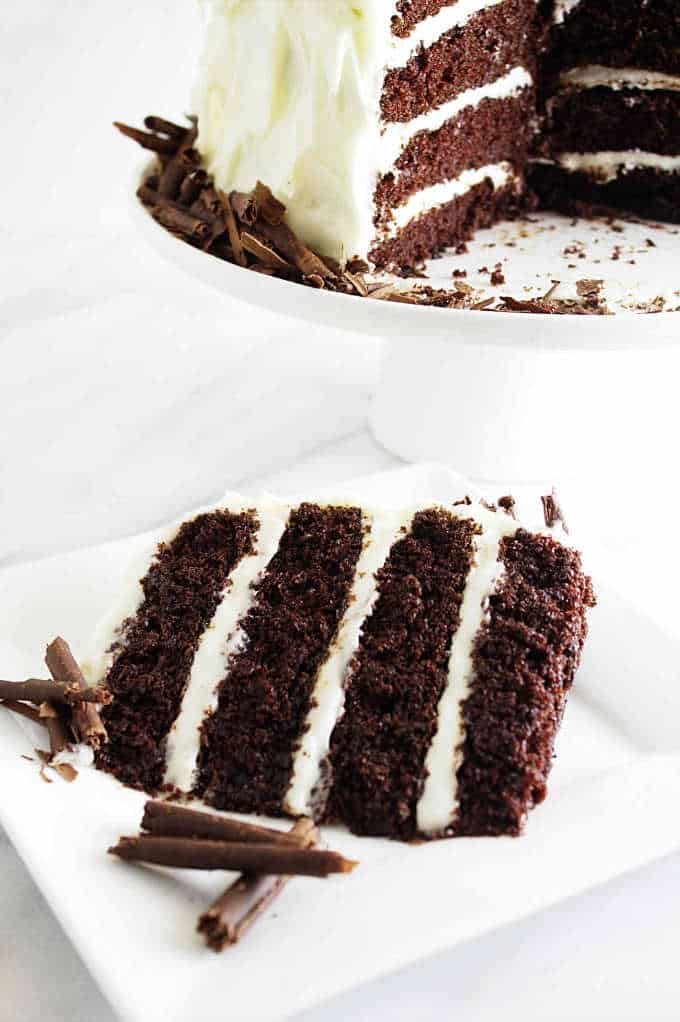 I have baked this cake more times than I can count. It is hands down my most requested cake, and for a good reason. This cake is soft and moist with a rich, intense chocolate flavor.
This cake is easy and fast to make and can even be done without an electric mixer which I have done on many occasions.
Check out our chocolate cake with chocolate buttercream to see how I modified the recipe and only used a whisk to mix the batter.
You will want to keep this one in your recipe box for an easy and reliable recipe that will always give you fantastic results. This really is an intense chocolate cake.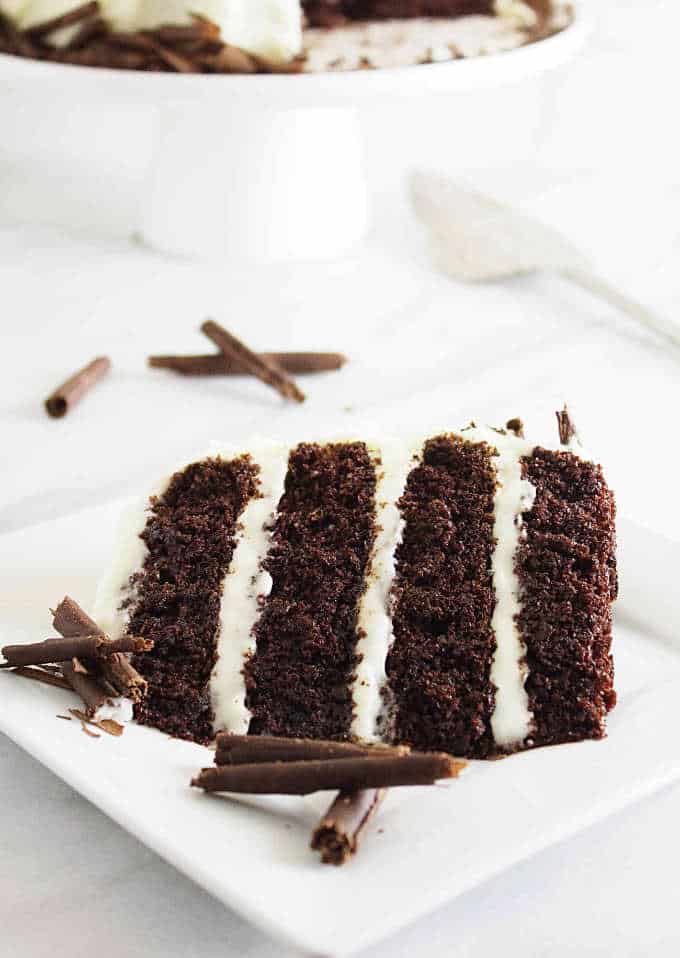 Secret Ingredient
The secret ingredient for this intense chocolate cake is coffee, yet it does not taste anything like coffee, just chocolate, chocolate, chocolate!!
Since coffee has the same flavor elements as chocolate, it deepens and actually compliments the chocolate flavor without making it taste like coffee.
Why Should the Coffee be Hot?
Adding the hot coffee to the cocoa will melt the cocoa solids and cause the flavor molecules to burst and intensify the chocolate.
I mix the hot coffee with the cocoa then let it sit and come to room temperature while I am preparing the rest of the ingredients.
This is a simple step that makes a huge impact on the depth and richness of the chocolate.
Rave Reviews!
Every time I make this cake someone comments that it is the best chocolate cake they have ever had. The crazy thing about it is that this cake is the easiest cake I have ever made.
There is nothing better than an easy recipe that turns out incredibly delectable.
I keep the ingredients for this cake on hand at all times just in case I need a quick dessert. The ingredients are simple and inexpensive.
If your not a coffee drinker then keep some instant coffee in your pantry, stir a spoonful into some hot water then add it to the cocoa.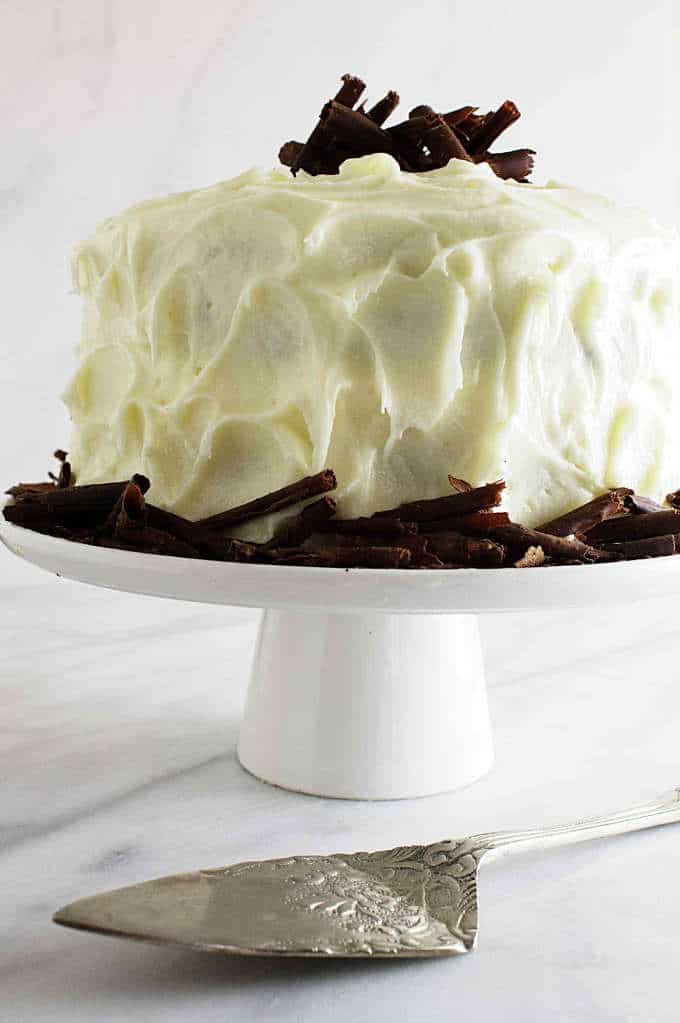 I guarantee you will get rave reviews for this cake. You don't have to tell anyone how easy it is to make.
Let them think you slaved all day making the most perfect chocolate cake for them! (Because you love them so much).
In the video, I used a mixer to blend the ingredients but honestly, the batter comes together perfectly fine with a hand whisk.
You don't even have to worry about over-mixing the batter like most cakes. Seriously, you just can't mess up this cake.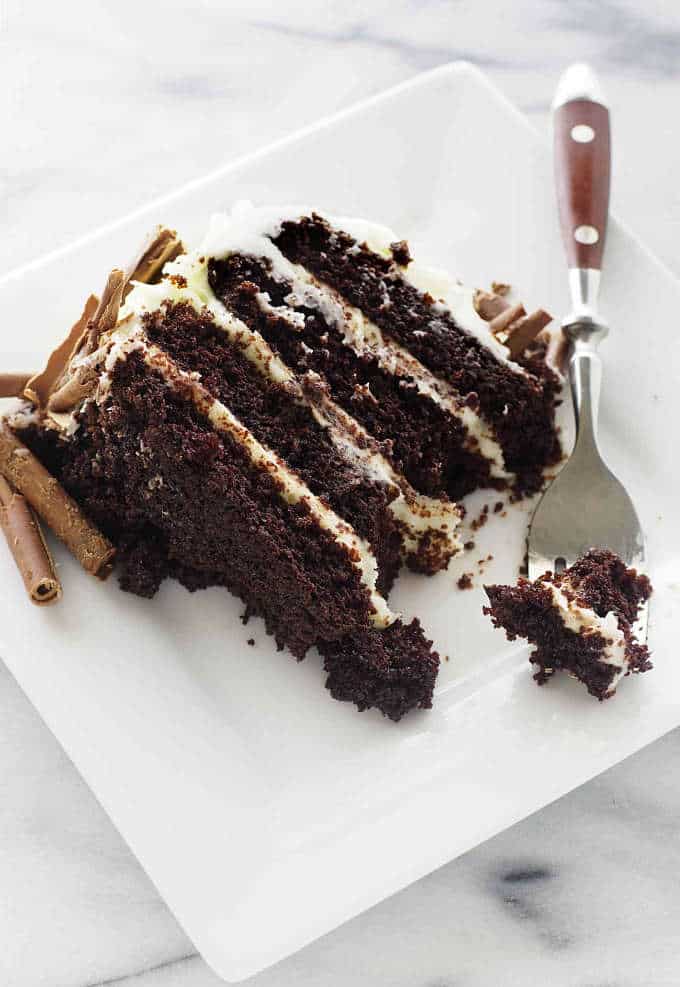 An Intense Chocolate Cake
This recipe was adapted from the back of the Hershey's cocoa box. I have increased the amount of cocoa to balance out what was otherwise an overly sweet cake.
In addition, I switched the hot water for coffee to complement and enhance the chocolate. The hot liquid is added directly to the cocoa powder to ensure the cocoa solids melt.
The result is a perfect and intense chocolate cake.
You can use any brand of unsweetened cocoa powder but the recipe works best if you do not use Dutch-processed cocoa.
This cake uses baking soda as a leavening agent which needs an acidic ingredient to achieve proper rise and to balance out the flavors.
Believe it or not, chocolate is a naturally acidic ingredient, but Dutch-processed cocoa has been treated to neutralize the acidity and does not react with alkaline leaveners like baking soda.
The cake will rise higher if you do not use Dutch-processed cocoa.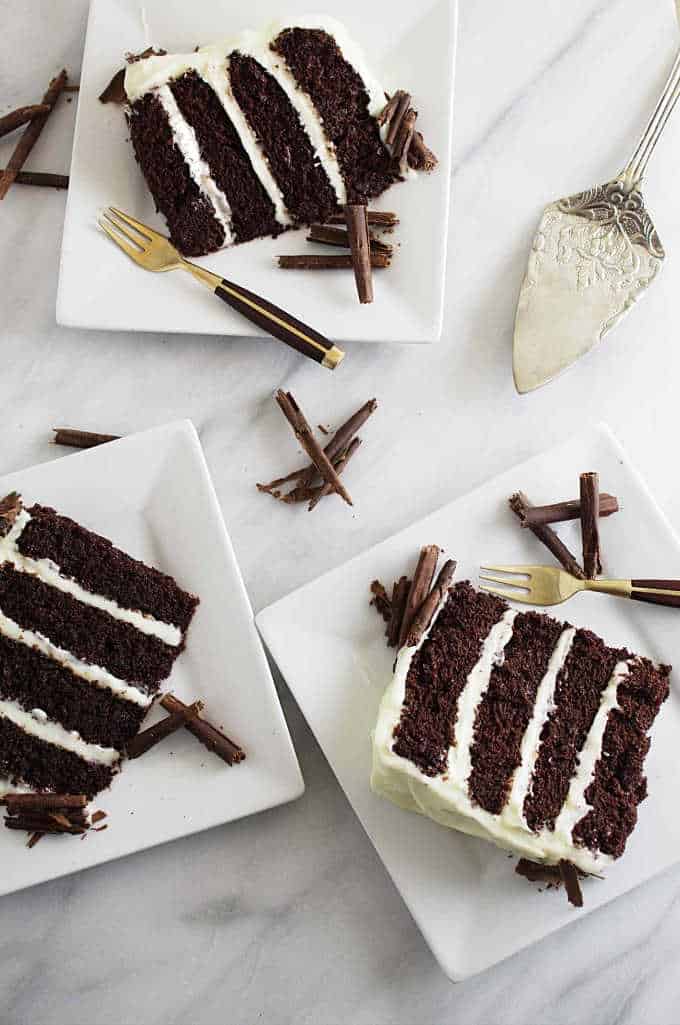 I made four layers out of this cake by cutting each of the layers in half horizontally.
This is an easy task to do with the use of a cake leveler but if you don't have a leveler and don't feel comfortable slicing the layers by hand, then I have provided instructions to bake the cake in 4 different pans. Just see the notes at the bottom of the recipe card.
I made this cake with a super creamy, decadent cream cheese frosting.
It's a great combination that everyone loves. If you want a double dose of chocolate, our double chocolate cream cheese frosting is out of this world!
Ingredient substitutions
This is a very versatile recipe and does well with several ingredient substitutions. You can make it dairy free, gluten-free, switch out the oil, or change the coffee.
Here is a list of the ingredients you can switch out and still get great results. Switch them at a 1:1 ratio.
Ingredient
Substitutions
Milk
Any non-dairy milk
Sour cream
Greek Yogurt
Vegetable
oil
Melted coconut oil
Melted butter
Mayonnaise
Coffee
Hot water
Hot beer
Hot cola
All-purpose
flour
Gluten-free
flour blend
Quick tip on the substitutions.
Sour cream and yogurt will make the batter thicker but will not change the bake time.
Melted coconut oil or butter will make the cake taste denser and a bit 'fudgy'.
Using hot liquid in place of the coffee will help the cocoa solids melt.
For the gluten-free flour, make sure you use a flour BLEND. For example, using only almond flour will result in a heavy and dense cake that will not look the same. Good flour blends that work are Pamela's flour blend, Cup 4 Cup, and our gluten-free flour blend.
Video: How To Make Our Intense Chocolate Cake with Cream Cheese Frosting
Check out our video and see how easy it is to make this intense chocolate cake with cream cheese frosting.
For other decadent chocolate recipes:
Connect With Savor the Best:
Please follow us on our social media accounts
Facebook * Instagram * Pinterest * Youtube * Twitter
Did you make this recipe? We would love to hear from you. Drop us a comment below.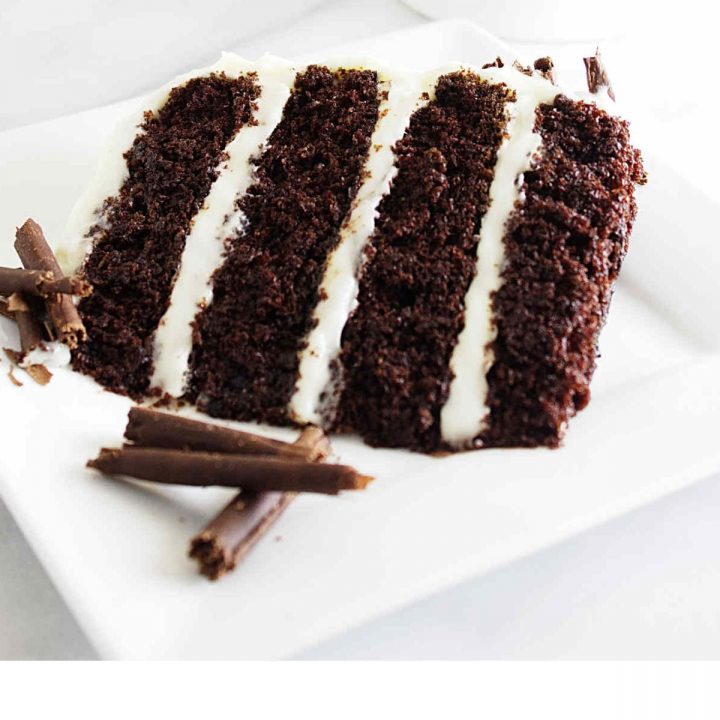 Chocolate Cake with Cream Cheese Frosting
An incredibly moist and intensely chocolate cake with cream cheese frosting. This is an incredibly easy cake to make and a very versatile recipe.
Ingredients
1 cup (80g) unsweetened cocoa powder (not Dutch-processed)
1 cup hot coffee (240 ml)
2 cups sugar (400g)
1 ¾ cup (210g) all-purpose flour
1 ½ tsp baking powder
1 ½ tsp baking soda
1 tsp salt
2 eggs
1 cup milk (240 ml)
½ cup vegetable oil (120 ml)
2 tsp vanilla extract
Cream Cheese Frosting
20 ounces cream cheese, softened
16 tablespoons unsalted butter, softened (240 grams/ 8 ounces)
2 teaspoons vanilla extract
4 1/2 cups (560 grams) powdered sugar, sifted
Instructions
Preheat the oven to 350°. Line the bottom of two 8 or 9-inch cake pans with parchment paper, grease and flour the sides. (The parchment paper will make the cake come out much easier than just grease and flour).
If you prefer to bake the cakes in 4 separate pans, see the notes at the bottom.
In a medium bowl, whisk the hot coffee and cocoa together until smooth. Set aside.
In a large mixing bowl, add the sugar, flour, baking powder, baking soda, and salt. Using a whisk, blend and sift the ingredients together.
Add the eggs, milk, oil, vanilla, and the cocoa mixture to the dry ingredients. Mix on low speed for 30 seconds until the dry ingredients are moist. Increase the speed to medium and beat for 1 minute. Scrape down the sides and beat for another minute. The batter will be thin.
Pour the batter into the two prepared pans and place in the center of the preheated oven. Bake for 30 to 35 minutes for the 9 inch pans or 33 to 37 minutes for the 8 inch pans (a toothpick inserted in the center of the cakes should come out clean).
Let cool in the cake pans for 5 to 10 minutes then run a knife around the edge of the pans to loosen the cake from the pans. Invert the cakes onto a cooling rack and remove the parchment paper. (At this point if you re-invert the cakes onto another rack and let them cool with their tops up, they will retain more height and the tops of the cakes will not stick to the cooling rack.)
Cream Cheese Frosting:
To make the cream cheese frosting, combine the cream cheese and butter, and beat until soft and creamy.
Add the powdered sugar and vanilla beat on low speed until the sugar is mixed in then beat on high speed until smooth, about 2 to 3 minutes.
Assemble the cake:
If you baked in two pans:
Slice each layer of cake in half horizontally by using a cake leveler or by placing each layer of cake on a turntable and use a serrated knife to slice through the cake as you turn the turntable. This will give you 4 layers to fill and stack. To transfer each layer, use a thin plastic cutting board to slide under the layers.
Put a dab of frosting on a cake plate and place a cake layer on top of the plate. Use 3/4 to 1 cup of frosting to spread between each layer of cake then use an off-set spatula or knife to ice the top and sides of the cake.
If you baked in four pans:
Put a dab of frosting on a cake plate and place a cake layer on top of the plate. Use 3/4 to 1 cup of frosting to spread between each layer of cake then use an off-set spatula or knife to ice the top and sides of the cake.
Notes
If you prefer to bake the cakes in 4 separate pans, line four 8-inch pans with parchment paper and divide the cake batter into the four pans. You will have about 1 1/3 cups or 350 grams of batter in each pan. Bake the cakes, two pans at a time, for 15 to 18 minutes. (you can bake all four pans at the same time if you rotate the pans halfway through the bake time)
Use natural cocoa not Dutch processed.
This cake stores one day at room temperature, six days in the refrigerator and three months frozen if wrapped airtight
Here is a tip to make it easier to frost the cake: Partially freeze the cake layers for approximately 20 minutes before frosting. After keeping it in the freezer for a short time, the partially frozen cake will be firmer and easier to frost.
This recipe does well with cupcakes. For standard sized cupcakes, bake at 350°F for 22 to 24 minutes. For mini cupcakes, bake at 350° for 10 to 12 minutes.
Recommended Products
As an Amazon Associate and member of other affiliate programs, I earn from qualifying purchases.
Nutrition Information:
Yield:

12
Serving Size:

1
Amount Per Serving:
Calories:

752
Total Fat:

39g
Saturated Fat:

20g
Cholesterol:

111mg
Sodium:

598mg
Carbohydrates:

99g
Fiber:

2.9g
Sugar:

79g
Protein:

9.3g
Have you made this Intense Chocolate Cake with Cream Cheese Frosting? We would love to see a picture. Tag us on Instagram.
moist and fudgy #chocolatecake
See our Web Story here.