Velvety smooth with an intense chocolate flavor, these dark chocolate truffles will impress the true chocolate lover.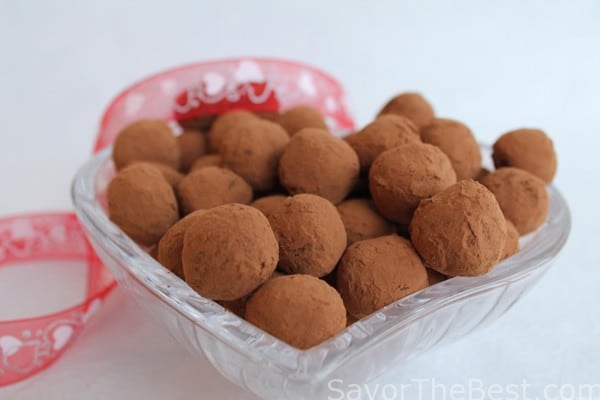 Several years ago, Jon, Josh, and I went to Paris. I drug them into a small chocolate shop and picked out some chocolates. A customer suggested we get the truffles.
They were rather plain looking and I would have dismissed them except for his recommendation. When I tried one I was in heaven. It was soft, velvety, and intensely chocolate. Even my husband, who is not a big fan of dark chocolate, was impressed.
We all wished we had bought more after we finished them off.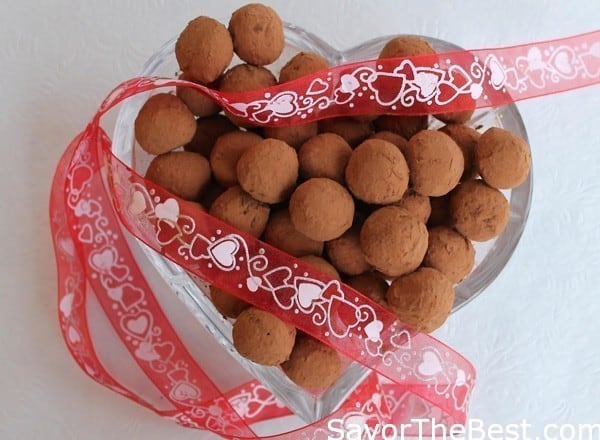 When we returned home, I tried several recipes in an attempt to recreate that velvety smooth truffle we had in Paris. I finally found the recipe that Jacques Torres shared with the Food Network Kitchens.
The secret to the velvety smooth truffle is a higher ratio of cream in the ganache. Since these truffles are all about the chocolate, it is important to choose a good chocolate. I have used Callebaut and Valrhona. Today I am using Green & Black's organic 70% chocolate.
This recipe works best with 60% to 70% chocolates. Anything less than 55% chocolate and the ganache will be too loose to work with unless the cream is reduced slightly.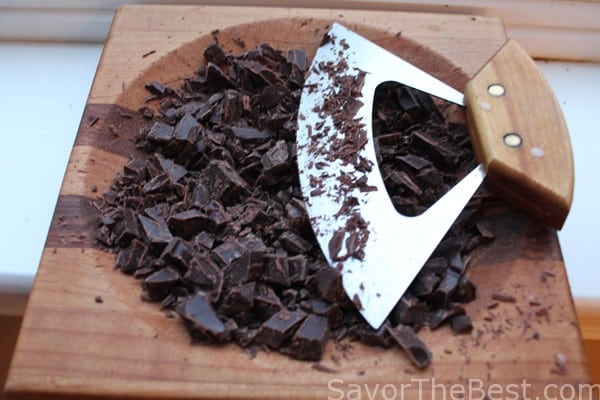 These truffles will soften up and even melt if left in a warm place. As a matter of fact, they will melt in your hand if you hold them too long but that isn't a problem since they are meant for your mouth and not your hands.
Keep them stored in the refrigerator but let them come to room temperature before serving them.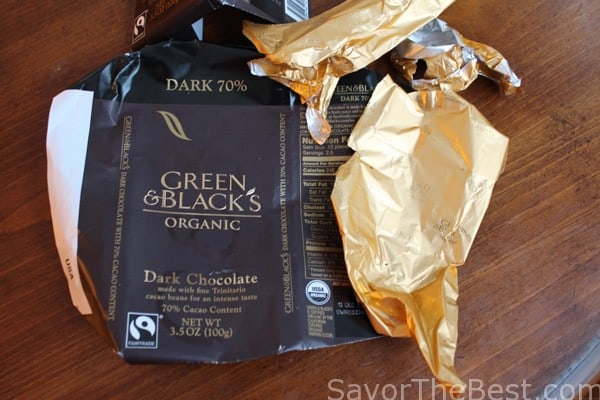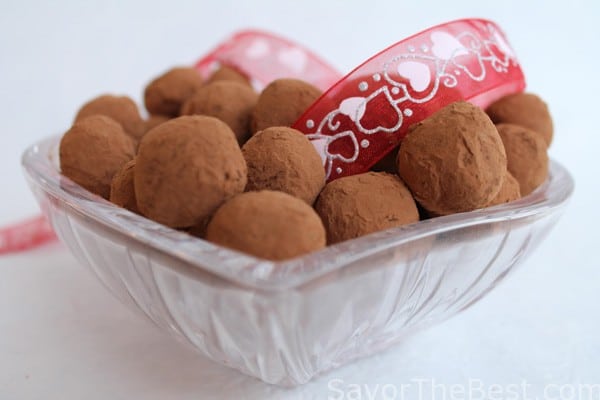 SOME OTHER RECIPES WE ARE SURE YOU WILL LOVE:
Chocolate Cupcakes with Peanut Butter Frosting
CONNECT WITH SAVOR THE BEST!
Be sure to follow us on our social media accounts
Facebook | Twitter | Youtube | Pinterest | Instagram
If you make one of our recipes, snap a photo and tag it @savorthebest on Instagram and hashtag it #savorthebest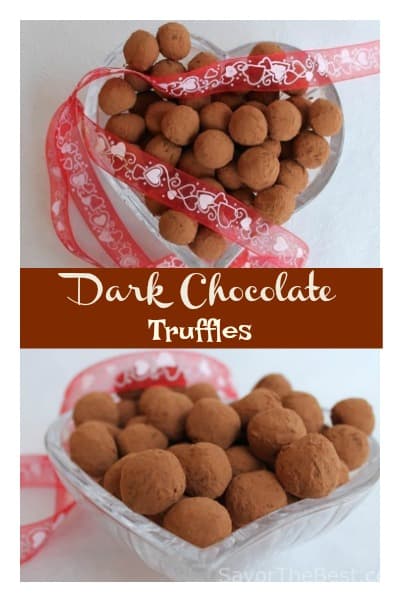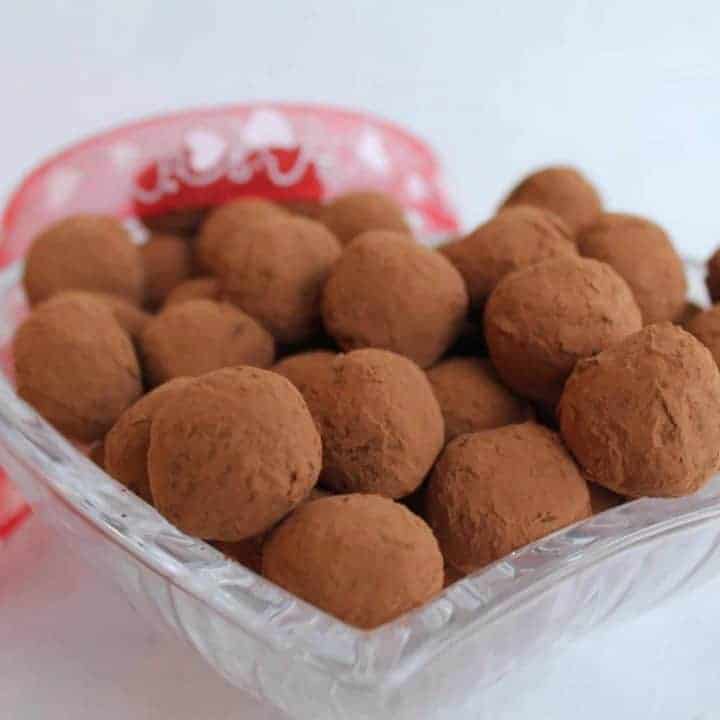 Dark Chocolate Truffles
Yield: 40 to 50 truffles
Prep Time: 20 minutes
Cook Time: 5 minutes
Total Time: 25 minutes
Velvety smooth and intensely chocolate, these truffles will impress the true chocolate lover.
Ingredients
7 ounces dark chocolate, 55% to 70%
¾ cup (6 ounces) heavy cream
3 tablespoons (1.5 ounces) high-fat butter, softened
For the coating
Instructions
Chop the chocolate into fine pieces and place in a medium bowl then set aside.
Place the cream in a small saucepan and bring to a gentle boil over medium heat. As soon as the cream begins to boil, remove it from the heat and pour it over the chopped chocolate in the bowl. Let the mixture sit for 30 seconds to melt the chocolate then using an immersion blender, puree the mixture until it is smooth. Stir in the butter.
Pour the mixture into a large ziplock bag, seal it then let it sit at room temperature for at least 4 hours.
Line a baking sheet with parchment paper. Clip a corner of the bag off and pipe out small mounds (about the size of a teaspoon) of the chocolate ganache mixture. If the ganache warms up in your hands while piping and softens too much, place the mounds of piped chocolate in the refrigerator for 10 to 15 minutes to firm them up.
Sift the cocoa powder into a pie plate or shallow dish. Roll each mound of chocolate into a ball then roll them in the cocoa powder to coat.
Store in an airtight container in the refrigerator for up to 2 weeks. Allow them to come to room temperature before serving.
Notes
European style butters such as Plugra, have a higher fat content and will contribute to a creamier texture.
Use a chocolate with 55% to 70% cocoa butter
Nutrition Information:
Yield: 40
Serving Size: 1
Amount Per Serving:
Calories: 44
Total Fat: 3.3g
Saturated Fat: 2g
Cholesterol: 7mg
Sodium: 5mg
Carbohydrates: 4g
Protein: 0.6g