This elegant Black Forest Cherry Cake is full of rich, delicious flavor! Deep, chocolate-y sponge cake layers, a bit of cherry brandy, cherries, whipped cream, and chocolate shavings combine in a stunning dessert for any occasion!
Our Black Forest Cake recipe is a showstopper all around. Chocolate and cherries make a bold and tasty flavor combination and this cake is infused with so much goodness in every layer.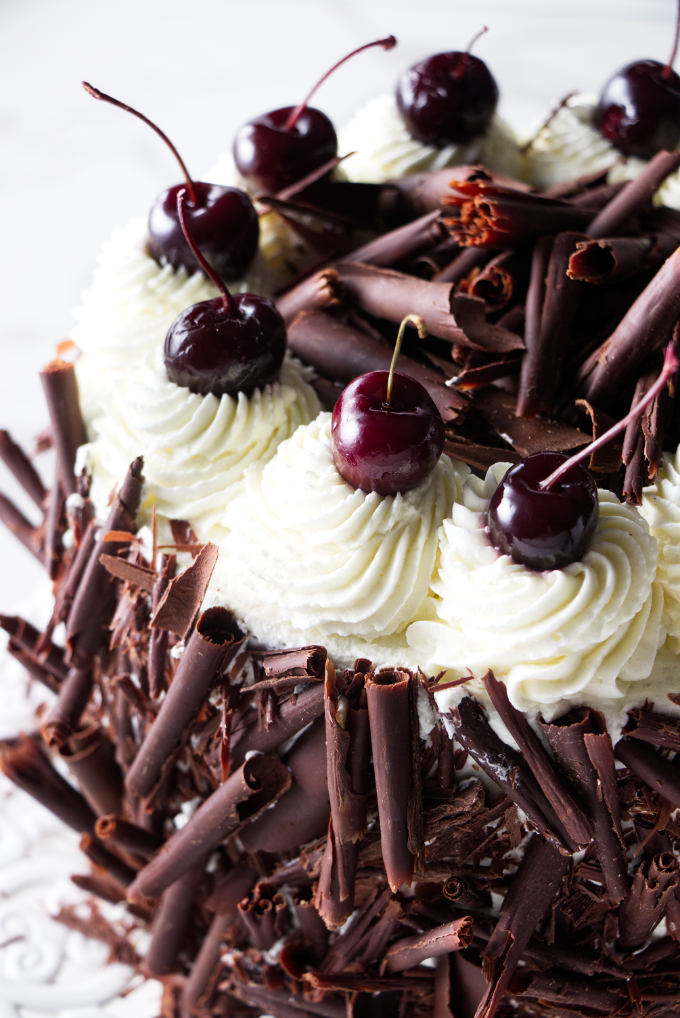 Oh, life is so good when fresh cherries are in season! This Black Forest Cherry Cake was inspired by a recipe in my Time-Life, Cooking of Germany cookbook. We first adapted it by using our Intense Chocolate Cake for the cake layers since it has twice the chocolate compared to the cookbook recipe.
While those chocolate cake layers gave it a rich and decadent flavor, we have since made a few more changes to the original recipe to create one that is closer to a traditional Black Forest Cake or Black Forest gateau.
Since a traditional black forest cake calls for a syrup-soaked sponge cake, we used our chocolate genoise sponge cake recipe.
The chocolate sponge cake in this recipe is more technical to bake. If you are a beginner baker or if you are just looking for an easier recipe, use our intense chocolate cake recipe for the cake.
What is Black Forest Cake?
A Black Forest Cake gets its name from its origins, the Black Forest region of Germany. A traditional Black Forest cake has layers of a light chocolate sponge (gateau or genoise) that is drizzled with cherry syrup spiked with cherry brandy (also known as Kirschwasser) and covered with whipped cream, cherries, and chocolate shavings.
It is tender and moist, made even more so from the sponge cake soaked in syrup and cherry brandy.
The combination is elegant and each bite is heavenly!
Why We Love It
Our Black Forest Cake recipe has incredible cherry flavor. Each layer is spread with sweet whipped cream, a little more of that cherry brandy, then studded with a generous amount of Kirsch-soaked cherries.
The entire black cherry cake is then smothered with more whipped cream, and decorated with chocolate shavings or curls and more cherries.
It is:
rich and decadent
elegant
a classic dessert everyone will love
If you are looking for great birthday cake recipes, this is one you must try.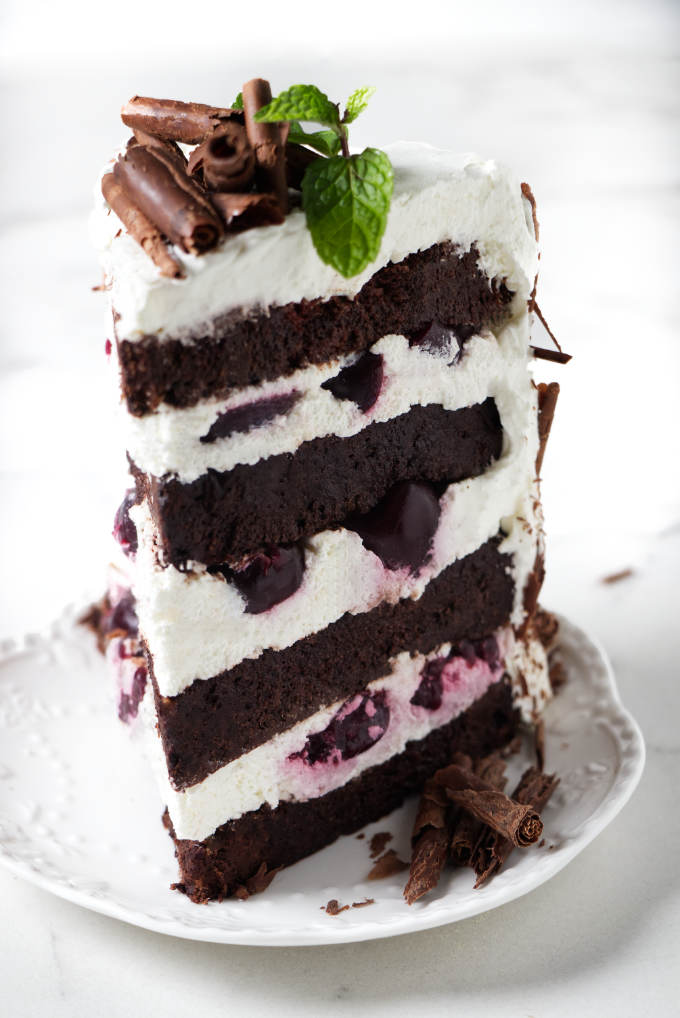 The Ingredient List
The base of this Black Forest Cherry Cake is a chocolate genoise sponge cake which is very similar to a gateau. It's a light and delicate sponge cake that is often used for layer cakes.
Here's the full ingredient list for our Black Forest Cake recipe:
bittersweet chocolate (for the chocolate shavings)
water (water for the genoise and simple syrup)
eggs
sugar (for the cake, simple syrup and heavy cream)
flour
Dutch cocoa
fresh dark cherries (for the cake and garnish)
Kirsch (you can typically find this at liquor stores and even some grocery stores)
chilled heavy cream
mint leaves for garnish
Note: Since this cake uses Kirsch in the sponge and a bit in the whipped cream frosting, you may want to reserve it for adults only.
If you want an alcohol-free version of this cake, replace the Kirsch with cherry syrup or grenadine.
How to make Black Forest Cake
This black cherry cake is done in several steps but is in fact pretty simple to make. The most time-consuming task is pitting the fresh cherries, but you can certainly use canned or thawed frozen cherries if it's not cherry season. You can also use canned cherries in syrup.
Here is a brief overview of the Black Forest cherry cake recipe. Scroll down to the printable recipe card for all the details.
Make the genoise sponge cake: The sponge cake relies completly on whipped eggs for the leavening. If you don't get this step right, the cake will be dense and heavy.
Prepare the cherries: If you are using fresh cherries, make sure they get pitted and stemmed.
Make the syrup: Add sugar and water to a small saucepan and bring to a boil, stirring until the sugar dissolves. Pour the syrup over the cherries and add the Kirsch.
Make the whipped cream: Make sure you use a chilled bowl for this step.
Assemble the black cherry cake: Slice each cake in half horizontally to make four layers. Soak the cake with syrup then layer with whipped cream and cherries. Garnish with fresh cherries and chocolate shavings. Refrigerate until it is ready to serve.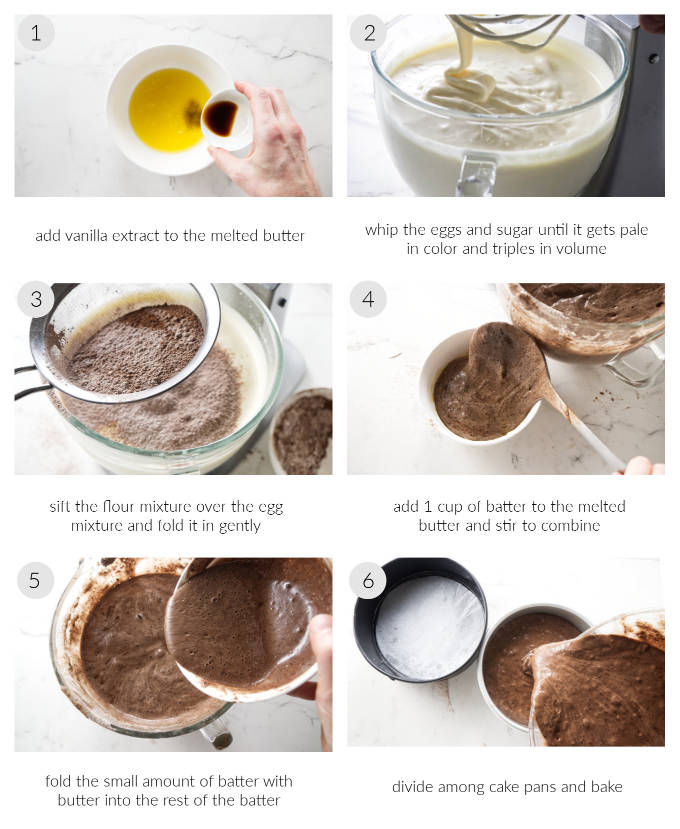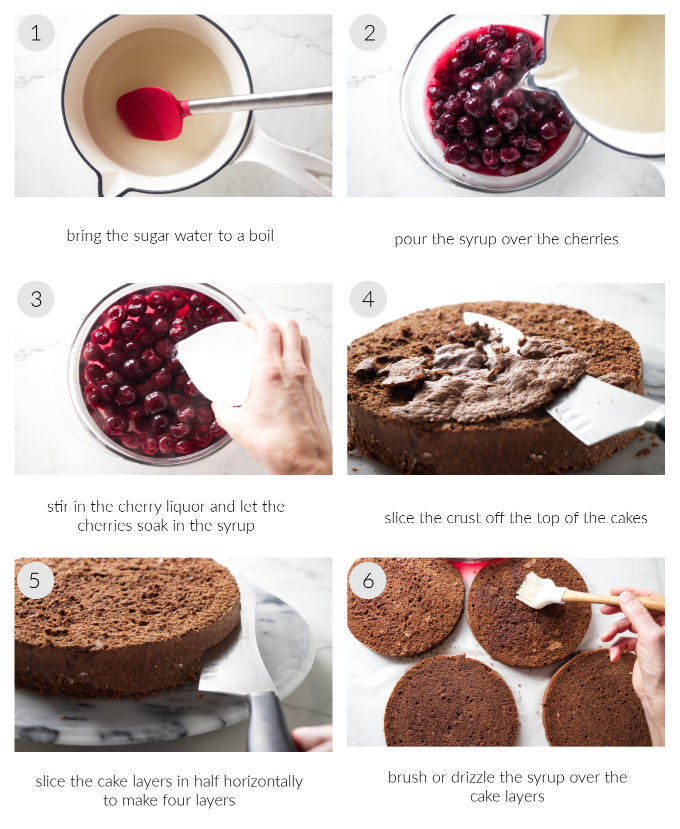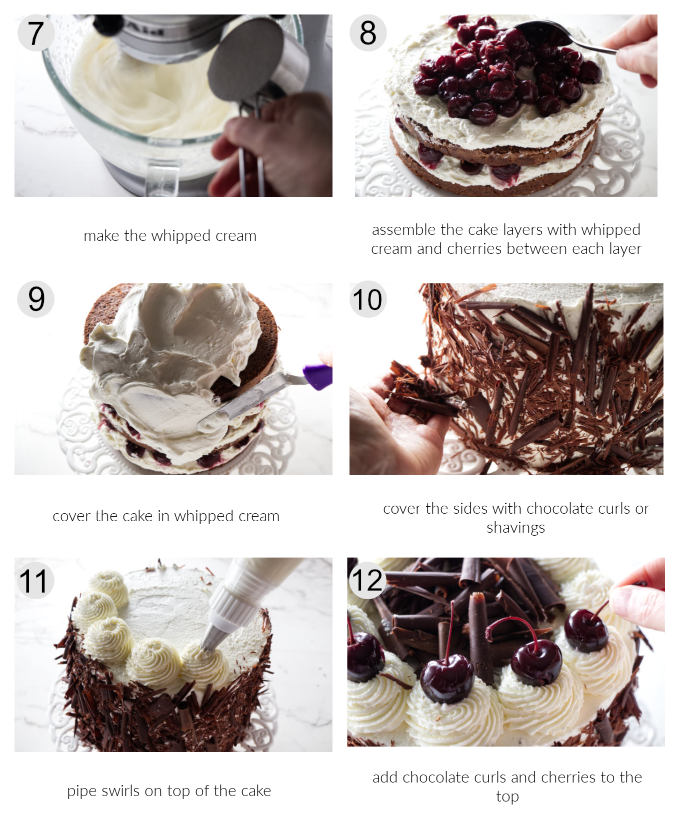 Tips for the Best Results
Slicing the cakes horizontally can be a tad tricky. Use a sharp knife and hold the knife steady while you turn the cake on a turntable or use a cake slicer/leveler.
This cake is very tall which makes it tricky to slice.

Whipped cream does not hold up well for more than one day after making the dish. We recommend you serve it within that time frame.

Bake the sponge cake as soon as you make the batter. Since there is no leavening in this cake, it will deflate if you let the batter sit out too long.

Gently fold the flour mixture into the batter with a wide spatula. Don't over-mix the batter or it will deflate and the cakes will turn out heavy and dense, with a layer of egg on the bottom of the cake.
This Black Forest Cherry Cake will serve 12 to 16 people easily (since it is so tall) and is great for dinner parties.
Frequently Asked Question
What is the difference between chocolate cake and Black Forest Cake?
Chocolate cake is often served plain or with chocolate frosting and is a tad denser than a traditional Black Forest Cake, which is usually made with a lighter chocolate sponge cake. You can certainly make this Black Forest cake with a more rich chocolate cake. Sponge cakes need to be soaked in syrup to make them moist. If you use our intense chocolate cake, use less syrup.
Can I freeze Black Forest Cake?
Yes, you can freeze this cake. Make sure you store it in an airtight container.
What is traditionally the main fruit ingredient in Black Forest Cake?
Cherries are the star of the show in this Black Forest Cherry Cake! They're weaved into every bite, from the cherry-flavored liquor (Kirsch) in the genoise and whipped cream, and the poached cherries in between the cake layers.
Should I refrigerate Black Forest Cake?
Yes, this black cherry cake is best when chilled and should not be kept at room temperature.
What can I use instead of Kirsch in Black Forest Cake?
If you'd like a non-boozy substitute for the Kirsh, you can swap in a fruit juice like black cherry or raspberry juice or cherry syrup, or even a bit of syrup from maraschino cherries.
We absolutely love this stunning Black Forest Cherry Cake! It is a lovely way to end a dinner party, and will get rave reviews all around.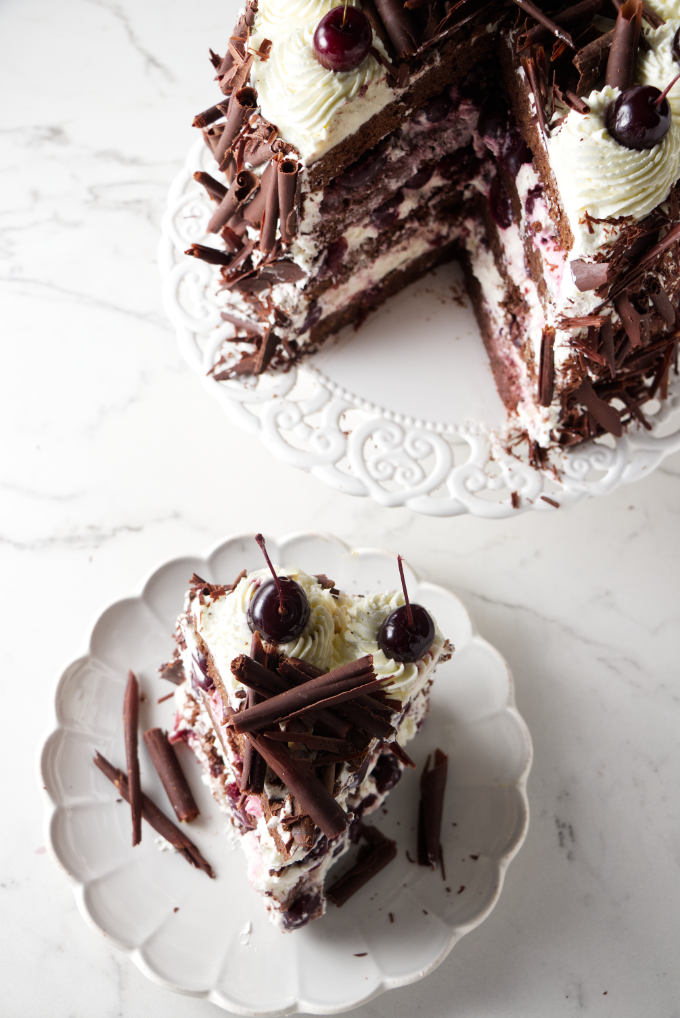 Some More Recipes You Will Love:
Semifreddo Trio: An Italian freezer treat that lies somewhere between ice cream and mousse. Chocolate Amaretto, Raspberry Purée and Fresh Strawberries make a delicious flavor trio.
Lemon Meringue Cake: A beautiful layer cake with all the flavors of a classic lemon meringue pie! The sponge cake is fluffy, light and airy, and balances out the rich and tart lemon curd.
Chocolate Dipped Rosemary Almond Brittle: This treat combines deep flavors of chocolate and almond with a hint of rosemary for one elegant treat!
Browse this roundup of the BEST Chocolate Cakes here on Savor the Best! From gluten-free options to ice cream cakes and your basic, everyday chocolate cake, there's a chocolate cake for any occasion.
Chocolate Cake with Chocolate Buttercream: This all-purpose chocolate cake recipe is easy, adaptable, and ready for the oven in only 10 minutes! It's the chocolate cake we always come back to and we know you will too.
Connect With Savor the Best:
Please follow us on our social media accounts
Facebook * Instagram * Pinterest * Youtube * Twitter
Did you make this recipe? We would love to hear from you. Drop us a comment below.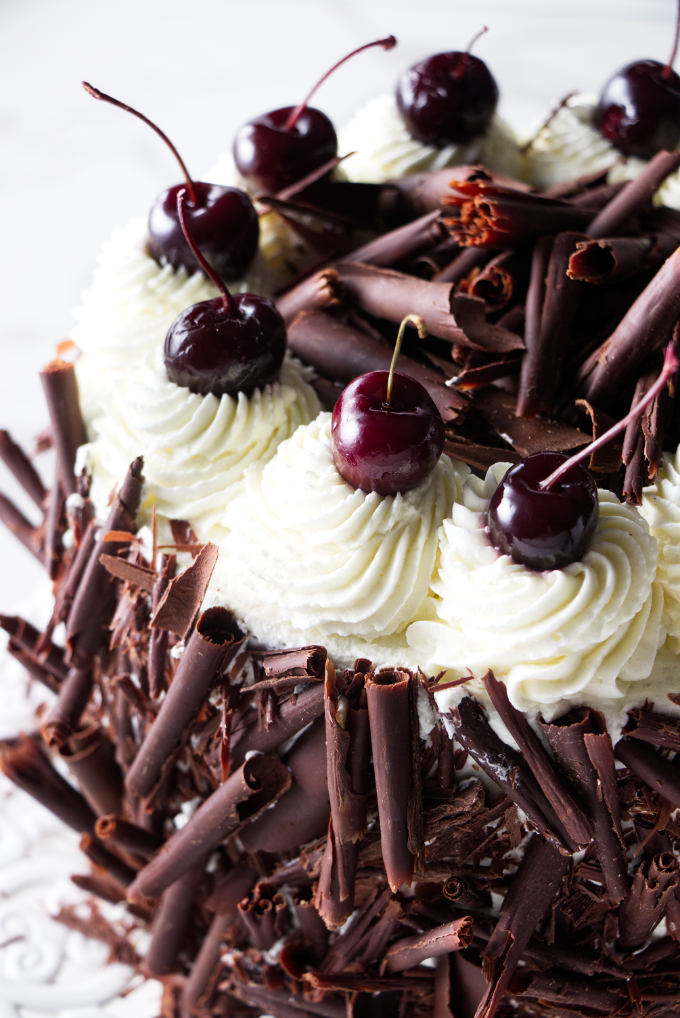 Black Forest Cherry Cake
This elegant cake is so full of good flavor from the deep chocolaty cake layers, a little cherry brandy, fresh cherries, whip cream and chocolate shavings. It makes a stunning dessert for your dinner guest.
The chocolate sponge cake is more technical to bake than traditional cakes. If you want an easier cake, replace the sponge cake with our intense chocolate cake (linked in the notes). Either way, the results are spectacular.
Ingredients
For the Chocolate Genoise Cake:
1 cup cake flour (120 grams)
2/3 cup Dutch-processed cocoa (50 grams)
1/2 teaspoon salt
5 tablespoons butter (65 grams)
2 teaspoons vanilla
8 eggs, room temperature** (400 grams)
1 cup sugar (200 grams)
For the Soaked Cherries and Syrup
3 cups pitted dark cherries, fresh, or frozen or canned in syrup (not pie filling)**
2 cups water (472 grams)
1 cup sugar (200 grams)
1/3 cup Kirsch or liquor of choice
For the Whipped Cream Topping:
3 cups chilled heavy cream (708 grams)
1/2 cup sugar (100 grams)
2 tablespoons kirsch
For the Decoration
4 ounces dark chocolate curls or shavings
12 to 14 fresh or canned cherries with stems
fresh mint leaves
Instructions
Chocolate Genoise Sponge Cake
Preheat the oven to 350°. Line the bottom of two 8-inch cake pans with parchment paper, grease and flour the sides.
Sift the flour, cocoa, and salt into a small bowl and set aside.
Place the butter into a medium-sized bowl and zap it in the microwave until it melts. Stir in the vanilla. Set the melted butter aside while you whip the eggs.
Beat the eggs with the sugar for 8 to 10 minutes until they are light and fluffy and tripled in volume. This is an important step to make sure the cake is tall and has a light texture. The whipped eggs act as the only leavening for the cake.
Sift half of the flour mixture over the egg batter and gently fold it in with a wide spatula or slotted spoon. Repeat with the other half of the flour mixture.
Transfer 1 cup of the batter into the bowl with the melted butter. Stir to combine well then pour back into the large bowl of batter. Use a large spatula to gently fold the batter until well combined.
Pour the batter into the cake pans and transfer to the oven immediately. Bake for 30 to 35 minutes or until the cake springs back when lightly touched. Don't open the door of the oven for the first 15 to 20 minutes of the baking time.
Let the cakes cool in the cake pans for 5 to 10 minutes then run a knife around the edge of the pans to loosen the cakes from the pans. Invert the cakes onto a cooling rack and remove the parchment paper.
For the Soaked Cherries and the Syrup:
Slice some of the cherries in half and place the cherries in a bowl. If you are using canned cherries, drain the cherries first. Set the cherries aside.
Add the water and sugar to a saucepan. Bring to a boil over high heat. Boil for 5 minutes then remove it from the heat and pour the hot syrup over the cherries. (If you are using fresh or frozen cherries, add the cherries to the saucepan and boil them in the syrup for 5 minutes. You don't need to boil canned cherries since they have already been poached during the canning process.)
Stir the kirsch into the cherry mixture and set it aside to cool completely. (If you don't want to use alcohol, you can replace the kirsch with lemon juice or the syrup from canned cherries).
For the Whipped Cream:
Add the cream to a large chilled mixing bowl (chill the whisk attachment as well as the bowl). Beat the cream at medium-high speed until soft peaks form. Gradually add the sugar and kirsch with the mixer running. Continue beating until you get stiff peaks.
To Assemble the cake:
Strain the cherries over a bowl. Reserve the syrup in one bowl and the cherries in a second bowl.
Trim the top crust off each cake and slice each layer of cake in half horizontally. Place them on a turntable and use a serrated knife to slice through the cake as you turn the turntable. This will give you 4 layers to fill and stack. Lay the layers out on parchment paper with the cut side up and drizzle each layer with 6 tablespoons of syrup.
Place the first layer on the cake plate. Add a thick layer of whipped cream and one-third of the cherries. Repeat with the next two layers and finish with the last layer.
Reserve 1-1/2 cups of whipped cream for decorating and cover the top and sides of the cake with the remaining whipped cream.
Use a vegetable peeler to shave shards of chocolate. Press chocolate shavings, grating into the sides of the cake and on top. Alternatively, you can make chocolate curls (see notes).
Use the remaining whipped cream to pipe 12 to 14 swirls on top of the cake (or use a spoon to plop balls of cream on top of the cake). Decorate with stemmed cherries and mint.
Refrigerate until ready to serve.
Notes
If you use canned cherries, you will need three 15-ounce cans of cherries in syrup. You can use the syrup in the cans instead of making syrup with sugar and water.
The chocolate genoise sponge cake is leavened entirely from the whipped eggs. Since there is no additional leavening in the cake, it is important that you thoroughly whip the egg and sugar mixture until it triples in volume. The mixture will be thick, fluffy, and light in color. When you lift the whisk, the egg mixture will fall like a ribbon and stay suspended on top of the batter for a couple of seconds before blending back into the batter.
Don't let the cake batter sit out for too long before transferring it to the oven. Make sure you have the oven preheated before you begin mixing the batter. If the batter sits too long, it will settle and you will end up with a dense egg layer on the bottom of the cake.
If you want to use a less technical cake recipe, our intense chocolate cake is an easy and fail-proof recipe. Since it is not a sponge cake, only use half the amount of syrup when you brush the cake with the kirsch syrup.
For the cherries, choose cherries canned in syrup and not cherry pie filling. You can also use frozen or fresh cherries but make sure you pit them.
If you don't want to use alcohol, you can replace the liquor with grenadine or additional cherry syrup from the cans.
When you make the whipped cream, make sure the bowl, whisk, and cream are chilled. If the cream, bowl, and whisk are chilled, the cream will whip much better.
We like to line the bottoms of the cake pans with parchment paper. The parchment paper will make the cakes come out much easier than just grease and flour.
The chocolate genoise cake is light and airy but has a dry texture unless you drizzle it with the syrup. Sponge cakes are made for holding syrup! You can drizzle each sliced layer of this genoise cake with 6 tablespoons of syrup without making it soggy.
After you soak the sponge cakes with syrup, they tend to be a bit fragile and prone to splitting when you transfer them. To transfer each layer of cake after you tort it, use a cardboard cake board or thin plastic cutting board to slide under each layer. After you position it over the cake plate, push it off the board.
To make chocolate curls, melt the chocolate then spread it thinly on the back of a baking sheet. Let the chocolate firm up slightly then use a bench scraper or the flat edge of a knife to scrape the chocolate into curls. Hold the edge at a 45-degree angle and push it away from you. If the chocolate gets too firm, it will make shards. If it is too soft, it will wad up. When the chocolate is at just the right temperature, it will curl into a roll.
To make chocolate shavings, use a potato peeler to shave the chocolate into small bits.
Nutrition Information:
Yield:

20
Serving Size:

1
Amount Per Serving:
Calories:

1053
Total Fat:

60g
Saturated Fat:

33g
Trans Fat:

1g
Unsaturated Fat:

24g
Cholesterol:

60mg
Sodium:

288mg
Carbohydrates:

142g
Fiber:

8g
Sugar:

120g
Protein:

9g
Nutrition information is a guideline only, is calculated automatically by third-party software, and absolute accuracy is not guaranteed.
This recipe was originally published on June 19, 2015. We updated the post with new photos and added an option to make a more traditional chocolate gateau sponge cake. A photo of the Black Forest cake made with an oil-based chocolate cake is below.