What's not to love about a chocolate cake with chocolate buttercream? This chocolate cake is an all-purpose, everyday kind of cake and it solves all of your chocolate dessert cravings. It is an easy, adaptable recipe that is perfect for any occasion.
All you need is one bowl and less than 10 minutes to mix the chocolate cake batter. This recipe is a keeper! Pin it, bookmark it, save it however you save things because you will want to come back to this recipe EVERY TIME you need a chocolate cake.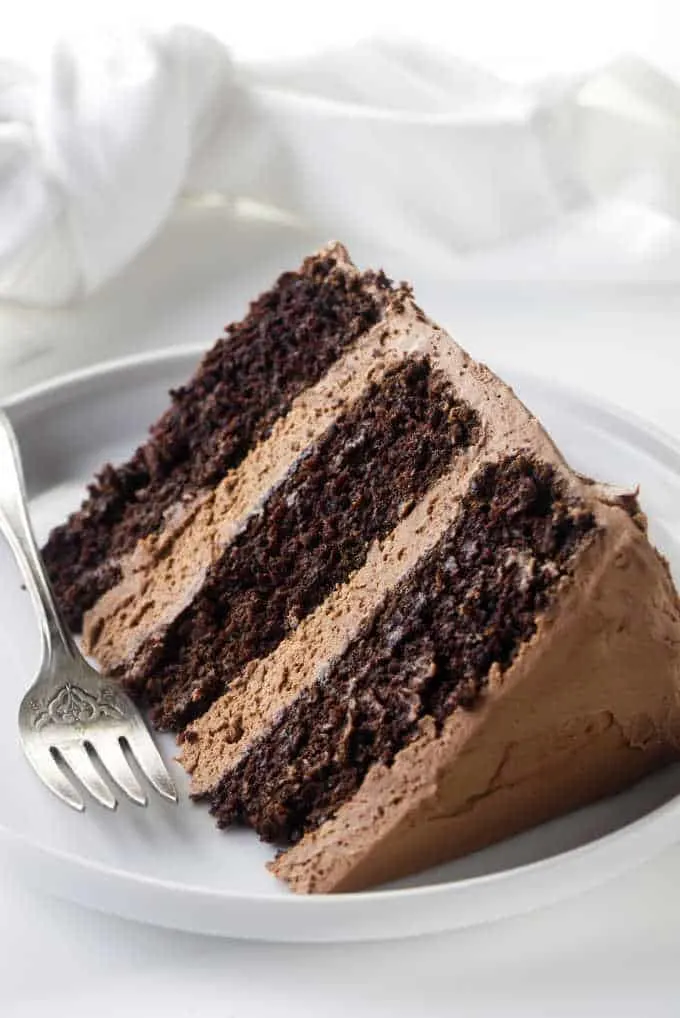 This recipe is simply the easiest chocolate cake recipe ever. I have adapted it from our recipe for chocolate cake with cream cheese frosting but this recipe has sour cream in it which helps the cake stay moist even longer.
The chocolate buttercream on this cake is another necessary addition to everyone's recipe collection. It is a basic American buttercream with the addition of cocoa powder. Fast, easy, and delicious.
However, you don't have to stick to the chocolate buttercream in this recipe. This cake goes well with just about any frosting. Top it with our double chocolate cream cheese frosting or fill it with some homemade marshmallow fluff.
Why this chocolate buttercream cake is so perfect
You only need one bowl.
No need to cream butter.
It works with several ingredient substitutions. Scroll down to see the table below.
You can bake it in a variety of pan sizes and shapes. See the table below.
It's a foolproof recipe. It really is difficult to mess up.
It works as a casual dessert or you can dress it up as a wedding cake a fun birthday cake or an elegant party cake.
How to make chocolate cake with buttercream
You can make this cake in 5 easy steps. Here are the quick steps but make sure to scroll down to the recipe card for detailed instructions.
Start by adding hot coffee (or water) to the cocoa powder. The hot liquid will melt the cocoa solids in the powder which will intensify the chocolate flavor.
Add the sugar, oil, and sour cream. These ingredients will bring the temperature of the cocoa mixture down so the eggs don't get cooked.
Add the eggs and vanilla. Make sure they are well blended.
Sift the dry ingredients over the batter.
Pour into the baking pans and bake.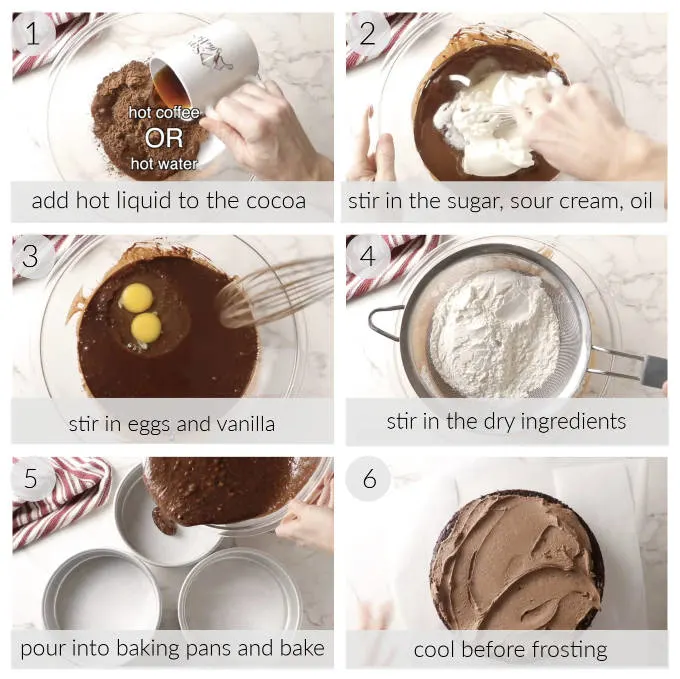 The photos above show you how easy it is to make this chocolate cake recipe. Just five easy steps to the best recipe ever (the sixth step is frosting the cake).
Pan sizes and bake times for this chocolate cake
alternative ways to bake this chocolate cake recipe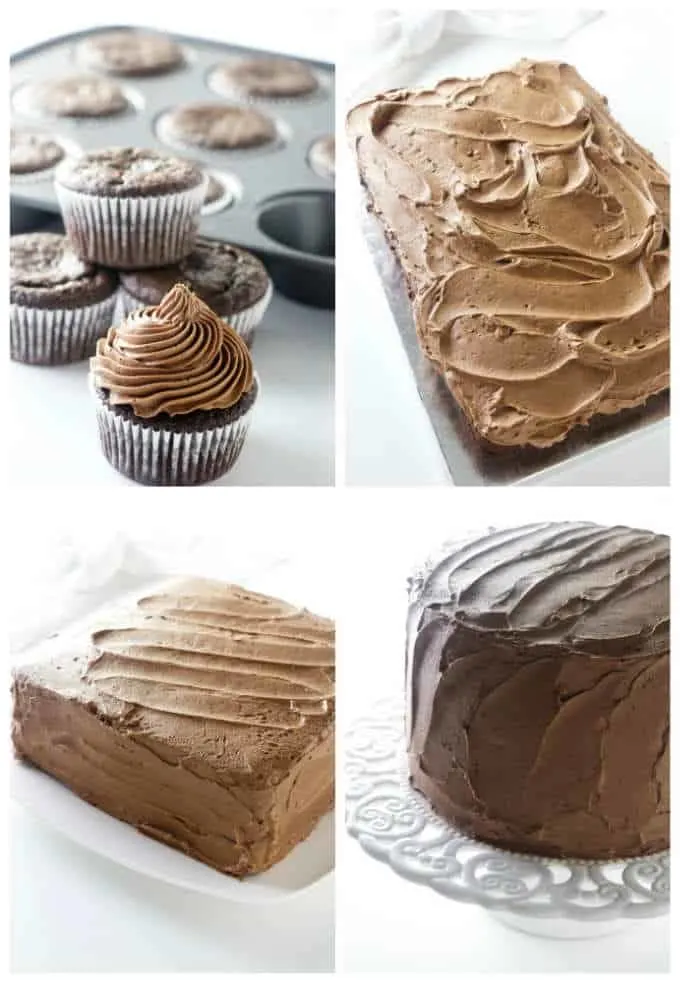 Ingredient substitutions that will still give you great results
This chocolate cake calls for 10 basic ingredients, listed below. A few of the ingredients can be substituted so keep reading if you don't have all of these on hand today. You just might have one of the substitutes!
Unsweetened cocoa powder. Do not use sweetened drink mixes.
Hot coffee. Coffee enhances the chocolate flavor.
Sugar.
Vegetable oil.
Sour cream. Use full-fat sour cream for the best texture.
Eggs. Important for structure, strength, and moisture.
Vanilla extract. It enhances the chocolate flavor.
All-purpose flour.
Baking powder and baking soda. They help the cake rise.
Salt. Enhances the flavor of the cake.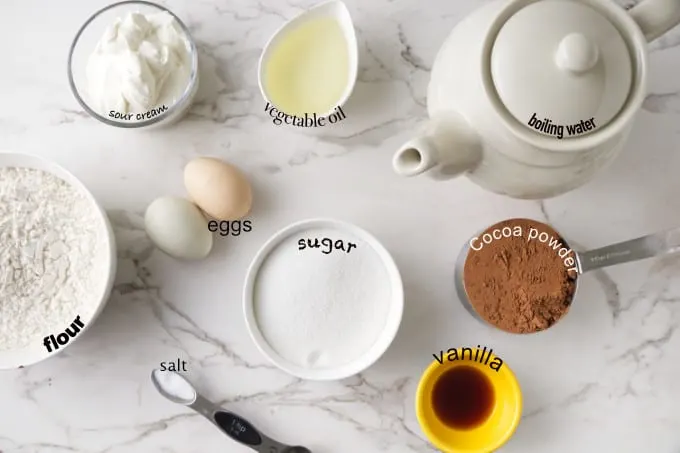 Ingredient
Substitutions
Coffee


1. Boiling water
2. Hot beer
3. Hot soda
Sour Cream


1. Greek yogurt
2. Whole milk
3. Evaporated milk
4. Non-dairy milk
Vegetable
oil


1. Melted coconut oil
2. Melted butter
3. Mayonnaise
ingredient substitutions
The table above shows several options that work very well for ingredient substitutions. Here are a few tips about the substitutions.
Substituting for the coffee:
You probably noticed that the hot coffee should be replaced with another HOT liquid. Whether you use water, beer, or soda, heat it up so it melts the chocolate in the cocoa powder. That is the secret to getting more chocolate flavor packed into this cake.
One thing to note about the coffee is that it enhances the chocolate flavor. The malty flavors in beer and the caramel flavors in soda will also bring out extra chocolate notes. Whatever you pick, you will have an excellent chocolate cake.
Substituting for the sour cream:
Using sour cream will give this cake the softest and moistest texture but it will still stay very moist with any of the other ingredient substitutions. If you use any of the milk substitutions, the batter will be very runny but it will still bake just fine.
Substituting for the Vegetable oil:
The vegetable oil is one of the key players for making this chocolate cake so moist. If you substitute with coconut oil or butter make sure you melt them down first. That will let you mix the batter the way this recipe is intended.
The coconut oil and melted butter will give the cake a firmer, denser texture. Some people have described it as fudgy which sounds like a good thing to me. 🙂
I know the mayonnaise might sound like an odd substitution but it works because mayonnaise is made with a LOT of oil. It will create the exact same texture as the vegetable oil.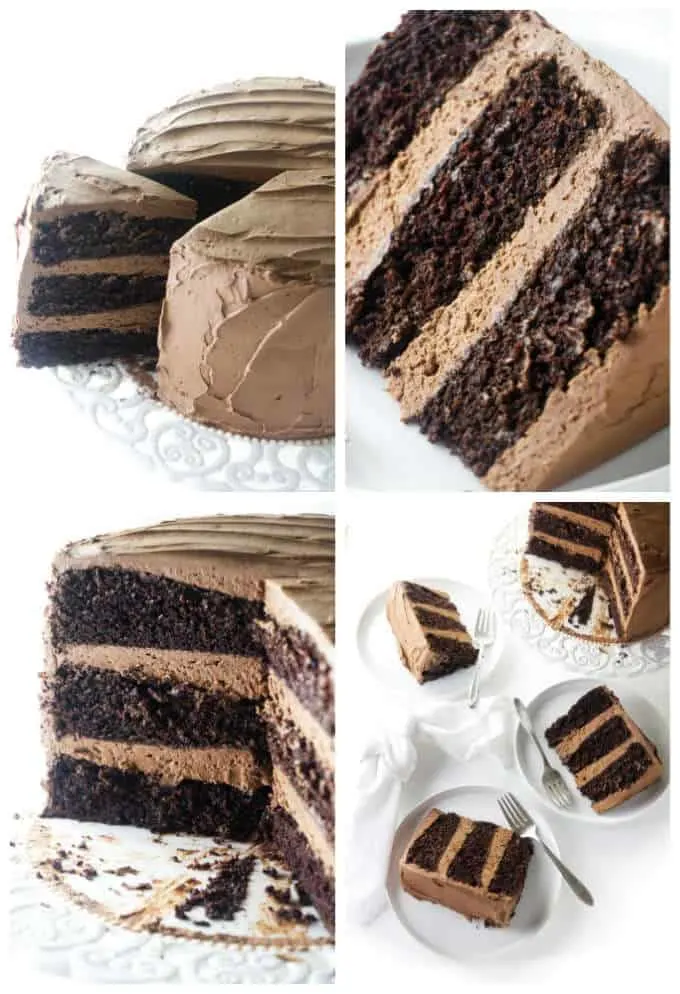 A chocolate cake that solves all your cake baking problems!
You are going to love how incredibly rich, fudgy, and tender this chocolate cake is. You can make it a couple of days ahead of time without worrying that it will dry out. It stays moist for days!
It's also SO simple! Here are a few reasons why this is my favorite chocolate cake recipe:
You don't need any special equipment.
All you need is a bowl and a whisk or fork to mix the batter. A whisk will do a much better job but if you can't find one, grab a fork or spoon.
It is nice to have a sifter for the dry ingredients. However, if you don't have a sifter, then give the dry ingredients a good stir with a fork before you blend them into the batter.
I have made this cake in a vacation home that did not have any baking equipment. I used a fork to stir the batter and a lasagna pan to bake the cake. It came out perfect.
No special ingredients needed.
This recipe works with standard, all-purpose flour, and normal pantry ingredients. If you run out of a few ingredients, check the table above to see what else you can use. I have even mixed things up and used half sour cream and half milk.
It will save you time.
This cake doesn't take much time to mix up. You can mix the batter in less than 10 minutes and bake it in about 30 minutes. That's much faster than making a butter cake that needs to be creamed.
It is freezable.
If you need to make it more than two days in advance, then wrap it in some plastic wrap and stick the layers in the freezer. When you take them out of the freezer you can frost the cake while it is still frozen. You can even freeze the cake after you frost it. Just stick it in the fridge overnight to thaw it out.
This all-purpose chocolate cake works for any occasion.
Whether you just want a casual snacking cake or a decked out party cake, this is the chocolate cake you want to make.
Going to a potluck or picnic? Bake the cake in a 13×9 inch pan. It is easy to transport, slice and serve.
Need a birthday cake? Bake it in three, 8-inch round pans for an impressive, tall, party cake.
Want a tiered cake for a special occasion? Check out the different sized cake pans that you can bake this cake in.
Planning to make your own wedding cake? I have made many wedding cakes, anniversary cakes and even a groom's cake using this recipe. It holds up well to marshmallow fondant for spectacular designs.
Want personal, individual cakes? Bake this recipe in cupcake tins.
More Recipes You Will Love
Connect With Savor the Best:
Please follow us on our social media accounts
Facebook * Instagram * Pinterest * Youtube * Twitter
Did you make this recipe? We would love to hear from you. Drop us a comment below.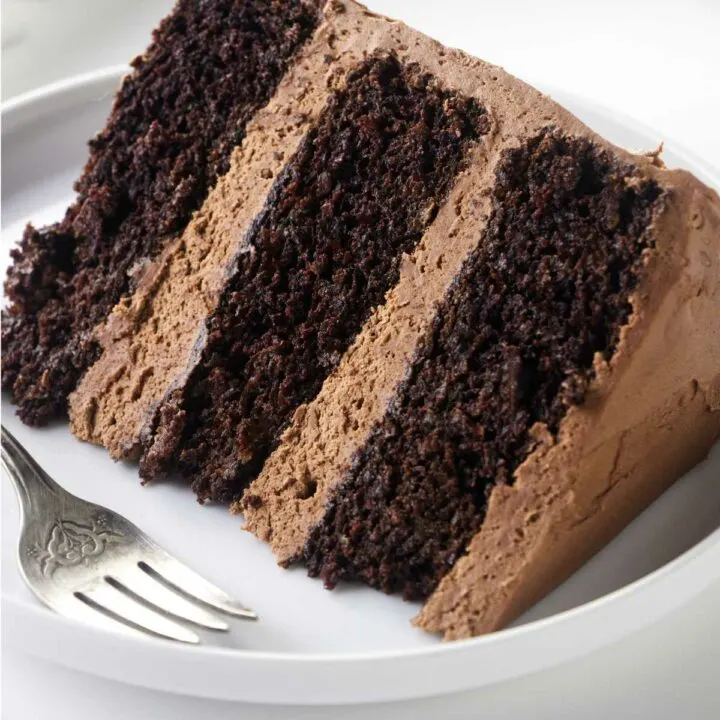 Chocolate Cake with Chocolate Buttercream
Yield:
12 to 24 servings depending on the baking pans used.
This rich, tender chocolate cake is easy to make and only requires one bowl. It bakes well in a variety of pan sizes so you can make this cake for any occasion.
Ingredients
Chocolate Cake
1 cup (80 grams) unsweetened cocoa powder
1 cup boiling water or hot coffee (236 grams)
2 cups sugar (400 grams)
1/2 cup vegetable oil (100 grams)
1 cup sour cream (225 grams)
2 eggs
2 teaspoons vanilla extract
1-3/4 cup all-purpose flour (210 grams)
1-1/2 teaspoons baking powder
1-1/2 teaspoons baking soda
1 teaspoon salt
Chocolate Buttercream Frosting
2 cups butter, softened (452 grams)
6 to 7 cups powdered sugar* (see notes) (673 grams)
1 cup unsweetened cocoa powder (80 grams)
4 to 6 tablespoons milk or heavy cream
1/4 teaspoon salt
2 teaspoons vanilla extract
Instructions
Easy Chocolate Cake:
Preheat the oven to 350°F. Spray three 8-inch cake pans with non-stick spray and line with parchment paper. (See the notes if you want to bake a different sized cake).
In a large mixing bowl, add the cocoa powder and boiling water or coffee. Whisk the chocolate mixture until smooth.
Add the sugar, vegetable oil, and sour cream and whisk until well blended.
Add the eggs and vanilla extract and whisk until the eggs are completely incorporated.
Sift the flour baking powder, baking soda, and salt over the batter. Whisk until there are no flour streaks.
Divide the batter among the baking pans and bake for 28 to 35 minutes. (See the notes if you use different sized pans).
Let the cakes cool for 5 to 10 minutes in the pans then run a knife around the edge of the pans to loosen the cake. Invert the cakes onto a cooling rack and let them cool completely before frosting them.
Chocolate Buttercream Frosting:
Place the butter in a mixing bowl and beat on medium speed for a couple of minutes until it is smooth and creamy.
Add 6 cups of the powdered sugar a cup at a time. Add the cocoa powder slowly and blend on medium speed until incorporated.
Add 4 tablespoons of the milk (or cream), salt, and vanilla extract. Increase the speed and beat for 2 to 3 minutes.
Stop the beater and check the consistency of the buttercream. Add additional powdered sugar if it is too thin or add 16extra milk if it is too thick.
Notes
Baking times for different sized pans:
Three 8-inch round cakes. Bake 28 to 35 minutes.
Two 9-inch round cake pans. Bake 28 to 35 minutes
13x9 pan = Bake 35 to 40 minutes
12 cup Bundt cake = Bake 50 to 55 minutes
Two 8-inch square cake pans. Bake 35 to 40 minutes
Standard-sized cupcake pans Bake 22 to 25 minutes. Makes 24 to 30 cupcakes.

For the buttercream:
Powdered sugar is also called icing sugar in some countries. It has a very fine, powdery texture that dissolves instantly. Do not use granulated sugar that has a sand-like texture.
When you add the powdered sugar and the cocoa powder to the mixer, just add a little at a time so the powder does not fly all over the kitchen.
The chocolate buttercream recipe makes about 4-1/2 cups which is enough buttercream to frost a 3 layer round cake. If you bake a 13x9 inch cake or a bundt cake, you will only need half of the buttercream recipe.
Recommended Products
As an Amazon Associate and member of other affiliate programs, I earn from qualifying purchases.
Nutrition Information:
Yield:

24
Serving Size:

1
Amount Per Serving:
Calories:

410
Total Fat:

22g
Saturated Fat:

12g
Trans Fat:

1g
Unsaturated Fat:

10g
Cholesterol:

59mg
Sodium:

271mg
Carbohydrates:

53g
Fiber:

2g
Sugar:

46g
Protein:

2g
Nutrition information is a guideline only, is calculated automatically by third-party software, and absolute accuracy is not guaranteed.