This fluffy vanilla buttercream frosting is so simple and fast to make. You can adjust the consistency to suit your needs and you can freeze it for up to three months.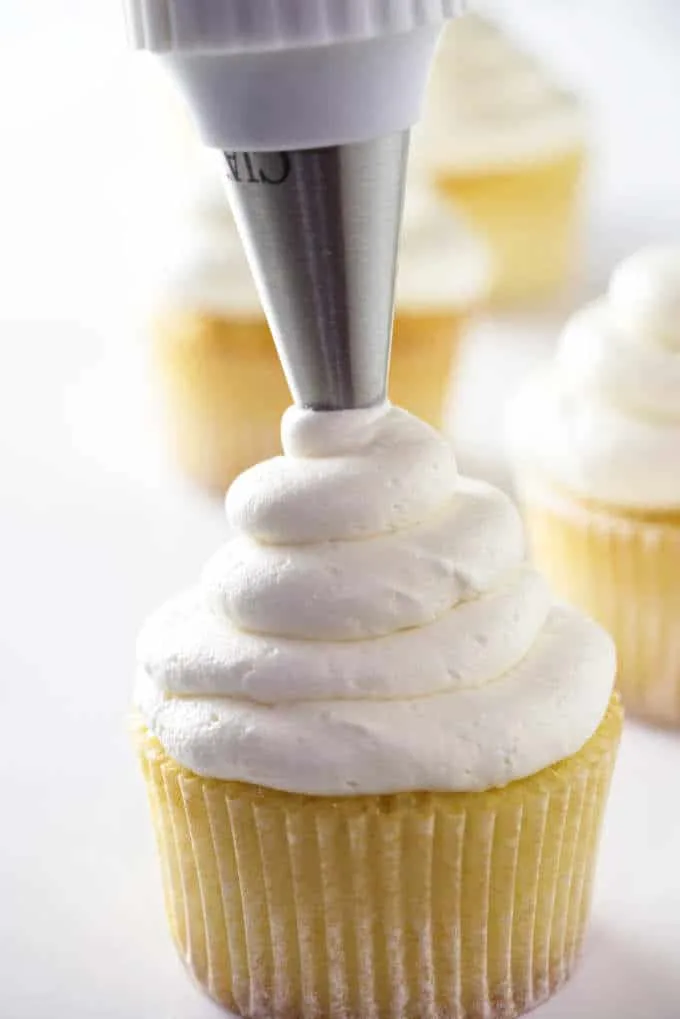 This is a basic American buttercream that really only requires three ingredients. We add a fourth ingredient that helps you adjust the consistency.
You can use this buttercream frosting for cupcakes, cakes, cookies, or whatever your heart desires. It tastes great on chocolate cake.
What is American buttercream?
American buttercream is a sweet, creamy frosting made with butter and sugar. It is the easiest buttercream you can make and the most versatile if you need to adjust the consistency.
It is also the sweetest buttercream compared to Italian Meringue and Swiss Meringue buttercream.
All-butter buttercream.
I prefer an all-butter vanilla buttercream for the best flavor and texture. If you have ever had a buttercream that feels greasy, it is because it was made with vegetable shortening or margarine.
If you use vegetable shortening, not only will it feel greasy, but it will taste bland. So stick with all-butter for the best vanilla buttercream.
How to get pure white buttercream:
The only drawback to using butter is the color. Occasionally I get a request from a bride for a pure white wedding cake. That's trickier to do with an all-butter buttercream. If you want a pure white frosting, you will need to use white food coloring.
Without white food coloring, this vanilla buttercream will give you an ALMOST white color. The more you whip it, the fluffier it will get and the whiter it will become. But it will never be a true pure white if you use butter. If the buttercream is not white enough for you after you whip it then add drops of white food coloring until you get the shade of white you need.
Keep in mind that the more food coloring you use, the thinner and looser the buttercream will get. If you use enough food coloring to loosen the buttercream, add more powdered sugar.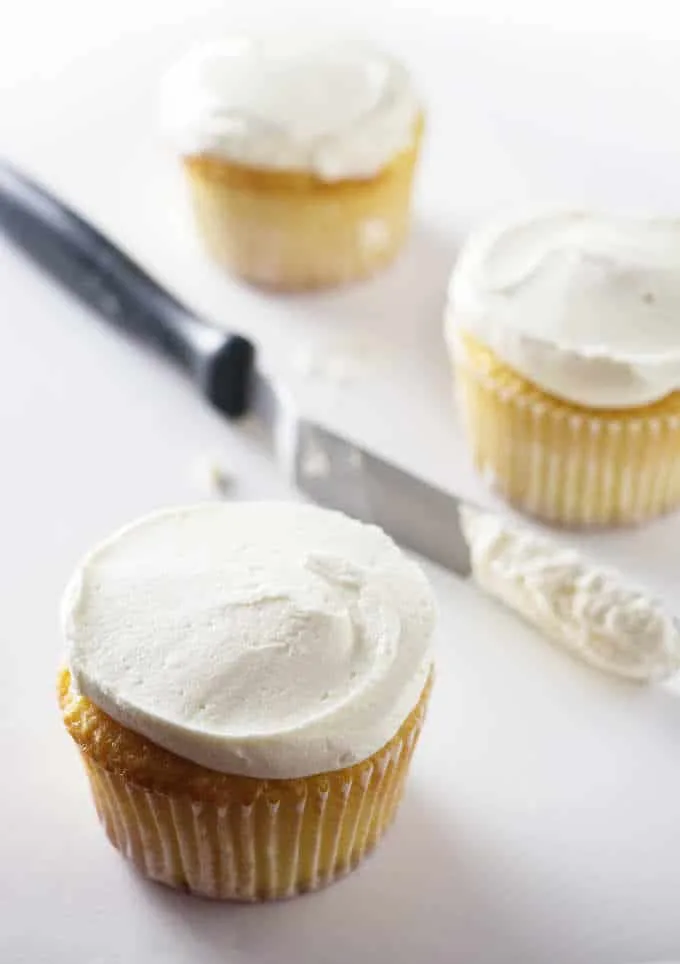 How do you get a fluffy buttercream frosting?
This vanilla buttercream can be thick, stiff. and pasty, or it can be light fluffy and airy. The only difference between the two textures is air. If you want a fluffy buttercream, all you need to do is whip it longer.
The longer you beat the buttercream, the more air you will incorporate into the frosting. Not only will that make it fluffier but it will make it whiter. Because of the color of the butter, it will never become pure white but it will get pretty close.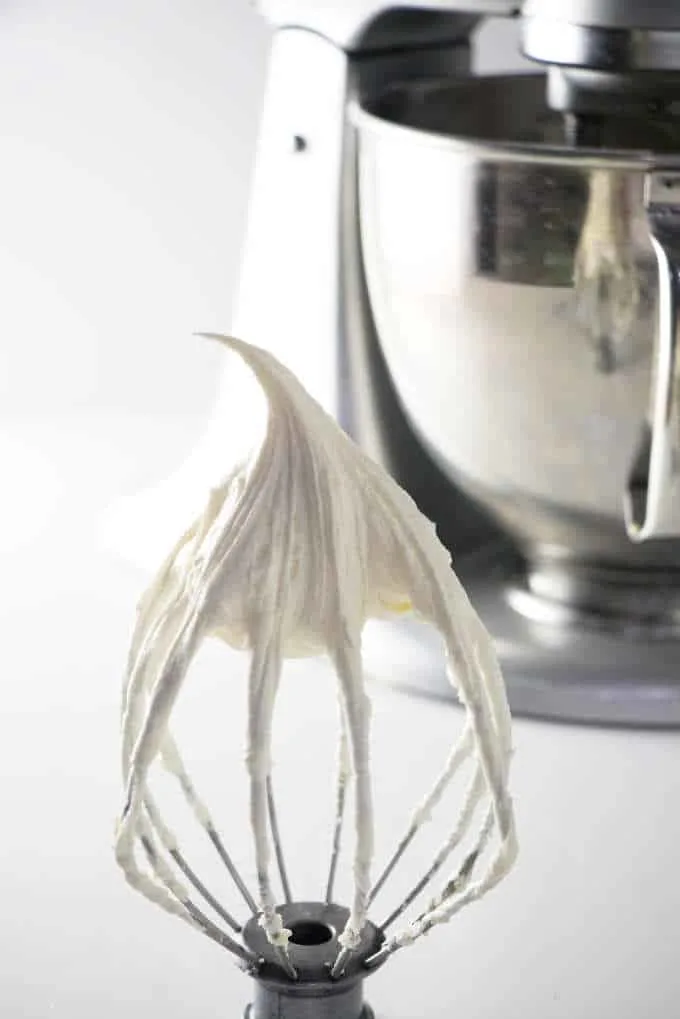 Ingredients needed for an American buttercream:
butter

. Real butter tastes best in this recipe. Margarine gives the frosting a greasy feel and "off" flavor. If you can't have dairy then margarine will work but make sure you use the kind that comes in a stick and not in a tub.
powdered sugar. It is important to use powdered sugar and not granulated sugar. Granulated sugar will make the buttercream taste gritty.
vanilla extract. Vanilla enhances the flavor. You only need a little bit to make a big impact on flavor.
milk or cream. Milk or cream will help thin the buttercream out and give it a smoother consistency. If you want a very stiff buttercream you do not need to add milk or cream.
The butter:
I use salted butter because salt enhances the flavor. If you don't have salted butter then add a pinch of salt to the mix. A little bit of salt goes a long way to improve the flavor.
You should also make sure you let the butter soften. Room temperature butter will aerate better and give you a fluffy buttercream.
If you start with cold butter, you might end up with a clumpy coagulated mess. If you don't end up with a mess, you will have to beat it for almost 20 minutes before it has a decent consistency.
How to soften butter quickly:
If you want to soften butter quickly you can grate it with a cheese grater or cut it up into small chunks and let it sit for about 10 minutes. I don't recommend sticking it in the microwave, it is too easy to get butter TOO soft if you do that. And butter that is too soft will make a messy buttercream.
Another technique you could use to soften butter quickly is to pound or roll it with a pastry roller. Just place it in a plastic bag and pound away.
The Powdered sugar:
Make sure you use powdered or confectioners sugar. Regular ole table sugar will make a gritty texture. If your powdered sugar is clumpy you should sift it before you add it to the butter.
When you add the powdered sugar to the mixer, make sure the mixer starts out on a very slow speed. Otherwise, if your mixer is on high, the powdered sugar will fly all over the kitchen and dust everything in a blanket of white.
The vanilla extract:
Vanilla extract puts the 'vanilla' in this fluffy vanilla buttercream. Real vanilla is pricy but it is definitely superior in flavor to the imitation stuff.
This recipe only calls for 2 teaspoons of vanilla extract so you will have plenty left for other recipes. Just get the real stuff. You could even use vanilla bean paste for a vanilla bean buttercream. Just remember that the vanilla bean paste will leave little flecks in the buttercream.
The milk or cream:
I listed milk or cream as an optional ingredient. Most recipes have you add the liquid regardless of the consistency. But it really is only necessary if you want to adjust the consistency of the buttercream.
After you whip the buttercream for several minutes, you might find that it is a perfect consistency. If that is the case, don't feel you have to add the milk or cream. Otherwise, if you want the buttercream softer, just add a little at a time. As in 1 teaspoon at a time. Don't pour in 2 tablespoons all at once.
However, if you do add too much milk or cream, don't worry, just add a bit more powdered sugar until you get the consistency you want.
That is what makes this buttercream so easy and flexible.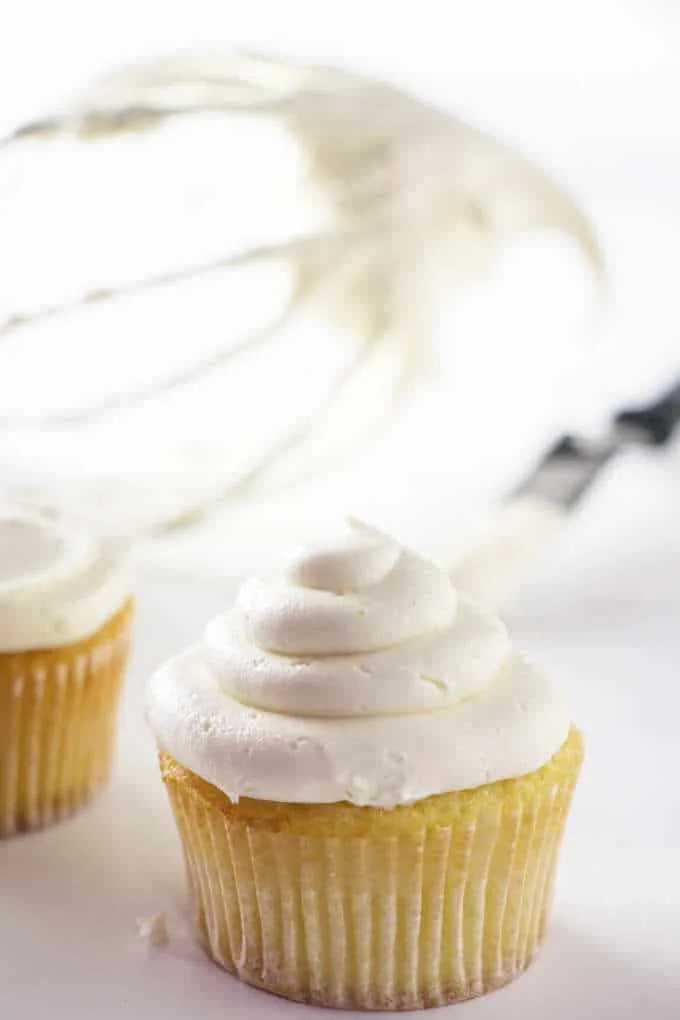 Perfect buttercream for piping:
Sometimes I want a fluffy consistency to pipe on cupcakes but a stiffer consistency to pipe flowers. When that happens I don't make two separate batches, I simply add a bit more powdered sugar to the buttercream after I frost the cupcakes.
If you want to use this buttercream for Russian decorating tips, perfect! This is the buttercream for you. I have found that most of the Russian decorating tips need a slightly thicker consistency but some of them do better with a slightly lighter consistency.
This is such an easy buttercream to adjust it is perfect for the various piping tips and lets you experiment easily.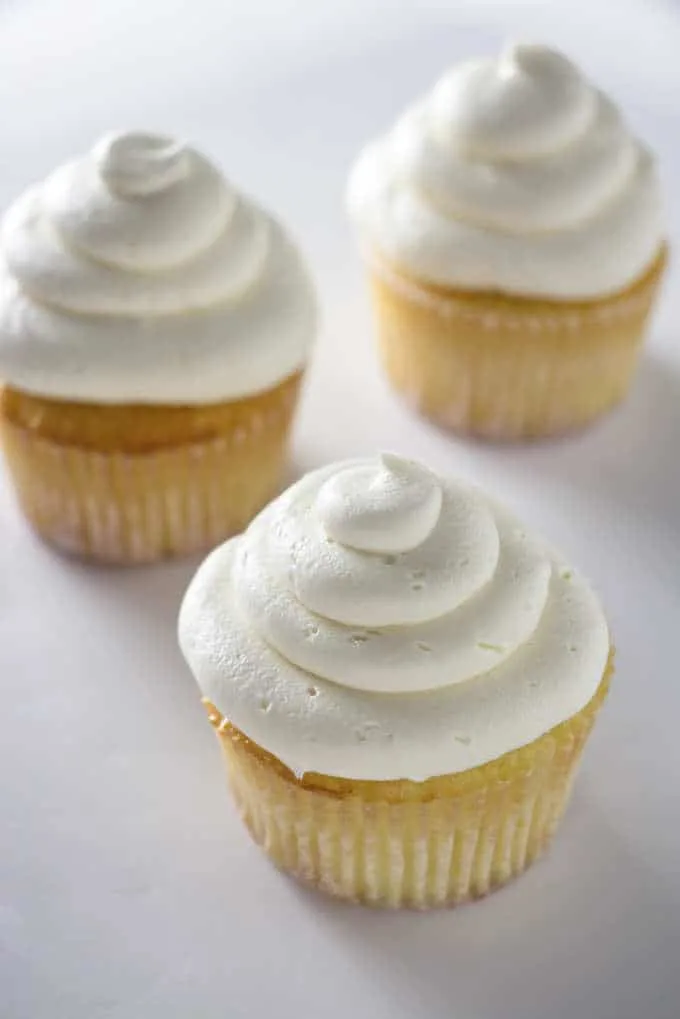 SOME OTHER RECIPES WE ARE SURE YOU WILL LOVE:
Fondant is such a fun way to decorate cakes and cupcakes but it usually tastes like plastic. This cheap and easy marshmallow fondant tastes like marshmallows. Who could complain about that? And just as the title says, it is cheap and easy to make.
This easy chocolate cake filling only takes a few minutes to make and tastes great on just about any cake.
This yellow cake is smothered in chocolate frosting but it goes well with this fluffy vanilla buttercream too. The perfect all-butter yellow cake with all-butter vanilla buttercream. Dreams come true.
Connect With Savor the Best:
Please follow us on our social media accounts
Facebook * Instagram * Pinterest * Youtube * Twitter
Did you make this recipe? We would love to hear from you. Drop us a comment below.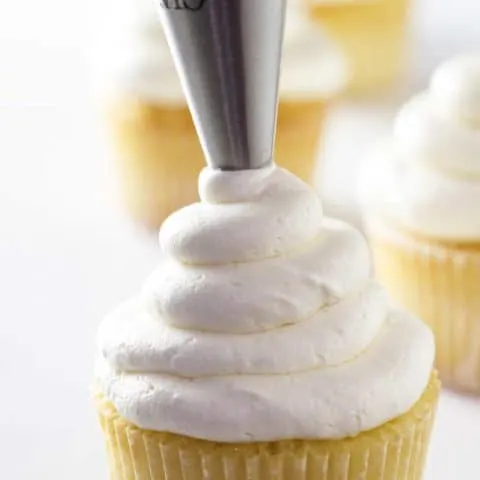 Fluffy Vanilla Buttercream (American Buttercream)
Yield:
4-1/2 cups of buttercream
The best American buttercream frosting that is smooth and fluffy. You can make this frosting thick and stiff or light, loose and airy. It is easy to adjust the consistency for piping and spreading on cakes, cookies, or cupcakes. This is an all-butter recipe.
Ingredients
2 cups salted butter, softened
6 to 8 cups confectioners sugar (678 to 904 grams)
2 teaspoons vanilla extract
Optional:
1 to 2 tablespoons cream or milk (based on your desired consistency)
Instructions
Place the butter and a couple of cups of the sugar in a mixing bowl. Mix on medium speed until the sugar is blended well with the butter. Blend in the vanilla extract.
Slowly add more sugar a little at a time. Start with just 6 cups of sugar if you want a looser, fluffier consistency. Beat until it is very smooth and creamy.
To get really smooth and creamy results, beat for at least 5 to 6 minutes with a handheld mixer and 3 to 4 minutes with a stand mixer. For an even fluffier and almost white color, add a couple more minutes.
Adjust the consistency:
If you want a stiffer, thicker consistency, add the additional 2 cups of powdered sugar.
For a looser and lighter consistency, add the cream or milk.
Notes
If you use a hand held mixer you will need to beat the buttercream for 5 to 6 minutes but a stand mixer will take half the time.
Freezes for 3 month
Makes 4-1/2 cups of icing.
Frosts 24 cupcakes or a 9 inch two layer cake.
Nutrition Information:
Yield:

72
Serving Size:

1 tablespoon
Amount Per Serving:
Calories:

48
Total Fat:

5g
Saturated Fat:

3g
Trans Fat:

0g
Unsaturated Fat:

2g
Cholesterol:

14mg
Sodium:

42mg
Carbohydrates:

0g
Fiber:

0g
Sugar:

0g
Protein:

0g
Nutrition information is a guideline only, is calculated automatically by third party software, and absolute accuracy is not guaranteed.