Biscoff buttercream is the frosting you never knew you needed! Rich and creamy with a hint of cinnamon and the delicious warm flavors of Biscoff cookie butter makes it the perfect sweet topping for a variety of sweet treats!
Pipe it onto our Biscoff butter cookies or use it to frost a beautiful layer cake. This frosting is just as decadent and flavorful as the beloved Lotus Biscoff cookies and we know Biscoff lovers will definitely approve!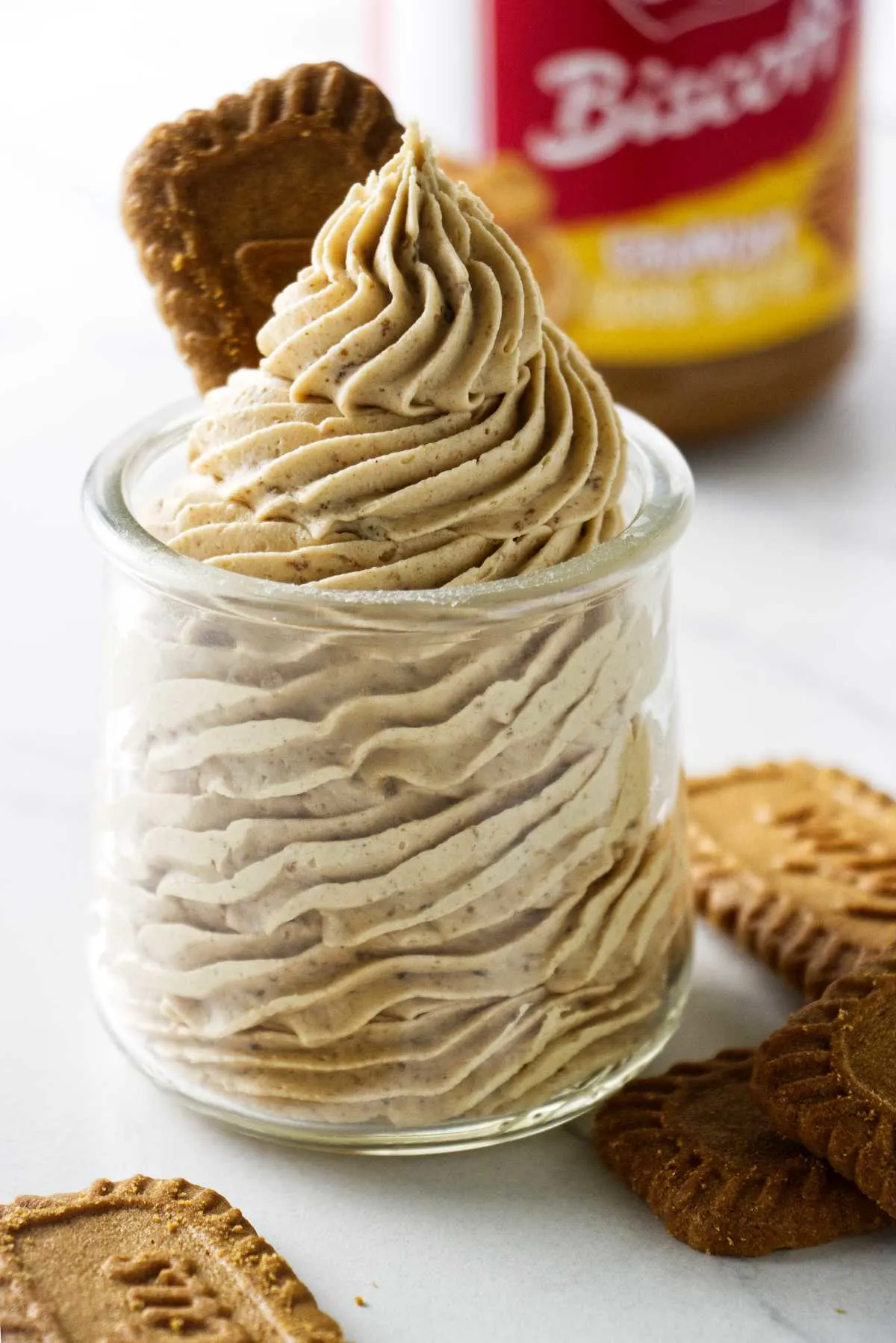 Fluffy Frosting Made with Biscoff Spread
If you're a fan of cookie butter spread (and Biscoff cookies in general), you'll love this decadent Biscoff buttercream!
It has a rich Biscoff flavor thanks to a combination of warm spices and cookie butter mixed right into the frosting.
Top your favorite cookies, cakes and brownies with Biscoff frosting to take sweet treats to the next level. It's delicious on Black Cocoa Cookies, Gingerbread Crinkle Cookies and these festive Soft Sugar Cookies.
And you can't go wrong with Biscoff cookie butter frosting onto our Pumpkin Spice Cake, our Banana Layer Cake or these Carrot Cupcakes!
​Why This Buttercream Recipe Works
Have you ever tried cookie butter? You can find it at most grocery stores, sometimes called Lotus Biscoff spread, Speculoos Cookie Butter, or Cookie Butter spread.
It has a consistency similar to peanut butter but with the delightful flavor of crushed Biscoff cookies instead of nutty peanuts.
This cookie butter buttercream is packed with that smooth Biscoff spread, which is where the frosting gets its incredible flavor.
Here's why you'll love it:
Biscoff buttercream is the perfect frosting for any occasion, from festive holiday cookies to year-round baking projects.
It's an easy recipe and the frosting pairs well with a variety of baked goods.
Sweet, rich, and packed with that warm Biscoff cookie flavor, this cookie butter spin on American buttercream is heavenly!
​Ingredients Needed for Biscoff Frosting
Here's a look at what you'll need to make Biscoff buttercream. For the ingredient amounts, scroll to the bottom of the page to view our printable recipe card.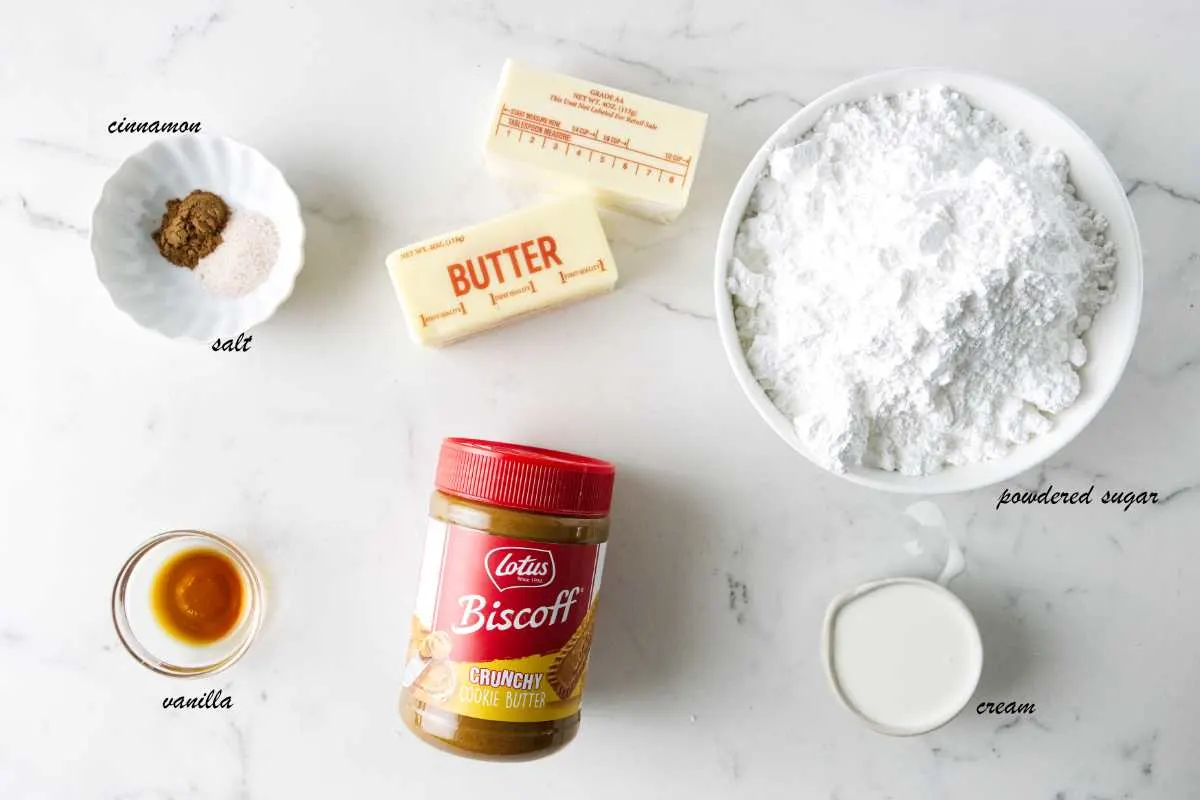 Unsalted butter. Room temperature butter is the base for the frosting. If using salted butter, omit the salt from the recipe.
Powdered sugar. Also known as confectioners sugar or icing sugar, this gives the frosting the perfect amount of sweetness!
Biscoff cookie butter. Cookie butter is creamy and rich and sweet and is what gives this frosting that classic taste of Biscoff. You can use a crunchy Biscoff spread if you want extra texture and crunch in the frosting, but the small chunks of Biscoff crumbs will not pass through small piping tips.
Vanilla extract. A splash of vanilla adds another flavorful element in this delicious frosting.
Ground cinnamon. For warmth and spice.
Salt. A touch of salt helps balance out the sweetness.
Cream. To thin down the Biscoff icing, if needed.
What Flavour is Biscoff?
Biscoff has a unique flavor profile that's a delightful blend of caramelized sugar, a hint of warm spice, and deep brown sugar notes. I like to describe them as warm, nutty, and slightly spiced. The flavour is a bit like graham crackers, but they're richer and have more complexity.
How to Make Biscoff Buttercream
Similar to a classic American buttercream, our Biscoff buttercream recipe is so simple!
Here's a look at the steps you will need to follow, but as always, check out the printable recipe card at the bottom of the page.
Equipment: You can use a large bowl (with a hand mixer) or the large mixing bowl of your standup mixer. We like to use the paddle attachment with our stand mixer.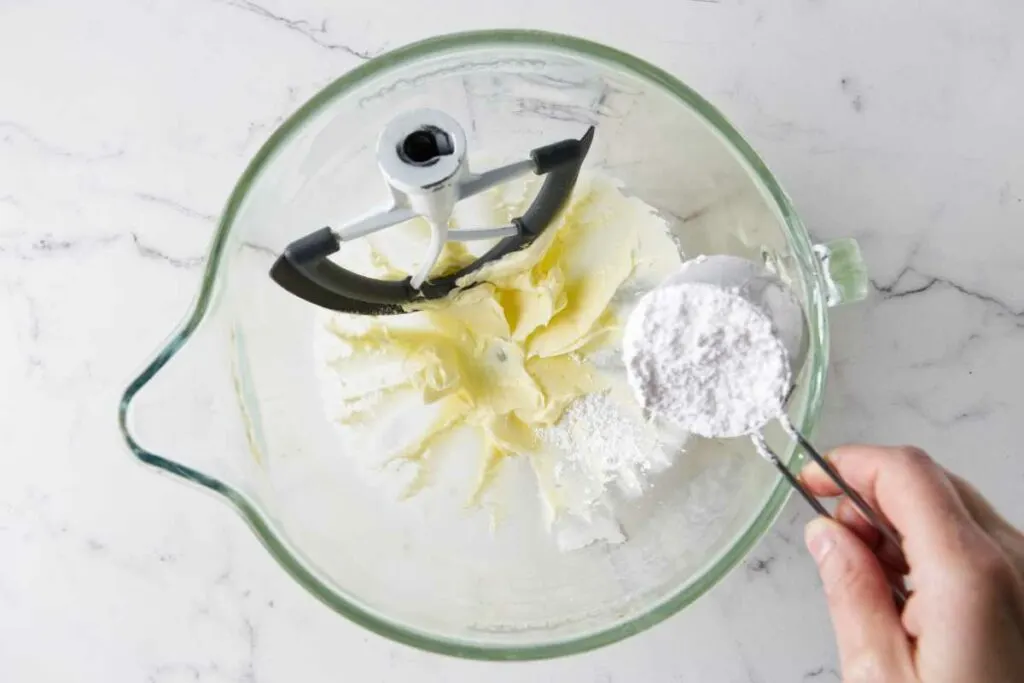 Beat the butter on medium speed until smooth and creamy. Add the powdered sweetener and mix on low speed, gradually increasing to medium-high speed. Mix until well combined.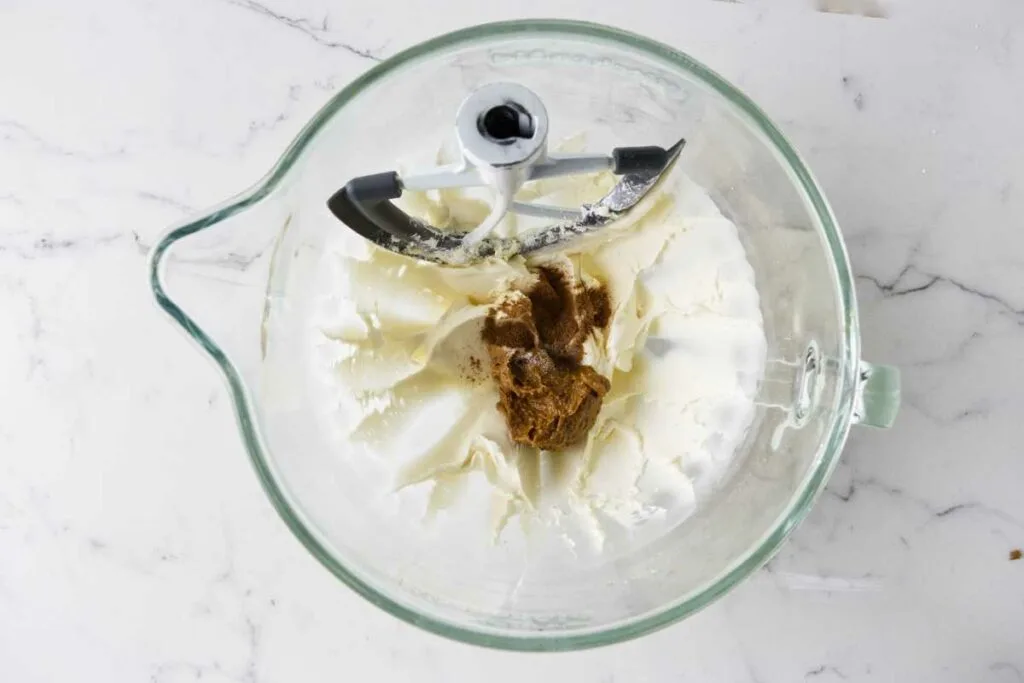 Add the cookie butter, vanilla, cinnamon and salt. Beat until fully combined. If the frosting looks too stiff, add 1 tablespoon of cream until it lightens up to the right consistency.
Use the Biscoff buttercream immediately or store in an airtight container at room temperature (or in the fridge) until you're ready to use it.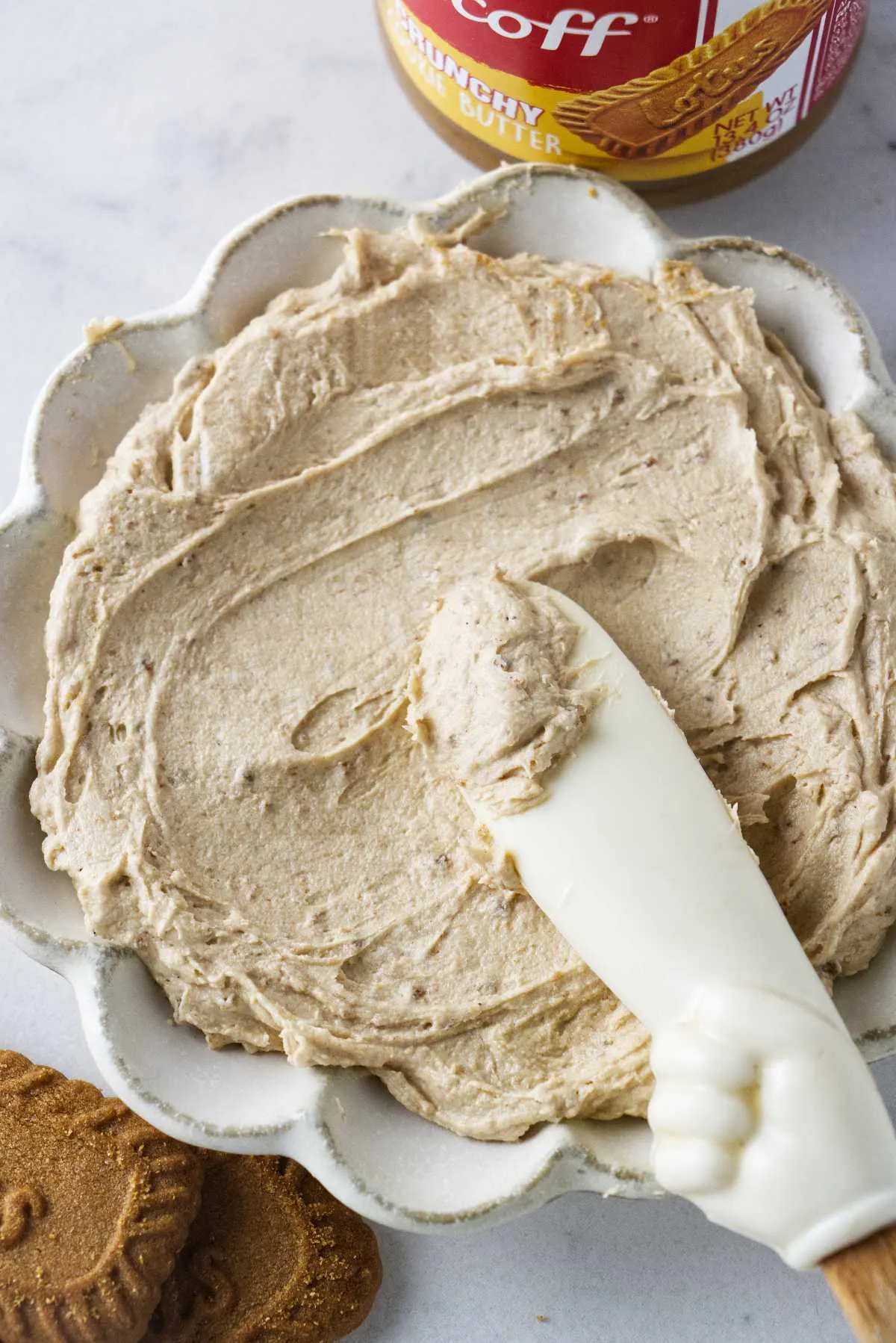 Tips for the Best Buttercream Frosting
Before you make this sweet frosting, here are a few pointers to help you make it a smooth success. Whether you're spreading it on cookies or piping it on cupcakes, these tips will make the recipe as easy as a sprinkle of sugar.
​You can store the buttercream at room temperature for up to three days or in the fridge for 3 to 4 weeks. You can also freeze the buttercream for 3 to 4 months.
If storing the buttercream in the fridge, let it soften at room temperature for a little bit before spreading the smooth buttercream on cake layers or transferring it to a piping bag.
Sift the sugar. Powdered sugar clumps easily when it gets stored in the pantry. Sifting will make sure the frosting is smooth.
Storage
Whether you've whipped up a little extra or you are just planning ahead, you can store this frosting for later.
Room Temperature: If you plan to use the buttercream within 2-3 days, you can safely store it at room temperature. Be sure to cover it tightly with plastic wrap or place it in an airtight container to prevent it from drying out.

Refrigerator: For a longer shelf life, you can store the buttercream in the fridge for up to 2 weeks. Again, use an airtight container to keep it fresh. Before using, allow it to sit at room temperature for a couple of hours and give it a good stir to restore its creamy texture.

Freezer: This frosting recipe freezes exceptionally well. Place it in an airtight container or a heavy-duty freezer bag and store it for up to 3 months. When you're ready to use it, thaw it in the fridge overnight and then allow it to come to room temperature. Beat it for a few minutes with a mixer to smooth it out.
​How to Use Biscoff Buttercream
There are so many wonderful ways to enjoy this dreamy cookie butter frosting recipe! Here are a few delicious recipes you can pair it with:
⭐️ Helpful Tools For This Recipe
Here are some supplies to help make great frosting. Some of the following are affiliate links. We may receive a small commission if you click on these links and purchase something. You don't pay any extra, but it will help us keep the lights on.
More Recipes You Will Love:
Our Nutella Buttercream has a classic hint of hazelnut. It's ultra creamy and pairs well with all types of cakes- from vanilla cake to chocolate cake to our moist and tender Banana Cake.
White Chocolate Cake is as delicious as it is elegant, with a white chocolate mousse filling, buttercream and a decadent white chocolate ganache.
Hot Chocolate Cupcakes are such a fun treat! A cupcake is topped with a fluffy marshmallow buttercream, drizzle with a sweet syrup and sprinkled with mini marshmallows. What's not to love?!
Connect With Savor the Best:
Please follow us on our social media accounts
Facebook * Instagram * Pinterest * Youtube * Twitter
Did you make this recipe? We would love to hear from you. Drop us a comment below.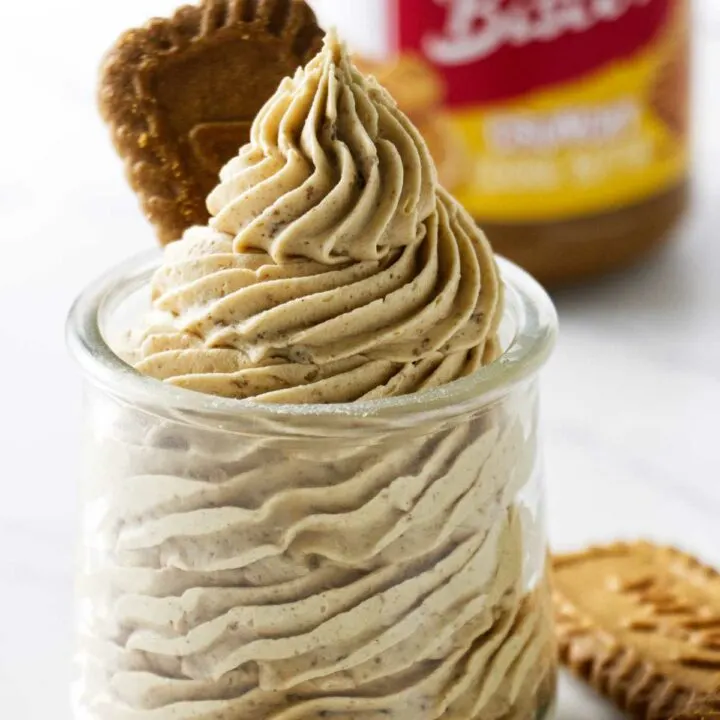 Biscoff Buttercream
This Biscoff Buttercream is the frosting you never knew you needed. Its rich, creamy texture, combined with the caramelized, spiced flavor of Biscoff spread, makes it the perfect complement to any dessert. A hint of cinnamon in the buttercream gives it an extra special kick and complements the cinnamon in Biscoff cookies.
Use a crunchy Biscoff spread if you want a little extra texture and crunch in the buttercream, but remember the small chunks of cookie will not pipe through smaller piping tips.
Ingredients
1 cup (2 sticks) butter, softened (226 grams)
3 cups powdered (confectioners) sugar
⅔ cup Biscoff cookie butter (264 grams)
1 teaspoon vanilla extract
½ teaspoon ground cinnamon
½ teaspoon salt
1 to 4 tablespoons heavy cream
Instructions
Place the butter in a mixing bowl and beat on medium speed until smooth and creamy.
Stop the mixer and add the powdered. Start the mixer on low speed and gradually increase the speed to medium high. Mix until well combined.
Add the cookie, butter, vanilla, cinnamon, and salt. Beat until well combined.
If the butter cream looks too stiff, add the heavy cream 1 tablespoon at a time mixing well between each addition.
Notes
You can store the buttercream at room temperature for up to three days or in the fridge for 3 to 4 weeks. You can also freeze the buttercream for 3 to 4 months.
Nutrition Information:
Yield:

56
Serving Size:

1 tablespoon
Amount Per Serving:
Calories:

21
Total Fat:

2g
Saturated Fat:

0g
Trans Fat:

0g
Unsaturated Fat:

1g
Cholesterol:

1mg
Sodium:

26mg
Carbohydrates:

2g
Fiber:

0g
Sugar:

1g
Protein:

0g
Nutrition information is a guideline only. It is calculated automatically by third-party software, and absolute accuracy is not guaranteed.