If you like carrot cake, you will love our Carrot Cake Cupcakes! These cupcakes have the same great taste as the classic carrot cake but have the convenience of individual servings. They are moist and tender with lovely warm spices and the crunch of roasted walnuts. Plus, we have piped a generous portion of sweet, creamy, cream cheese frosting on top of each cupcake. And they are calorie-free….I wish! ♥️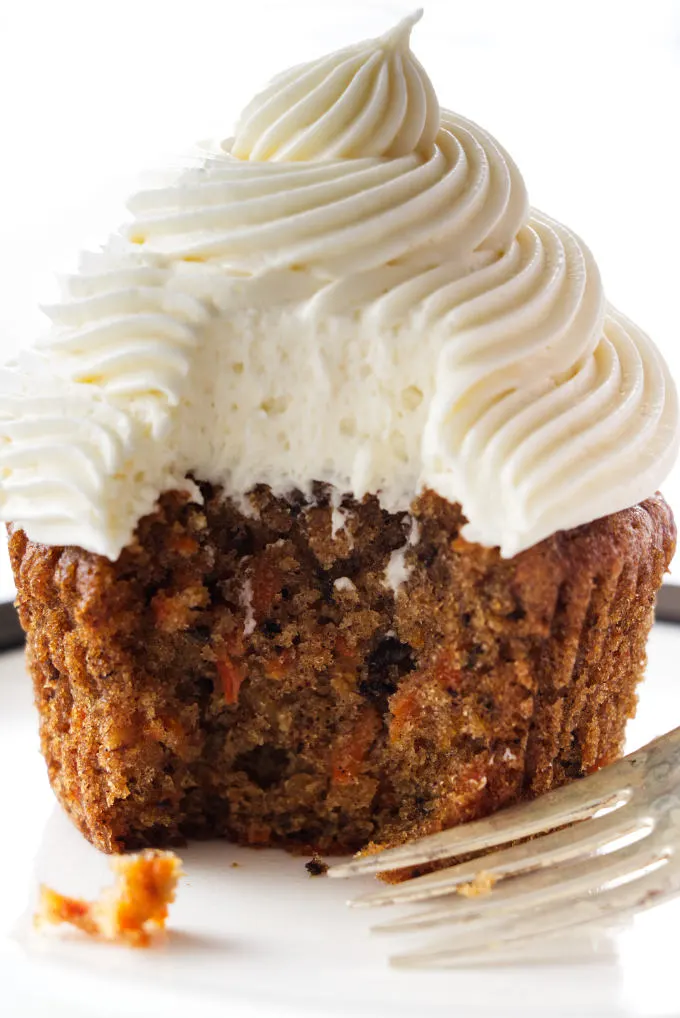 This is a classic carrot cupcake recipe with walnuts and warm spices of cinnamon and ginger. The cupcakes are moist and perfectly spiced, with extra moisture from the carrots. The walnuts add a nice crunch to the cupcakes, and they're also great for decoration if you want to sprinkle them on top of the frosting.
These carrot cupcakes are perfect for any occasion, whether it's a birthday party, a potluck, or just a fun snack!
The smooth, sweet cream cheese frosting is the perfect topping for these moist, tender homemade carrot cake cupcakes. That smooth, sweet cream cheese frosting is the same delicious recipe that we frosted our Red Velvet Cupcakes and our perfect Chocolate Cake.
For a twist on our traditional recipe, try our tropical carrot cake. We have added pineapple and coconut for a delicious tropical flavor.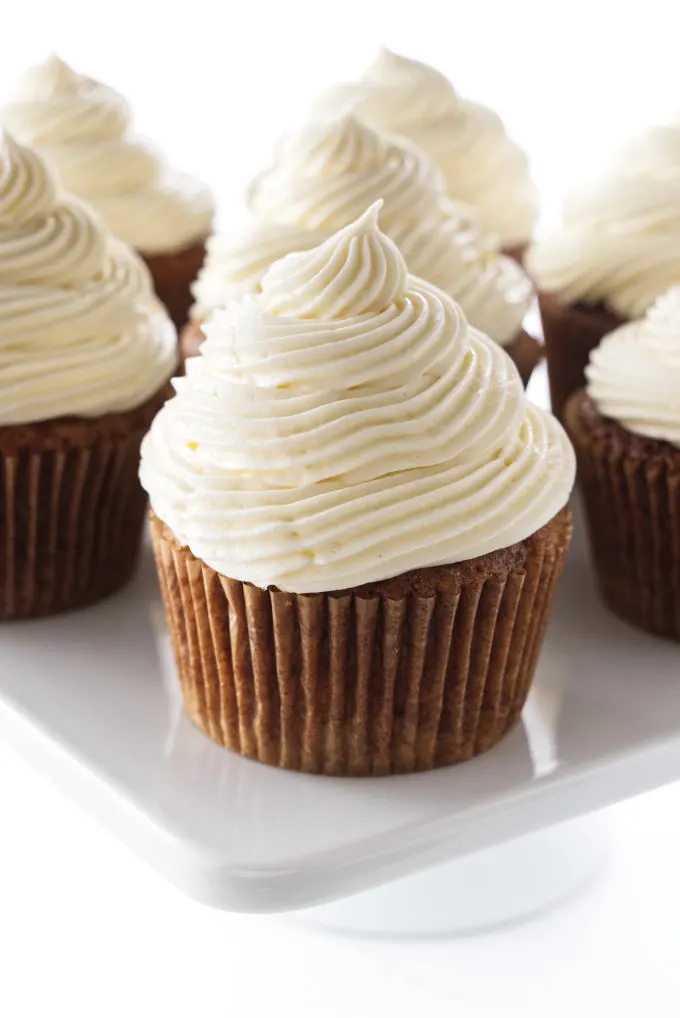 Here's Why This Carrot Cake Cupcake Recipe Works:
They are super moist with a tender crumb.

Freshly grated carrots add texture and moisture.

The warm spice blend compliments the carrots.

A luscious cream cheese frosting makes them extra special.

The recipe works for jumbo, mini, or regular-sized cupcakes.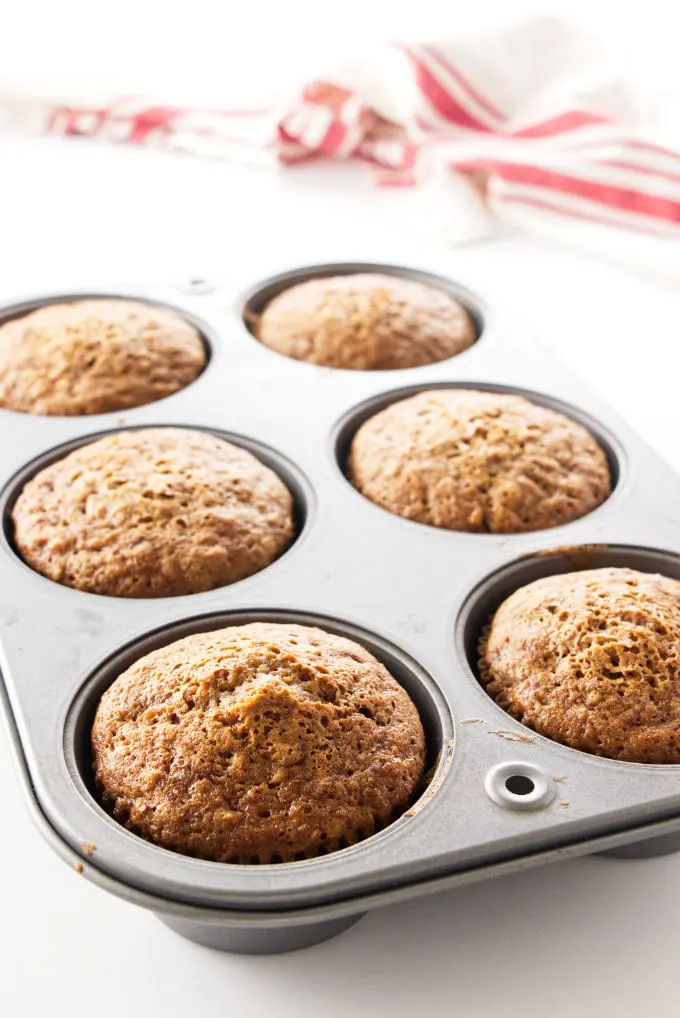 The Ingredients:
Here is a list of the ingredients you will need for this recipe. Scroll down to the printable recipe card for all the measurements:
Flour
Baking powder
Baking soda
Salt
Ground spices: cinnamon, ginger, and cloves
Sugar: granulated and brown sugar
Vegetable oil
Eggs, large
Vanilla
Freshly grated carrots
Chopped toasted walnuts (optional)
Frosting:
Butter
Cream cheese
Vanilla
Confectioners' sugar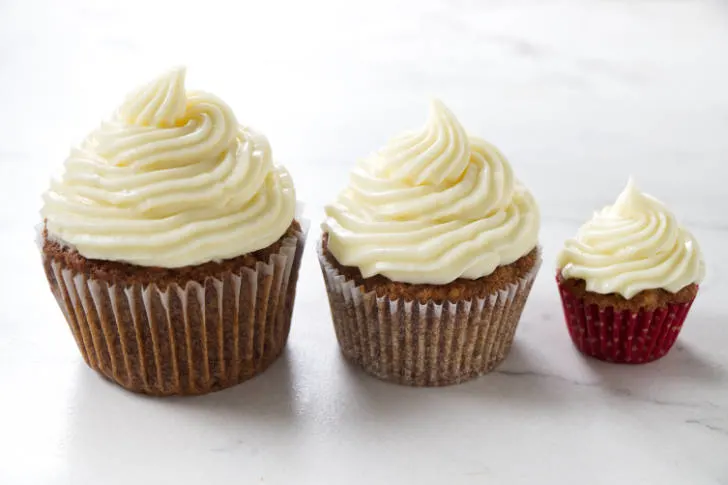 How to Make Carrot Cake Cupcakes
Here is a brief overview to get an idea of what to expect with the recipe. Scroll down to the printable recipe card for all measurements and the details.
Preheat the oven to 350°F and place cupcake wrappers into the cavities of a cupcake pan.
Combine the flour, baking powder, baking soda, salt, and spices and set aside.
In a separate bowl, beat the sugars, oil, eggs, and vanilla together.
Fold in the flour mixture.
Stir the carrots and walnuts in by hand.
Spoon the batter into the cupcake wrappers and bake.
Cool completely before frosting.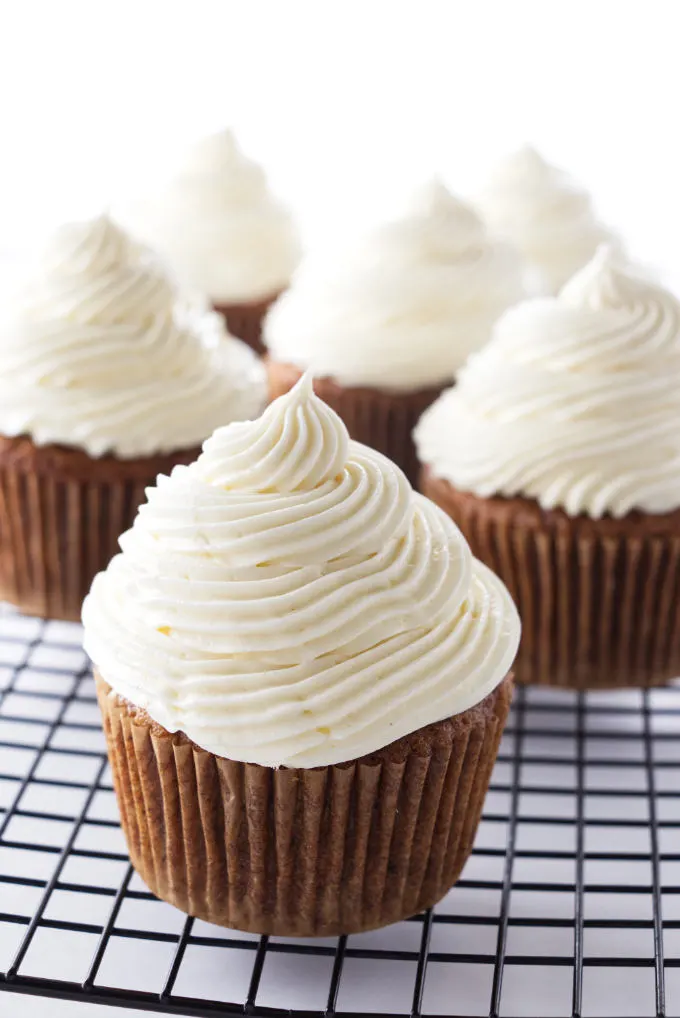 Easy Cream Cheese Frosting:
The secret to this smooth, creamy frosting is to be sure the butter and cream cheese are soft. If it gives slightly when pressed with the back of a spoon it is ready to use. This four-ingredient frosting is so easy to make and if there is more than needed it will keep in the freezer in a sealed container for several months.
Beat the butter, cream cheese, and vanilla together until creamy.
Add the confectioners' sugar and beat until very creamy.
Pipe or spread on cooled cupcakes.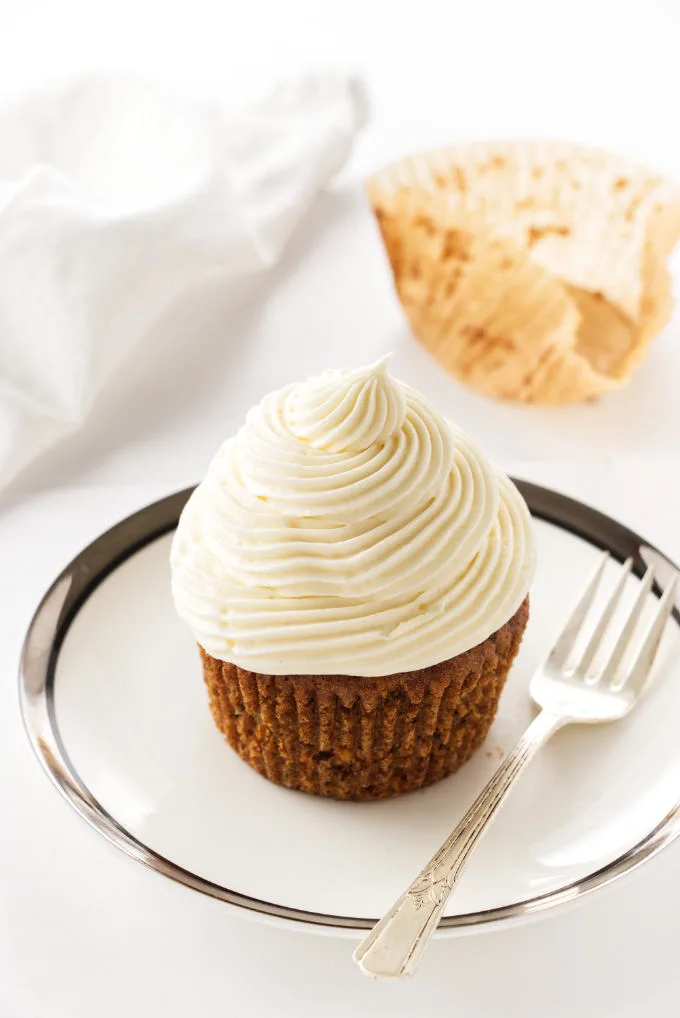 Tips For Success:
We recommend using a kitchen scale, once you begin using a kitchen scale you will wonder how you got by without it. If you do not have a scale and measure the flour, stir the flour then lightly scoop it into a cup and level off.

If you scoop the flour directly into the flour container, it will pack the flour down and you will end up with too much flour.

Do not use the bagged shredded carrots as they are too dry. You need the moisture from the freshly grated carrots for this cupcake recipe.

Do not overfill the cupcake cavities. Fill only three-quarters full, allowing room to rise.

Cool the cupcakes completely on a wire rack before frosting.

Use softened butter and cream cheese. If cream cheese is too cold it will lump when beaten and it is difficult to beat the lumps out into a smooth, creamy texture.

Sift the confectioners' sugar as it has a tendency to lump in the package.
Frequently Asked Questions:
What is the difference between a cupcake and a muffin?
A cupcake is a small cake that is perfect for individual servings. An example of a cupcake is our Chocolate Cupcakes. Cupcakes are lighter and sweeter than a muffin.

Muffins are a quick bread like banana bread but they have the same shape as a cupcake. Our Morning Glory Muffins are a great example.

Muffins are also denser and less sweet than a cupcake. Muffins are often served warm as a breakfast bread like our Blueberry Spelt Muffins and they are usually not frosted, although they may have a streusel/nut topping like these Banana Blueberry Muffins.
Can these cupcakes be made in a jumbo or mini cupcake tin?
Yes, this recipe will make 24 standard cupcakes, 12 jumbo cupcakes, and 80 mini cupcakes.
Can I frost the cupcakes with another type of frosting?
I actually know of one person that does not like cream cheese frosting! A delicious alternative that we can recommend is our Ermine Frosting, an old-fashioned, cooked frosting that is smooth, creamy, and not too sweet.

Another great frosting would be an Italian Buttercream. And you can never go wrong with a soft, fluffy Homemade Whipped Cream heaped on top of these homemade carrot cake cupcakes!
Whether you want to make standard-sized cupcakes, jumbo cupcakes, or mini carrot cupcakes, this recipe is sure to please. The cream cheese frosting takes these carrot cake cupcakes over the top and makes them irresistible.

Some Other Recipes We Are Sure You Will Love:
Pistachio Rose Mascarpone Cakes Cute little heart-shaped sponge cakes filled with a rosewater and mascarpone cream. They are dusted with a flurry of confectioners' sugar. Make these for a very special occasion.
Reese's peanut butter cups meet chocolate tart in our Chocolate Peanut Butter Tart! We covered the tart with a chocolate ganache swirled with smooth peanut butter.
Tangy goat cheese blended with lemon zest, fresh thyme, and cream cheese. What a flavor combination! Bake up these personal-size Mini Goat Cheese Cheesecakes today for the perfect finish to any dinner!
Our cheesecake stuffed pumpkin muffins are topped with a crunchy cinnamon streusel. They are perfect for any time of the day.
Connect With Savor the Best:
Please follow us on our social media accounts
Facebook * Instagram * Pinterest * Youtube * Twitter
Did you make this recipe? We would love to hear from you. Drop us a comment below.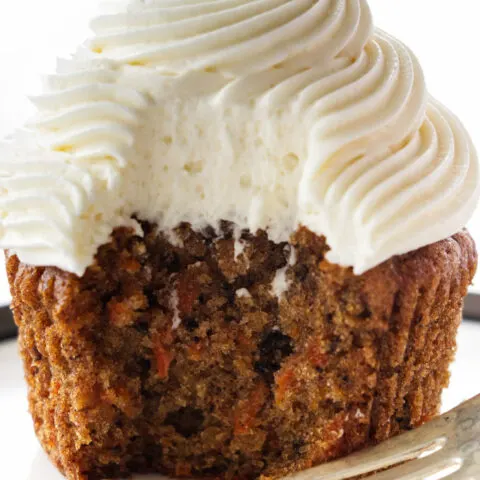 Carrot Cake Cupcakes With Cream Cheese Frosting:
The classic carrot cake is a dessert that never grows old. This recipe for Carrot Cake Cupcakes is loaded with freshly grated carrots and spiced with cinnamon and ginger. These tender, moist cupcakes get topped with the ever-popular cream cheese frosting.
This recipe makes 12 jumbo cupcakes, 24 standard cupcakes, or 80 mini cupcakes.
Ingredients
2 cups (240 grams) all-purpose flour
2 teaspoons baking powder
1 teaspoon baking soda
1 teaspoon salt
1 tablespoon ground cinnamon
1/2 teaspoon ground ginger
1/4 teaspoon ground cloves
1 cup granulated sugar (200 grams)
1/2 cup brown sugar (100 grams)
1-1/4 cup vegetable oil (247 grams)
4 eggs
1 teaspoon vanilla
3 cups freshly grated carrots (340 grams)
1 cup chopped toasted walnuts (optional)
Frosting:
2 sticks butter, softened
2 pkgs. (8 oz. each) cream cheese, softened
1 teaspoon vanilla
4 cups (460 grams) confectioners' sugar (powdered sugar) sifted
Instructions
Preheat the oven to 350°F and place cupcake wrappers into the cavities of a muffin pan. Spray the wrappers with non-stick cooking spray, and set them aside.
Sift the flour, baking powder, baking soda, salt, cinnamon, ginger, and cloves together and set aside.
In a large mixing bowl with either a stand mixer or hand-held mixer, beat the granulated sugar, brown sugar, oil, eggs, and vanilla together until fluffy.
Reduce the mixer to low and add the flour mixture. Blend until all the flour mixture is incorporated, do not over mix.
Stop the mixer and stir in the carrots and walnuts by hand with a rubber spatula.
Spoon the batter into the prepared wrappers to about 3/4 full.
Transfer to the oven and bake for 12 to 14 minutes for mini cupcakes, 20 to 23 minutes for regular-sized cupcakes, or 30-35 minutes for jumbo cupcakes. A toothpick inserted in the center of the cupcakes should come out clean.
Remove from the oven and cool in the pan for 5 minutes, then lift the cupcakes out and set them on a wire rack to finish cooling.
Frosting:
Place the butter, cream cheese, and vanilla in a mixing bowl. Beat on medium speed until smooth and creamy.
Slowly add the confectioners' sugar and beat until combined.
Notes
If you want to pipe the frosting in a swirl as it looks in the photos, you will need to double the recipe if you make jumbo cupcakes.
Let the cream cheese and butter soften up at room temperature before you begin. If they are cold when you start then you will get lumpy frosting.
To soften butter quickly, grate it with a cheese grater.
To soften cream cheese quickly, cut it into small cubes and let it sit at room temperature for 15 minutes. The smaller you cube the cream cheese, the quicker it will soften.
When you add the powdered sugar, stir it in slowly at the beginning and increase the speed gradually. If you start the mixer at high speed then the powdered sugar will fly out of the bowl.
Nutrition Information:
Yield:

36
Serving Size:

1
Amount Per Serving:
Calories:

354
Total Fat:

32g
Saturated Fat:

6g
Trans Fat:

1g
Unsaturated Fat:

25g
Cholesterol:

36mg
Sodium:

183mg
Carbohydrates:

15g
Fiber:

1g
Sugar:

9g
Protein:

2g
Nutrition information is a guideline only, is calculated automatically by third-party software, and absolute accuracy is not guaranteed.