The luscious flavor of Nutella Buttercream transforms a basic cake into an unforgettable dessert. Nutella combines the decadent flavors of hazelnuts and chocolate and is the perfect combination for a buttercream frosting.
This frosting is irresistible! It is smooth, creamy, and has the perfect consistency as a cake filling or a frosting. Whether you spread it on a cake or pipe it onto cupcakes, this buttercream is a delicious, versatile spread that knows no bounds! If you are a fan of Nutella you will love this buttercream frosting!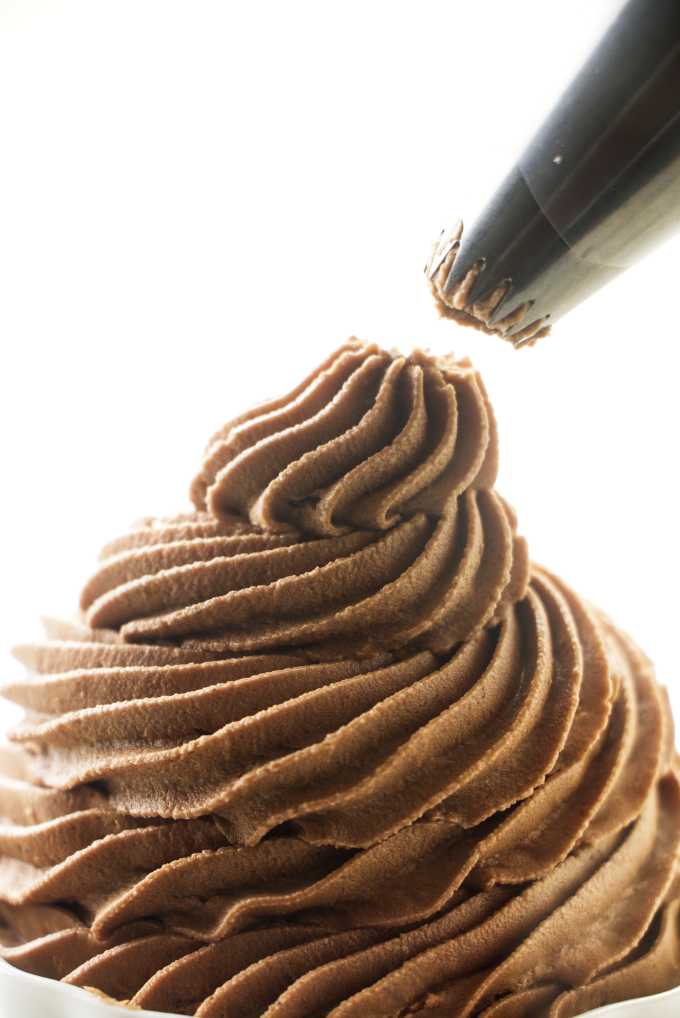 Use this buttercream as a frosting, cake filling, or dessert dip. If you want to use it as a dip, you will need to add additional cream. Nutella Buttercream would go well with just about any dessert.
Gather Your Ingredients:
These are the ingredients and measurements you'll need to make Nutella Buttercream Icing.
Butter. Salted or unsalted butter will work just fine.
Nutella.
Powdered sugar. Also known as confectioners sugar. Don't use granulated sugar for this recipe.
Cocoa powder. Make sure you use unsweetened cocoa powder which is used for baking and should not be mistaken with a chocolate drink mix.
Vanilla extract. Vanilla really makes a big difference in the flavor.
Salt. Even if you use salted butter, you should still add the additional salt. There simply isn't enough salt in most brands of salted butter and just a bit more salt will enhance the flavor.
Cream. You could also use milk if you don't have cream on hand.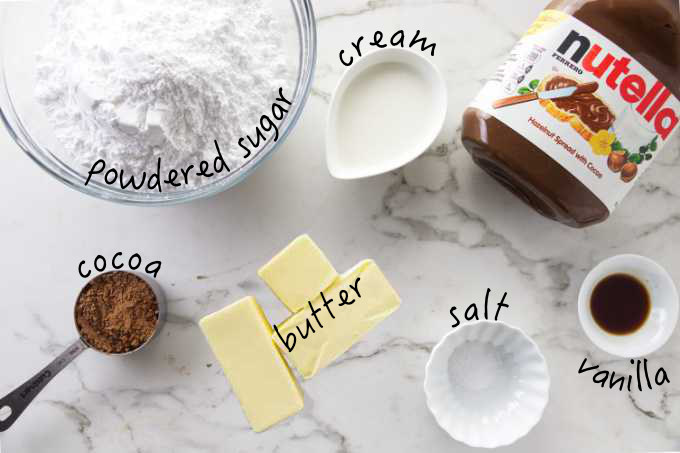 How to Make Nutella Buttercream
Here is a quick overview of how to make this Nutella frosting. Make sure to scroll down to the printable recipe card for all the details and read below for the tips.
Mix the butter until it is smooth and creamy. Next, add the Nutella to the bowl and beat with the butter.
Add the dry ingredients, plus the vanilla extract, and beat until incorporated.
Beat the buttercream for 3 to 5 minutes to aerate it and make it creamy.
Check the consistency of the buttercream with a spoon. If it is too thick and stiff, slowly add the cream 1 tablespoon at a time until you reach your desired consistency.
Tips for Success
Start with softened butter and whip it well to make sure there are no lumps before you add the Nutella.
After you add the dry ingredients, start the mixer on low speed so the sugar and cocoa powder don't fly out of the bowl. As soon as the powdery ingredients are semi-blended, you can increase the speed of the mixer.
If Your Nutella is Dry:
The consistency of your Nutella buttercream will depend largely on the consistency of your Nutella. If you have Nutella that has been sitting around for a long time, it will dry out a bit. It is ok to use your Nutella if it gets a bit dry or even lumpy but make sure you beat it with the mixer to get the lumps out.
You may find that the buttercream is pretty stiff if you use Nutella that dried out. No worries, just slowly whip in extra cream until you reach the consistency you like.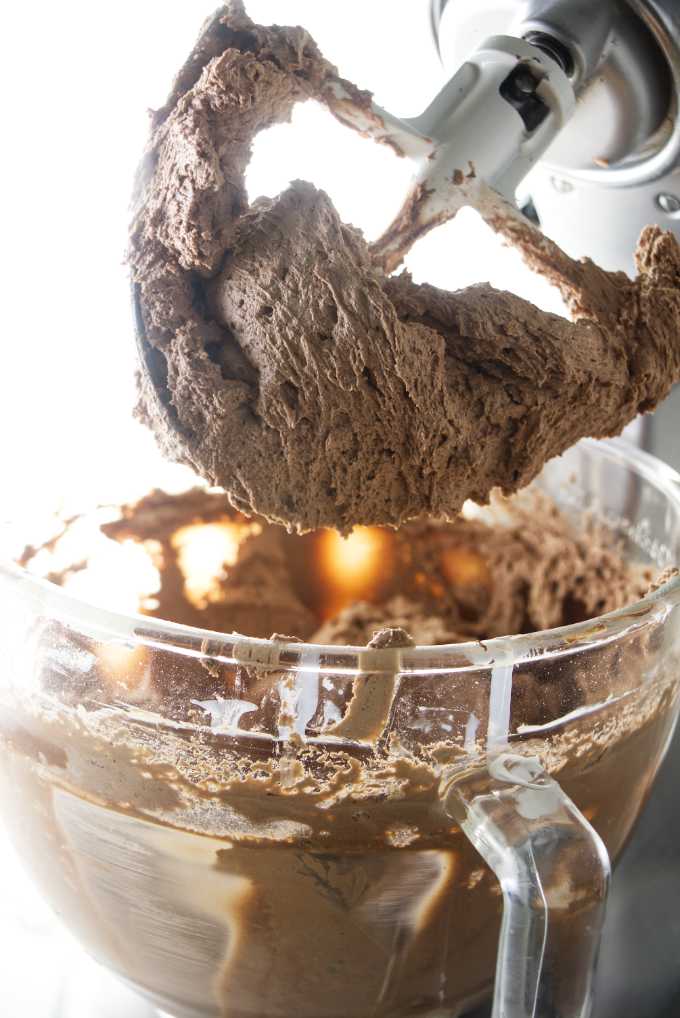 Storage and Shelf Life
The frosting is good in the fridge for up to 7 days. Alternatively, you can make a big batch and store extra for up to 6 months in the freezer.
When you use the frosting again, try whipping it for a couple of minutes after it thaws to get the same light, fluffy texture as if it was freshly made. A tip for making sure your Nutella Buttercream stays as fresh as possible is to keep it in an airtight container.
How Much Buttercream?
This recipe makes a total of 5 cups which is enough to frost three 9 inch layer cakes. If you want to frost cupcakes it will frost 4-1/2 dozen cupcakes if you spread it on with a knife or spoon. If you want to pipe larger swirls on the cupcakes, it will frost about 2-1/2 dozen cupcakes.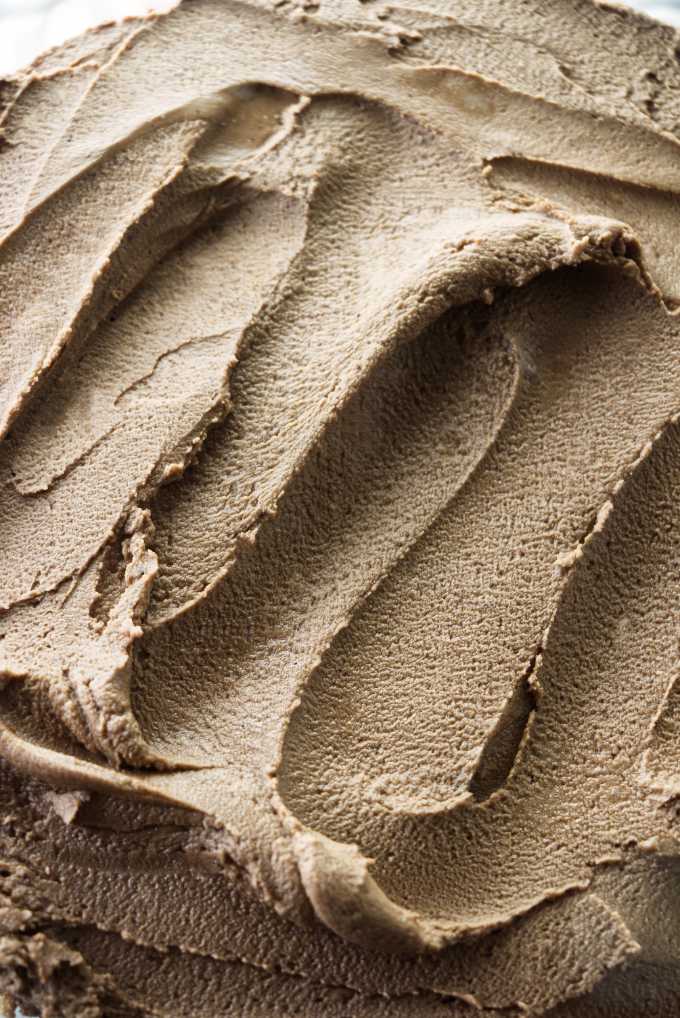 Helpful Tools
Some of the following links are affiliates. If you click on these links and purchase something, we may receive a small commission. You don't pay any extra but it will help us keep the lights on.
Some More Recipes We Are Sure You Will Love:
Our chocolate cake filling tastes a lot like the filling that you find inside a Costco cake. It is creamy, smooth, and so addicting.
Peanut butter cream cheese frosting has just as many uses as our Nutella frosting and it is just as easy to make.
Italian meringue buttercream is the secret to successful high-end bakeries. It takes a bit more time to make but it is so worth the effort.
Connect With Savor the Best:
Please follow us on our social media accounts
Facebook * Instagram * Pinterest * Twitter * Youtube
Did you make this recipe? We would love to hear from you. Drop us a comment below.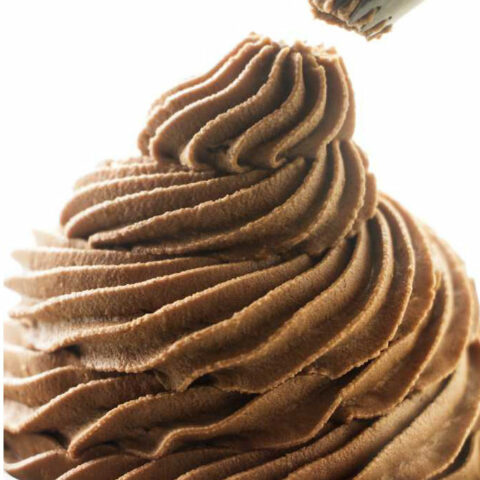 Nutella Buttercream
Yield: 5 cups of buttercream
Prep Time: 10 minutes
Total Time: 10 minutes
Use this buttercream as a frosting or as a cake filling. It is creamy, smooth and perfectly pipeable. Adjust the consistency with the cream.
Ingredients
1-1/4 cups butter, softened
1-1/4 cups Nutella
4 cups powdered sugar (452 grams)
1/4 cup unsweetened cocoa powder
1 teaspoon vanilla extract
1/4 teaspoon salt
3 to 8 tablespoons cream
Instructions
Place the butter in a large mixing bowl and beat on medium-high speed until smooth and creamy. Add the Nutella and beat until combined.
Add the powdered sugar, cocoa powder, vanilla, and salt. Beat on slow speed until just combined then increase the speed to medium and beat 3 to 5 minutes until smooth and creamy.
Slowly add the cream 1 to 2 tablespoons at a time until you reach your desired consistency. Make sure you beat the cream in well and scrape down the sides of the bowl.
Store in the refrigerator for 5 to 7 days or in the freezer for up to 6 months. If it doesn't look as light and fluffy after it thaws out, you can whip it for a couple of minutes.
Notes
Nutella that has been sitting on the shelf for a long time will dry out and get clumpy. If your Nutella is on the dry side, whip it with the butter for several minutes to break it up and get the lumps out.
Nutrition Information:
Yield: 80
Serving Size: 1 tablespoon
Amount Per Serving:
Calories: 170
Total Fat: 13g
Saturated Fat: 9g
Trans Fat: 0g
Unsaturated Fat: 3g
Cholesterol: 26mg
Sodium: 85mg
Carbohydrates: 13g
Fiber: 1g
Sugar: 12g
Protein: 1g
Nutrition information is a guideline only, is calculated automatically by third-party software, and absolute accuracy is not guaranteed.