These soft chocolate sugar cookies are fast and easy to throw together and they are full of rich chocolate flavor. They are soft and chewy in the center and a little crisp around the edges. The perfect chocolate sugar cookie!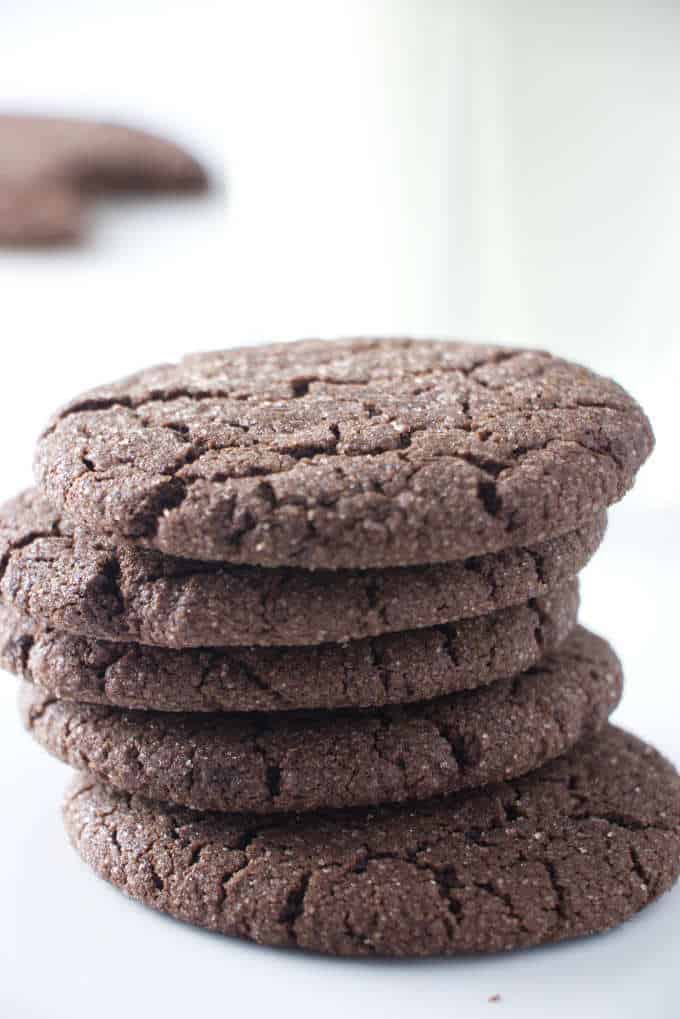 These are the BEST chocolate sugar cookies. They are soft, chewy, chocolatey, and devilishly tempting. I promise, they won't last long, but you will be glad to know that they are fast and easy to make.
Easy drop cookies!
These little morsels are the best chocolate sugar cookies. No rolling pin or cookie cutters needed either. They are easy drop cookies that you plop on a baking sheet and stick in a hot oven. Fast and easy. That's a perfect sugar cookie.
After you mix the batter, roll balls of dough in chocolate sugar then press them onto a baking sheet. They cook into perfect, chocolatey, buttery, soft and chewy sugar cookies. The edges are ever-so-crisp while the center stays perfectly soft.
Grab a glass of milk and go dunk these!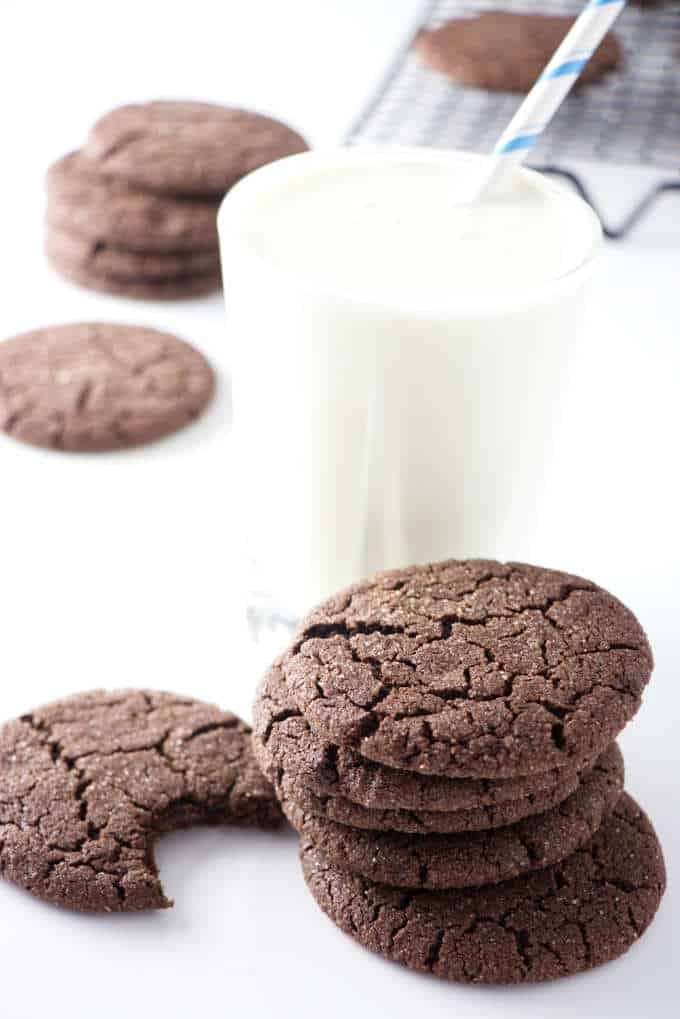 How to make chocolate sugar cookies:
Some sugar cookies take a bit more time than others. For example, cut-out sugar cookies require you to roll out the dough, chill in the refrigerator, cut the dough with cookie cutters and repeat.
Not these cookies. This is a fast and easy cookie recipe and they make the best chocolate sugar cookies around.
Preheat the oven:
Start by preheating your oven. You want to stick the cookies in a HOT oven that gets the cookies baking immediately.
If you bake a lot that might sound like a silly thing for me to say. If your mom taught you how to bake cookies then you already know that the oven has to pre-heat before you start to bake them. But I get a lot of emails that are very enlightening. Yep, not everyone turns the oven on before they stick cookies in the oven.
Prepare the baking sheets:
You can use non-stick spray, parchment paper or silicone baking liners. They all work great to keep your cookies from sticking to the baking sheet.
I personally love using parchment paper. I will prepare a batch of cookie batter on a sheet of parchment while another batch is baking in the oven. When I take the hot cookies out of the oven, I slide them off the baking sheet, then slide on the waiting batch and stick them in the oven.
Cream the butter and sugar:
When you cream the butter with the sugar it is much, much easier to cream if you start with softened butter. It only takes a few minutes to make the butter a soft, fluffy, light texture if you start with softened butter. Do not start with melted butter with this recipe, it will change the texture of the cookies.
Add the eggs:
It is best to start with room temperature eggs because they will blend easier. Add them one at a time and blend thoroughly. The butter mixture may look a bit curdled after you add the eggs but that is completely normal.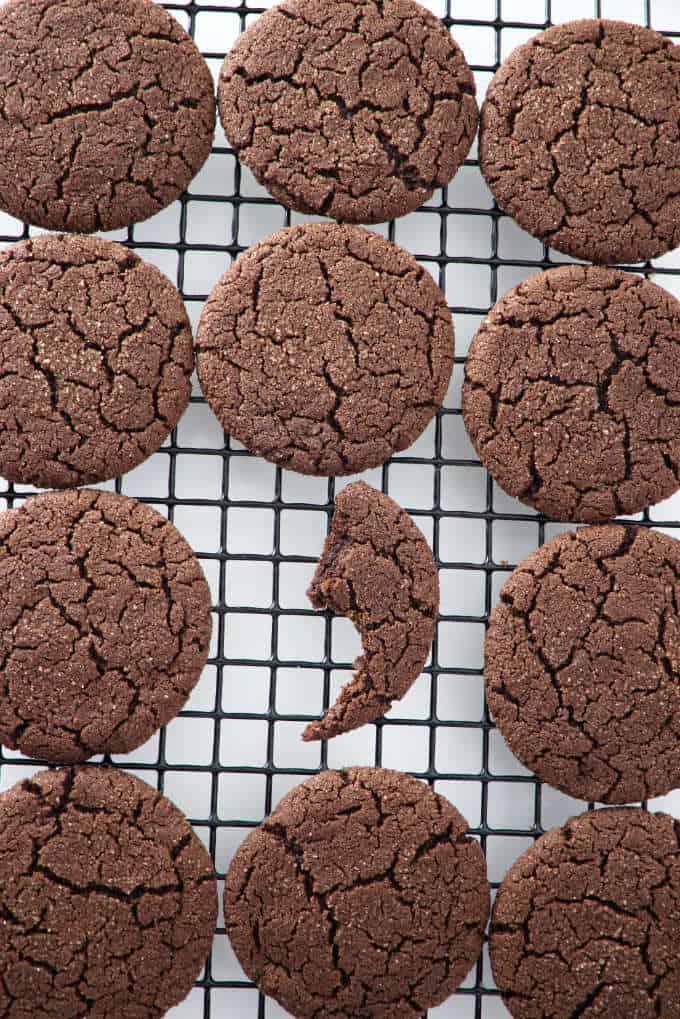 Add the dry ingredients:
The dry ingredients should be blended together before you add them to the butter mixture. You can add them to a separate bowl and whisk them together. Alternatively, you could toss them into a sifter that you suspend over the mixing bowl.
When I use the second method, I give the dry ingredients a stir while they sift out into the batter.
Either method works to make sure all the lumps are broken up and the small amounts of salt, baking soda, and baking powder are well incorporated throughout the batter. If you skip this step you could end up with a lump of baking soda or salt that does not get well distributed.
If you want perfect sugar cookies, you need to make sure everything is perfectly blended.
Roll balls of cookie dough in chocolate sugar:
You can roll the sugar cookies in regular ole sugar but these are chocolate sugar cookies so why not make some chocolate sugar?
Add some cocoa powder and sugar to a pie plate and give it a stir. After that grab a cookie scoop and make balls of cookie dough. Roll the balls around in the sugar then place them on the prepared cookie sheet.
The balls of cookie dough will need to be smashed down a bit. I use the bottom of a measuring cup to flatten them. Make sure the cookies are spaced about 1-1/2 inches apart so they have room to spread.
Bake, eat, repeat:
Bake the cookies for about 10 to 14 minutes. All ovens are a bit different so you will have to gauge how long your oven takes to bake the cookies. You can also adjust the cooking time based on how well done you like them.
Bake them a bit longer if you like them extra crispy and a bit less if you like them kind of gooey in the center. I like them soft and chewy in the center and a bit crisp on the edges. Perfect sugar cookies!!
Can you freeze these chocolate sugar cookies?
You can freeze these sugar cookies before OR after they bake. If you freeze them before you bake them I suggest rolling them into balls then coating them in sugar. Place them on a platter or baking sheet and stick them in the freezer.
After the balls of dough are frozen, pop them in a re-sealable freezer bag. Now you have perfect little round balls of frozen sugar cookie dough that are waiting for a hot oven!
If you only want a few cookies, grab a few out of the bag and bake away. You will want to let the balls of cookie soften long enough to flatten them down before you bake them.
Alternatively, you can bake the cookies, then after they cool completely, stick them in a freezer-proof bag to store in the freezer.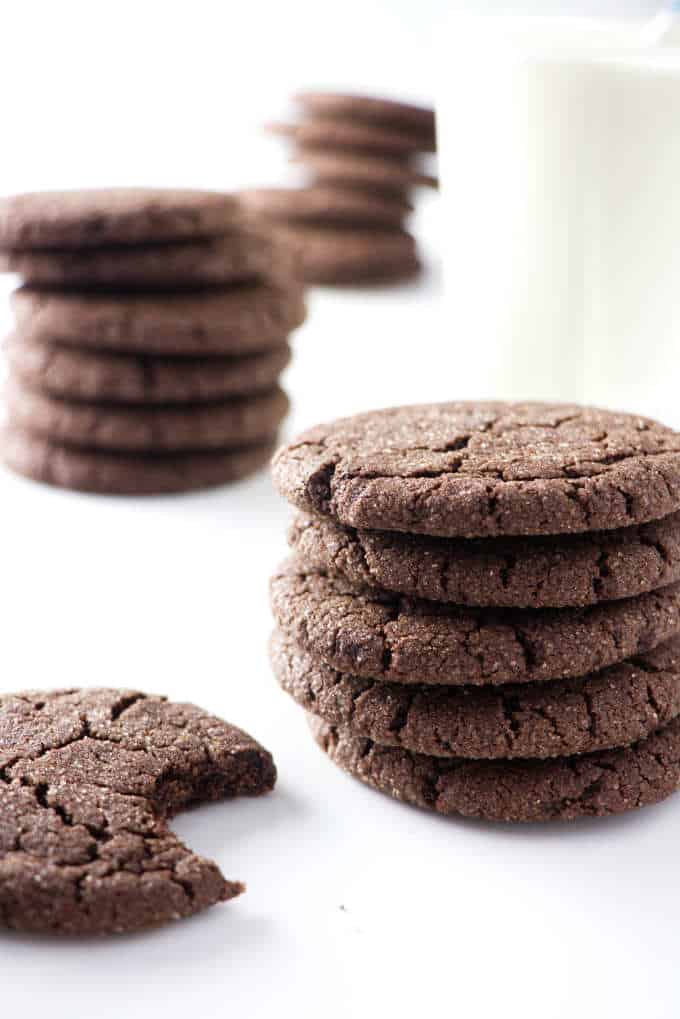 SOME OTHER RECIPES WE ARE SURE YOU WILL LOVE:
These Italian Wedding Cookies are delicious little bite-sized morsels. They are rich and buttery and melt in your mouth. They are definitely a favorite!
If you're looking for an amazing, monster-sized chocolate chip cookie, you have to try this recipe for Copycat Levain Bakery Chocolate Chip Cookies. They are ooey and gooey in the center and absolutely insane if you eat them warmed up!
These Crisp Double Chocolate Cookies are A-M-A-Z-I-N-G. They taste like a crisp brownie bite from the grocery store, except even better.
If you like dunking your chocolate bar into the peanut butter jar, you're going to love these Salted Chocolate-Glazed Peanut Butter Cookies. They are the perfect combination of peanut butter and chocolate. We sprinkled them with some large flakes of crunchy Maldon salt. Perfection!
CONNECT WITH SAVOR THE BEST!
Be sure to follow us on our social media accounts
Facebook * Instagram * Pinterest * Twitter * Youtube
Did you make this recipe? We would love to hear from you. Drop us a comment below.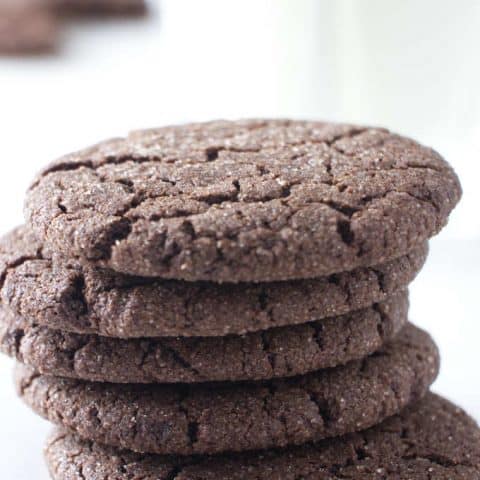 Soft Chocolate Sugar Cookies
Yield: 4 dozen cookies
Prep Time: 12 minutes
Cook Time: 10 minutes
Total Time: 22 minutes
Homemade chocolate sugar cookies that are soft on the inside and crisp at the edges. These drop cookies get rolled in a chocolate sugar mixture before baking. They are fast and easy to make.
Ingredients
1 cup butter (2 sticks), softened
2 cups packed dark brown sugar (420 grams)
2 tablespoons vanilla extract
2 eggs
1-2/3 cups all-purpose flour (200 grams)
1-1/4 cup unsweetened cocoa powder (100 grams)
3/4 teaspoon salt
1 teaspoon baking soda
1/2 teaspoon baking powder
Chocolate Sugar topping:
1/2 cup granulated sugar (100 grams)
2 teaspoons cocoa powder
Instructions
Preheat oven to 350°F and line a baking sheet with parchment paper.
Place the butter, brown sugar, and vanilla in a large mixing bowl and beat until smooth and creamy. Beat in the eggs.
Sift the flour, cocoa powder, salt, baking soda, and baking powder over the butter mixture and stir until just barely combined.
In a separate bowl or pie dish, combine the sugar and cocoa powder.
Use a large cookie dough scooper to scoop some dough and roll into balls. Roll the balls into the sugar mixture then place on the baking sheet. Make sure you leave 2 inches of space between the cookies. Push the cookies flat to about 1/3 inch thick.
Bake for 10 to 14 minutes. They will puff up slightly, crack, and look wet in the cracks. Don't bake them longer or they won't be soft and chewy.
Transfer to a wire rack and cool completely.
Notes
Baking time will vary depending on your oven. Some ovens cook unevenly and you may need to rotate the baking sheet half-way through the baking time.
Recommended Products
As an Amazon Associate and member of other affiliate programs, I earn from qualifying purchases.
Nutrition Information:
Yield: 48
Serving Size: 1 cookie
Amount Per Serving:
Calories: 100
Total Fat: 4g
Saturated Fat: 3g
Trans Fat: 0g
Unsaturated Fat: 1g
Cholesterol: 18mg
Sodium: 100mg
Carbohydrates: 14g
Fiber: 1g
Sugar: 10g
Protein: 1g
Nutrition information is a guideline only, is calculated automatically by third party software, and absolute accuracy is not guaranteed.