These Italian wedding cookies are little bite-size morsels of heaven. They are crumbly, rich, buttery, and incredibly addictive. Don't let the name fool you. These cookies are not just for weddings. They are perfect for any occasion and especially make a huge appearance during the holiday season.
What are Italian Wedding Cookies?
Italian Wedding Cookies are lightly sweetened buttery shortbread cookies that have been rolled in powdered sugar and look like little snowballs. These cookies are packed with finely ground almonds but they have many variations throughout the world.
For instance, our Mexican tea cookies are a variation of the recipe which has pecans and a hint of cinnamon. But they are essentially the same thing. With a high ratio of butter and finely ground nuts, they are so delicate, they practically melt in your mouth.
You have to keep this recipe stored with all your favorites. Once you learn how easy they are to make and how incredibly delicious they are, you will want to make them all the time.
How do I make Italian Wedding Cookies?
Make sure you scroll all the way to the bottom for our printable recipe card where we list the ingredients, measurements, and complete instructions. We have some tips for success written in this section.
There are only seven ingredients in these buttery little morsels. Here is a list of the ingredients you will need:
Almonds

Butter. I use salted butter but this recipe works just fine with unsalted butter.
Powdered sugar. Get plenty of powdered sugar so you have extra to coat the baked cookies.

All-purpose flour

Vanilla extract. Preferably REAL vanilla.
Almond extract. This is totally optional but we love the flavor in these cookies.
Salt. Use the salt even if you use salted butter. I have never had these cookies be too salty if I use salted butter along with additional salt.
Step 1: Roast the nuts!
The first thing you should do is get the almonds toasted. If you want to make the best Italian Wedding Cookies, this is an essential tip. When you toast the nuts they get a deep, roasted flavor. They are just plain ol' nuttier. And that's a good thing.
It only takes an extra 8 to 10 minutes of your time (plus maybe 10 more minutes while you wait for them to cool down). But it is worth every minute.
So grab yourself a baking pan and spread the almonds out in an even layer. Then stick the baking pan in a hot oven for about 8 minutes.
You will want to stir them around a bit so they toast evenly. After 6 minutes you really need to be pretty vigilant about checking on them. Nuts can go from perfectly roasted one minute to burned and bitter the next.
The best way to know when the nuts are at their peak "roastiness" is the smell. They will get a nice 'nutty' aroma and smell finished. Your nose knows.
Can I just buy almonds that are already roasted?
Sure, you can buy pre-roasted almonds and save some time. I like the smell and taste of freshly roasted almonds but I like shortcuts too. And there are times, especially when I am multitasking, that I really rely on some outside help and time-saving tips.
Step 2: Make the dough!
Once the almonds have cooled down, then toss them in a food processor. A food processor is the easiest and fastest way to get the almonds finely ground. Just make sure you let them cool down first! If you stick hot nuts in the food processor you will end up with a goopy mess.
We like the almonds ground to a fine sandy texture. If you like bigger chunks of nuts in your cookies then pulse the processor until you have a consistency that you like.
After the almonds are ground up, throw in the butter and powdered sugar. There is no need to get out another bowl. Just mix all the dough in the food processor.
When the sugar and butter are blended to a smooth paste, toss in the rest of the ingredients (except for the additional sugar that you will use for a coating). Pulse the food processor until a big ball of dough forms. You may need to scrape the bowl down once or twice.
That's all there is to make the cookie dough. Everything in one bowl and the food processor does all the work.
What if I don't have a food processor?
If you don't have a food processor you can chop the almonds by hand and mix the dough with an electric mixer (or by hand). But, oh my goodness! A food processor is one of the best inventions for the kitchen. You gotta get one!
Step 3: Let the cookie dough chill:
So here's the deal. This dough is full of butter. If you bake the Italian wedding cookies right now, the dough will not keep its shape and the cookies will flatten out.
You need to give it some time for the flour to absorb the butterfat. You also need to give the butter time to firm up. So cover the dough with some plastic wrap and let it chill out in the fridge for 6 hours.
Shape the dough and bake some Italian Wedding Cookies!!
We shaped the dough into small round balls. You could make crescent shapes if you want. The key tip here is to make them small! Use a teaspoon to measure the cookie dough.
Small teaspoon-sized cookies will give a much better ratio of cookie to sugar coating. And that is the next most essential tip to making the best Italian Wedding Cookies.
If you want to shape the cookies first and THEN stick them in the fridge to chill then that works too. It is actually easier to shape the cookies into balls or crescents while the dough is still soft so reverse the steps if you want.
The sugar coating:
These Italian Wedding cookies get a double-dip of sugar. The double coating of sugar makes them especially delicious and it sets this recipe apart from most others. Don't skip this step.
While the cookies are baking, put some powdered sugar in a pie dish or large wide bowl.

When the cookies come out of the oven, let them sit for just a couple of minutes. Just long enough so they are not too hot to handle but still nice and warm.
Toss the warm cookies in the powdered sugar. The powdered sugar will melt into the warm cookies. The cookies will get kinda wet and goopy. Your kids and husband are gonna think you did something wrong. Don't believe the lies.
Just set those warm cookies with the wet, messy, sugar coating onto a cooling rack. Let the cookies cool down completely and then toss them in the powdered sugar a SECOND time.
The last and most essential tip to making the best Italian Wedding Cookies is to make sure you toss them in powdered sugar TWICE. The second coating will stick to the first coat and give the cookies a nice thick coat of sugar.
Now go lick the sugar off your fingers!
Storing Italian wedding cookies.
Store these cookies in an airtight container for 3 to 5 days at room temperature or 2 weeks in the fridge.
You can freeze Italian wedding cookies!
These cookies will store in the freezer for up to 6 months if you keep them in a sealed freezer-proof container. If condensation develops on them when they thaw out then the powder sugar coating will get wet and sticky. If that happens just roll them in some more powdered sugar. That would give them a TRIPLE coat of sugar and no one will complain about that!
What are some other Italian cookies?
Biscotti. Try our cranberry pistachio biscotti or our classic almond biscotti.
Anginetti. Also known as Italian lemon drop cookies.
Florentine cookies. These cookies are so versatile. You can dip them in chocolate or roll them like a cigar.
Baci di Dama. These are crisp, buttery hazelnut sandwich cookies that are filled with chocolate.
Italian orange ricotta cookies. These are also good with lemon instead of orange.
Watch Our Video:
Check out our video and see how easy it is to make these Italian wedding cookies.
When your done making these cookies, try some of these:
CONNECT WITH SAVOR THE BEST!
Be sure to follow us on our social media accounts
Facebook | Twitter | Youtube | Pinterest | Instagram
If you make one of our recipes, snap a photo and tag it @savorthebest on Instagram and hashtag it #savorthebest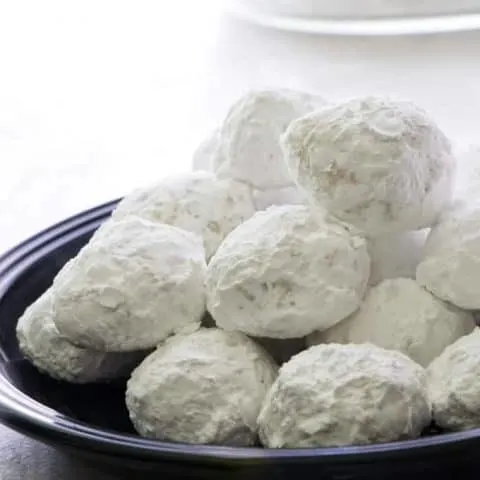 Italian Wedding Cookies
A tender, buttery shortbread cookie that is easy and fun to make. These cookies are not just for weddings, they can be made for any occasion.
Ingredients
for the cookies
1 cup almonds (114 grams)
1 cup butter, softened (2 sticks)
1 cup powdered sugar (124 grams)
2-1/3 cups all-purpose flour (280 grams)
2 teaspoons vanilla extract
1/4 teaspoon almond extract
3/4 teaspoons salt
Sugar coating
2-1/2 cups powdered sugar (312 grams)
Instructions
Pre-heat the oven to 350°. Place the almonds on a baking sheet and toast them in the oven for 10 to 15 minutes. Stir half way through the baking time to ensure they are toasted evenly. Remove from oven and cool completely.
Place the almonds in a food processor fitted with the metal blade and pulse until they are finely ground to the consistency of cornmeal. Do not over-process them or you will have nut butter.
Add the butter, and powdered sugar. Pulse the processor a few times then add the flour vanilla, almond extract, and salt. Run the food processor until the dough comes together in a clump.
Wrap the dough in plastic wrap and refrigerate for 6 hours.
Preheat the oven to 375°. Line two baking sheets with parchment paper. Place the 2 ½ cups of powdered sugar in a large bowl or pie plate and set aside. You will use this later to coat the cookies.
Roll level teaspoons of dough into small balls and place them about an inch apart on the baking sheets. Bake 12 to 15 minutes until they are a pale golden color. Let the cookies cool for 3 to 5 minutes on the baking sheets until they are cool enough to handle but still warm.
Transfer the warm cookies directly to the powdered sugar and roll them to cover completely with the sugar. Set aside to cool completely (the powdered sugar will melt into the hot cookies and look goopy). After completely cooled, roll the cookies once more in the powdered sugar.
Notes
For a nice thick coating of sugar, dip the cookies in powdered sugar twice. First roll the hot, freshly baked cookies into the powdered sugar right away. This first coat will look wet and goopy but let them sit and cool off completely.
Once they are completely cooled, roll them in the powdered sugar again. The second coating of powdered sugar will give them a beautiful white coat and a thick layer of sugar.
Nutrition Information:
Yield:

72
Serving Size:

1 cookie
Amount Per Serving:
Calories:

53
Total Fat:

3.2g
Saturated Fat:

1.7g
Cholesterol:

7mg
Sodium:

41mg
Carbohydrates:

5.9g
Fiber:

0.2g
Sugar:

5g
Protein:

0.4g