Mexican tea cookies are a rich, buttery, melt-in-your-mouth, shortbread type of cookie. They are rolled in powdered sugar twice, giving them a perfectly sweet coating to match the lightly sweetened cookie.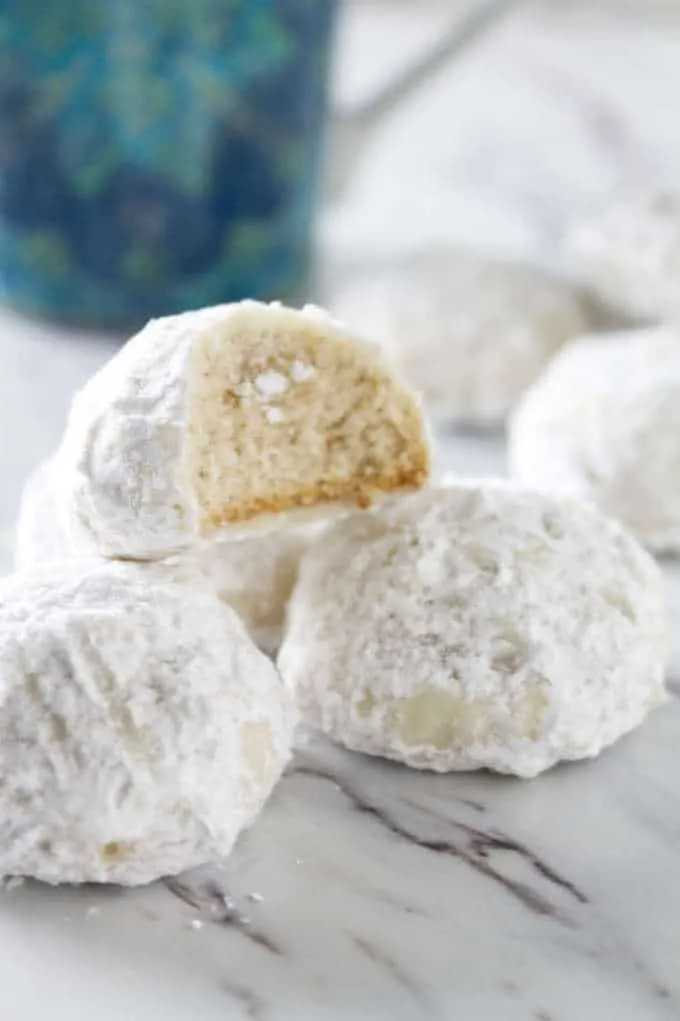 These Mexican tea cookies are easy to make and addictive to eat. The cookies are buttery, nutty, and melt in your mouth. Pecans give the cookies an amazing flavor and texture.
How to make Mexican Tea Cookies
Toast the nuts:
First, you need to toast the pecans. Toasting the nuts really makes all the difference with these cookies. It makes the cookies have that deep, roasted nutty flavor and it only takes a few extra minutes.
All you have to do is spread the pecans on a baking sheet and pop them in a hot oven for 10 to 15 minutes. Stir them around once or twice so they roast evenly, then take them out and let them cool down.
Make the dough:
Next, toss all the pecans in a food processor and let it pulse until the nuts are really finely ground. We like the nuts so fine that they are almost like sand. If you like a little lumpy texture then leave some larger chunks behind. Just make sure you don't let the nuts process for so long that they turn into nut butter.
After you process the nuts, toss in the butter and powdered sugar. Pulse that a few times then add the rest of the ingredients and process it until it turns into a big ball of dough.
Chill the dough:
Cover the dough and let it rest in the fridge for several hours.
Use a teaspoon to measure out very small portions of chilled dough. If you make the cookies small, they cook quickly but more importantly, you will have more powdered sugar coating per cookie.
Shape and bake the dough:
Roll the dough into little balls and place them on a baking sheet. The little butter balls of cookie dough only need to bake for 12 to 15 minutes but if you make them much larger then they will need more time in the oven.
While they are baking, make the sugar coating by combining the powdered sugar with some cinnamon. Cinnamon is what makes the cookies Mexican tea cookies. Other versions of this butter cookie are called Italian Wedding Cookies or Russian Teacakes, among other names.
Coat the cookies in powdered sugar:
As soon as the cookies come out of the oven, toss them in the powdered sugar coating while they are still warm. Let them cool completely then toss them in the sugar a second time.
The first coating melts to the cookie and seals it in a glaze. The second coating is done after the cookie is completely cooled and finishes it with a powdery white coat.
They are dangerously addictive and will perform a disappearing act if not hidden away.
Connect With Savor the Best:
Please follow us on our social media accounts
Facebook * Instagram * Pinterest * Youtube * Twitter
Did you make this recipe? We would love to hear from you. Drop us a comment below.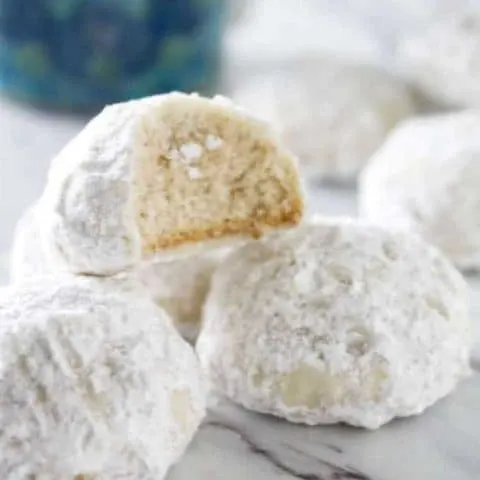 Mexican Tea Cookies
Mexican tea cookies are a delicious shortbread cookie with a hint of cinnamon.
Ingredients
1 cup (114 g) pecans
8 ounces (1 cup) butter, softened
1 cup (124 g) powdered sugar
2-1/2 cups flour (300 grams)
1 teaspoon vanilla extract
¾ teaspoons salt
Sugar Coating
2 ½ cups (312 g) powdered sugar
¼ teaspoon cinnamon
Instructions
Pre-heat the oven to 350°. Place the pecans on a baking sheet and toast them in the oven for 10 to 15 minutes until their color has deepened. Stir half way through the baking time to ensure they are toasted evenly. Remove from oven and cool completely.
Place the pecans in a food processor fitted with the metal blade and pulse until they are finely ground to the consistency of corn meal. Do not over process them or you will have nut butter.
Add the butter, and powdered sugar. Pulse the processor a few times then add the flour vanilla and salt. Run the food processor until the dough comes together in a clump.
Wrap the dough in plastic wrap and refrigerate for 6 hours.
Pre-heat the oven to 375°. Grease two baking sheets or line them with parchment paper. Combine the 2 ½ cups of powdered sugar with the cinnamon in a large bowl or pie plate and set aside.
Roll level teaspoons of dough into small balls and place them about an inch apart on the baking sheets. Bake 12 to 15 minutes until a pale golden color. Transfer the hot cookies directly to the powdered sugar mixture and roll them to cover completely with the sugar. Set aside to cool completely (the powdered sugar will melt into the hot cookies and look goopy). After completely cooled, roll the cookies once more in the powdered sugar.
Notes
For a nice thick coating of sugar, dip the cookies in powdered sugar twice. First roll the hot, freshly baked cookies into the powdered sugar right away. This first coat will look wet and goopy but let them sit and cool off completely. Once they are completely cooled, roll them in the powdered sugar again. This second coating of powdered sugar will give them a beautiful white coat and a thick layer of sugar
Recommended Products
As an Amazon Associate and member of other affiliate programs, I earn from qualifying purchases.
Nutrition Information:
Yield:

6 dozen
Serving Size:

1 cookie
Amount Per Serving:
Calories:

130
Total Fat:

8g
Saturated Fat:

3.5g
Cholesterol:

14mg
Sodium:

47mg
Carbohydrates:

14.2g
Fiber:

0.6g
Sugar:

8.3g
Protein:

1.2g
Adapted from The Gourmet Cookbook