Classic Almond Biscotti …a gift from Italy! These world-famous crisp, crunchy, not-too-sweet cookies are packed with flavor and nuts. They are the perfect dunkers for your cup of coffee.
In Tuscany, the preferred way to serve these classic almond biscotti cookies is not with coffee but with a glass of Vin Santo. Vin Santo is the region's famed sweet dessert wine made from dried grapes.
These crunchy, almond flavored biscotti are better than those in the Starbuck display case and you will save a lot of money by making them yourself!
Biscotti Trivia:
Biscotti is the Italian name for these elongated, crunchy cookies. The word derives from the Latin biscotus, meaning "twice baked" and they get that crunch from the second baking.
This culinary treat originated in Tuscany, Italy in 1858. Kudos go to inventor-baker Antonio Mattei, at his bakery in Prato. Biscotti cookies are also known as biscotti di Prato. Mattei's original ingredients were flour, sugar eggs and pine nuts or almonds. He did not include leavening.
Traditionally, the Italians made biscotti in the same manner as fresh pasta. That is, they made a mound of flour, salt and nuts in a large shallow bowl and scooped out a well in the center. They poured a sugar-egg mixture into the well of flour and stired everything together to form a dough.
The soft, nut-studded dough was tipped onto a floured surface and kneaded a couple of turns then shaped into loaves and baked. After the initial baking and while still warm, they cut the loaves diagonally into slices. To finish the cookies the slices were baked briefly again to dry them out to become those beloved, crunchy, oblong cookies.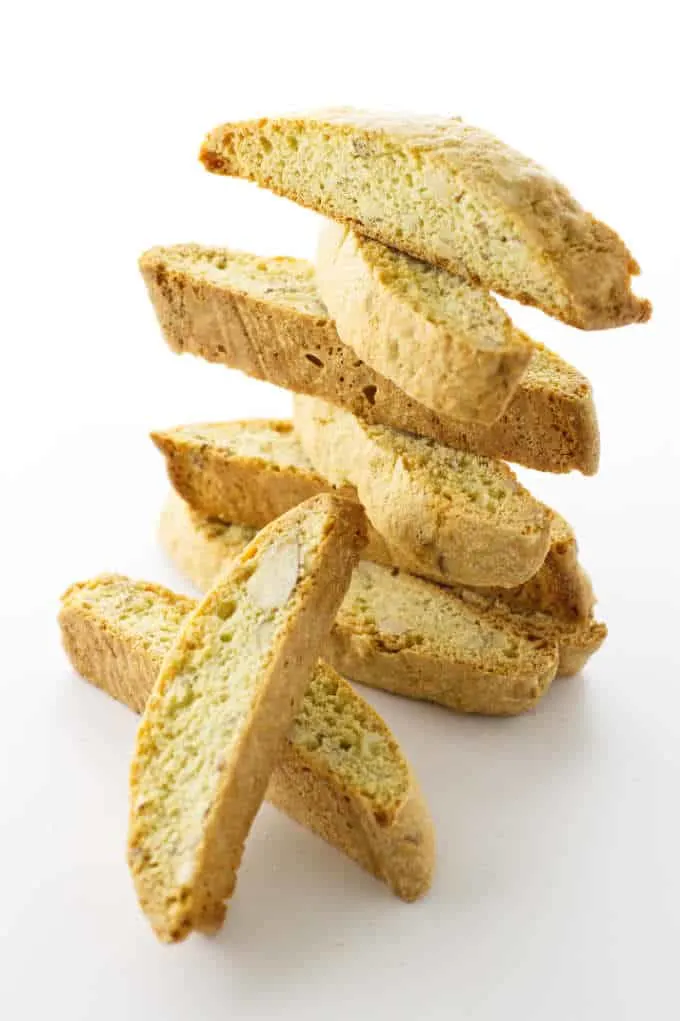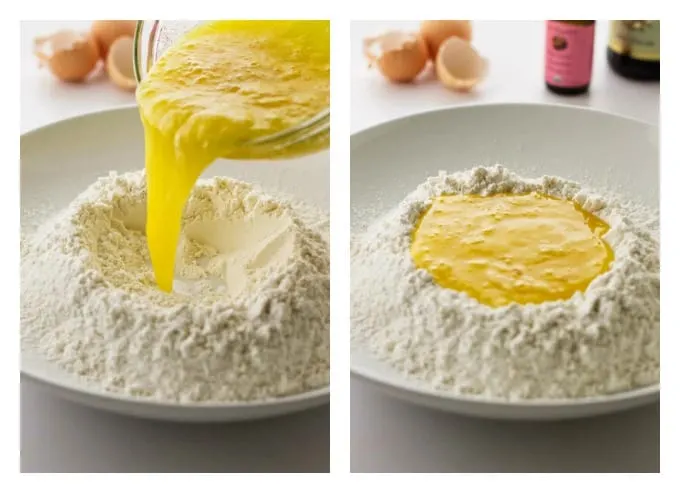 Biscotti Making:
Biscotti has evolved over the years and is still made with flour, sugar, eggs, salt, and nuts. Most biscotti recipes now include some leavening of baking powder and/or baking soda. Another biscotti style includes butter or oil which makes a lighter, crispier biscotti. Modern kitchen appliances of the stand mixer and the food processor now add another method to the biscoti making process.
The upside of using these kitchen wonders is they work the dough more thoroughly and the finished biscotti is not as hard to the bite as the traditional method. The downside is the soft dough sticks to the bowl and beaters and it is annoying to scrape it off.
With this basic classic almond biscotti recipe you can go in a multitude of directions to create unique and delicious biscotti variations. These are just some of the examples that will inspire you and delight your taste buds:
Nut varieties
Seeds
Spices
Chocolate bits
Cocoa powder
Citrus peel
Dried fruit

Extracts and flavorings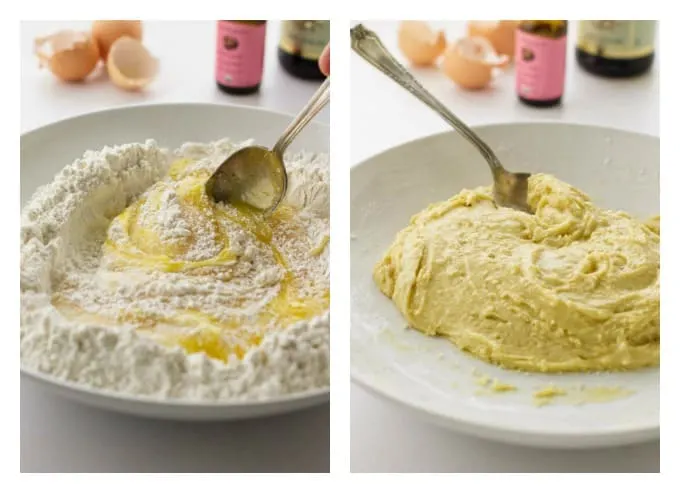 How to make Classic Almond Biscotti the Traditional Method:
I like using the old-fashioned, hand-stirring method and have baked our classic almond biscotti in the traditional manner:
Sift together the flour, baking powder into a large shallow bowl. Stir in the almonds and make a well in the center.
In a small bowl, combine the sugar, eggs, vanilla and almond extracts. Pour the egg mixture into the well of flour.

Stir with a wooden spoon to incorporate the flour mixture into a dough.
Scrape the dough onto a flour-dusted surface and knead it a couple times and shape into a disc.
Divide the dough in half and shape each piece into a log. Place the logs on the prepared baking sheet with space between them to allow for spreading.
Bake the logs in a 350°F oven for 25 minutes, remove from the oven and cool for 10 minutes
Reduce the oven temperature to 300°F
Cut each log diagonally into 3/4-inch slices and place on the baking sheet; bake for 10-minutes, flip the slices and bake for an additional 10-minutes.
Transfer the cookies to a wire cooling rack. Store in a tightly covered container.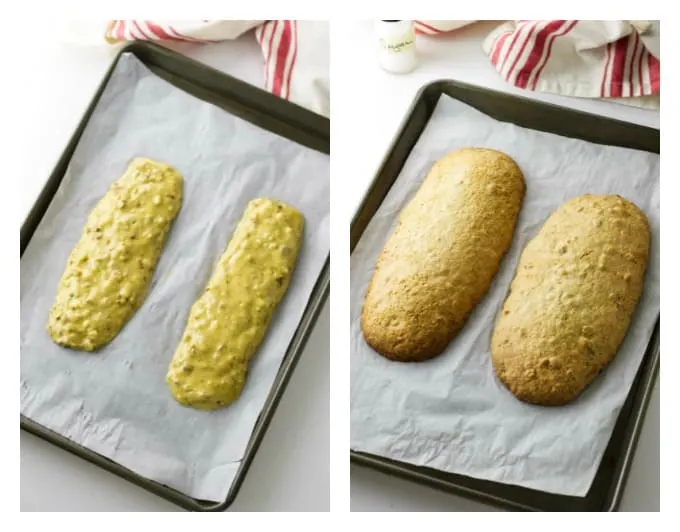 Tips and Tricks:
The soft, sticky dough can be a challenge to work with as it tends to stick to your fingers. Dust the work surface with flour to shape the dough into logs. A long bladed spatula/turner will be helpful to transfer the logs to the parchment-lined baking sheet.
Another trick that helps when working this sticky dough, chill it in the refrigerator for an hour or so. This firms up the dough and makes it easier to shape into the logs and transfer to the baking sheet.
So pour yourself a cup of coffee and help yourself to that plate of biscotti, you deserve a break today! Your welcome! ❤️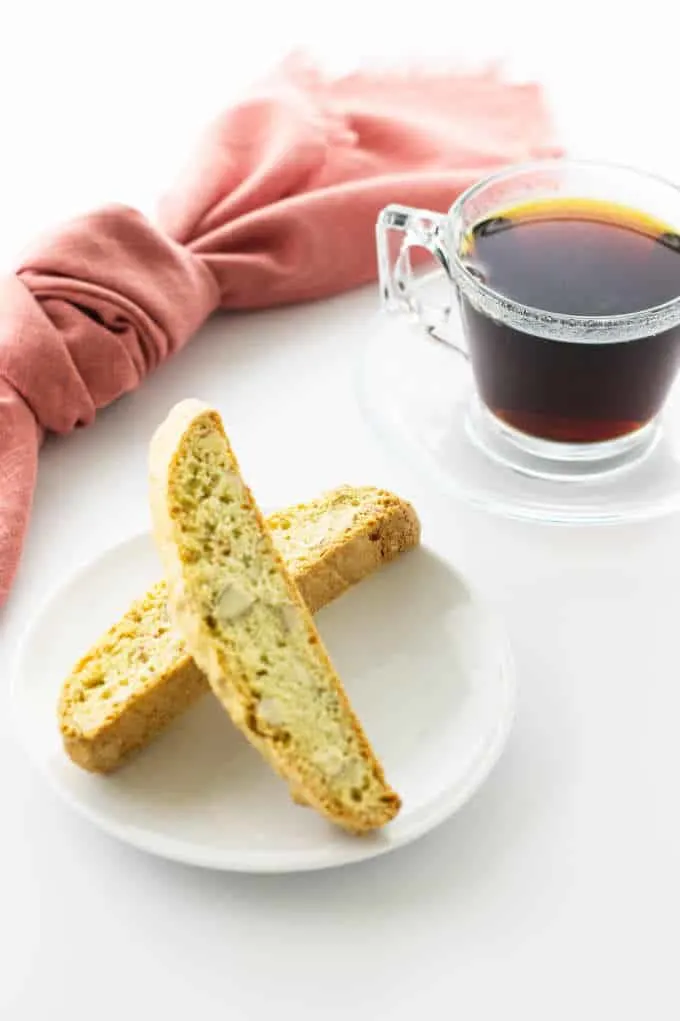 SOME OTHER RECIPES WE ARE SURE YOU WILL LOVE:
CONNECT WITH SAVOR THE BEST!
Be sure to follow us on our social media accounts
Facebook * Instagram * Pinterest * Twitter * Youtube
Did you make this recipe for classic Almond Biscotti? We would love to hear from you. Drop us a comment below.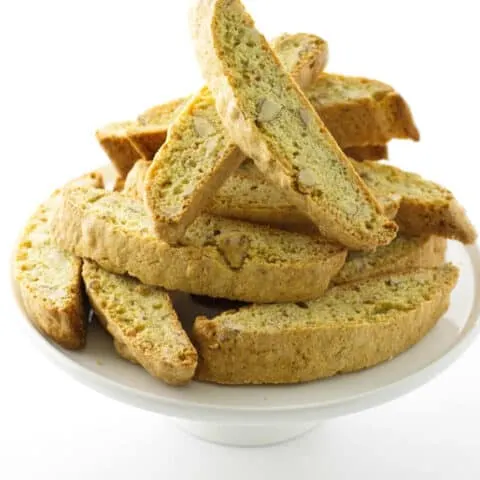 Classic Almond Biscotti
Yield:
18 biscotti cookies
Total Time:
1 hour
15 minutes
Classic Almond Biscotti…a gift from Italy! Made the traditional method, by hand, before the invention of the stand mixer! These world-famous crisp, crunchy, not-to-sweet cookies are packed with nuts. They are the perfect dunkers for your cup of coffee.
Ingredients
2-1/4 cups (270 g) all-purpose flour, plus a bit more for the work surface
1/2 teaspoon baking powder
1/4 teaspoon fine sea salt or table salt
1/2 cup whole, roasted almonds, rough chopped
1 cup sugar
2 large eggs plus 2 egg yolks
1/2 teaspoon pure vanilla extract
1 teaspoon pure almond extract
Instructions
Heat the oven to 350°F and line a 11 x 17-inch rimmed baking sheet with parchment paper.
Sift the flour, baking powder and salt into a shallow bowl and stir in the nuts. Push the mixture into a mound and make a well in the center.
In a medium bowl, whisk together the sugar, eggs, egg yolks, vanilla and almond extracts.
Add the mixture to the well in the flour mixture. Using a spoon, spatula or a fork, stir the mixture into the flour in a circular motion, gradually incorporating the flour in small amounts in a wider path until the flour is completely mixed and smooth and a sticky dough has formed.
Tip the dough onto a lightly floured work surface and knead it a couple turns. Pat the dough into a disk. Divide the disk-dough into two sections. Shape each section of dough into a log and place lengthwise on the prepared baking sheet leaving 4-inches between the logs to allow for spreading. Press the tops of the logs lightly to slightly flatten and smooth them.
Transfer the baking sheet to the oven and bake for about 25 minutes, until light brown. They should be springy to the touch and some cracks on the surface. Remove from the baking sheet from the oven and transfer the logs to a cooling rack. Cool for 5 minutes.
Reduce the oven temperature to 300°F
Transfer the logs one at a time to a cutting board and using a sharp knife or a serrated bread knife, cut them diagonally into 3/4-inch thick slices.
Arrange the slices cut side up on the same parchment-lined baking sheet and bake for 10 minutes.
Turn the slices over and bake another 10 minutes until they are crisp. Transfer the slices to the wire rack and cool completely. The biscotti will keep for up to 2 weeks in an airtight container at room temperature.
Notes
The traditional method of making biscotti is to mix it by hand in a bowl, the same as making fresh pasta.
For convenience, a stand mixer with the paddle attachment can be used instead.
For smaller, rounder shaped cookies cut the logs crosswise and not diagonally.
The biscotti dough can be shaped into one large log for longer sized cookies.
Because dough is soft and sticky, chilling it for an hour will firm it up making it easier to shape into logs. This is an optional step and not necessary.
Store biscotti in an airtight container to maintain crispness.
We don't recommend refrigerating or freezing biscotti as they loose their crunchiness.
You can restore their crunch by laying the slices in a layer on a baking sheet and place in a 250°F oven for 5 or 10 minutes.

Nutrition Information:
Yield:

18 cookies
Serving Size:

1
Amount Per Serving:
Calories:

161
Total Fat:

5g
Saturated Fat:

1g
Trans Fat:

0g
Unsaturated Fat:

4g
Cholesterol:

41mg
Sodium:

123mg
Carbohydrates:

25g
Fiber:

1g
Sugar:

12g
Protein:

4g
Nutrition information is a guideline only, is calculated automatically by third party software, and absolute accuracy is not guaranteed.