If you're looking for a flourless and gluten-free option for delicious cookies, then you must try these almond butter cookies with chocolate chips. These cookies will make you forget they're actually a better-for-you option to enjoy!
Cookies are something that anyone can enjoy any time of day. I admit I enjoy having a cookie that I won't feel guilty about eating. These almond butter cookies with chocolate chips are simple to make and will work well for a special snack during your day to day routine.
You can even whip up a batch of these cookies and freeze them in an airtight container for up to six months! I highly advise making up the dough beforehand, rolling it up and freezing it so you can make cookies anytime you want and enjoy the delicious flavor of these gluten free and flourless cookies. Can you say snack on the run? Seriously, I am in love with this tasty treat.
Is almond butter bad for you?

Sometimes we get confused about what types of fats are actually good for our body. Almond butter is a healthy source for us to get the monounsaturated fats that our body needs to lower the risk of heart disease.
Adding any form of almonds to your diet is good for you in so many ways, not only does it help with the fats needed to help lower your risk of heart disease, but almonds contain Vitamin E and helps lower cholesterol. My final answer is, no, almond butter is not bad for you
What you need to make almond butter cookies with chocolate chips:

With only six ingredients you won't even know that the flour is missing when you make a batch of these cookies to serve to guests. These cookies are perfect for entertaining guests because many people have gluten-free dietary needs. Now you can satisfy that need when you invite guests over for a feast.
You'll more than likely have most of the ingredients needed for this recipe on hand. If you're on a gluten-free diet, you may have the almond butter. The ingredients are pretty straightforward. With just a little brown sugar, eggs, baking soda, salt and vanilla extract plus some almond butter and chocolate chips you'll soon have a delicious batch of cookies that everyone will enjoy.
Can you lose weight eating almond butter?

I sure do wish you could lose weight eating almond butter. Better yet wouldn't it be great if you could lose weight eating these flourless almond butter cookies with chocolate chips?
Unfortunately, almond butter is pretty calorically dense and it is easy to pack on the calories and weight if you overdo it. However, all things in moderation and you can take control of your weight.
I can say that eating almonds combined with daily exercise have been proven to help people lose weight. Just don't be too heavy handed with the almonds.

What are the benefits of eating almond butter?

Now that you have a delicious recipe to make your own almond butter cookies with chocolate chips, you should know about the amazing benefits of almond butter. Almond butter provides a good antioxidant with the level of Vitamin E in it for a heart-healthy diet. The flow of blood, nutrients, and oxygen is stimulated by eating even just a small amount of almond butter due to the amount of magnesium this delicious butter provides you with.
SOME OTHER RECIPES WE ARE SURE YOU WILL LOVE:
Crispy Double Chocolate Cookies
Salted Chocolate Fudge Cookies
CONNECT WITH SAVOR THE BEST!
Be sure to follow us on our social media accounts
Facebook * Instagram * Pinterest * Twitter * Youtube
Did you make this recipe? We would love to hear from you. Drop us a comment below.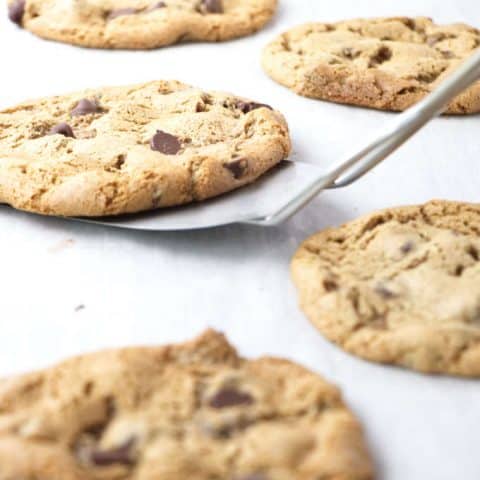 Flourless Almond Butter Chocolate Chip Cookies
Yield: 2 dozen cookies
Prep Time: 10 minutes
Cook Time: 10 minutes
Total Time: 20 minutes
These flourless almond butter cookies are gluten-free and incredibly easy to make. They are crispy on the outside and fudgy on the inside.
Ingredients
2 cups almond butter
1-1/4 cups brown sugar
2 large eggs
1-1/2 teaspoons vanilla extract
1-1/2 teaspoons baking soda
1 teaspoon salt
1 cup chocolate chips
Instructions
Preheat the oven to 350°F and line a couple of baking sheets with parchment paper.
Add everything except for the chocolate chips to a large mixing bowl and mix on medium speed until smooth and creamy.
Stir in the chocolate chips.
Scoop out large balls of dough (about 2 tablespoons worth) and place on the baking sheets two inches apart.
Bake for 8 to 10 minutes or until the cookies are slightly brown at the edges. Remove the cookies and let them cool on the baking sheets.
Notes
Parchment paper works better for these cookies than non-stick spray
The cookies store well in an airtight container for 5 to 6 days or in the freezer for 6 months.
Make sure you let the cookies cool down on the baking sheets before transferring them. They will break easily while they are still warm.
I use a cookie scoop to portion and scoop the cookie dough easily. A large cookie scoop looks like a miniature ice cream scoop and holds about 2 tablespoons of dough. Perfectly portioned cookies!
The consistency of the dough will change depending on the brand of almond butter you use. A dry, firm almond butter will result in dry, slightly crumbly dough and fatter cookies. An almond butter that is a little more moist and oily will create a dough that holds together easier and a cookie that spreads out flatter.
If the dough feels a little dry and crumbly, just squeeze the balls of dough together.
Recommended Products
As an Amazon Associate and member of other affiliate programs, I earn from qualifying purchases.
Nutrition Information:
Yield: 24
Serving Size: 1 cookie
Amount Per Serving:
Calories: 189
Total Fat: 13.7g
Saturated Fat: 2.5g
Cholesterol: 17mg
Sodium: 163mg
Carbohydrates: 14g
Fiber: 2.2g
Sugar: 10.4g
Protein: 5.3g