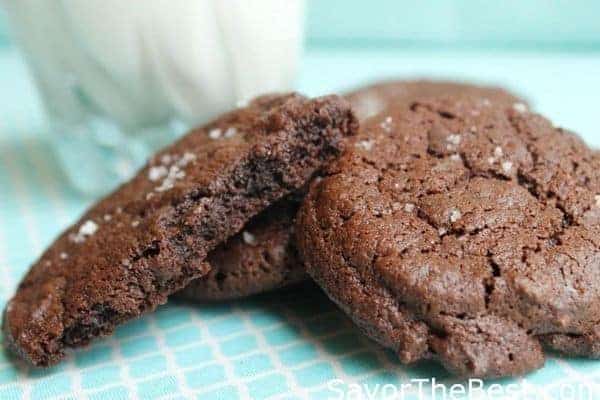 I remember my grandfather used to sprinkle salt on his grapefruit. I thought that was so odd but when I was older I tried it myself and was surprised at how a small pinch of salt could take the bitter edge out of the grapefruit. Grandpa knew what he was doing after all.
Salt is an essential ingredient in baking and cooking. Without it, food tastes flat and bland. Salt enhances the flavors and brings dimension to food. It reduces acidic and bitter tastes and enhances sweet flavors. It doesn't take a lot. Just as easily as salt can improve a dish, it can ruin one so if your not sure, start small and add more later. It's easy to add and impossible to subtract.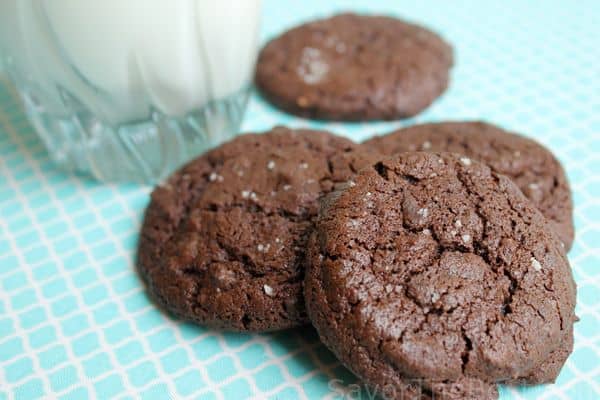 Salt is particularly complementary with chocolate and one of my favorite combinations. These dark chocolate cookies are sprinkled with a finishing salt such as Maldon or Fleur de Sel.
Don't sprinkle them with regular table salt, it really won't be the same and as a matter of fact, you will be likely to make them taste too salty. The large crunchy flecks of a good finishing salt adds a distinctively crisp flavor and texture to these cookies without over-powering them.
Adapted from Epicurious.com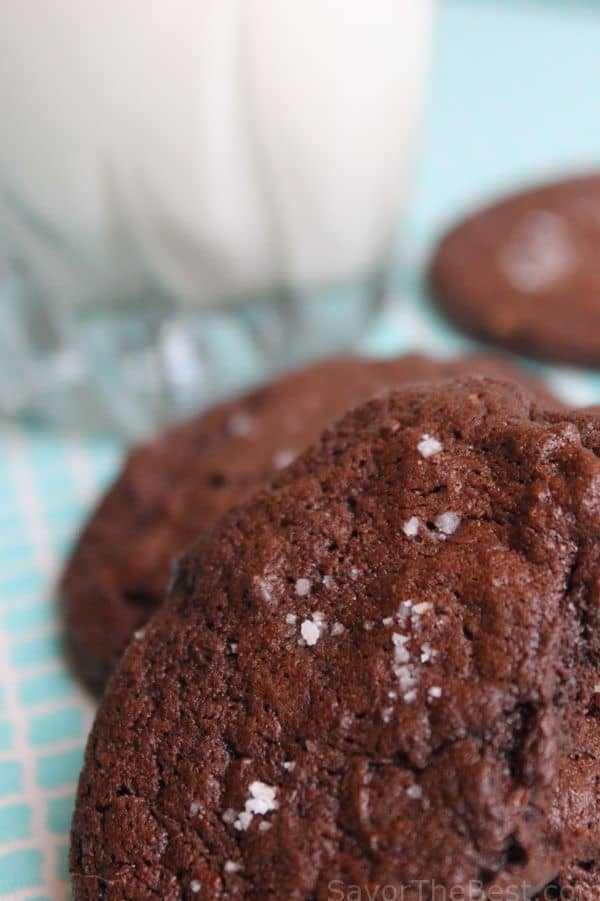 SOME OTHER RECIPES WE ARE SURE YOU WILL LOVE:
Crispy Double Chocolate Cookies
CONNECT WITH SAVOR THE BEST!
Be sure to follow us on our social media accounts
Facebook | Twitter | Youtube | Pinterest | Instagram
Did you make this recipe? We would love to hear from you. Drop us a comment below.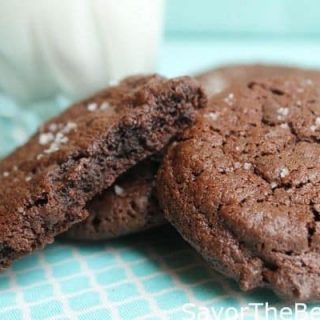 Salted Chocolate Fudge Cookies
Yield: 3 to 4 dozen
Prep Time: 20 minutes
Cook Time: 12 minutes
Total Time: 32 minutes
Dark chocolate cookies enhanced with a sprinkling of salt create a luxurious gourmet cookie.
Ingredients
12 ounces semisweet chocolate, finely chopped
1-¼ cup (175 grams) all-purpose flour
1/3 cup (28 grams) unsweetened cocoa powder
½ teaspoon baking powder
½ teaspoon salt
1 1/4 cups (300 grams) sugar
8 tablespoons butter, softened
3 eggs
2 teaspoons vanilla extract
1-½ tablespoons coarsely ground finishing salt such as Maldon or Fleur de Sel
Instructions
Pre-heat oven to 350° and line 2 cookies sheets with parchment paper.
In a microwave proof bowl, melt the chopped chocolate in 20 to 30 second intervals, stirring between intervals, until completely melted. Set aside and let it cool to room temperature.
In a medium bowl, combine the flour, cocoa powder, baking powder, and salt then set aside.
In a large mixing bowl combine the sugar and butter. Beat on medium high speed for 4-5 minutes until pale and fluffy. Add eggs 1 at a time, mixing thoroughly and scraping the bowl between each addition. Add the melted chocolate and vanilla and beat for 1 to 2 minutes.
Add the flour mixture and blend until combined. Be certain to scrape the batter at the bottom of the bowl.
Drop rounded tablespoons of batter onto cookie sheets, spacing them 1 ½ inches apart. Sprinkle the drops of dough with the Fleur De Sel or another large flake finishing salt. Bake 1 cookie sheet at a time for 10-12 minutes. The cookies should look slightly under baked. Remove them from the oven and let them cool on the cookie sheet.
Notes
These dark chocolate cookies are sprinkled with a finishing salt such as Maldon or Fleur de Sel. Don't sprinkle them with regular table salt or they will be too salty.
Nutrition Information:
Yield: 42
Serving Size: 1
Amount Per Serving:
Calories: 101
Total Fat: 5g
Carbohydrates: 14g
Sugar: 10.4g
Protein: 1.3g