These chocolate fudge cookies are a must-try for chocolate lovers. They are rich, chewy, and loaded with chocolate.
Crunchy salt flakes sprinkled on top of the cookies enhance the chocolate and provide the perfect balance of flavors. They are like fudgy brownies in cookie form.
The only downside is they might not last very long after you try them, they are that good! It's no surprise that these treats have been one of our most popular recipes since we first published them in 2014.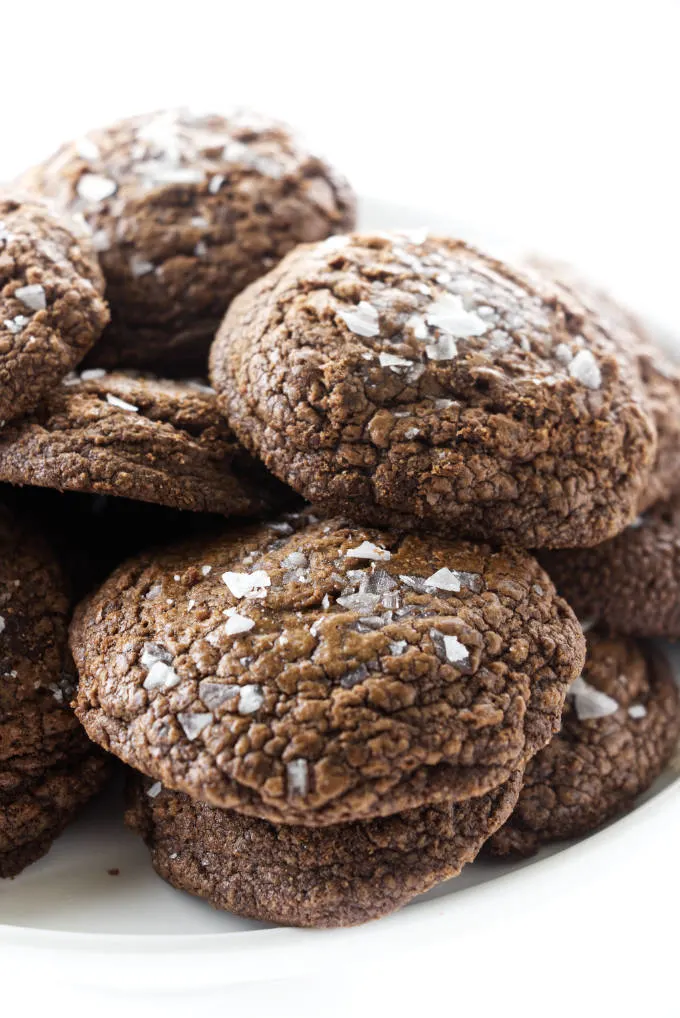 Despite the long list of ingredients, these cookies are surprisingly easy to make. Unlike other types of cookies, you don't need to chill the dough before baking!
You can have warm and gooey chocolate cookies in less than 40 minutes – perfect for those last-minute cravings.
If you are looking for more chocolate inspiration, check out our amazing chocolate cake recipe or chocolate mousse cake.
Here's Why You Will Love These Fudgy Cookies:
Perfect for ice cream sandwiches
No need to chill the batter
Insanely rich chocolate flavor
Easy to make
The Ingredients:
Here is the shopping list of ingredients you will need for these chocolate fudge cookies. Scroll down to the printable recipe card for all the details.
Semisweet chocolate. You can use chocolate chips, but a quality chocolate bar will give these cookies a richer chocolate flavor.

Cocoa powder. Purchase unsweetened cocoa powder for baking. Don't get the powdered drink mix.

Flour. All-purpose flour works best for this recipe.

Baking powder. Make sure the baking powder is not expired.

Salt. Regular table salt goes into the batter, and large flakes get sprinkled on top of the cookies.

Sugar. Use granulated white sugar.

Butter. You can use salted butter or unsalted butter. Most brands of salted butter do not have enough salt in them to make a difference in the cookies.

Eggs. Bring the eggs to room temperature. A quick way to take the chill off eggs is to place them in a bowl of warm water for a few minutes.

Vanilla. Vanilla extract enhances the flavors in this cookie.

Malden salt flakes. Sprinkling the large flakes on top of the cookies will enhance the chocolate and complement the sweetness. Do not use regular table salt to finish the cookies or they will be too salty.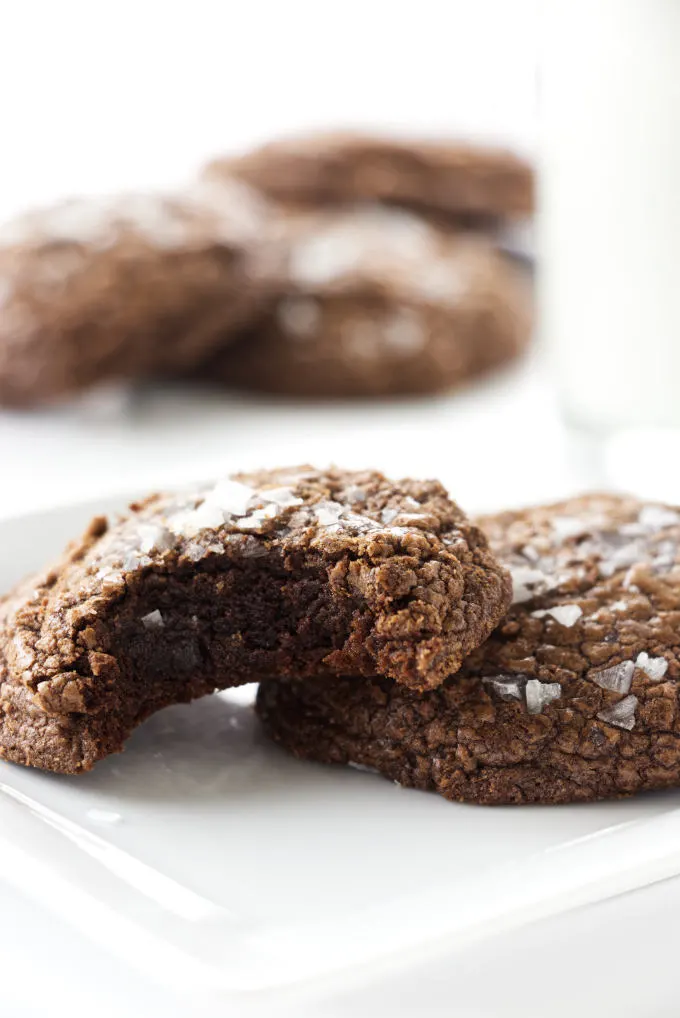 How to Make Fudge Chocolate Cookies:
Here is a quick overview of the recipe. Scroll down to the printable recipe card for all the details and read the tips below.
Melt the chocolate and set it aside to cool.
Combine the dry ingredients in a bowl.
Cream the butter and sugar in a separate bowl, then beat in the eggs.
Beat in the melted chocolate and vanilla extract, then stir the dry ingredients into the batter.
Drop balls of dough onto cookie sheets and sprinkle them with Malden salt flakes. Bake the cookies, then let them cool on the cookie sheets.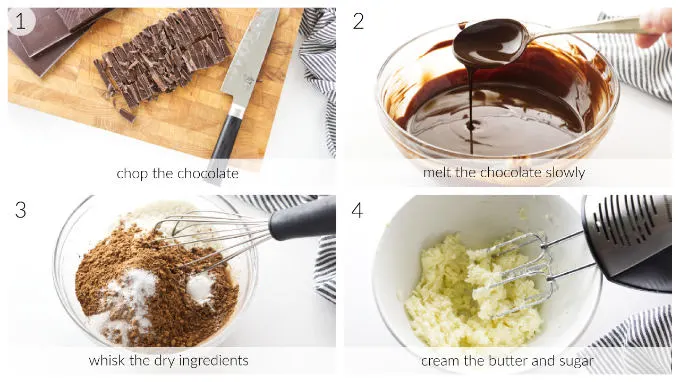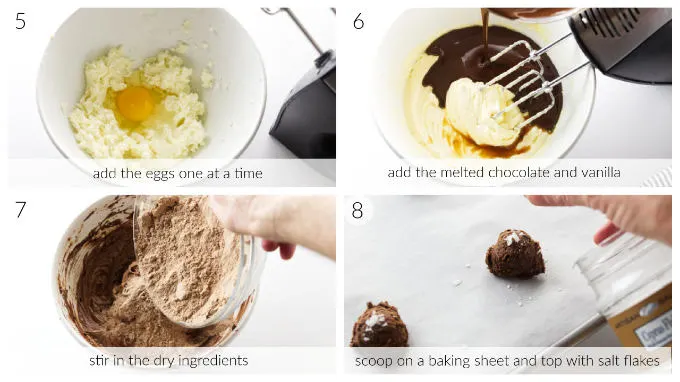 Tips for Success:
Here are a few tips that will make these the best chocolate fudge cookies you ever had.
Use quality chocolate. Chocolate chips will work in a pinch, but these cookies will have more chocolate flavor if you use high-quality chocolate like Lindt or Theo.

Melt the chocolate slowly, so it doesn't burn. If you use a microwave, heat it in short increments and stir the chocolate after each increment. You can also use a double boiler or make one yourself by placing a heat-proof bowl on top of a saucepan.

Sprinkle finishing salt on top. If you haven't tried using finishing salt before, this is a great recipe to start. Big chunks of crunchy salt sprinkled on top of the cookies really take them to the next level.

If you don't have finishing salt, don't substitute it with regular salt or you will ruin the cookies. Use a finishing salt like Malden or Fleur de Sel.

Cream the butter and sugar until it is light and fluffy. This step will take about 5 minutes. Scrape down the sides of the bowl as needed. The butter and sugar mixture should be pale in color and have a light, fluffy texture.

The dough will get firm if it sits out. The melted chocolate will start to solidify in the dough and make the dough quite firm. If that happens, don't fret. The cookie dough will be a bit stiffer and harder to scoop, but the cookies will bake just fine.
If you're looking for a gooey, chocolate-loaded cookie that is easy to make and perfect for last-minute cravings, these are the cookies for you.
These fudge and salt cookies taste like brownies in cookie form and are a true chocolate lover's dream.
Adapted from Epicurious.com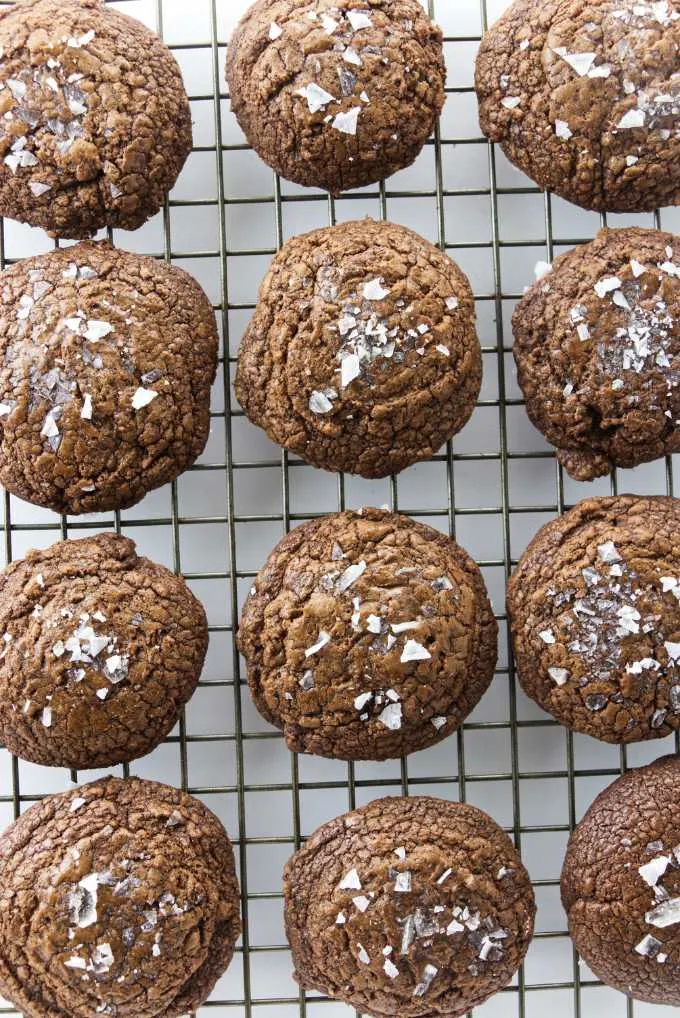 Some Other Recipes You Will Love
These chocolate chip cookie shots are the best way to eat cookies and drink milk simultaneously. Baked chocolate chip cookie dough becomes an edible shot glass that can be filled with a refreshing splash of milk.
Homemade gingersnap cookies that you can cook either till they get soft and chewy or crisp and "snappy."
Crispy Double Chocolate Cookies using an amazingly simple recipe. There's no need to cream butter, refrigerate the dough, or roll it out. These delicious chocolate cookies have the texture and flavor of a crisp brownie bite.
Connect With Savor the Best:
Please follow us on our social media accounts
Facebook * Instagram * Pinterest * Youtube * Twitter
Did you make this recipe? We would love to hear from you. Drop us a comment below.
Salted Chocolate Fudge Cookies
Dark chocolate cookies enhanced with a sprinkling of salt create a luxurious gourmet cookie.
Ingredients
12 ounces semisweet chocolate, finely chopped
1-¼ cup (175 grams) all-purpose flour
1/3 cup (28 grams) unsweetened cocoa powder
½ teaspoon baking powder
½ teaspoon salt
1 1/4 cups (300 grams) sugar
8 tablespoons butter, softened
3 eggs
2 teaspoons vanilla extract
1-½ tablespoons coarsely ground finishing salt such as Maldon or Fleur de Sel
Instructions
Pre-heat oven to 350° and line 2 cookie sheets with parchment paper.
In a microwave-proof bowl, melt the chopped chocolate in 15 to 20-second intervals, stirring between intervals, until completely melted. Set aside and let it cool to room temperature.
In a medium bowl, combine the flour, cocoa powder, baking powder, and salt then set aside.
In a large mixing bowl combine the sugar and butter. Beat on medium-high speed for 4-5 minutes until pale and fluffy. Add eggs 1 at a time, mixing thoroughly and scraping the bowl between each addition. Add the melted chocolate and vanilla and beat for 1 to 2 minutes.
Add the flour mixture and blend until combined. Be certain to scrape the batter at the bottom of the bowl.
Drop rounded balls of dough (2 tablespoons in size), onto cookie sheets spacing them 1-½ inches apart. Sprinkle the drops of dough with the Fleur De Sel or another large flake finishing salt. Bake 1 cookie sheet at a time for 9-11 minutes. The cookies should look slightly under-baked. Remove them from the oven and let them cool on the cookie sheet.
Notes
These dark chocolate cookies are sprinkled with a finishing salt such as Maldon or Fleur de Sel. Don't sprinkle them with regular table salt or they will be too salty.
Melt the chocolate slowly so it doesn't burn which will make it thick, stiff, and lumpy. Use the microwave in short bursts and let the chocolate sit for a while and melt from the residual heat. Also, make sure you stir it frequently. Alternatively, you can use a double boiler to melt the chocolate.
If you are using a hand mixer it will take you twice as much time to cream the butter and sugar as it will if you are using a stand mixer.
The longer the dough sits, the firmer it will get because the melted chocolate will start to get more solid. The cookies will still bake fine if the batter gets firm.
Nutrition Information:
Yield:

42
Serving Size:

1
Amount Per Serving:
Calories:

101
Total Fat:

5g
Carbohydrates:

14g
Sugar:

10.4g
Protein:

1.3g