Chocolate lovers unite! These triple chocolate brownies are packed full of RICH chocolate flavor. This brownie recipe is so much better than a store-bought mix, and they are easy to make.
These triple chocolate brownies promise to be everything you want in a brownie – chewy, glossy, fudgy, and decadently rich.
This recipe is sure to please. Three different types of chocolate, bittersweet, unsweetened, and unsweetened cocoa powder, ensure you will have triple chocolate goodness in every bite. You can take it over the top by adding chocolate chips to the batter for quadruple chocolate brownie goodness.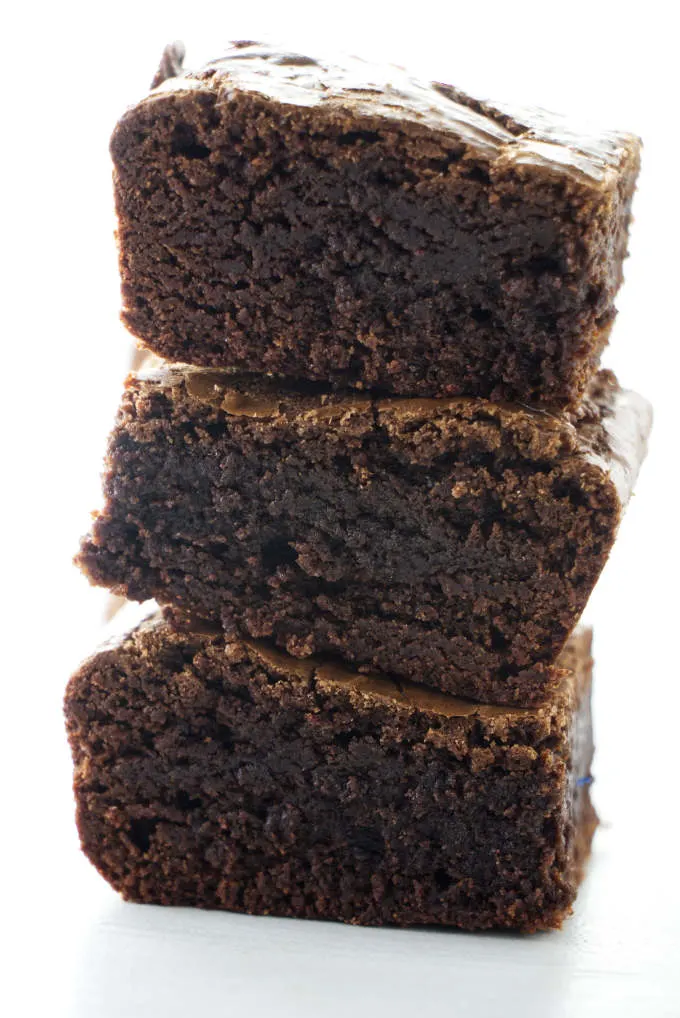 Serve these chewy brownies with ice cream, whipped cream, fresh berries, or enjoy them all by themselves. If you're looking for more decadent chocolate recipes, check out our perfect chocolate cake, miso brownies, or our chocolate truffle cake.
What We Love About These Brownies:
Extra chocolatey with three types of chocolate
Fudgy, gooey, and RICH
Super-fast to make
Uses pantry ingredients
Tastes better than a mix (and is almost as fast to make!)
They travel well. Pack them in school lunches or take them to potlucks.
Ingredients:
Butter. You can use salted or unsalted butter. I prefer salted butter but use whichever you have on hand.
Bittersweet Chocolate. 70% bittersweet chocolate bar, chopped. You can use as low as 60% cocoa or as much as 80%.
Unsweetened Chocolate Bar. Get a good quality bar of unsweetened, bitter chocolate.
Cocoa Powder. Cocoa powder adds an extra concentrated chocolate flavor. Make sure you get the unsweetened cocoa for baking and not the sweetened chocolate powder used for making chocolate milk.
Eggs. Make sure the eggs are at room temperature.
Sugar. Plain granulated white sugar.
Vanilla. Vanilla enhances the flavor of the chocolate.
Flour. Use all-purpose flour. Do not substitute with self-rising flour or the brownies will not be as chewy and dense.
Salt. Salt makes a huge impact on the flavor. It enhances the chocolate and the sweetness.
If you would like to elevate these brownies to another level, fold some milk chocolate chips into the batter then sprinkle the top of the brownies with some large salt flakes. Our chocolate fudge cookies were topped with salt flakes and they are always a big hit when we make them.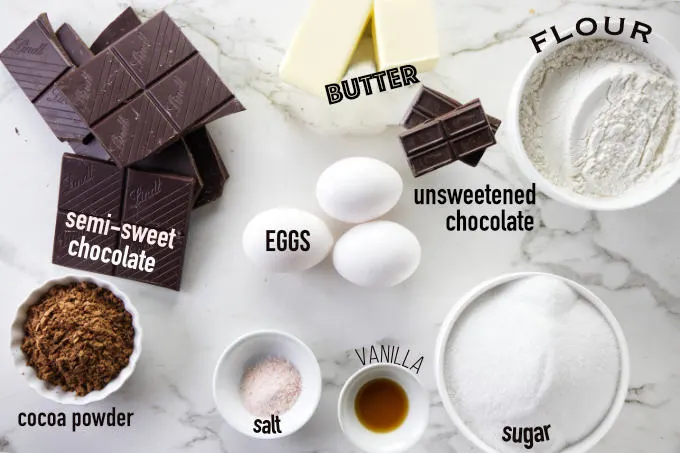 How to Make Triple Chocolate Brownies:
The secret to these ultra chewy, glossy topped brownies is in the way you whip the eggs. Beat the eggs with the sugar until they are thick and fluffy. It's a magical step that creates an incredible texture to the brownies.
Make sure you scroll down to the printable recipe card for all the details.
Melt the butter and the chopped chocolate.
Beat the eggs and sugar until they triple in size.
Stir a ¼ of the egg batter into the melted chocolate mixture. Stir in vanilla.
Fold the chocolate mixture into the egg batter using a wide spatula. Fold in the flour mixture.
Spread the batter into the pan and bake.
Let the triple chocolate brownies cool completely before you cut them. If you want to eat the brownies warm then you can re-heat them after you slice them.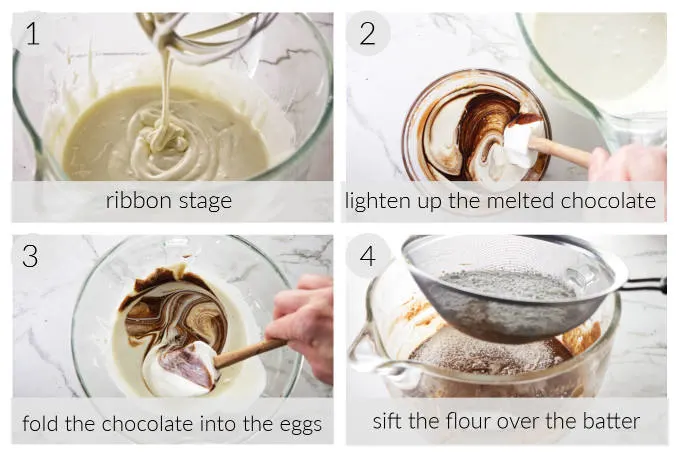 The first photo in the collage above shows you how the eggs should look when you finish whipping them. Notice how the eggs are thick enough to leave a ribbon-like trail on the surface? The fluffy egg batter will stay like that for a few seconds then it will slowly fade back into the batter.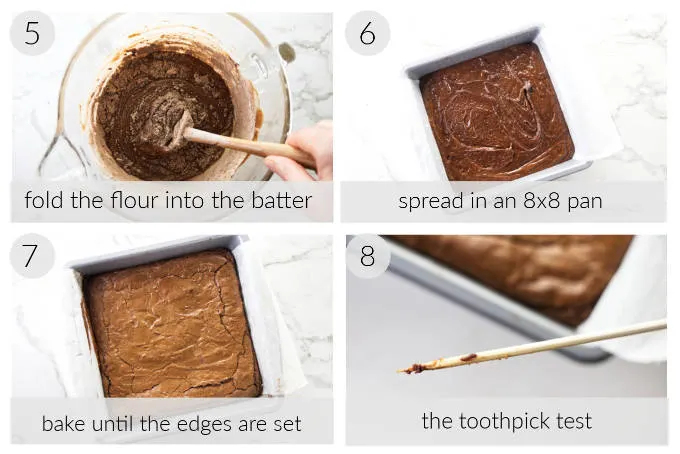 Fold the flour into the batter with a large spatula then spread the batter into a pan. When your triple chocolate brownies finish baking the edges will look set but the center will seem under-baked.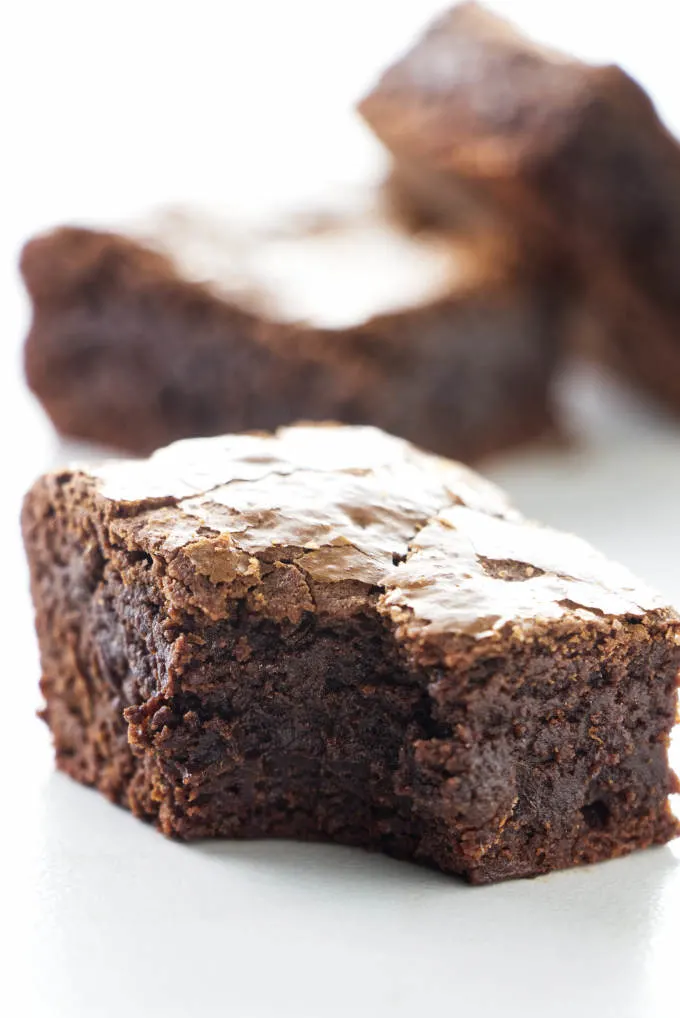 Tips and Tricks:
Chop the chocolate. If you chop the chocolate bars finely, they will melt quicker and more evenly.

Melt the chocolate carefully. Chocolate can burn if you try to melt it at too high of heat. Melt the chocolate slowly. If you use your microwave, stop it frequently and stir the chocolate so it doesn't burn.

Don't overbake the brownies. The center of the brownies should look underbaked when you take them out of the oven. The brownies will firm up and set as they cool down. If you are worried that you are under or overcooking your brownies, use an instant-read thermometer to test the internal temperature of the brownies. The center should read 193°F to 198°F.

Get the eggs fluffy. Make sure you take the time to whip the egg and sugar mixture until it practically triples in volume. It will get light in color and be thick enough to leave a ribbon-like trail on the surface when you lift the beaters.

The temperature of the eggs is important. Use room temperature eggs. Cold eggs will not whip to a high volume.

Use a toothpick to check for doneness. The chocolate in these triple chocolate brownies will still be melted while the brownies are hot. The toothpick should still have some sticky batter on it when you pull it out of the brownie.

Store leftovers in a covered airtight container at room temperature. They should last 3 to 4 days. If you need them to last a little longer, store them in the fridge, covered, for up to a week.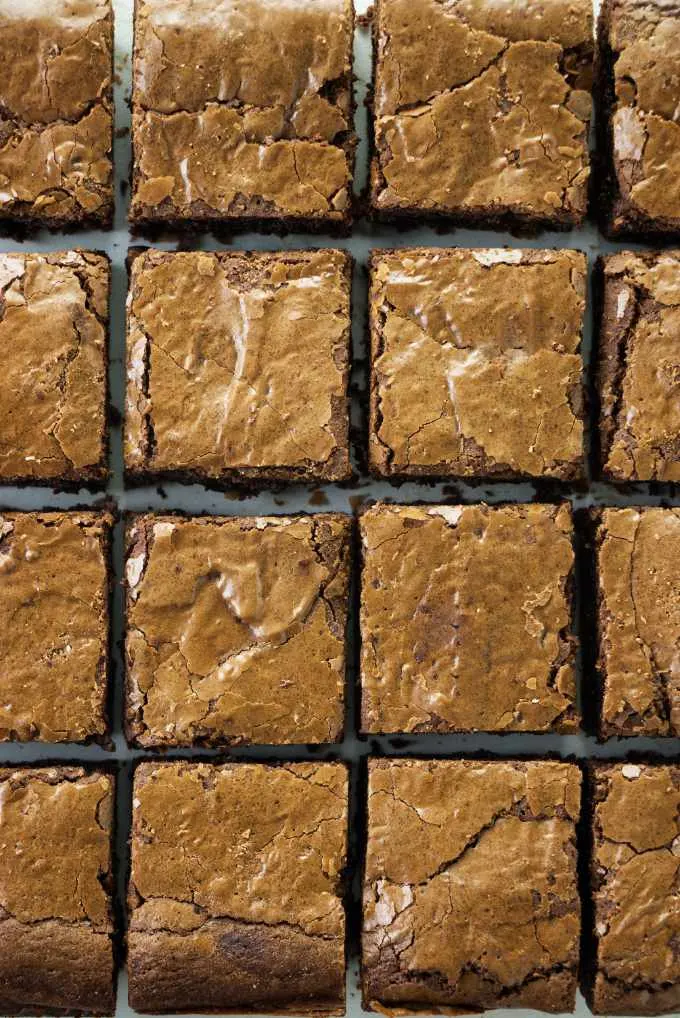 Frequently Asked Questions
What makes a brownie cakey?
A little less chocolate, a little less butter, and more flour will result in a cakier brownie. Most cakey brownie recipes rely on some baking powder as well.
What makes a brownie fudgy?
Fudgy brownies have more butter and chocolate, making the fat-to-flour ratio higher than cakey brownies.
Can I add nuts to the brownie mix?
Yes, you can fold in a 1/3 to 1/2 of a cup chopped pecans or walnuts as the last step before pouring the mixture into the pan.
I don't have baker's chocolate. Can I use a milk chocolate bar?
A milk chocolate bar will add less chocolate and more sugar to the brownies. They will not turn out as rich and chocolaty if you use milk chocolate. You can, however, chop up a milk chocolate bar to stir into the batter. The extra bits of chopped chocolate will add pockets of melted goodness to the warm brownies and transform triple chocolate brownies into quadruple chocolate brownies.
I don't have an 8 by 8-inch pan. What can I use instead?
The size of the pan you use is important. A bigger pan will result in thinner brownies and shorter cooking times. You can use a 9 x 9-inch pan, but you will need to decrease the cooking time by 5 to 8 minutes. Watch the brownies closely if you use a bigger pan as they can overbake quickly.
Helpful Tools:
Some of the following links are affiliates. If you click on these links and purchase something, we may receive a small commission. You don't pay any extra but it will help us keep the lights on.
Some Other Recipes We Are Sure You Will Love:
These crispy double chocolate cookies are perfect for dunking in milk or for making ice cream sandwiches. Try stuffing two of them with a scoop of chocolate stout ice cream.
Who doesn't love a soft sugar cookie? But we also have an amazing chocolate sugar cookie that will satisfy all your cookie cravings.
Our molten lava chocolate cakes taste like a cross between a cake and a brownie with a ooey, gooey, chocolate fudge sauce in the center.
Our peanut butter coconut bars are rich and chewy bar cookies that are perfect for any occasion.
Connect With Savor the Best:
Please follow us on our social media accounts
Facebook * Instagram * Pinterest * Youtube * Twitter
Did you make this recipe? We would love to hear from you. Drop us a comment below.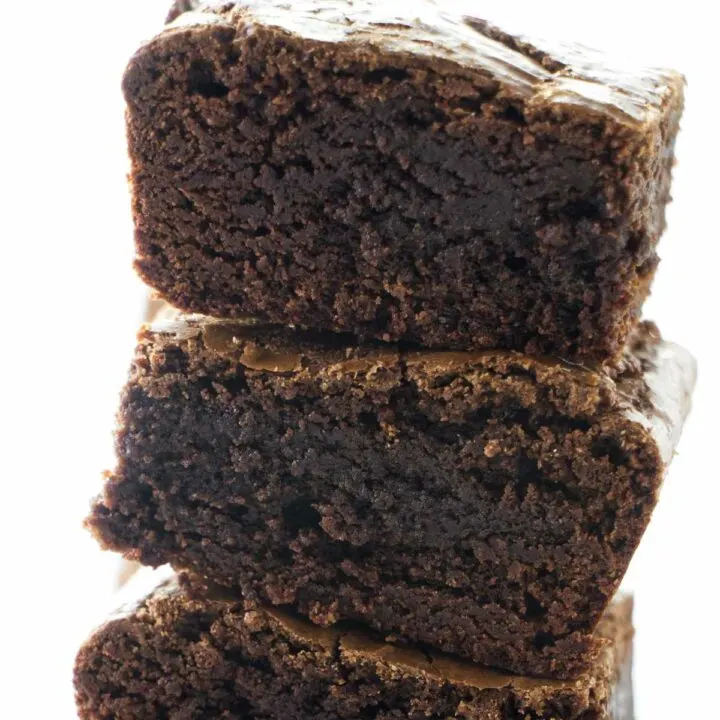 Triple Chocolate Brownies
Using three different kinds of chocolate gives these brownies an intense, fudgy, chocolate flavor. Semi-sweet and unsweetened chocolate bars add a fudgy, rich texture. When you add in unsweetened cocoa powder, you will have a deep, complex, chocolate flavor.
Whipping the eggs with the sugar until it reaches a thick, fluffy consistency is the secret to the BEST brownies. It creates an amazing fudgy texture. Don't skip this step.
If you want to turn these triple chocolate brownies into quadruple chocolate brownies, stir in 8 to 10 ounces of milk chocolate chips.
Ingredients
10 tablespoons butter
3-1/2 ounces bittersweet chocolate (70%), chopped
2 ounces unsweetened chocolate, chopped
3 large eggs, room temperature
1-1/3 cups granulated sugar
1 teaspoon vanilla extract
3/4 cup all-purpose flour
1/2 cup unsweetened cocoa powder
1 teaspoon salt
Instructions
Preheat the oven to 350°F. Line an 8 inch by 8 inch baking pan with parchment paper.
Place the butter, and chopped chocolate (bittersweet and unsweetened) in a microwavable bowl. Microwave on low power in 15 second intervals until melted. Stir frequently between intervals.
Place the eggs and sugar in a mixing bowl. Beat on high speed for 7 to 8 minutes until light in color, thick, fluffy, and almost tripled in size. You will know it is ready when you lift the beaters and the batter falls back onto the surface, leaving a ribbon-like pattern for a few seconds.
Stir about 1/3 of the egg batter into the melted chocolate to lighten the chocolate then stir in the vanilla.
Pour the chocolate mixture into the egg batter and use a wide spatula to fold the chocolate into the batter.
Combine the flour, cocoa powder, and salt in a bowl. Whisk or sift to remove all the lumps then fold the flour into the batter.
Spread the batter into the prepared pan. Bake for 35 to 40 minutes. The top will be slightly cracked and the edges will appear set. A toothpick inserted in the middle should have some moist, sticky crumbs (the toothpick shouldn't be wet but it shouldn't be clean). If you have an instant read thermometer, it should read 193°F to 198°F.
Notes
The center of the brownies will seem under baked but it will set up as the brownie cools down.
An instant read thermometer isn't necessary but it is nice if you have one. It will guarantee perfectly cooked brownies. Not overcooked and not undercooked.
If you don't have an instant read thermometer, the toothpick test is a great way to determine if the brownies are finished baking. Make sure the toothpick comes out with some moist, sticky crumbs of brownie bits.
Nutrition Information:
Yield:

16
Serving Size:

1
Amount Per Serving:
Calories:

300
Total Fat:

12g
Saturated Fat:

7g
Trans Fat:

0g
Unsaturated Fat:

4g
Cholesterol:

54mg
Sodium:

205mg
Carbohydrates:

46g
Fiber:

2g
Sugar:

38g
Protein:

3g
Nutrition information is a guideline only, is calculated automatically by third-party software, and absolute accuracy is not guaranteed.