Homemade whipped cream is unlike anything you'll ever find on the store shelves! It's creamy, light, and rich, and best of all, it's incredibly easy to make! Skip the store-bought stuff for this luxurious homemade whipped cream recipe. We're sharing our favorite tips to make perfect, fool-proof whipped cream that will hold its shape!
This homemade whipped cream recipe is a staple in our dessert repertoire. It's delicious with fresh berries, spread on top of our no-bake peanut butter pie, and a spoonful makes a lovely garnish on this Raspberry White Chocolate Mousse. Our Blueberry Rhubarb Pie just begs for a mound of luxurious whipped cream, and the same for our Cranberry Curd Tart.
Basically, whipped cream is a versatile, all-seasons, enjoy-anytime kind of treat and lucky for us, it's so easy to prep!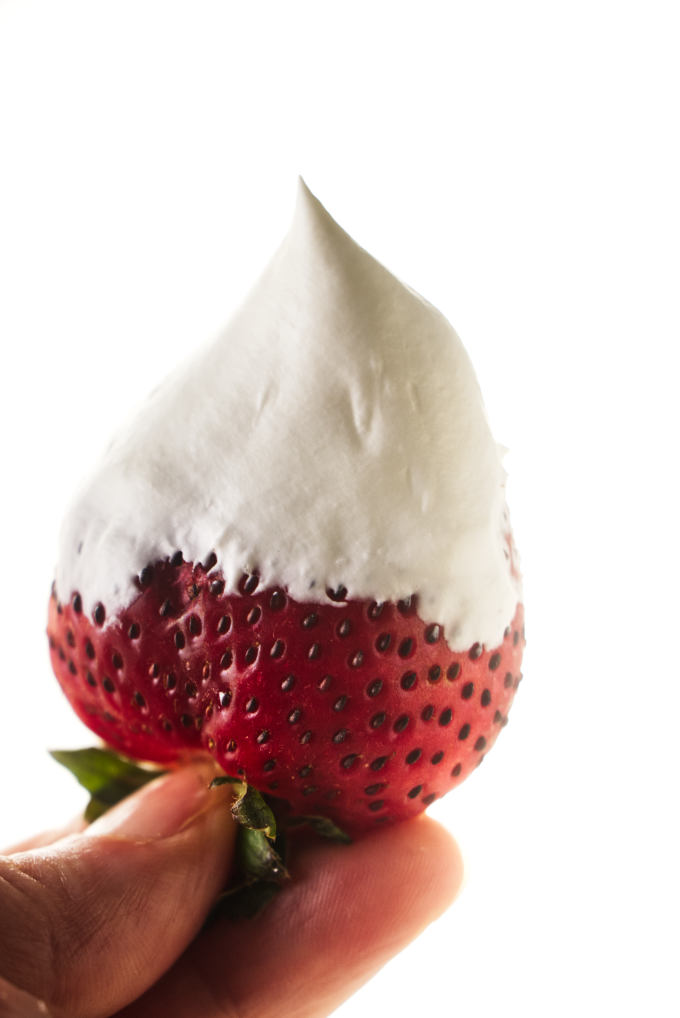 Ingredients you Will Need:
Rich, fluffy, decadent whipped cream doesn't require a lot of ingredients. You will need three, to be exact:
Heavy cream (preferred over whipping cream- keep reading to see why!)
Powdered sugar
Vanilla extract (choose a high quality vanilla for the best flavor)
About the cream…
We've found that heavy cream works better than whipping cream. What's the difference? Heavy cream has a slightly higher fat content than whipping cream which means it will whip up thicker and hold its shape longer.
While you can certainly use whipping cream, it will end up being a lighter consistency that is not as firm and stable.
As for equipment, you will need an electric mixer (handheld or standup) and a chilled bowl. These items will help ensure that the cream whips up to the right consistency and holds its shape.
If you like doing things the old-fashioned way and you don't mind a long workout and an exhausted arm, you can use a hand whisk and a lot of elbow grease.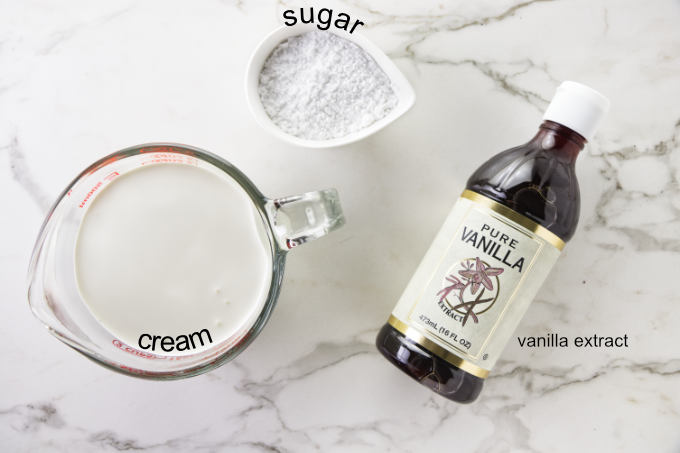 How to Make Whipped Cream at Home:
So, how do you make whipped cream from scratch? First step: we recommend using a chilled bowl and whisk attachment to keep everything cold while whipping it together.
We pop the bowl and the whisk attachment into the freezer to chill for about 20 minutes. This helps the cream whip to a higher volume and stay fluffy longer.
Combine ingredients in a chilled mixing bowl: Pour the cream into the chilled bowl, then add the powdered sugar and vanilla extract.
Whip the cream: Turn the mixer to medium-low speed and use a whisk attachment. We start with a lower speed to prevent any splashing. Once it fluffs up a bit, increase the speed to medium-high and whip until medium stiff peaks form.
Serve or chill: Serve the homemade whipped cream as your recipe calls for. If preparing it in advance, keep it covered and chilled in the refrigerator until it is time to use.
Note that you can decrease or increase the amount of powdered sugar to your own taste preference- 1/4 cup is lightly sweetened whipped cream while 1/2 cup will be noticeably sweet (but not as sweet as ice cream).
The amount of time you whip the cream will vary based on your mixer. It usually takes about 60 to 90 seconds. Just keep an eye on the cream while it whips.
As the cream gets thicker, the whisk will leave track marks. When you see track marks forming, stop the mixer occasionally and lift the whisk to see how stiff it is.
What are Medium-Stiff Peaks?
The photo below shows you what the cream should look like when it reaches medium-stiff peaks. The cream will be firm enough to stand up when you flip the whisk upside down but it will have a slight curl at the tip.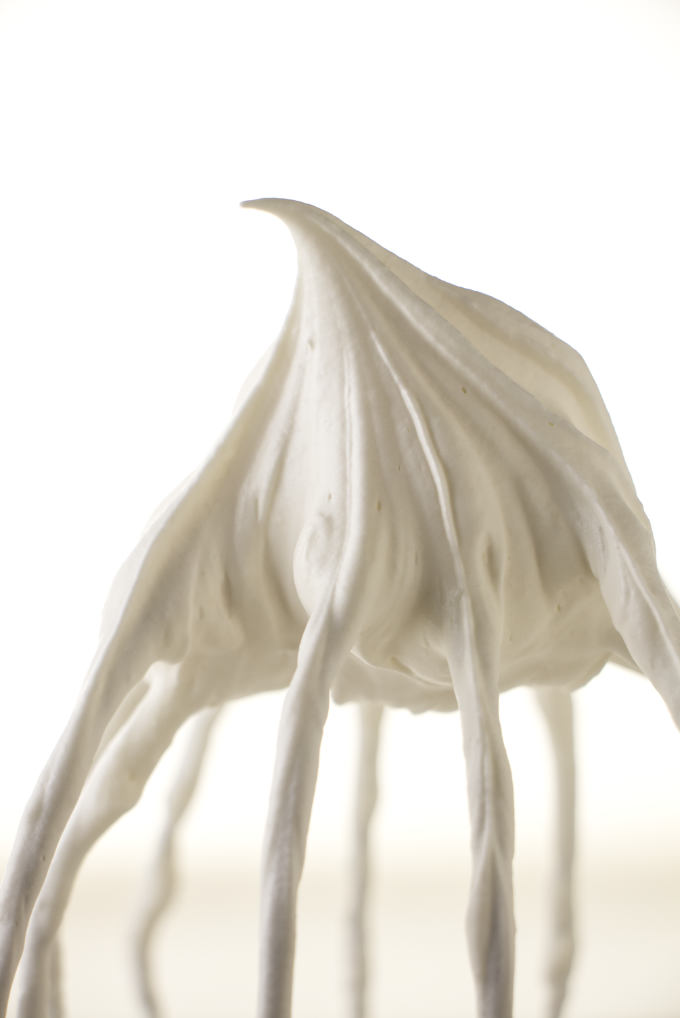 Tips and FAQs:
Do not over-whip the cream or you will end up with sweet butter! One minute to 90 seconds is all you need when using heavy cream so keep an eye on the consistency.
Powdered sugar vs. granulated sugar: Granulated sugar will work well for a lightly sweetened whipped cream. However, if you'd like to sweeten the whipped cream with more than 1/4 to 1/3 cup of sugar, powdered is best. It will dissolve easier and you can incorporate more powdered sugar if needed (without weighing it down or over-whipping the cream). To increase the sweetness, add a couple more tablespoons of powdered sugar and whisk for a few seconds until blended.
Can you make whipped cream by hand? Yes, you certainly can! While an electric mixer is going to be more efficient (and easier on your arm), it's perfectly possible to make our homemade whipped cream with a chilled bowl and balloon whisk. You will most likely have to whisk the cream for at least 2 minutes before it starts to form medium-stiff peaks.
How to Use Whipped Cream:
However you wish! Homemade whipped cream is rich and fluffy and its light, creamy flavor goes with almost any sweet treat. Whether you're using whipped cream for cake, spooning this on top of an elegant dessert like our Lemon Cake Roll , or you want a scoop of it on a single-serve Double Chocolate Mug Cake, this whipped cream recipe will take any treat to the next level.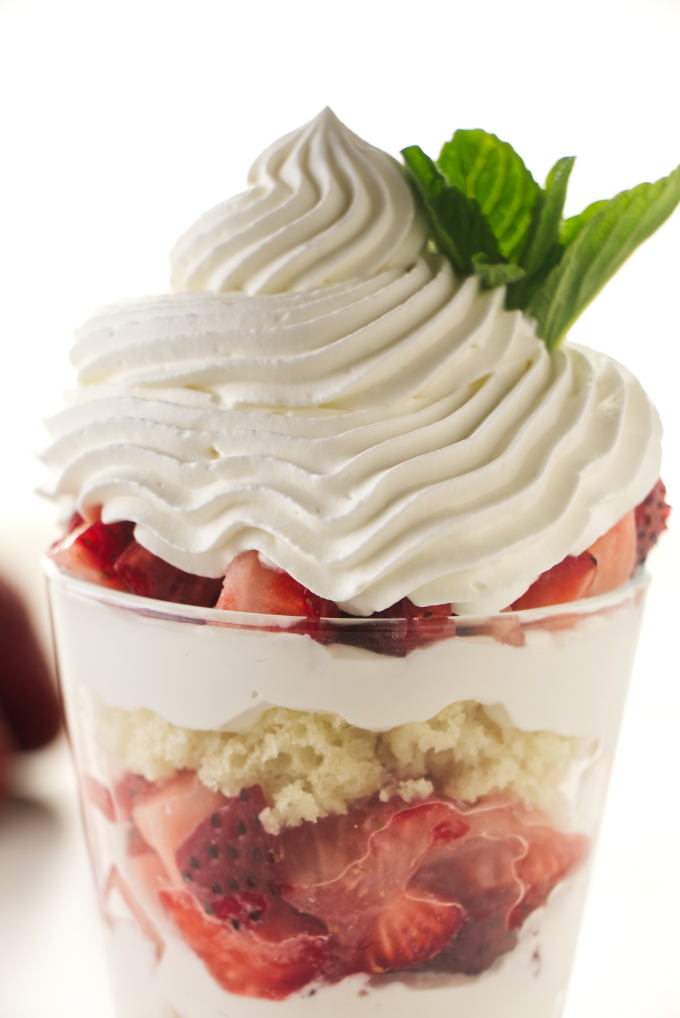 Helpful Tools:
Some of the following links are affiliates. If you click on these links and purchase something, we may receive a small commission. You don't pay any extra but it will help us keep the lights on.
Some Other Recipes We Are Sure You Will Love:
Ermine Frosting: This silky, cloud-like frosting is slightly less sweet than buttercream and is a vintage frosting recipe that makes a delicious alternative to American buttercream.
Coconut Cake with Coconut Buttercream Frosting: This fluffy, tender coconut cake has a delicate crumb and a rich, yet light, coconut buttercream! This cake is simple to make and is smothered in coconut for a delicious flavor!
White Chocolate Ganache: You will love this white chocolate ganache just as much as the rich chocolate ganache you are familiar with. Use it as a glaze, a spreadable frosting or as a dip for fresh fruits.
Connect With Savor the Best:
Please follow us on our social media accounts
Facebook * Instagram * Pinterest * Youtube * Twitter
Did you make this recipe? We would love to hear from you. Drop us a comment below.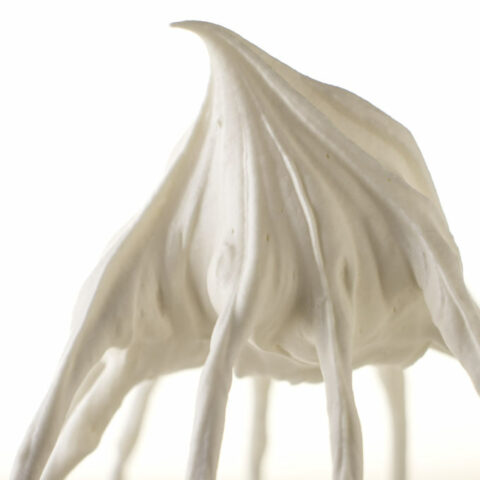 Homemade Whipped Cream
Yield: 4 cups
Prep Time: 4 minutes
Total Time: 4 minutes
Perfect, fail-proof whipped cream that is luxuriously creamy and holds its shape. Use heavy cream and a chilled bowl for the best results.
Ingredients
2 cups heavy cream, chilled
1/4 cup to 1/2 cup powdered sugar
1 teaspoon vanilla extract
Instructions
Add the cream, powdered sugar, and vanilla extract to a mixing bowl. (1/4 cup sugar is lightly sweetened and 1/2 cup is noticeably sweet but not as sweet as ice cream)
Whip on medium-low speed for 30 seconds to 1 minute. Increase the speed to medium-high and whisk until stiff peaks form (usually about 60 to 90 seconds but the time will vary depending on your mixer).
Notes
For best results, chill the bowl and the whisk attachment in the freezer for 20 minutes before you start. If everything is chilled, the cream will whip to higher volumes and stay fluffy longer.
Heavy cream vs. whipping cream: heavy cream has more fat and whips to a thicker, higher volume than whipping cream.
Do not over-whip the cream or you will end up with sweet butter.
Granulated sugar will also work but if you want to use more than 1/4 to 1/3 cup of sugar then it is best to use powdered sugar. Powdered sugar will dissolve easier and you will be able to incorporate more if you think it needs to be sweeter.
If the whipped cream is not as sweet as you want, add a couple more tablespoons of powdered sugar and whisk for just 3 to 4 seconds until blended. The powdered sugar will dissolve without the risk of over-whipping the cream.
Recommended Products
As an Amazon Associate and member of other affiliate programs, I earn from qualifying purchases.
Nutrition Information:
Yield: 64
Serving Size: 1 tablespoon
Amount Per Serving:
Calories: 27
Total Fat: 3g
Saturated Fat: 2g
Trans Fat: 0g
Unsaturated Fat: 1g
Cholesterol: 8mg
Sodium: 2mg
Carbohydrates: 1g
Fiber: 0g
Sugar: 1g
Protein: 0g
Nutrition information is a guideline only, is calculated automatically by third-party software, and absolute accuracy is not guaranteed.