You are going to fall in love with these Crispy Double Chocolate Cookies. They are incredibly easy to make. No creaming of the butter, no refrigeration, and no need to roll the dough. They are rich, chocolatey and taste like a crisp brownie bite.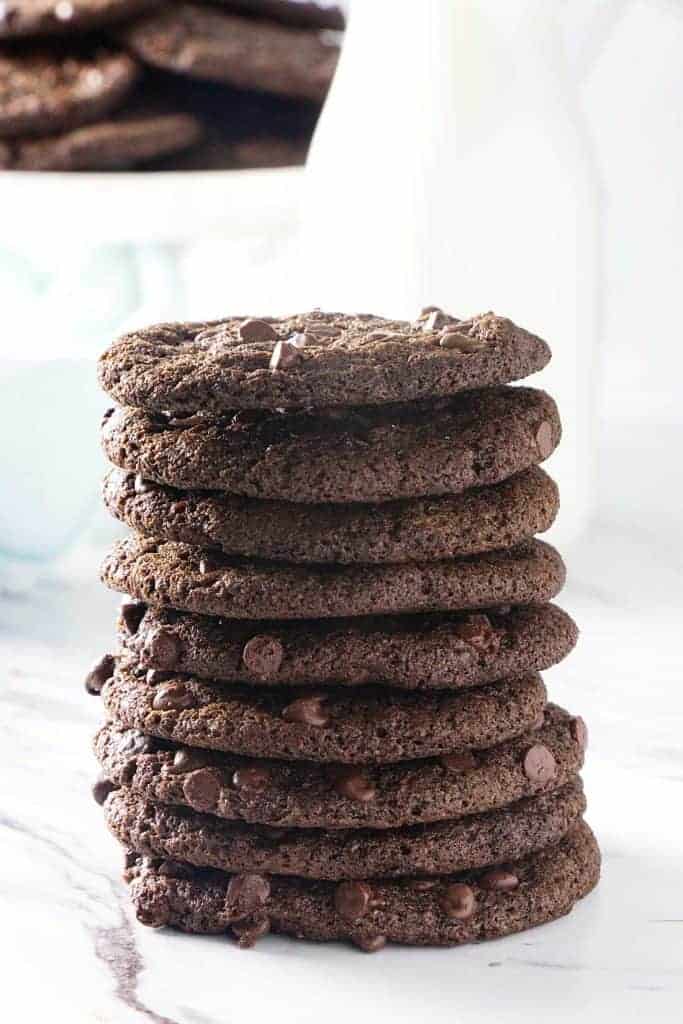 These cookies have a satisfying crunch and are full of rich, decadent chocolate. They will definitely fix your chocolate cravings. Grab a tall glass of ice cold milk and a couple of these crispy double chocolate cookies for a moment of pure bliss.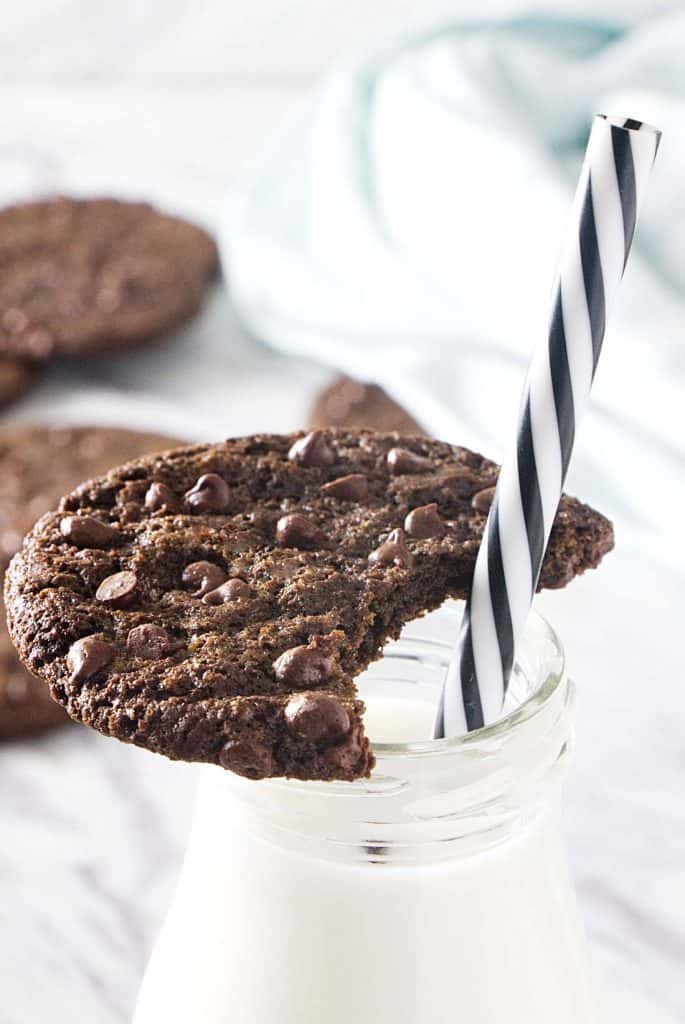 Fast and Easy Recipe
This recipe is incredibly easy. You don't need to cream the butter and sugar. There is no need to stick the dough in the fridge before you bake them. And you will not need to roll them out and cut them. They are simple drop cookies with a powerful chocolate flavor.
You will love how quick this recipe comes together. Just melt the butter, add it to the sugars, eggs, and vanilla then stir in the dry ingredients. Once the oven is up to temperature, drop the cookie dough on a baking sheet and stick them in the oven. If you are like us and want a perfectly round cookie then you can roll the dough in a pretty little ball before baking the cookies. If you skip that step, the cookies will still turn out perfectly fine.
The little balls of cookie dough spread out on their own and become thin crunchy cookies. If you under-bake them by a couple of minutes they will have crisp edges and chewy centers. You just can't go wrong!!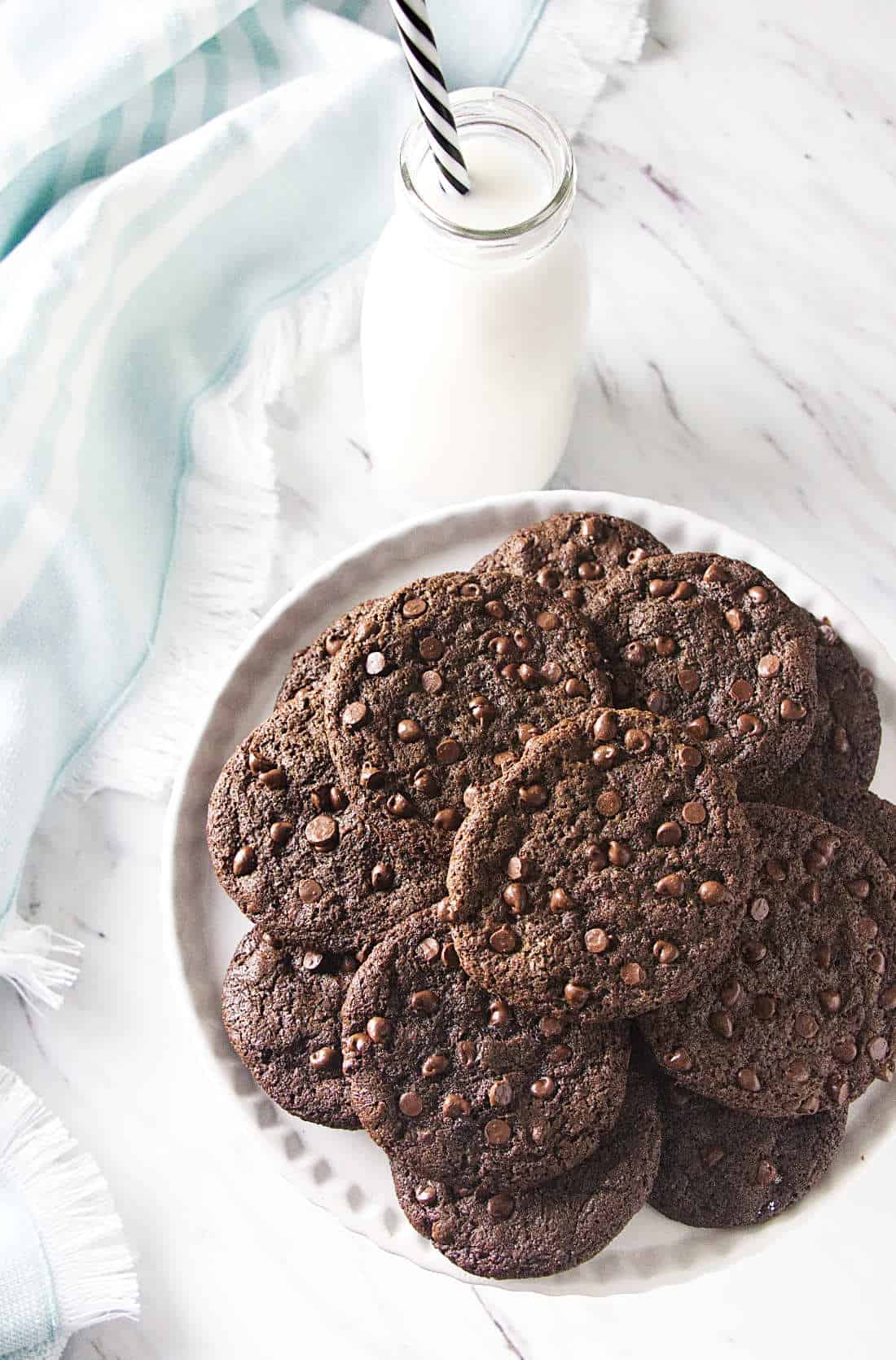 These crispy chocolate cookies are perfect for using in our Mocha Chocolate Icebox Cake. They can be made several days ahead of time if you keep them stored in an airtight container or in the freezer.
You might also like these cookies:
Connect With Savor the Best
Please follow us on our social media accounts
Facebook * Instagram * Pinterest * Twitter * Youtube
Did you make this recipe? We would love to hear from you. Drop us a comment below.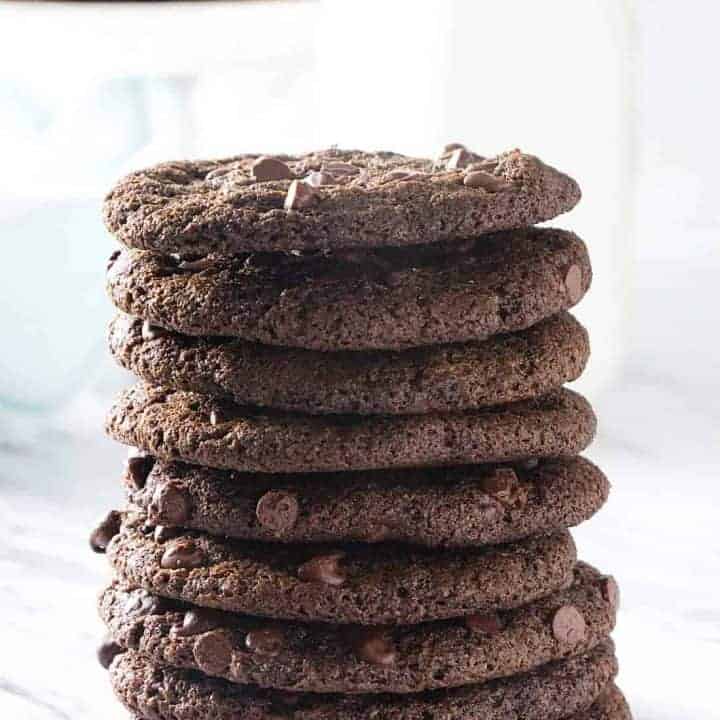 Crispy Double Chocolate Cookies
Yield: 4 dozen
Prep Time: 10 minutes
Cook Time: 15 minutes
Total Time: 25 minutes
Crispy Double Chocolate Cookies that are incredibly easy to make. No creaming butter, no refrigeration, and no need to roll dough. These rich chocolatey cookies taste like a crisp brownie bite.
Ingredients
2-1/2 cups all-purpose flour (320 grams)
1 teaspoon baking soda
1 teaspoon sea salt
1/2 cup cocoa powder
1/2 teaspoon instant espresso powder
2 sticks butter (226 grams), melted and cooled
1 cup granulated sugar
1/2 cup light brown sugar
2 eggs
1 teaspoon vanilla extract
1-1/2 cups mini chocolate chips
Instructions
Preheat the oven to 350°F
Add the flour, baking soda, salt, cocoa and espresso powder together, whisk to combine and reserve until needed.
In a separate bowl, add the melted butter and the white and brown sugars. Mix the butter and sugar until well combined, you can use either an electric mixer or mix it by hand. Add the eggs and the vanilla and mix well.
Add the flour mixture to the wet batter and with the mixer on the lowest speed, mix the flour until well blended. Alternatively, you can stir the batter by hand with a large mixing spoon.
Stir in the mini chocolate chips. Reserve 1/4 cup of the chocolate chips to sprinkle on top of the cookies just before baking them.
Drop rounded teaspoons onto a baking sheet lined with parchment paper. Sprinkle some of the extra chocolate chips on top of the batter. Space the cookie batter 1 inch apart to allow for spreading. Transfer to the middle rack of the oven and bake 11 to 15 minutes. (11 to 12 minutes for soft centers and 14 to 15 minutes for crisp cookies)
Remove from oven and allow them to cool slightly on the baking sheet before placing on a wire rack to finish cooling.
Notes
Once the cookies are completely cool, they will become crunchy.
Some home ovens vary in temperature and may result in softer cookies. If the cookies are not crunchy after they cool you can stick them back in the oven at 325°F for 5 to 8 minutes.
If you cut the baking time short by 2 to 3 minutes, the cookies will be crisp on the edges and soft in the center.
Nutrition Information:
Yield: 48
Serving Size: 1
Amount Per Serving:
Calories: 98
Total Fat: 5g
Carbohydrates: 12g
Sugar: 7g
Protein: 1.2g