This no-bake Mocha Chocolate Icebox Cake is a chocolate celebration. It is surprisingly easy to make and there are just a few simple steps.
Crispy double chocolate cookies are layered with a rich, creamy, and fluffy mocha chocolate cheesecake mixture. This mocha chocolate icebox cake is a celebration. When you see how easy it is to make you will want to add it to your list of favorite recipes.
This recipe has been adapted from Ina Garten of the Barefoot Contessa. I love watching Ina's show on Food Network and when I saw her make this old-fashioned, updated icebox cake a couple of years ago I knew I was going to make it.
Since watching Ina I have made the cake several times but the first time was almost a disaster. I had made a batch of crisp chocolate chip cookies and had been over-generous with the chocolate chips which is usually a good thing.
But… because the chocolate chips were cold from being in the refrigerator it was difficult cutting through them when I sliced the cake. I had taken this to a Christmas party and the guests were drooling and waiting for me to get it on their plates and there I was struggling with those chips!
The next time I made the cookies for the cake, I used miniature chocolate chips and every slice was perfect! I finally adapted the cookie recipe to one that I like, which is the crisp chocolate cookies listed below and this is my favorite cookie for this cake.
You can make this cake with crisp commercial cookies rather than bake your own from scratch. However, our crispy double chocolate cookie recipe is extremely easy to make and the cookies store well for several days.
It would be easy to make the cookies a few days ahead and make the cake later.
I hope you give it a try as it is so wonderful and easy to make, plus it makes an elegant dessert for any special dinner. Enjoy!
Every time we serve this cake someone wants the recipe.
Recently a friend told me that she calls this a fridge cake. Fridge cake works fine for me. You can call it a Mocha Chocolate Fridge cake but I doubt anyone will fuss over the title once they put a bite in their mouth.
Tell us what you think. Is this an icebox cake or a fridge cake?
Watch our Video and see how to make this mocha chocolate icebox cake
Some other recipes you might like:
Have you made this Mocha Chocolate Icebox Cake? We would love to see a picture. Tag us on Instagram.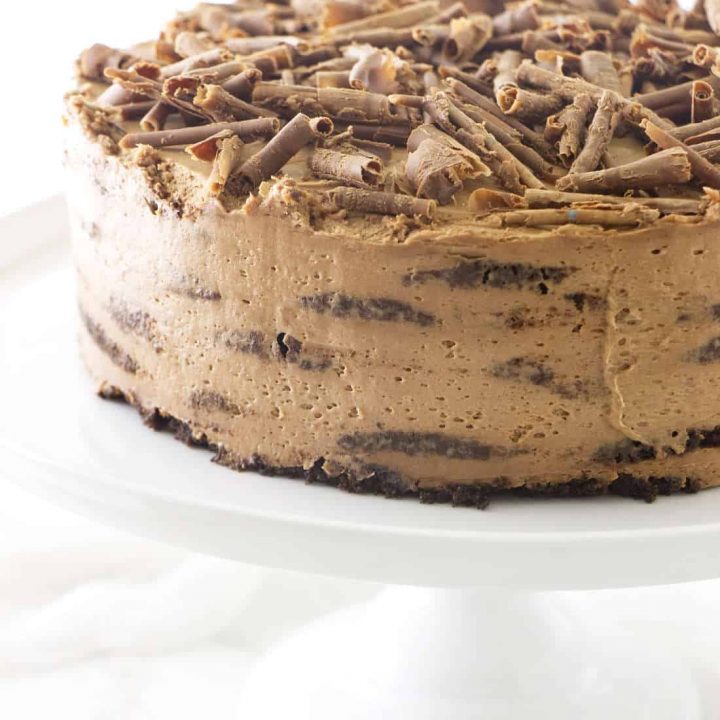 Mocha-Chocolate Icebox Cake
Yield: 12 servings
Prep Time: 20 minutes
Total Time: 20 minutes
An easy recipe that is assembled with either home-made or commercial cookies and a light, delicious mocha-chocolate flavored cream filling.
Ingredients
For the Creamy Filling:
12 ounces cream cheese, room temperature
1 cup sugar
2 tablespoons unsweetened cocoa powder
2 teaspoon instant espresso powder
1 teaspoon pure vanilla extract
2 cups cold heavy cream
To Assemble:
Shaved semisweet chocolate, for garnish
Instructions
For the Filling:
With an electric mixer fitted with a whisk attachment, add the softened cream cheese, sugar, cocoa powder, espresso powder and the vanilla. Whisk together briefly and with the mixing speed on low, combine the heavy cream and slowly raise the speed and beat until the mixture is thick and creamy and has formed stiff peaks.
To Assemble:
To assemble the cake, arrange the cookies in a 9-inch springform pan, covering the bottom as much as possible, fill in the spaces with broken pieces. Spread a fifth of the mocha whipped cream evenly over the cookies. Place another layer of cookies on top, followed by another fifth of the cream. Continue layering cookies and cream until there are 5 layers of each. Smooth the top, cover with plastic wrap, and refrigerate overnight.
To serve, run a small knife around the outside of the cake and remove the sides of the pan. Sprinkle the top with the chocolate and serve cold.
Notes
You can use store-bought cookies for this recipe, it will take 25 to 30 average size cookies.