This gingerbread house icing is a basic royal icing but the consistency is what makes it perfect for constructing a gingerbread house. If you get the consistency of the icing just right you will be able to construct your house effortlessly. This recipe makes it easy and fun to decorate a gingerbread house.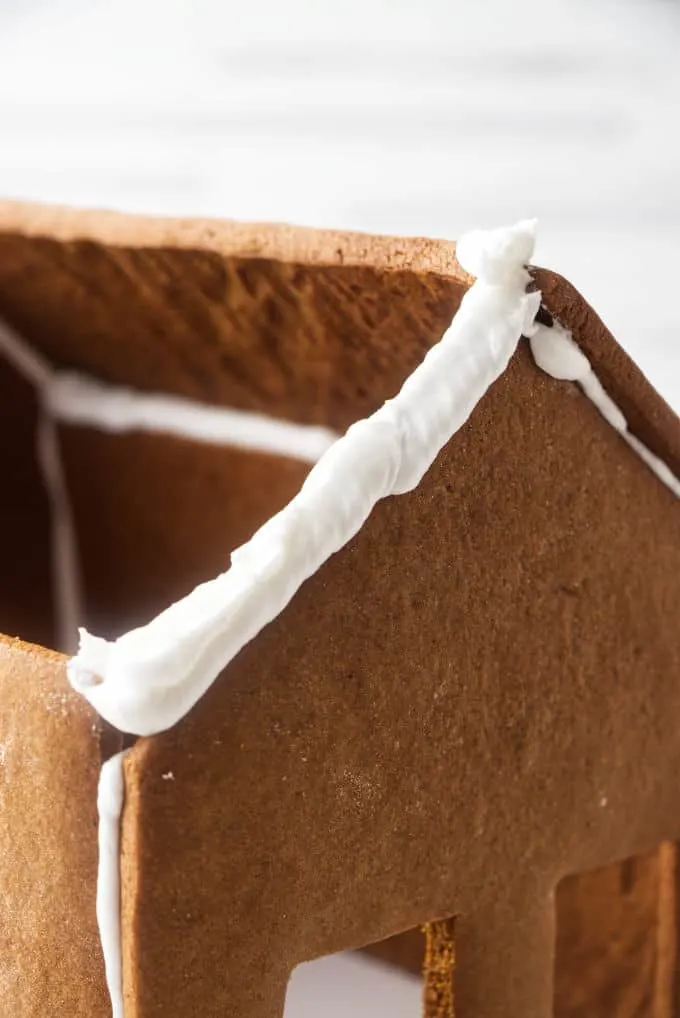 Don't use just any old frosting to put your gingerbread house together. You need an icing that will hold the house together and KEEP it that way. This is THE icing for gingerbread house success.
This recipe is a basic Royal icing that is made to the right consistency for building a gingerbread house. Here is why it works for gingerbread houses.
It is thick so it will hold your pieces together easily.
Dries quickly.
Lasts for years if you want to save your gingerbread house for next year's decoration.
Perfectly white and looks like snow.
Easy to thin out if you want to make it drip off the roof of the house to look like icicles.
Requires only three ingredients.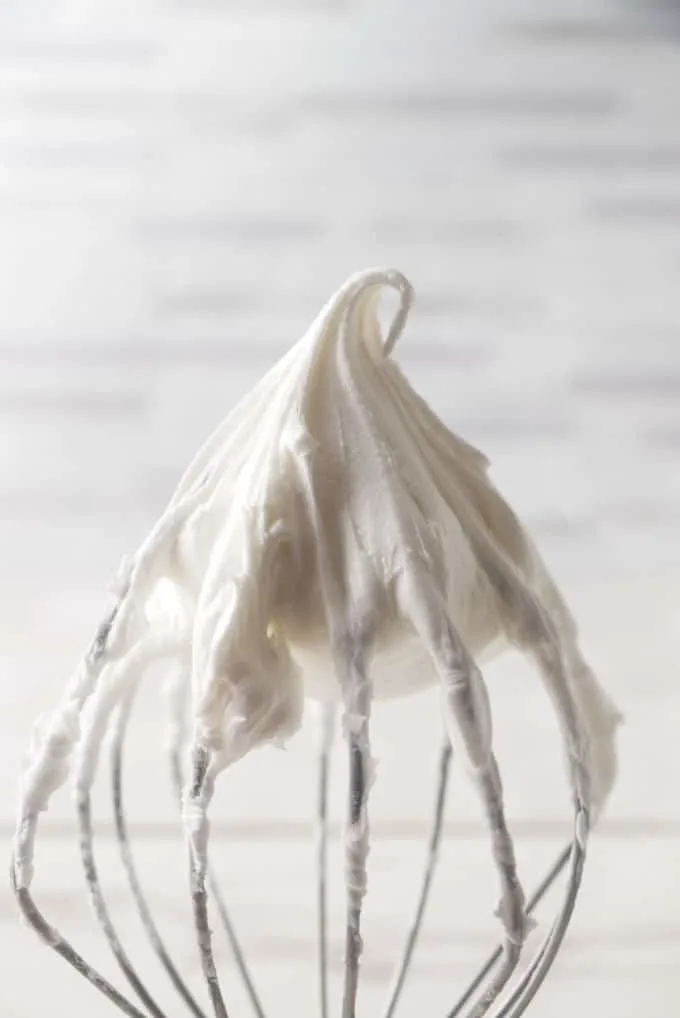 Ingredients needed for this recipe
Powdered sugar. Also called confectioners sugar. Don't use regular table sugar.
Egg whites. The protein in the egg whites strengthen the icing and helps your gingerbread house stand strong and last a long time.
Cream of tartar. Makes the icing more stable and prevents crystallization. Also helps the icing dry faster, whiter, and brighter.
More about the cream of tartar: If you don't have cream of tartar you can omit it and still have a great icing for your gingerbread house. I have found that it takes a little bit longer for the icing to set up completely when I do not use the cream of tartar.
I have also found that the icing is easier to scrape off when I do not use cream of tartar (I'm thinking about little hands trying to steal candy off the gingerbread house).
It only takes a tiny amount of cream of tartar to make this icing and it is one of those pantry ingredients that seems to last forever. If you want to make a gingerbread house that will hold up all season and even store away until next year, I recommend using the cream of tartar.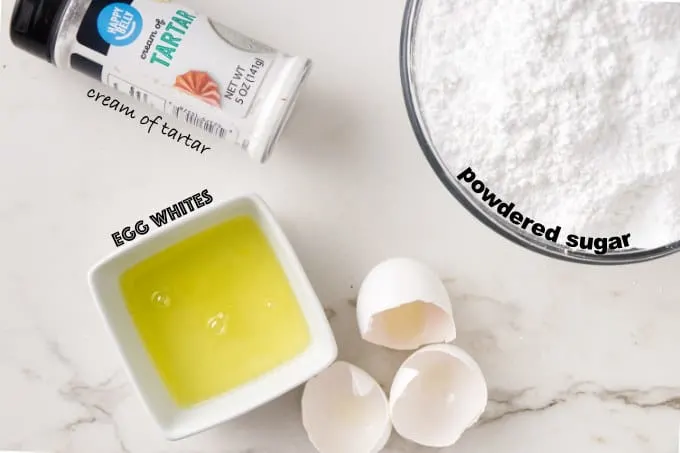 How to make Gingerbread House Icing
You're going to like how easy it is to make this icing. Here is a quick run-down but make sure to scroll all the way to the printable recipe card.
Combine all the ingredients in a bowl and stir to combine.
Beat with an electric mixer until it is thick and smooth.
Adjust the consistency if needed. Use either more powdered sugar or a few drops of water.
Keep the icing covered until you are ready to use it. Pressing plastic wrap directly onto the surface of the icing will prevent it from crusting up.
Tips for success
Stir the ingredients by hand before you turn on the electric mixer. If you start the mixer right away, the dry powdered sugar will fly out of the bowl and all over the kitchen.
Make sure there is no grease in the bowl or on the beaters. Even a small amount of grease will weaken the structure of the icing.
Don't let even a speck of egg yolk slip into the icing. Egg yolk will weaken the icing just like grease. Any form of fat will make the icing softer and prevent it from getting 'cement' hard.
Don't beat the icing for longer than 5 minutes. If you whip the icing for too long it will get air in the icing which will make the icing weaker. You want a dense, thick icing that will hold the gingerbread pieces firmly in place.
Sifting the powdered sugar will prevent lumps in the icing.
The volume of egg whites you use will change depending on how large your eggs are. Adjust the consistency with either more powdered sugar or a few drops of water. Watch the video to see how thick the icing should look.
Making this icing ahead of time.
You can make this icing ahead of time as long as you store it correctly. Royal icing will crust over and dry out very quickly. Press some plastic wrap directly onto the surface of the icing then put an air tight lid on the container. If you keep air from touching the surface of the icing, you can make it up to 3 days in advance.
Using this icing for gingerbread house construction.
Since this icing is very thick you will want to use a sturdy decorators bag or an offset spatula to apply the icing. If you try to use a sandwich bag to pipe this icing, the bag will burst.
This is a thick icing and you will need to apply quite a bit of pressure to squeeze it out of the bag. It is also easier to pipe if you only fill the piping bag about 1/4 full.
Is it safe to eat this icing?
If you are concerned about using raw egg whites then you can use pasteurized eggs which will make it safe to eat the icing. You can also use egg whites in a carton which are pasteurized.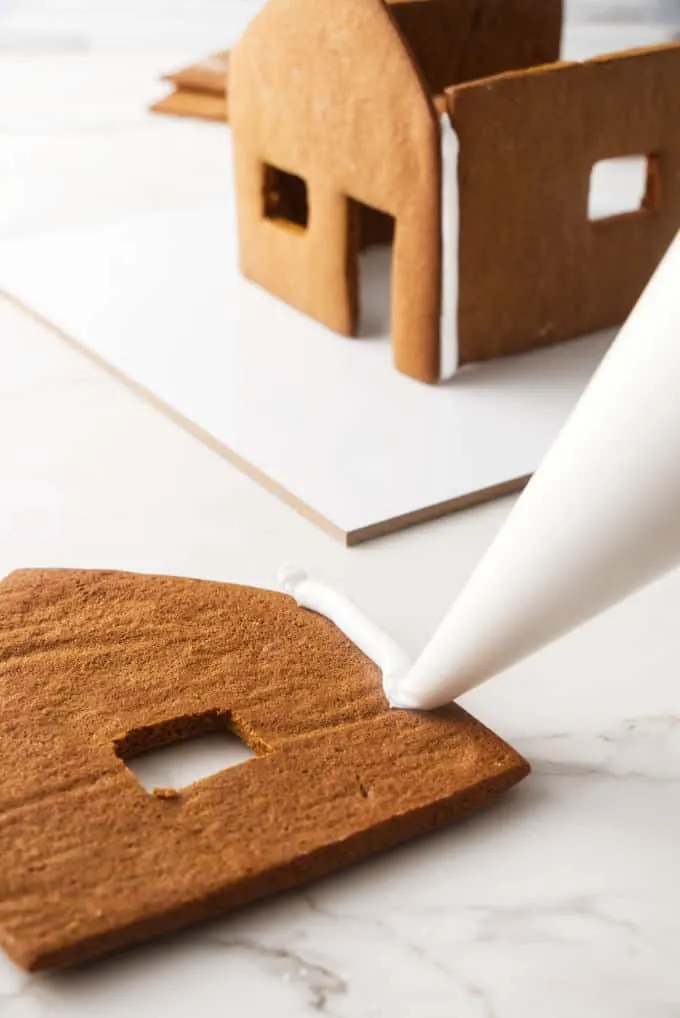 SOME OTHER RECIPES WE ARE SURE YOU WILL LOVE:
This Christmas cranberry layer cake is a festive addition to your holiday table. The tart layer of cranberry puree is a delicious contrast to the tender, sweet butter cake.
There is nothing more frustrating than making cutout cookie shapes that spread all over the cookie sheet when you bake them. This recipe for Christmas cutout cookies will save the day. These cookies hold their shape and taste delicious.
English toffee is one of our favorite holiday traditions. It is easy to make and perfect for gifts.
CONNECT WITH SAVOR THE BEST!
Be sure to follow us on our social media accounts
Facebook * Instagram * Pinterest * Twitter * Youtube
Did you make this recipe? We would love to hear from you. Drop us a comment below.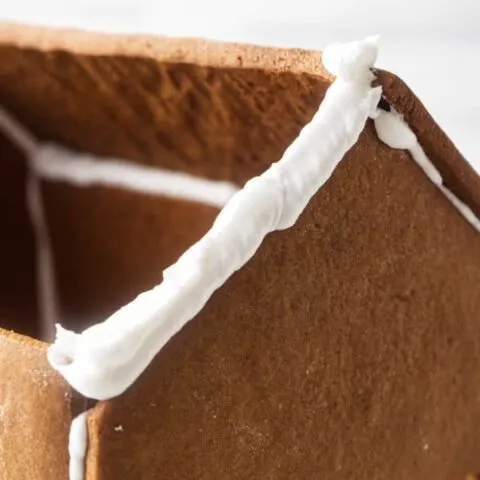 Gingerbread House Icing
The perfect icing for constructing gingerbread houses. Start out with the thick consistency that this recipe creates to glue the house pieces together. After the walls and roof are put together, you can thin the icing out with a bit of water to finish the decorations.
Ingredients
3 cups powdered sugar, sifted (12 ounces)
2 egg whites (2 ounces)
1/2 tsp cream of tartar (somewhat optional, see notes
Instructions
Combine the sugar, egg whites, and cream of tartar in a large mixing bowl. Stir the ingredients by hand to moisten the powdered sugar.
Turn the mixer on low and gradually increase the speed to high. Beat on high speed for 4 to 5 minutes until it is smooth and thick. It will start out looking dry and clumpy but it will come together after a minute of mixing.
It should hold stiff peaks when it is finished mixing.
If the icing looks too thin, add additional powdered sugar a little at a time until it has the right consistency. If it is too thick, add a few drops of water at a time.
Cover the surface of the icing with a layer of plastic wrap until you are ready to use it.

Notes
Cream of tartar makes the icing more stable and prevents crystallization. It also helps the icing dry a bit quicker and makes the icing appear brighter and whiter. If you omit the cream of tartar, give extra time for the icing to dry on your gingerbread house before you start decorating it.
Make sure the bowl and beaters are clean and grease-free. Any trace of grease or even a small bit of egg yolk in the icing will weaken the structure and break the icing down.
The icing will dry out quickly if it is left exposed to air. Keep it covered with plastic wrap and make sure the plastic touches the surface of the icing.
Use the thick, stiff consistency to act as mortar to glue your gingerbread house pieces together then thin it out a bit to decorate the house.
You can thin the icing out with water to make icicles that drip off the roof of the house. To thin the icing, stir in just 1/2 teaspoon of water at a time until you get the consistency you want.
Recommended Products
As an Amazon Associate and member of other affiliate programs, I earn from qualifying purchases.
Nutrition Information:
Yield:

16
Serving Size:

1
Amount Per Serving:
Calories:

82
Total Fat:

0g
Saturated Fat:

0g
Trans Fat:

0g
Unsaturated Fat:

0g
Cholesterol:

0mg
Sodium:

7mg
Carbohydrates:

21g
Fiber:

0g
Sugar:

20g
Protein:

0g
Nutrition information is a guideline only, is calculated automatically by third-party software, and absolute accuracy is not guaranteed.