This time of year seems to bring the baker out in everyone, and this easy, Christmas Cutout Cookie recipe will likely become your go-to sugar cookie, whether you're a baking aficionado or novice. These cookies are sweet, soft, buttery goodness, and most importantly… they hold their shape! Our Christmas Cutout Cookies won't puff up or spread, saving you (or patiently-waiting kiddos) from a bit of disappointment when you pull them out of the oven. What's our little secret, you ask? Keep reading…
Why do sugar cookies spread while baking?
This can happen due to many reasons. It could be a ratio problem of a recipe, such as the ratio of butter and sugar to flour, or the ratio of baking powder to the other ingredients. Your oven might not be set at the proper temperature, your cutout cookie might be too thick, the list goes on. I love this recipe because it's a sure-fire way to get the perfect, cutout cookie without having to worry about all the other factors that could affect its shape.
So, how do you keep sugar cookies from spreading? The secret is cold dough. By freezing the dough for a bit before you bake them, your sugar cookies will hold their shape every time. All you need is six ingredients, your favorite cookie cutters, and perhaps some tiny bakers you've recruited as assistants, because making Christmas cookies is always more fun when there are small helpers and big messes involved, right? 😉
Step 1
Cream the butter and sugar in a mixing bowl, beating them together for about 3 or 4 minutes until the mixture is light and creamy. Beat in the eggs and vanilla, scraping down the sides of the bowl as needed, and mix until the ingredients are well combined.
Step 2
Add your flour and salt to the butter mixture, stirring it in by hand or with a mixer set on low speed. Make sure the mixture is thoroughly combined.
Step 3
This is the fun part! Grab your rolling pin, sprinkle flour on the counter and roll the cookie dough out until it's about 1/4 inch thick. Keep sprinkling flour onto the dough as you roll it to make sure it doesn't stick to your counter or rolling pin.
Step 4
Use your cookie cutters to cut the dough into fun, festive shapes and then transfer the cookies to a tray. I stack mine on top of each other with wax paper in between each layer to prevent the cookies from sticking together. Put the cutout cookies in the freezer to chill for 30 to 45 minutes (or 2 to 3 hours in the refrigerator). This is the super important, "secret" step to help ensure that your cookies keep their shape while baking. DO NOT SKIP THIS!
Step 5
While the cookies are chilling in the freezer, pre-heat your oven to 350 degrees and line a couple of baking sheets with parchment paper (I like to use parchment paper but a Silpat baking mat or cooking spray works well, too). It's extra important to make sure that you can easily transfer the baked cookie and maintain its cutout shape.
Step 6
Remove the COLD cookie shapes from the freezer and transfer them to your prepared baking sheets. Bake for 9-11 minutes until the edges are a light, golden brown. When they are done baking, let them sit on the baking sheet for 10 minutes before transferring them to a cooling rack.
Next, you're ready to make these tasty Christmas Cutout Cookies even more festive with some decorative frosting!
EXTRA TIPS FOR PERFECT CUTOUT COOKIES
Are sugar cookies supposed to be hard?
This recipe makes cutout cookies that hold their shape, but are still soft and chewy when you bite into them. If your cookies turn out to be too hard, you might be baking them for too long or your oven temperature might be off. I like to use an oven thermometer to double-check that my oven is set at the right temperature.
How to keep sugar cookies fresh
There's nothing worse than a stale sugar cookie! A sugar cookie can keep fresh for up to two weeks if it's stored properly. You can wrap un-frosted cookies in plastic wrap and keep at room temperature. I like to store frosted cutout cookies in an airtight container by stacking them and placing wax paper in between the layers. Storing these cutout sugar cookies the right way means you can enjoy them through the holiday season, that is, if there are any leftover to store!
I hope you enjoy these easy Christmas Cutout Cookies throughout the holidays! In fact, I recommend pocketing this recipe for all your sugar cookie baking needs year-round!
SOME OTHER RECIPES WE ARE SURE YOU WILL LOVE:
CONNECT WITH SAVOR THE BEST!
Be sure to follow us on our social media accounts
Facebook * Instagram * Pinterest * Twitter * Youtube
Did you make this recipe? We would love to hear from you. Drop us a comment below.
Yield: 4 dozen (3-inch cookies)
Easy Christmas Cutout Cookies (That Hold Their Shape)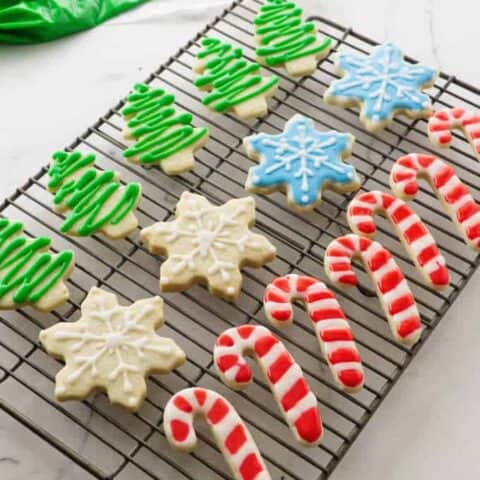 These Christmas cutout cookies are easy sugar cookies to make and taste buttery and sweet. Best of all, they hold their shape when you bake them and they come out perfect every time.
Prep Time 15 minutes
Cook Time 10 minutes
Additional Time 30 minutes
Total Time 55 minutes
Ingredients
1-1/2 cups butter (3 sticks), softened
1-1/2 cups sugar (330 grams)
2 eggs
4 teaspoons vanilla extract
5 cups all-purpose flour (600 grams)
1-1/2 teaspoons salt
Instructions
Put the butter and sugar in a mixing bowl and beat until light and creamy (about 3 to 4 minutes). Add the eggs and vanilla and beat well. Stop the mixer and scrape down the sides then beat until well combined. 
Sift the flour and salt over the butter mixture and stir it in well or use the mixer on low speed. 
Sprinkle some flour on the counter and roll the dough to 1/4 inch thickness. Make sure the dough stays well floured so it doesn't stick to the counter or rolling pin. 
Use cookie cutters to cut into your desired shapes then transfer the cookies to a tray and stick them in the freezer to chill for 30 to 45 minutes. DON'T SKIP THIS STEP!
While the cookies are chilling, pre-heat the oven to 350°F and line a couple of baking sheets with parchment paper or spray them with cooking spray.
Remove the COLD cookie shapes from the freezer and transfer them to a baking sheet.
Bake for 9-11 minutes until the edges are a light golden brown. 
Let the cookies cool on the baking sheets for 10 minutes before transferring them to a cooling rack. 
Notes
After you roll out the cookie dough and cut your shapes, place them in the freezer for 30 minutes or the fridge for 2 to 3 hours. You can stack them on top of each other if you keep wax paper between them so they don't stick together. When the shaped cookie dough gets cold, you can bake them and they will hold their shape.
Nutrition Information
Yield
48
Serving Size
1
Amount Per Serving
Calories 126
Total Fat 6g
Saturated Fat 4g
Trans Fat 0g
Unsaturated Fat 2g
Cholesterol 23mg
Sodium 115mg
Carbohydrates 16g
Net Carbohydrates 0g
Fiber 0g
Sugar 6g
Sugar Alcohols 0g
Protein 2g
Nutrition information is a guideline only, is calculated automatically by third party software, and absolute accuracy is not guaranteed.