Are you familiar with the chocolate cake filling inside of a Costco cake? You know the one. It's light and fluffy, not too sweet, but similar in taste to a chocolate mousse. What's not to love? That's the inspiration behind our easy chocolate cake filling! It's a simple, five ingredient recipe to make that creamy, fluffy chocolate filling at home!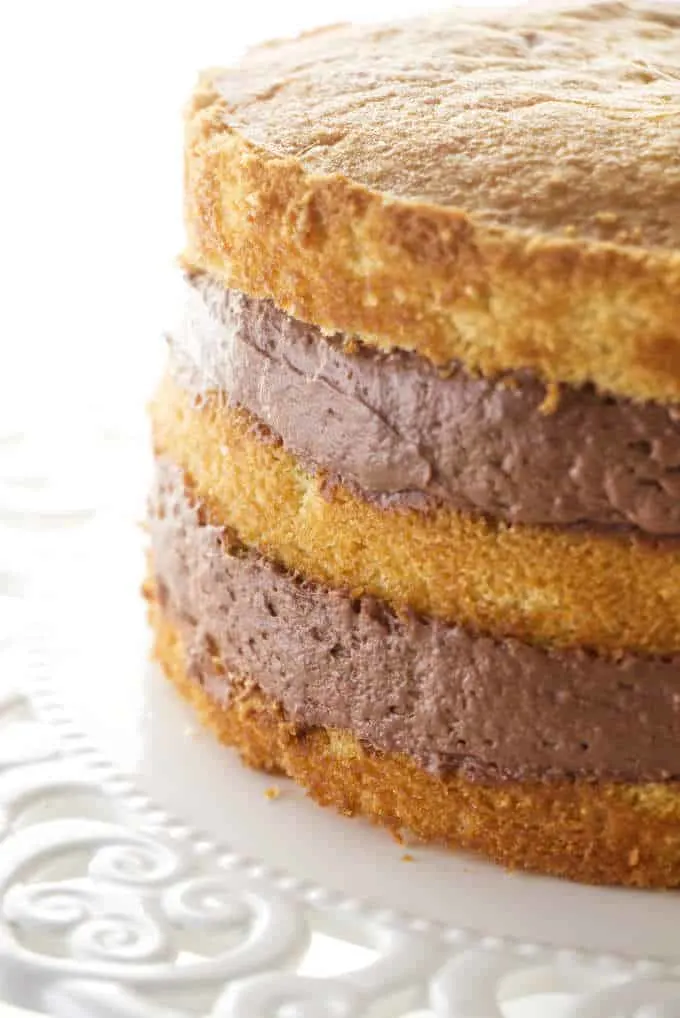 This easy chocolate cake filling is one of our favorites because it's a simple and basic recipe that pairs well with any kind of layer cake! You can even fill cupcakes with this creamy goodness. Try it in our famous chocolate cake.
Chocolate Filling for Cake
This is the quickest and easiest cake filling you could ever make. The filling is thick, creamy, smooth and so easy to spread between cake layers. The secret ingredient that pulls this chocolate cake filling together so quickly is the instant chocolate pudding mix.
It is a great filling for chocolate cake or vanilla cake but it goes with any flavor that complements chocolate. Try it with our banana layer cake or coconut cake. And it is so much more than just a filling for cake. Use it as a dip, sandwich it between cookies, spread it on top of cupcakes, or serve it as a quick chocolate mousse.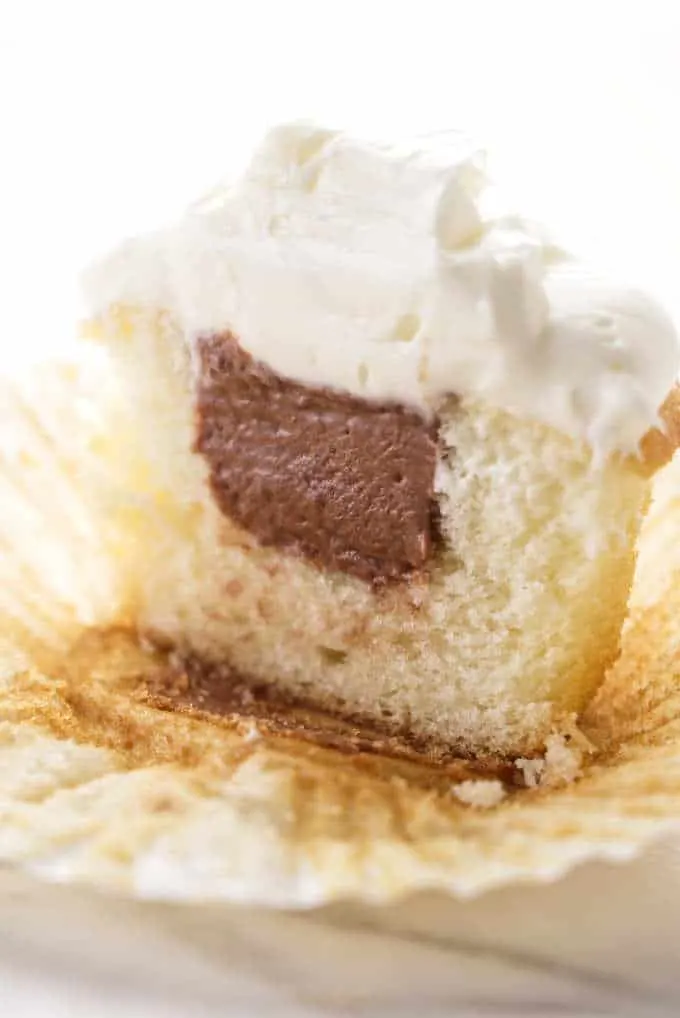 If you have a soft spot for chocolate cake, you'll love our chocolate cake with chocolate buttercream! It's the easiest, most versatile chocolate cake recipe and we break down all the different bake times you'll need for various pan sizes, too. Check it out, because if you're interested in this easy chocolate cake filling, you'll need the perfect chocolate cake to go with it!
And you will want to check out our easy recipe for vanilla cake filling too. It is just as easy to make as this recipe.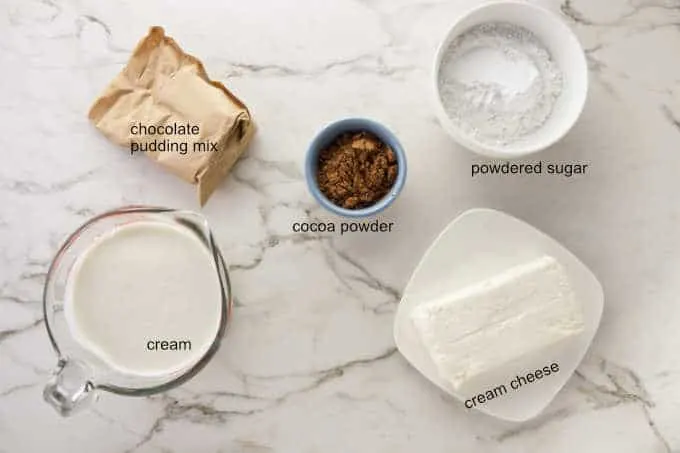 How to make the dreamiest chocolate cake filling
A slice of classic, moist and tender chocolate cake will solve many problems. Not all problems, but we believe there's a lot that a good cake can do. Agree? Whether you're baking for fun, for a special occasion, or for a short home-ec baking activity, our easy chocolate cake filling is tasty, light and creamy, and simple enough for anyone to make! So if you have little ones at home, don't hesitate to have them join in!
This recipe only requires 5 ingredients and 5 minutes to whip together! Here's what you'll need:
cream cheese
powdered sugar
unsweetened cocoa powder
heavy cream
instant chocolate pudding mix
To make this, you'll need a standup mixer or a hand mixer since the cream cheese needs to be beat until smooth and it requires a lot of whipping to get the mousse-like texture.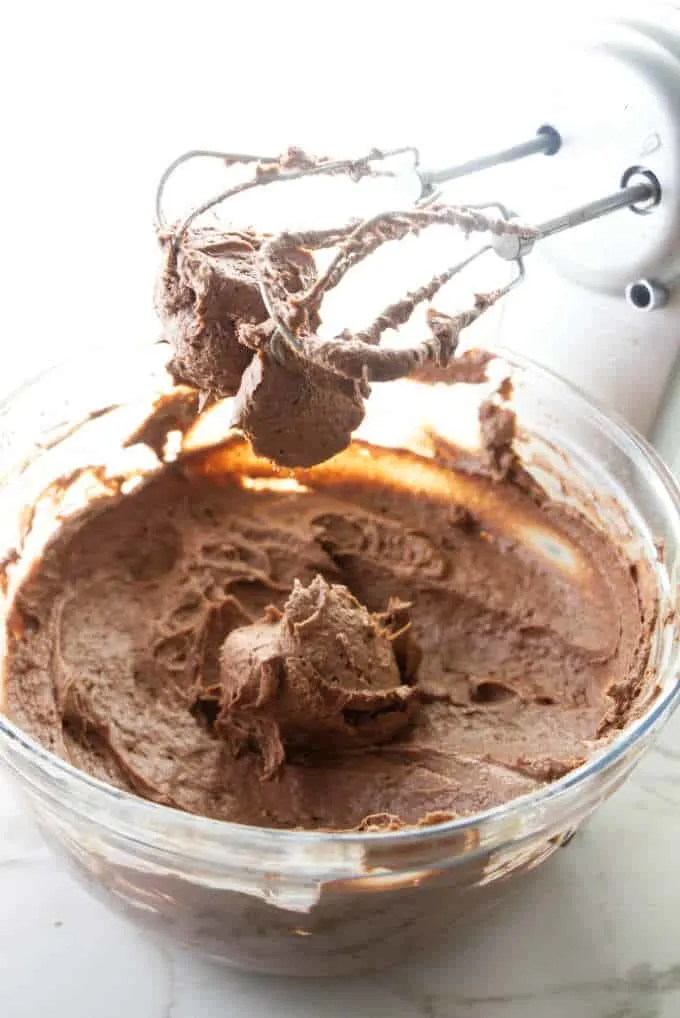 Here's the quick rundown of how it's done, but be sure to check out the full recipe at the bottom of the page!
Place the cream cheese in the bowl of a stand mixer (or bowl with a handheld mixer). Beat the cream cheese until smooth- you're going for no lumps.
Add the powdered sugar and cocoa powder, stirring on low until both ingredients are well combined.
Turn the speed up to high, beat until smooth.
Turn the speed to slow, then add the whipping cream and whip until the mixture is smooth.
Add the powdered instant pudding mix, increase the speed, and whip until the chocolate cake filling is thick and fluffy.
This recipe makes about 3-1/2 cups of cake filling. You can store any leftovers in the refrigerator for up to two weeks.
Simple, rich and delicious! We love this easy cake filling recipe! It results in a decadent, chocolate-y, whipped cake filling that's not as sweet as a standard frosting, and pairs well with buttercream. It's incredibly fast, which means you can get it ready while you've got a cake cooling.
how to use chocolate cake filling
Besides enjoying this cake filling in a layer cake, you can get creative with how to use it! It's light, chocolate pudding taste makes it a versatile cake filling recipe, and here's a few of our favorite ways to enjoy this chocolate goodness:
This chocolate cake filling recipe is so easy and straightforward, we know you'll love it! So bookmark it for the next time you have a layer cake or cupcakes in the works, or anything else that could use this sweet spread!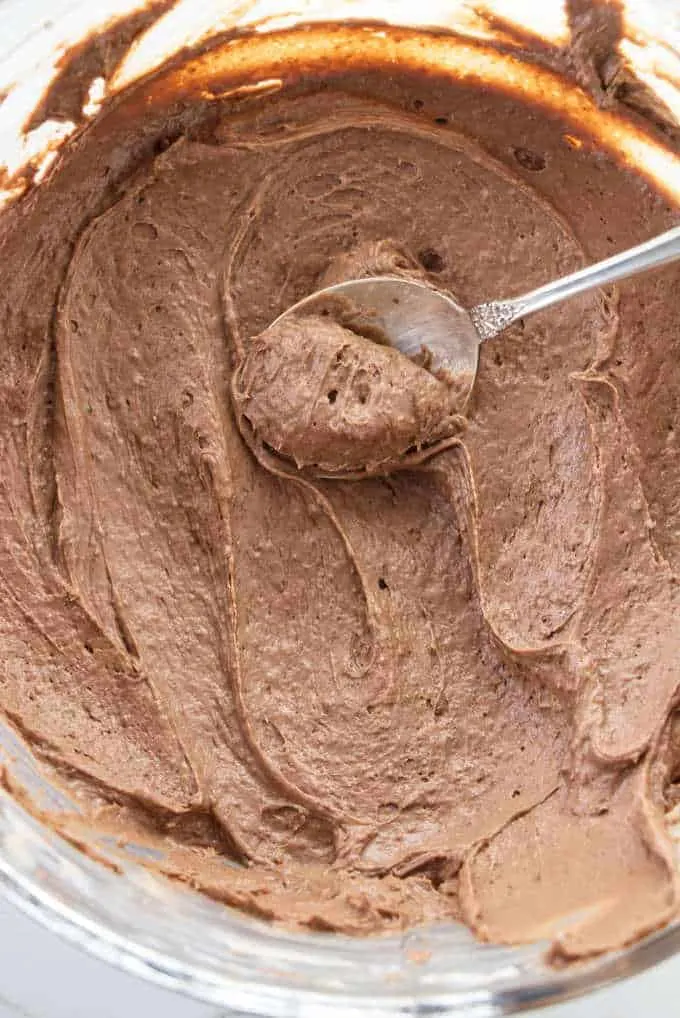 SOME OTHER RECIPES WE ARE SURE YOU WILL LOVE:
These chewy oatmeal raisin cookies are hard to beat! You will love our soft, chewy oatmeal raisin cookie and I guarantee you'll need more than one batch!
This 6-inch cake recipe is perfect for any occasion! A personal-sized cake is never a bad idea, and we've got you covered with this tender, yellow cake recipe, on a smaller scale.
This Lemon Bundt Cake –perfect for spring- it's infused with lemon and is light and moist. Serve with a dollop of lemon dessert sauce for something really special!
Connect With Savor the Best:
Please follow us on our social media accounts
Facebook * Instagram * Pinterest * Youtube * Twitter
Did you make this recipe? We would love to hear from you. Drop us a comment below.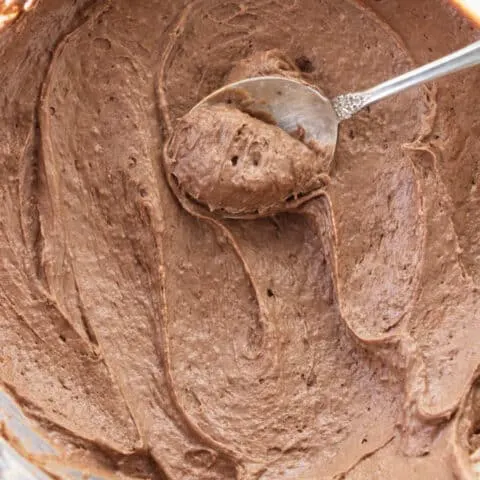 Easy Chocolate Cake Filling
Yield:
3-1/4 cups of filling
This cake filling tastes like the chocolate mousse that is inside a Costco cake. It is creamy, smooth, and rich but best of all, it is fast and easy.
Ingredients
1 (8-ounce) package cream cheese
1/2 cup powdered sugar
3 tablespoons unsweetened cocoa powder
2 cups heavy cream
1 (3.4-ounce) package instant chocolate pudding
Instructions
Beat cream cheese until smooth. Add powdered sugar and cocoa powder, then beat on low until incorporated. Turn the speed up and beat until smooth.
Slowly add the cream and whip on slow until it is well incorporated and smooth.
Slowly pour in the powdered instant pudding mix. Increase the speed and whip for 2 to 3 minutes until it is thick.
Notes
Makes 3-1/4 cups of filling.
Recommended Products
As an Amazon Associate and member of other affiliate programs, I earn from qualifying purchases.
Nutrition Information:
Yield:

52
Serving Size:

1 tablespoon
Amount Per Serving:
Calories:

44
Total Fat:

4g
Saturated Fat:

2g
Trans Fat:

0g
Unsaturated Fat:

1g
Cholesterol:

11mg
Sodium:

12mg
Carbohydrates:

2g
Fiber:

0g
Sugar:

1g
Protein:

0g