Banana cake and Nutella buttercream make one delicious flavor combination that was simply meant to be! This banana layer cake is a tall, moist, and flavorful double layer treat that will easily serve up to 20 people! The Nutella buttercream is rich and fluffy, with that distinctly irresistible chocolate-hazelnut flavor. This is a wonderful cake for any special occasion. And here's fair warning: one slice is never enough!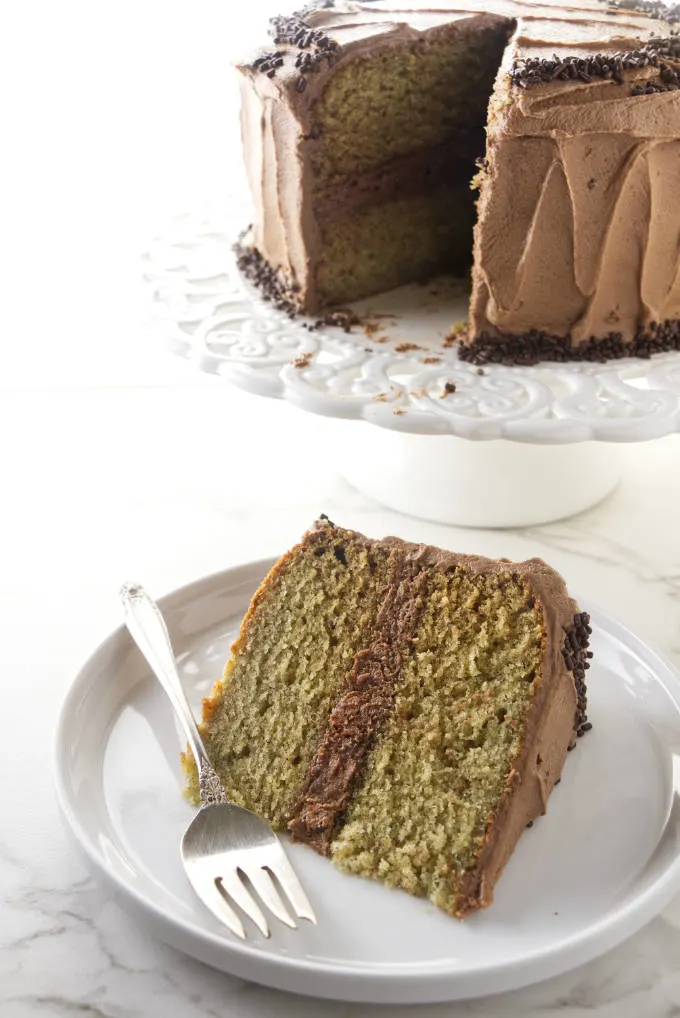 Our banana cake recipe makes great use of overly-ripened bananas…. you know, the ones you "didn't get a chance to eat" before they turned slightly brown? Fortunately, they give us good reason to make a cake! 😉
The Nutella frosting is creamy, chocolate-y and rich without overpowering the cake. All of that banana flavor still comes through and the Nutella buttercream compliments it perfectly. We really mean it when we say Nutella and banana are a match made in heaven. In fact, you simply can't oo wrong when combining banana and chocolate (make our Chocolate Chip Banana Bread or our Einkorn Chocolate Banana Muffins for proof!).
Banana Cake Ingredients:
While bananas will lock in a significant amount of moisture into a cake, the secret to an extra moist banana cake is sour cream and butter. This banana cake recipe has a similar flavor as banana bread but without that heavy, dense texture. Instead, it has a light, fluffy cake crumb that is incredibly tender.
To make the banana cake with Nutella buttercream, you will need:
large bananas, mashed (make sure they are overly-ripe)
sour cream
eggs
sugar
vanilla extract
all-purpose flour
baking soda
baking powder
salt
butter, softened
Nutella
powdered sugar
unsweetened cocoa powder
cream
You can bake this banana layer cake in two 9-inch round pans or two 8-inch square pans.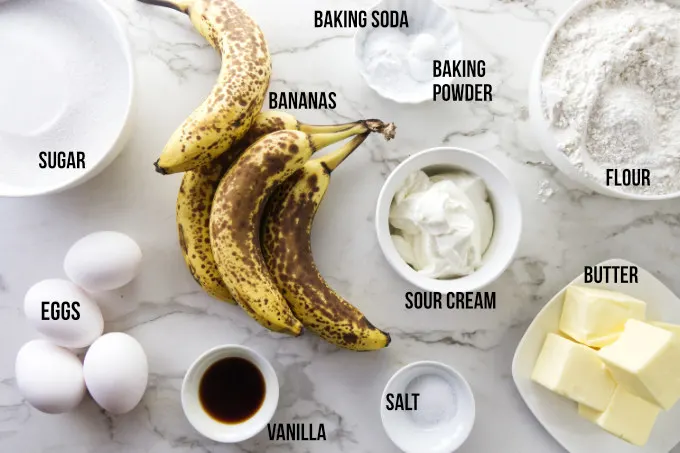 The Recipe:
Start off by making the banana cakes- we use two, 9-inch cake pans that are greased and lined with parchment paper (that last step helps ensure easy cake removal!).
Make the cake batter: mash the bananas in a mixing bowl and stir in the sour cream, eggs, sugar, and vanilla. In a separate bowl, whisk together the dry ingredients. Mix together the butter and flour mixture, then gradually add the banana mixture, beating the batter well. Pour the batter into the prepared cake pans and bake!
Cool the cakes: Cool them in their pans for 10 minutes, then loosen the edges and invert the cakes on a wire rack. It's important to let them cool completely before frosting.
Make the Nutella buttercream: In a large mixing bowl, beat the butter until smooth and creamy, then add the Nutella and mix to combine. Add the powdered sugar, cocoa powder, vanilla and salt, beating on low speed at first to combine it, then increasing to medium speed. If the frosting looks too thick, slowly add in 1 to 2 tablespoons of the cream until it reaches your desired consistency. Don't forget to scrape down the sides of the bowl often, and mix after each scrape.
Assemble and frost the banana cake: Place one cake layer on a platter and cover the top of it with a thick layer of the buttercream. Place the second cake layer on top and cover the sides and top of the cake with more frosting. The recipe makes enough Nutella buttercream to pipe decorative swirls on top so if you choose not to, you'll most likely end up with extra frosting.
What Icing Goes with Banana Cake?
It kind of goes without saying that we think this Nutella buttercream is pretty amazing when paired with the banana cake. But if you're not a fan of Nutella or you're looking for a different option, you can try it with our Double Chocolate Cream Cheese Frosting or our Easy Chocolate Cake Filling. Both are chocolate-y and will work well in this banana layer cake. Our peanut butter frosting is a great match as well.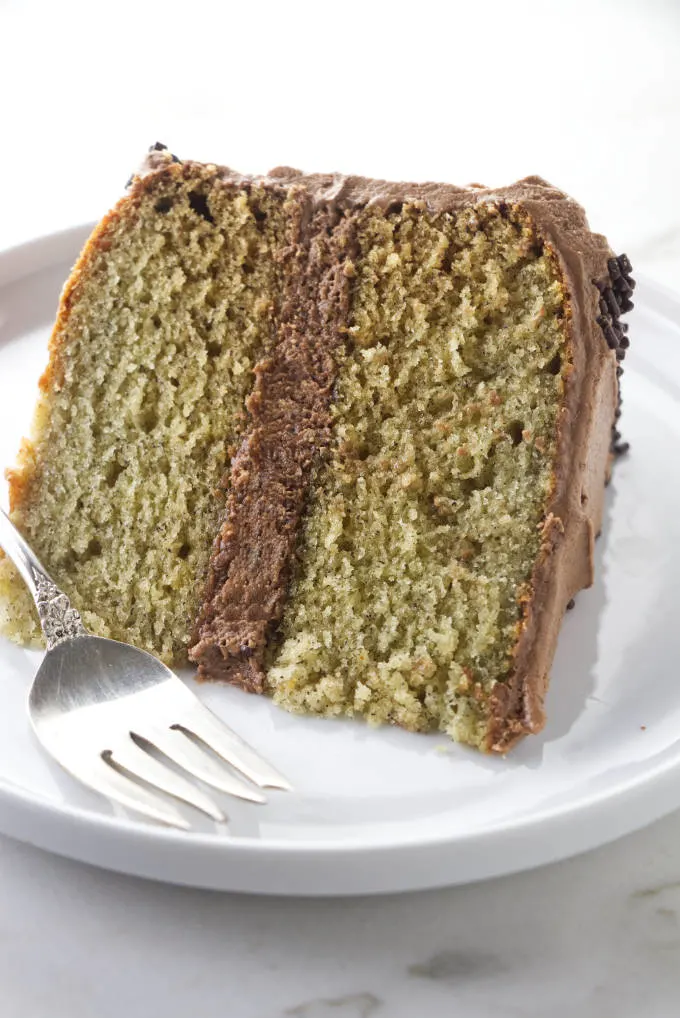 Tips for the Best Results:
Make sure to mash the bananas as smoothly as possible. You can even use a food processor to combine the bananas with the sour cream, eggs, sugar and vanilla.
For best results, use room temperature ingredients. One easy tip for getting eggs to room temp is to place them in a bowl of warm water for 3 to 5 minutes.
Make sure your leavening agents are fresh! That means fresh baking powder and fresh baking soda. Baking soda is especially notorious to lose its strength if it is stored for too long or if it accumulates moisture.
Sift your dry ingredients or use a whisk to blend them well and get all the lumps out before you add the dry ingredients to the cake batter.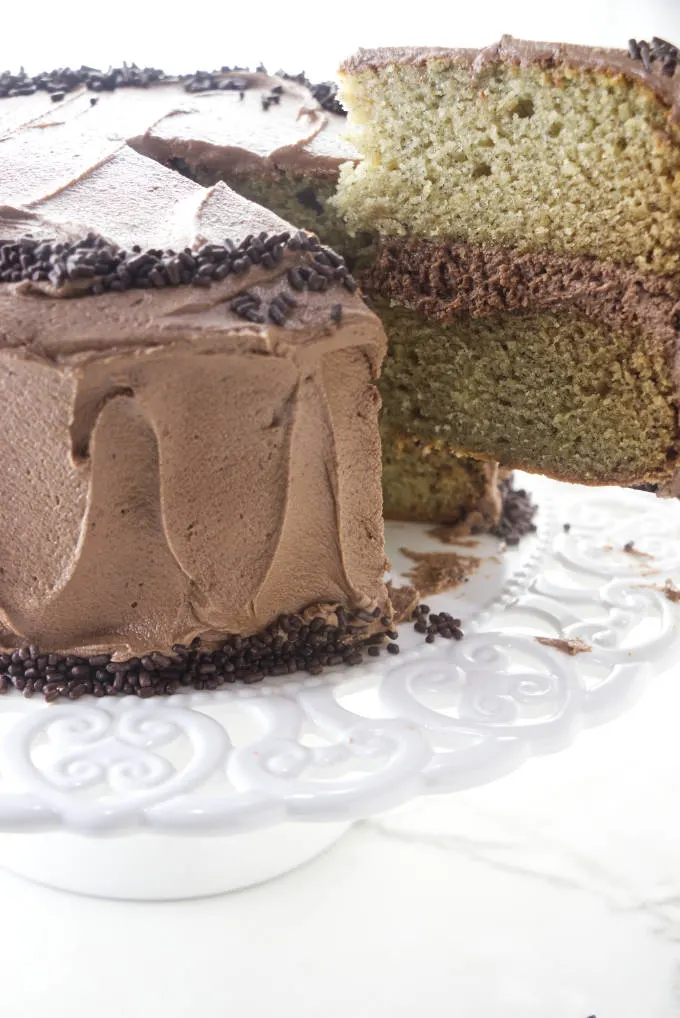 We hope you love this banana layer cake with Nutella buttercream as much as we do! We sure did enjoy testing it out- I'd say whenever your day involves cake and Nutella, it's a good one. 😉 Happy baking!
Helpful Tools:
Some of the following links are affiliates. If you click on these links and purchase something, we may receive a small commission. You don't pay any extra but it will help us keep the lights on.
Some More Recipes We Are Sure You Will Love:
No Bake Chocolate Nutella Oatmeal Bars: Crunchy oatmeal granola and creamy Nutella filling are delicious and effortless and slightly addicting!
Banana Cake in a Mug: Everything you love about banana cake, but made entirely in a mug! This single serving cake makes the perfect late-night treat.
White Chocolate Cake: This is THE cake for white chocolate lovers. Layers of tender white chocolate cake, white chocolate mousse filling and a silky white chocolate ganache are dreamy together! It's beautiful, rich and downright decadent.
Check out our butter conversion chart for helpful tips on butter measurements.
Connect With Savor the Best:
Please follow us on our social media accounts
Facebook * Instagram * Pinterest * Youtube * Twitter
Did you make this recipe? We would love to hear from you. Drop us a comment below.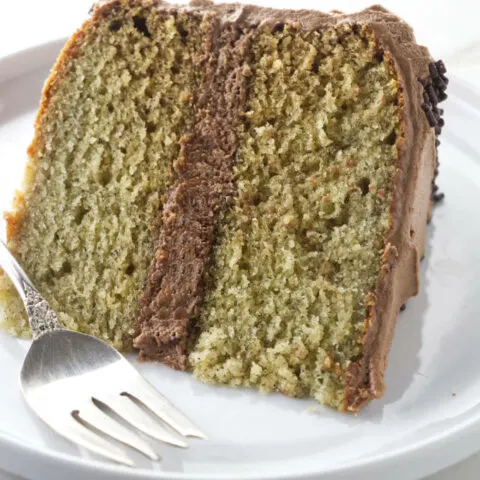 Banana Layer Cake with Nutella Buttercream
Banana cake and Nutella buttercream are two flavors that are just meant to be together. This is a tall, double-layer cake that easily serves 20 people. Use two 9-inch round cake pans or 8-inch square pans.
Ingredients
4 large bananas (2 cups mashed)
2/3 cup sour cream (150 grams)
4 eggs, room temperature
1-2/3 cups sugar (334 grams)
2-1/2 teaspoons vanilla extract
3-1/2 cups all-purpose flour (437 grams)
2 teaspoons baking soda
1-1/2 teaspoons baking powder
1 teaspoon salt
1-1/2 cups butter, softened (3 sticks)
Nutella buttercream
1-1/4 cups butter, softened (20 tablespoons)
1-1/4 cups Nutella
4 cups powdered sugar (452 grams)
1/4 cup unsweetened cocoa powder (20 grams)
1 teaspoon vanilla extract
1/4 teaspoon salt
3 to 8 tablespoons cream
Instructions
Banana Layer Cake
Preheat the oven to 350°F. Grease two 9-inch cake pans and line them with parchment paper.
Mash the bananas in a mixing bowl. Stir in the sour cream, eggs, sugar, and vanilla extract. (Optionally, you could puree all these ingredients in a food processor).
In a separate mixing bowl, combine the flour, baking soda, baking powder and salt. Whisk the ingredients to blend them well.
With the mixer on low speed, add the butter to the flour mixture. Blend on medium speed until the mixture looks like damp sand. Add a third of the banana mixture and blend on medium-high speed for 2 to 3 minutes until the batter is smooth. Scrape down the bowl and add the remaining banana mixture in two more batches, beating well between additions.
Scrape the batter into the prepared pans and bake 35 to 45 minutes or until the cake springs back when pressed lightly in the center.
Let the cake cool in the pan for 10 minutes then run a thin metal spatula around the edges to loosen the cake and invert it on a wire rack to cool completely.
Nutella Buttercream
Place the butter in a large mixing bowl and beat on medium-high speed until smooth and creamy. Add the Nutella and beat until combined.
Add the powdered sugar, cocoa powder, vanilla, and salt. Beat on slow speed until just combined then increase the speed to medium and beat 3 to 5 minutes until smooth and creamy. If it looks too thick you can slowly add the cream 1 to 2 tablespoons at a time until you reach your desired consistency. Make sure you beat the cream in well and scrape down the sides of the bowl.
Assemble and Frost
Place one cake layer on a platter. Cover the top with a thick layer of frosting then top with the second cake layer. Cover the top and sides of the cake with more buttercream. There is enough buttercream to pipe decorative swirls. If you don't pipe any decorations you will probably have some buttercream leftover.
Notes
Mash the bananas as smoothly as possible.
Have the ingredients at room temperature for best results. A quick way to get the eggs to room temperature is to place them in a bowl of warm water for 3 to 5 minutes.
Use fresh baking powder and baking soda. Baking soda especially will lose strength if it is stored too long or if it accumulates moisture.
Recommended Products
As an Amazon Associate and member of other affiliate programs, I earn from qualifying purchases.
Nutrition Information:
Yield:

24
Serving Size:

1
Amount Per Serving:
Calories:

981
Total Fat:

61g
Saturated Fat:

42g
Trans Fat:

2g
Unsaturated Fat:

15g
Cholesterol:

162mg
Sodium:

653mg
Carbohydrates:

106g
Fiber:

3g
Sugar:

92g
Protein:

5g
Nutrition information is a guideline only, is calculated automatically by third-party software, and absolute accuracy is not guaranteed.