Who doesn't love a decadent slice of intense chocolate cake topped with cream cheese frosting? This homemade double chocolate cream cheese frosting recipe will take your chocolate cake from totally delicious to over-the-top-close-your-eyes-and-savor-every-bite yum.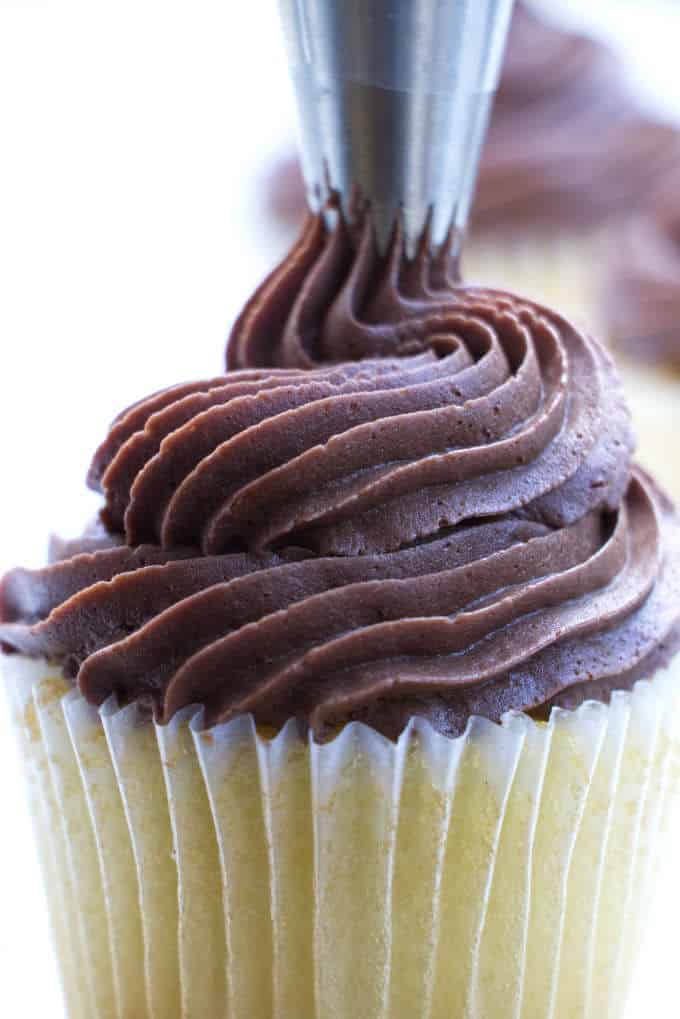 Using easy, everyday ingredients you can have a homemade frosting that is anything but typical in no time at all. This double chocolate cream cheese frosting is perfect for cakes, cupcakes, and even brownies. It's also yummy stirred into a hot cup of coffee if you want to enjoy a mocha treat.
How To Make Double Chocolate Cream Cheese Frosting
Most chocolate cream cheese frosting recipes use either cocoa powder or melted chocolate for their flavor. This recipe calls for both, which is the double chocolate part of the recipe…and what sets this particular recipe apart from the rest!
Because you're using both cocoa powder and melted chocolate, you're going to get a homemade chocolate frosting that is rich, indulgent, and so delicious that you'll want to lick the spatula clean (It's okay; go ahead…I won't tell!). The combo of flavors is what makes this creamy double chocolate frosting the perfect topping for an indulgent chocolate cake.
Ingredients For Easy & Delicious Whipped Chocolate Cream Cheese Frosting
This frosting recipe only calls for 7 ingredients and comes together very quickly. It's simple and easy, which is part of its charm and totally delicious which is what makes it the best chocolate cream cheese frosting recipe for those days when you just need chocolate everywhere!
So what do you need to make a chocolate cream cheese frosting from scratch?
Dark chocolate (or chocolate chips)*
Butter
Cream cheese
Powdered sugar
Unsweetened cocoa powder
Vanilla extract
Salt
If you're not a big fan of dark chocolate, it's okay. I promise. The rest of the ingredients tone down the strong flavor associated with a truly dark chocolate and come together as a rich, creamy chocolate frosting that isn't too bitter or strong at all. In fact, it almost tastes like milk chocolate!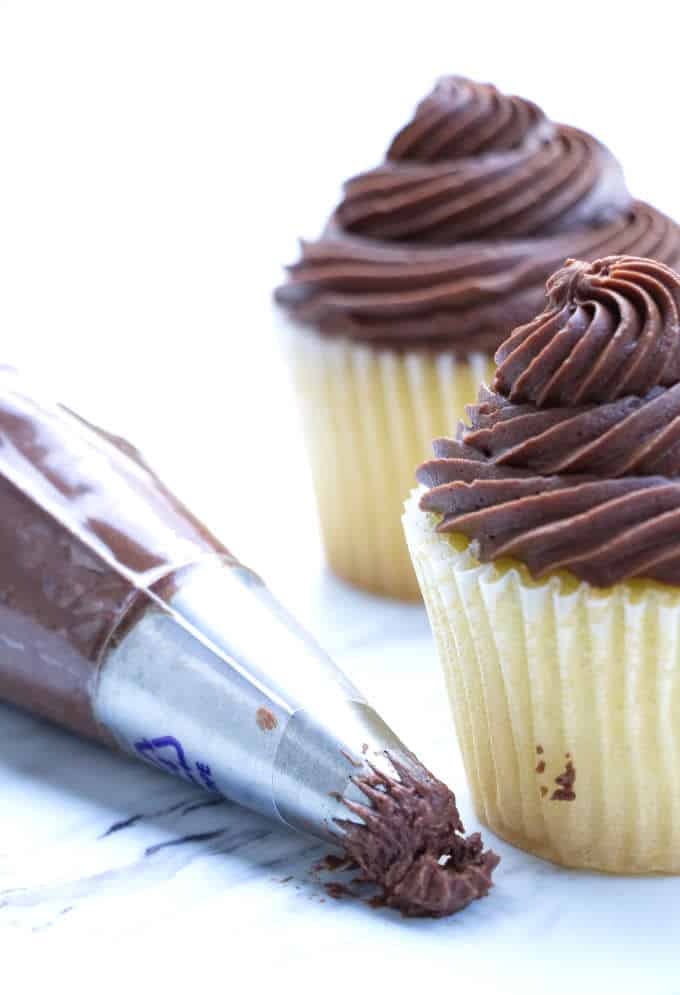 Tips For Making Double Chocolate Cream Cheese Frosting
While making this cream cheese frosting is very simple, there are a few things to remember to make it even better. Once you know how to make a smooth, creamy frosting from scratch, you'll never want to settle for store bought again! So be sure to read through these tips for making double chocolate cream cheese frosting at home.
Chocolate cream cheese frosting can come out velvety smooth, runny, or a little lumpy. Obviously, you want it to be smooth and creamy, so read on for the tips you need to get it just right!
How To Melt Chocolate For Frosting
This recipe calls for dark chocolate, but you can use semi-sweet or dark chocolate chips if you prefer or that's what you have on hand. There are two ways to melt them, and both methods will work so pick whichever one you prefer.
You'll want to melt your chocolate first and then set it to the side while you do the next steps so that it can start cooling off since you won't want to use it while it's too hot (that's what causes runny frosting, and no one wants that!).
Melting Chocolate In The Microwave
If you're going to use the microwave to melt your chocolate, cut it into chunks (a serrated knife will work great for this) so that it melts easier. Use a wide, shallow glass bowl.
Heat it for about a minute on a medium/high setting and then stir it. It won't look melted at first, but once you stir it, you'll see that it's softening. Then repeat this step in 15-second intervals until you've got a perfectly tempting bowl of melted chocolate.
Melting Chocolate In A Double Boiler
To melt your chocolate with a double boiler is also very simple.
All that it means is that you boil water on the stove in a pan (just a couple of inches is fine) and have a tight fitting, heat-safe bowl resting on the opening of the pan into which you place your chocolate. The surface of the water cannot be touching the underside of your bowl; you want a definite gap in space.
Just stir the chocolate until it's nice and smooth and you're all set.
Make Your Homemade Frosting Smooth And Creamy
To get a silky smooth homemade cream cheese frosting instead of lumpy, you need to set your butter and cream cheese out several hours in advance. You want them to be soft to the touch at room temperature before you cream them together.
Put your soft-to-the-touch butter and cream cheese into a mixing bowl and beat on medium to medium-high with an electric mixer for 2-3 minutes. This will whip them up and be the foundation for your double chocolate cream cheese frosting.
In a separate bowl, mix the other ingredients together (except the melted chocolate). Add them slowly with the mixer speed on low until they are fully incorporated. If you add them in when the speed is too high, you're going to get a face full of splattered ingredients, so drop your speed and go a little at a time.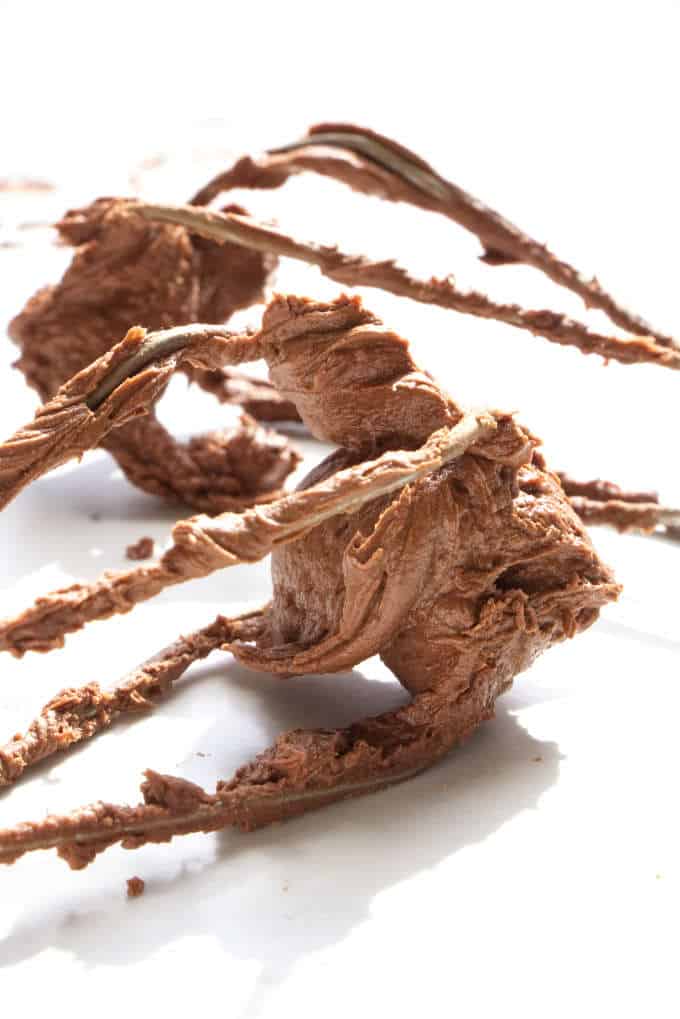 Making Chocolate Cream Cheese Frosting With Melted Chocolate
Check your melted chocolate and see if it's cooled down before adding it to your frosting mix. If it goes in too hot, you'll end up with melted ingredients that are runny instead of a nice, rich, double chocolate whipped and creamy frosting.
Make sure the melted chocolate doesn't sit too long and firm up. If it gets too cool, it will start to solidify and leave you with chunks of chocolate in the frosting.
Once the chocolate has cooled down to room temperature, you can go ahead and beat it into the rest of the frosting. And voila! You've just made super simple, easy, delicious double chocolate cream cheese frosting from scratch.
How To Store Homemade Cream Cheese Frosting
You can make this frosting ahead of time and keep it in the fridge for several days or up to six months in the freezer. You will want to pull it out and use it at room temperature so that it spreads.
Personally, I like to use a resealable freezer-friendly plastic bag for storing. I press it out flat so that it stacks well and thaws quickly. Just pull it out the night before and let it thaw in the refrigerator overnight, then pull it out a few hours before use so it can come to room temperature.
WATCH OUR VIDEO
Check out our video to see how easy it is to make this decadent frosting. If you want to pipe cupcakes like the ones in the photos and the video then you will want to use some large decorating tips.
We used a star tip 864 and a round tip #804 to get the look you see. If you place a large coupler on your decorating bag then you can swap out the tips easily.
SOME OTHER RECIPES WE ARE SURE YOU WILL LOVE:
Vanilla Rose and Pistachio Cake
Chocolate Cupcakes with Peanut Butter Frosting
Connect With Savor the Best:
Please follow us on our social media accounts
Facebook * Instagram * Pinterest * Youtube * Twitter
Did you make this recipe? We would love to hear from you. Drop us a comment below.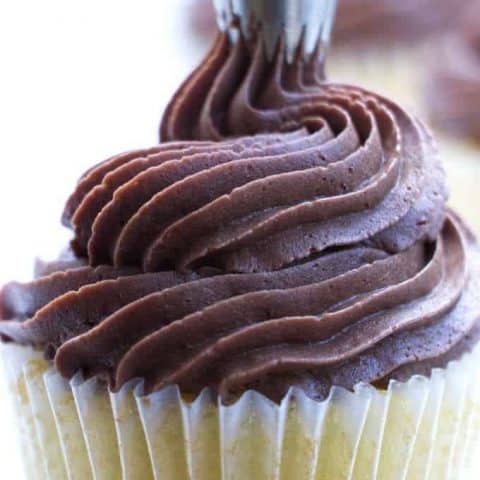 Double Chocolate Cream Cheese Frosting
Yield:
3 cups of frosting
A creamy, smooth chocolate cream cheese frosting with a double dose of chocolate. This frosting pipes well and tastes delicious.
Ingredients
3 ounces dark chocolate, chopped (or 1/2 cup chocolate chips) (87 grams)
1/2 cup butter, room temperature (113 grams)
8 ounces cream cheese, room temperature (226 grams)
4 cups powdered sugar (452 grams)
3/4 cup unsweetened cocoa powder (63 grams)
1 tablespoon vanilla extract
1/2 teaspoon salt
Instructions
Melt the chopped chocolate (or chocolate chips) in a microwave or a double boiler and set aside to come to room temperature while you mix the rest of the ingredients.
Place the butter and cream cheese in a medium mixing bowl and beat on medium high speed (with an electric mixer) until it is smooth and creamy. About 2 to 3 minutes.
Add the powdered sugar, cocoa powder, vanilla and salt. Stir them in a bit by hand then use the electric mixer to whip it up until it is smooth and creamy. Start on low speed so the dry ingredients don't fly out of the bowl, then slowly increase the speed. Stop the mixer intermittently to scrape down the sides of the bowl.
Pour the melted chocolate into the mixing bowl and beat until it is all blended in and smooth.
Notes
The butter and cream cheese should be at room temperature and soft to touch. If you use them while they are still cold you will get a lumpy frosting and the melted chocolate will clump up and it will not blend in smoothly.
Creaming the butter and cream cheese before adding the rest of the ingredients will also ensure you get a smooth frosting.
For best results, you may want to sift the powdered sugar to remove any lumps.
Make sure the melted chocolate has come to room temperature before adding it to the frosting. If it is too warm, it will melt the frosting.
If you're not a fan of dark chocolate, don't worry, the rest of the ingredients "tone down" the dark chocolate flavor and make it taste like smooth milk chocolate.
You can freeze this frosting for up to 6 months in a well sealed container. I use a re-sealable freezer friendly plastic bag and press the frosting out flat so it stacks well and thaws faster. Let it thaw in the refrigerator overnight, then let it come to room temperature before using it. Room temperature frosting will spread easier.
If you want thinner frosting, beat in some water or milk a couple of teaspoons at a time until you get the consistency you want.
This recipe makes 3 cups of frosting which is enough to generously cover an 8-inch, double layer cake or a 9-inch double layer cake.
Recommended Products
As an Amazon Associate and member of other affiliate programs, I earn from qualifying purchases.
Nutrition Information:
Yield:

48
Serving Size:

1 tablespoon
Amount Per Serving:
Calories:

86
Total Fat:

4.3g
Cholesterol:

11mg
Sodium:

53mg
Carbohydrates:

12g
Sugar:

11g
Protein:

0.8g