This Banana Cake in a Mug is a delicious and simple sweet treat (and late-night snack) to make! It's an easy banana cake that cooks right in the microwave and is ready in a matter of minutes. The light and fluffy texture is simply irresistible and this banana mug cake has all the potential to become your new favorite go-to treat.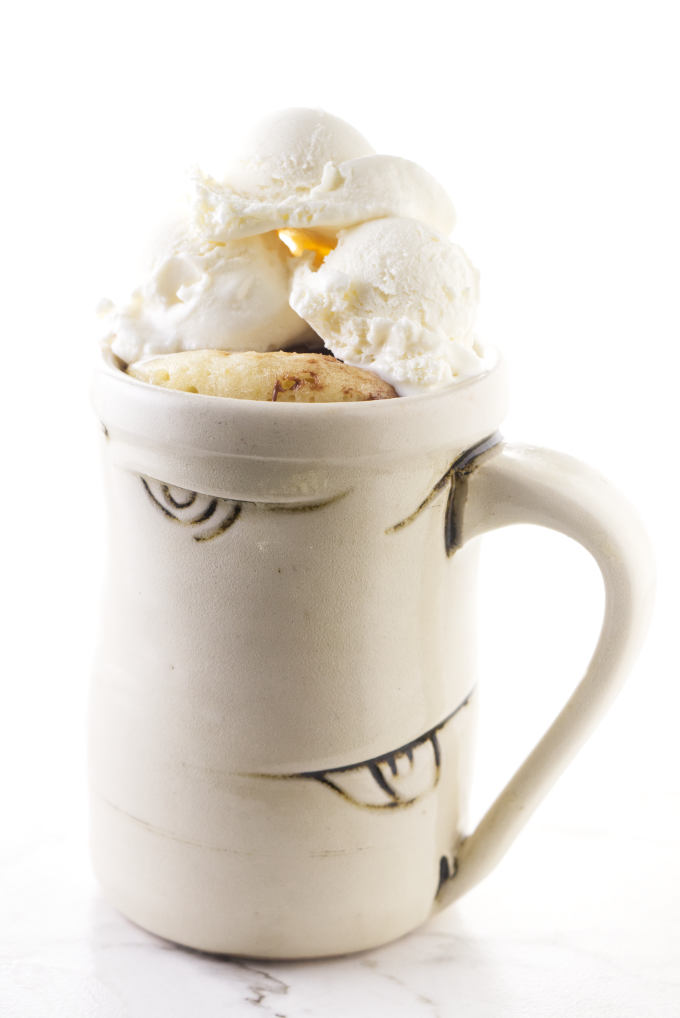 Our mug cake just uses half a banana. If you have more bananas to use then you should make our Starbucks banana bread recipe.
Easy Banana Cake:
Get ready for the easiest banana cake recipe ever! We can't turn down a delicious mug cake (i.e. this Double Chocolate Mug Cake) and a banana mug cake is a great way to use up that last overly-ripe banana on the counter (you know you have one).
What's even better is our banana cake recipe doesn't have to be made in the microwave (we share options for baking in the oven) and it also makes a wonderful small-batch banana cupcake recipe.
Our Banana Mug Cake Recipe:
This banana cake in a mug is so light, so fluffy and extra tender… and we're spilling all our secrets!
It's all in the egg yolk. And making sure the cake doesn't cook too long in the microwave.
Ingredients for banana cake in a mug:
This easy banana cake calls for pantry staples and everything is mixed and cooked in a mug. It's simple, quick and delicious. A true lifesaver when those late-night sweet cravings hit!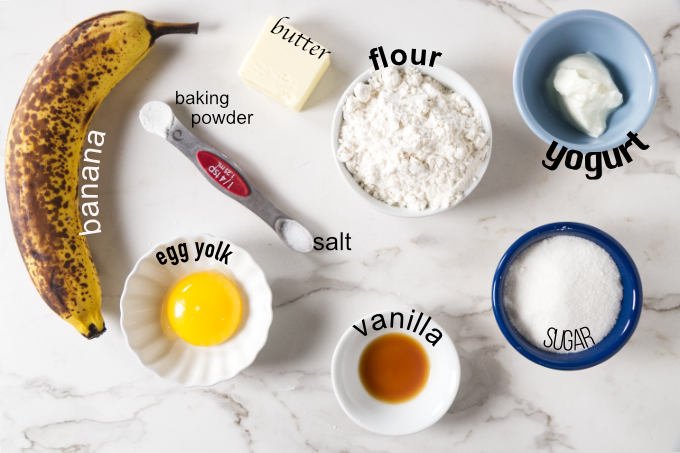 To make the banana cake, gather these ingredients:
Butter. A cake staple!
Banana. Make sure it's ripe or overly-ripe for extra flavor and sweetness.
Sugar. Not too much, you will only need 3 tablespoons total.
Sour cream or yogurt. This does a lot for the texture of the cake and adds a nice richness.
Vanilla. A touch of vanilla flavor really compliments the banana.
Egg yolk. Our "secret" to getting a really nice texture to this banana cake.
Flour. Regular all-purpose flour is all you need.
Baking powder. It gives the cake a nice lift.
Salt. Just a pinch for a little seasoning.
How to Make a Banana Mug Cake:
A banana mug cake takes two minutes to prep and two minutes in the microwave. Make sure you're using a microwave-safe mug that is at least 10 ounces (or the cake batter could overflow in the microwave).
Here's how it's done!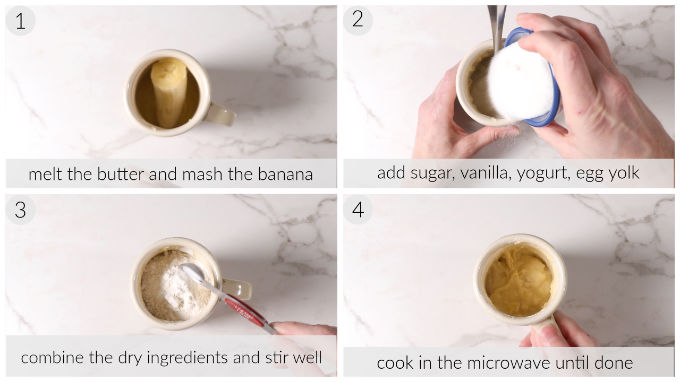 Combine the wet ingredients: Melt the butter in the mug, then mash in the banana. Stir in the sugar, sour cream (or yogurt), vanilla, and egg yolk until the mixture is well combined.
Add the dry ingredients: Add in the flour, baking powder and salt and use a fork to fluff up the dry ingredients together to distribute evenly. Stir the flour mixture into the banana mixture.
Microwave: Place the mug in the microwave and cook for 1 minute 45 seconds to 2 minutes and 15 seconds (check it with a toothpick, it should come out clean).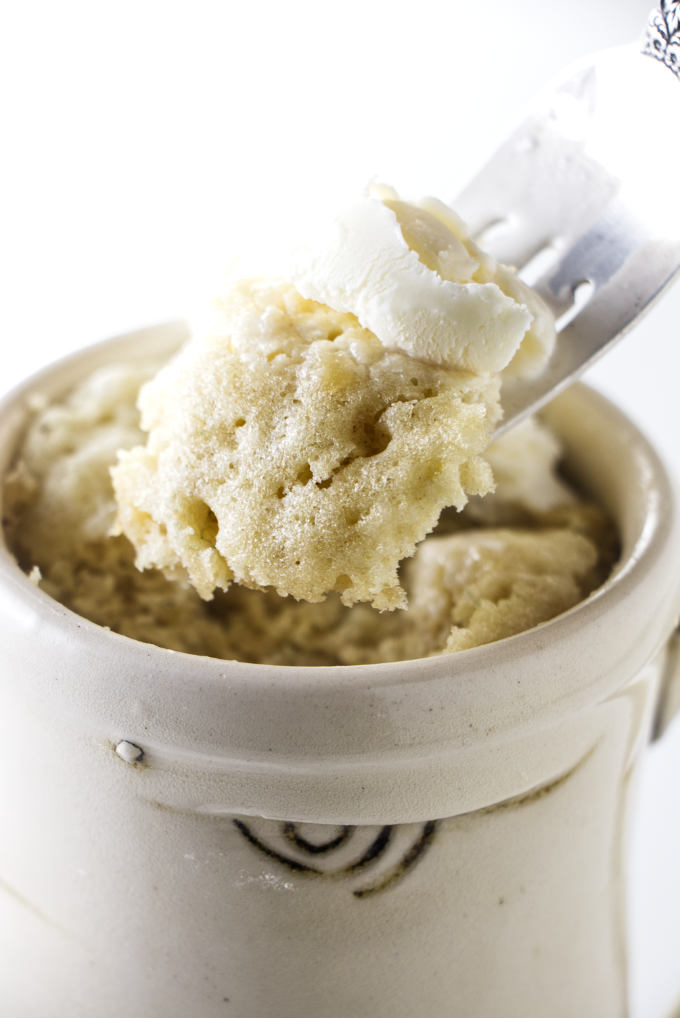 Tips for the Best Results:
This banana mug cake is super easy to make, but keep these quick tips in mind for the best results:
Mash the banana really well to prevent large lumps in the cake.
Only use half a banana since a whole banana will make the cake tough and gummy. Save the other half of the banana to slice on top of the cake for serving.
Bake times can vary depending on your microwave and the type/shape of mug used. Start at the lowest cooking time and increase from there as needed. An overcooked mug cake becomes tough and rubbery.
For baking in the oven, use an oven-safe mug and bake at 350°F for 26 to 30 minutes.
If you double the recipe, you can use a full banana but instead of using two egg yolks, just use a whole egg.
For Small-batch Banana Cupcakes:
This banana cake recipe will make one mug cake or three standard size cupcakes, which means it's perfect if you're in search of a small-batch banana cupcake recipe!
To bake the cupcakes:
Microwave in silicone cups for 1 minute 30 seconds.
For baking the cupcakes in the oven, divide the batter between three cupcake tins to make 3 standard size cupcakes. Bake at 350°F for 15 to 18 minutes.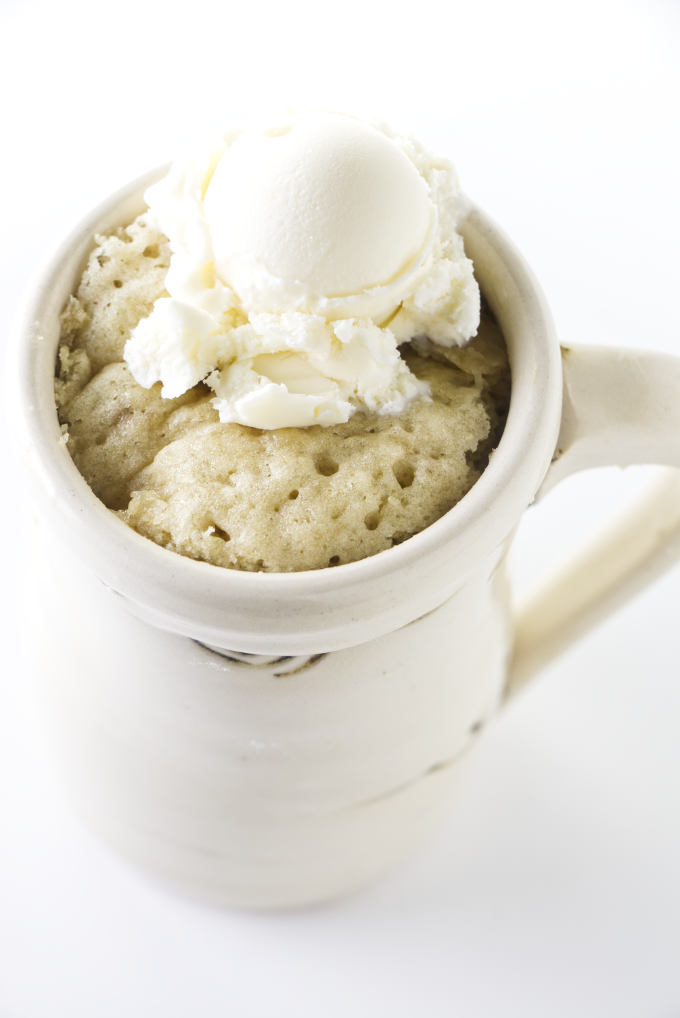 This easy banana cake is so yummy on its own, topped with some fresh banana slices, a drizzle of salted caramel sauce or a scoop of vanilla ice cream (preferably all those toppings, but you do you).
If you ask us, it's always a banana mug cake kind of night! We hope you love it as much as we do and if you give it a try, we'd love to hear from you!
Helpful Tools:
Some of the following links are affiliates. If you click on these links and purchase something, we may receive a small commission. You don't pay any extra but it will help us keep the lights on.
SOME OTHER RECIPES WE ARE SURE YOU WILL LOVE:
Easy Chocolate Cake: This intense chocolate cake is so easy-to-make and it will fix any chocolate craving! Fudgy, moist and extra chocolate-y, it has an incredible flavor and richness.
Chocolate Chip Banana Bread: A classic banana bread loaf studded with a generous amount of chocolate chips. Brown sugar gives it a delicious toffee flavor and the bread bakes up tender and moist.
Bananas Foster Bread Pudding with Rum Sauce: What's not to love about this classic banana dessert? It's crisp on the outside, custard-like in the center, and topped with a rich and warm rum sauce you'll go bananas for. 😉
CONNECT WITH SAVOR THE BEST!
Be sure to follow us on our social media accounts *
Facebook * Instagram * Pinterest * Twitter * Youtube
Did you make this recipe? We would love to hear from you. Drop us a comment below.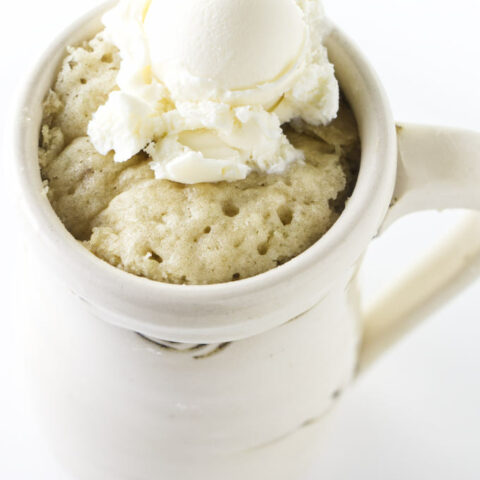 Banana Cake in a Mug
Yield: 1 mug cake
Prep Time: 2 minutes
Cook Time: 2 minutes
Total Time: 4 minutes
Banana cake cooks up light and fluffy in the microwave. The secret to the tender texture is the egg yolk and making sure you don't over-cook the cake. This recipe also makes about three standard sized cupcakes
Ingredients
2 tablespoons butter
1/2 banana
3 tablespoons sugar
1 tablespoon sour cream or yogurt
1/4 teaspoon vanilla
1 egg yolk
1/3 cup flour
1/4 teaspoon baking powder
pinch of salt
Instructions
Place the butter in a mug and melt it in the microwave.
Mash the banana into the mug. Stir in the sugar, sour cream (or yogurt), vanilla, and egg yolk. Mix until well combined.
Add the flour, baking powder, and salt. Fluff the flour mixture with a fork to distribute the dry ingredients then stir it into the banana mixture.
Microwave for 1 minute 45 to seconds to 2 minutes 15 seconds until a toothpick stuck in the center comes out clean.
Notes
Use a 10-ounce mug.
Mash the banana as well as possible so there are no large lumps. Do not use the whole banana in the batter or the mug cake will be tough and gummy. Use the additional half of the banana to slice on top of the finished cake.
The baking time will vary depending on your personal microwave and the size and shape of your mug. Start at the lowest recommended cooking time and add additional time if needed. Do not over-cook the cake or it will become tough and rubbery.
You can also bake the mug cake in the oven at 350°F for 26 to 30 minutes. Make sure you use an oven-safe mug.
This recipe makes 3 standard size cupcakes. Cook cupcakes for 1 minute 30 seconds in the microwave or 15 to 18 minutes in the oven. Use silicone cups if you cook them in the microwave.