Are you a fan of Salted Caramel Sauce? We are for sure! That salty sweetness is the perfect topping on cheesecakes, ice cream, bread pudding and much more.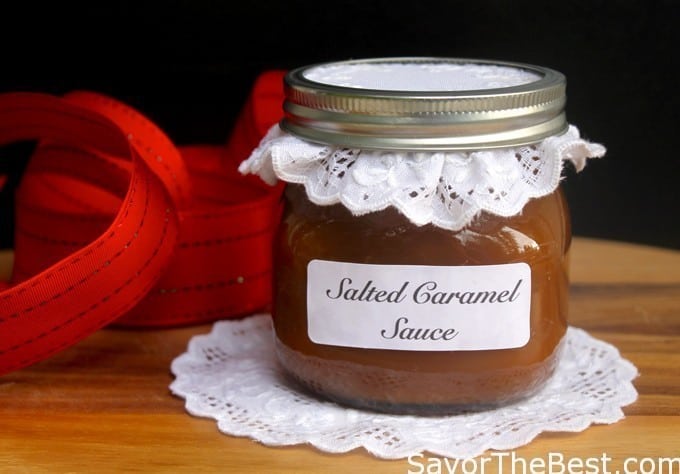 Our granddaughter, Cora, lives in Seattle and she came for a sleep-over Friday night and we made salted caramel sauce together. We made a lot of it as she will give jars of it as Christmas gifts to the special people in her life. Cora is quite a fan of salted caramel sauce and we really had a great time with this project. Also, Cora's aunt Dahn joined us for the fun.
I remember my grandma Prentice used to make a caramel frosting and put it between the layers of a cake and all over the top and sides. She must have had to cook it more because as I remember it wasn't syrupy and gooey but more solid like fudge. I just know that I sure did like it and I wish I had her recipe.
Caramel sauce tastes so lovely as a topping on ice cream or cheesecake, drizzled on apple pie or as a layer in bar cookies and when you add in the 'salted' factor it is over the top (pun intended).
You are limited only by your imagination as to what you use this wickedly delicious sauce for. I know for a fact that it is also delicious spooned directly from jar-to-mouth, it is addictive!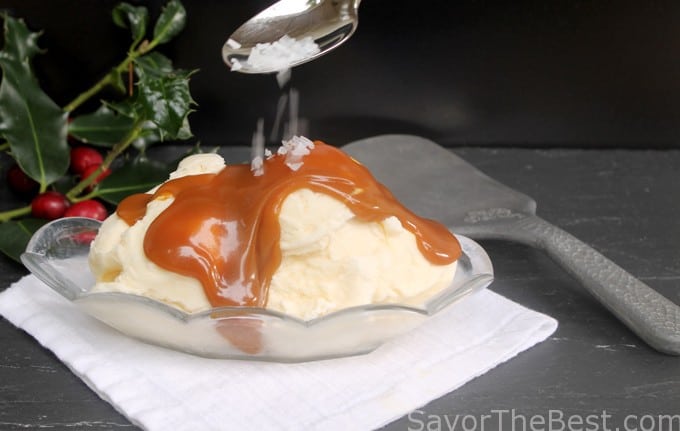 It has been a long time since I have made a caramel sauce and I always used a little bit of water to start the sugar melting but recently I was watching a Barefoot Contessa show and Ina had a guest that made salted caramel sauce without any water.
She just put the sugar in the pan and stirred it until it all melted and turned amber-color, then she added the butter and when it was melted completely she added the cream and the salt.
Pretty easy….I burned my first batch. I guess I had the heat too high and part of the sugar melted before the rest of it and then it began to burn. It only takes a couple seconds to go from just right to burned. The second try I adjusted my heat to a medium-low and it was perfect.
Dahn recently posted her recipe for Pumpkin Spice Caramel Latte Cake and I really like her recipe for the caramel sauce and have made a batch to compare with my recipe.
Dahn uses a little corn syrup to keep the sugar from crystalizing but the best part is the fact that she heats the cream, butter, vanilla and salt so you are not adding cold liquids to hot liquids. Makes sense to me.
You just know that we had to sample this caramel sauce over vanilla ice cream, I topped it all off with some Mediterranean Sea Salt Flakes from the Artisan Salt Co. It was soooooo good! Cora, Dahn and I had a fun party making this salted caramel sauce and Cora is so cute and fun to be with, I just love that girl!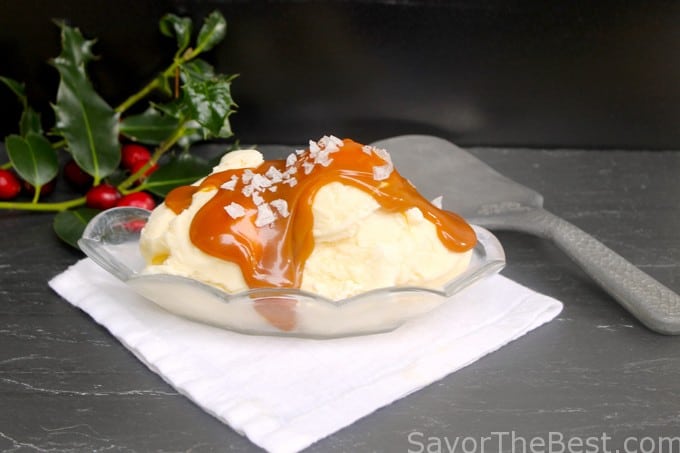 CONNECT WITH SAVOR THE BEST!
Be sure to follow us on our social media accounts
Facebook * Instagram * Pinterest * Twitter * Youtube
Did you make this recipe? We would love to hear from you. Drop us a comment below.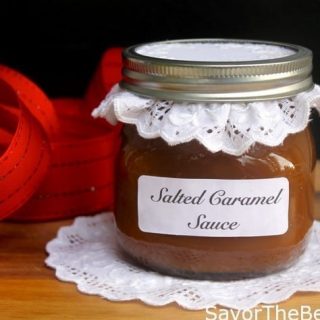 Salted Caramel Sauce
Yield: 2 cups
Prep Time: 5 minutes
Active Time: 20 minutes
Total Time: 25 minutes
A salted caramel sauce that is decadent and delicious. It is smooth and creamy and wonderful on vanilla ice cream or anything you can imagine.
Ingredients
12 tablespoons butter (1-1/2 sticks)
1 cup heavy cream
1-1/2 teaspoon sea salt
1 teaspoon vanilla
2 cups granulated sugar
1/2 cup corn syrup
Instructions
In a small saucepan over medium heat, add the butter, cream, sea salt and vanilla and bring just barely to a boil. Reduce the heat to simmer, stir to dissolve the salt and hold at simmer to keep warm until needed.
In a 2 to 3 quart saucepan, add the sugar and corn syrup, and over medium heat, allow to melt slowly. When I see liquid forming around the perimeter of the pan I use a spatula to push the sugar toward the center and continue with this process breaking up any clumps. This will take a little patience and you will be tempted to stir and stir but resist the urge. If you stir it to much the sugar will clump up before it has a chance to melt. If this happens turn the heat down very low and let it melt slowly without stirring.
As soon as the sugar is completely melted and the syrup is a nice amber color, remove it from the heat and slowly pour the hot cream mixture into the melted sugar whisking as you pour. Be very careful as there will be aggressive bubbling and it will appear that it will bubble over the pan, keep stirring and it settles down again. Continue to whisk the caramel to incorporate it well. Allow the sauce to cool for 10-15 minutes before pouring it into a container.
This sauce should be refrigerated which will make the sauce considerably thicker. To serve, remove from the refrigerator and set the container into a dish or pan of hot tap water for 5 minutes and it will soften to a spoonable consistency.
Notes
It is helpful to use a long-handled whisk or wooden spoon when adding the cream mixture to the melted sugar as the bubbling action can splatter and the steam will burn.
Nutrition Information:
Yield: 32
Serving Size: 1 tablespoon
Amount Per Serving:
Calories: 127
Total Fat: 7g
Saturated Fat: 4g
Trans Fat: 0g
Unsaturated Fat: 2g
Cholesterol: 20mg
Sodium: 337mg
Carbohydrates: 17g
Fiber: 0g
Sugar: 17g
Protein: 0g
Nutrition information is a guideline only, is calculated automatically by third party software, and absolute accuracy is not guaranteed.