Our Butterscotch sauce is smooth, rich, and just a little bit smoky with the addition of some optional Scotch whiskey. Enjoy this decadent sauce over ice cream, on top of shortbread, or as a dip for your favorite fruit. It is just as heavenly as homemade caramel sauce but has a slightly robust brown sugar flavor. This is what sweet dreams are made of.
You can interchange the name of butterscotch sauce for toffee sauce because they are made the same way.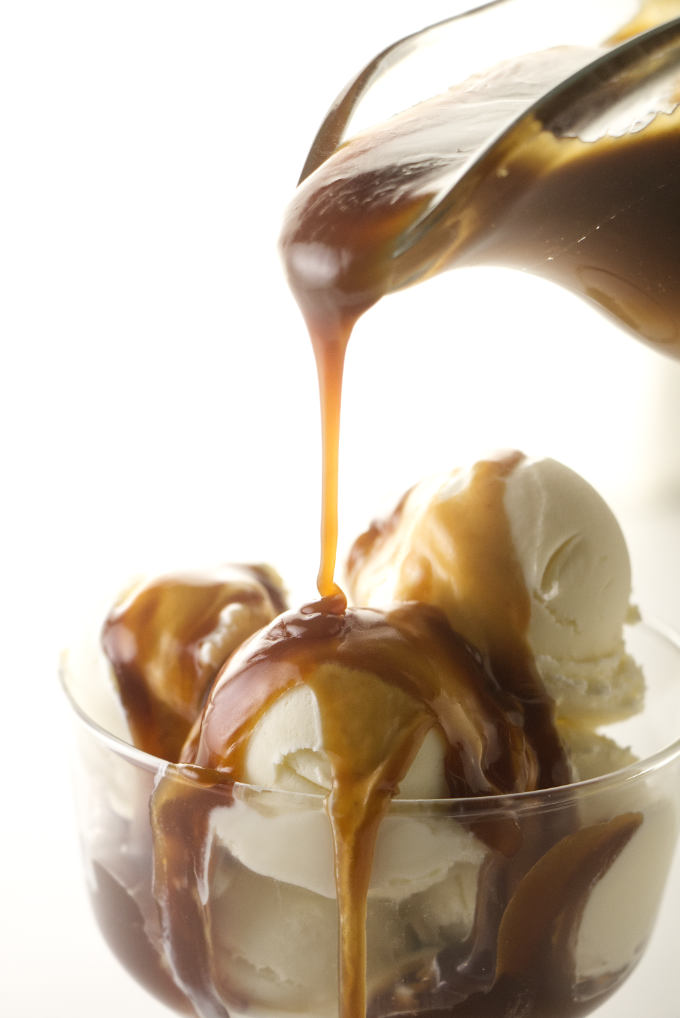 Who can resist the flavor of butterscotch? It is such a classic flavor that brings back childhood memories. It tastes great in everything from cookies and blondies to an old-school butterscotch tart.
And what is better than scooping yourself some ice cream and drizzling warm butterscotch sauce on top? You just can't beat this homemade butterscotch sauce. Try it on top of chocolate stout ice cream for an amazing fusion of flavors.
This Butterscotch recipe is:
Fast. Make it in ten minutes.
Versatile dessert. So many options! Use it as a dip, spread, or topping.
Perfect gift. Place it in some pretty containers and wrap a bow on top. It makes the perfect holiday gift.
Lasts for 2-3 weeks in the fridge.
Ingredients You Will Need:
Butter. You can use salted or unsalted butter in this recipe. Salted butter will not add too much salt to the butterscotch toffee sauce.
Brown sugar. Dark or light brown depending on if you want a lighter, more caramel flavor or a richer flavor.
Salt. Don't forget this! Use sea salt for the best flavor but any salt you have on hand works.
Heavy Cream. Warmed slightly to prevent too much bubbling.
Scotch Whiskey or Rum. An optional addition but it certainly makes the sauce more decadent.
Vanilla Extract. Ties all the ingredients together nicely.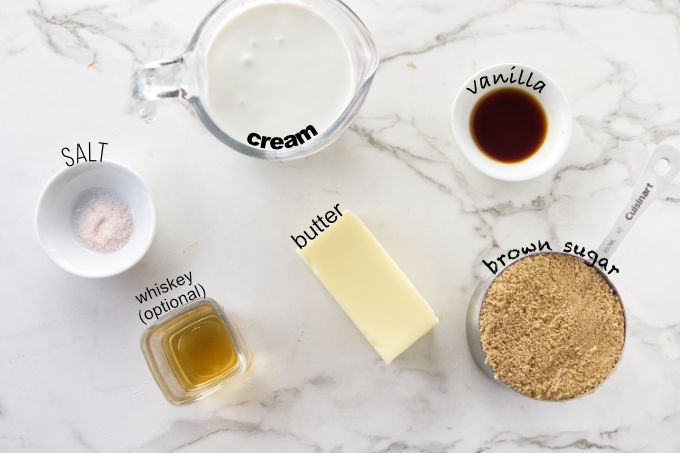 How to make Butterscotch Sauce:
Melt the butter over medium-high heat, then stir in the sugar and salt.
Cook for 3-4 minutes until the mixture turns a dark amber color, stirring occasionally. Once the mixture gets darker, stir frequently to prevent burning.
Slowly pour the warmed cream into the pot once the mixture has turned a dark amber color. Whisk constantly.
Reduce the heat to medium-low and add the scotch or rum.
Cook for an additional 3 to 5 minutes until the sauce is glossy. Remove from heat.
Stir in the vanilla.
Pour into designated containers and let cool completely.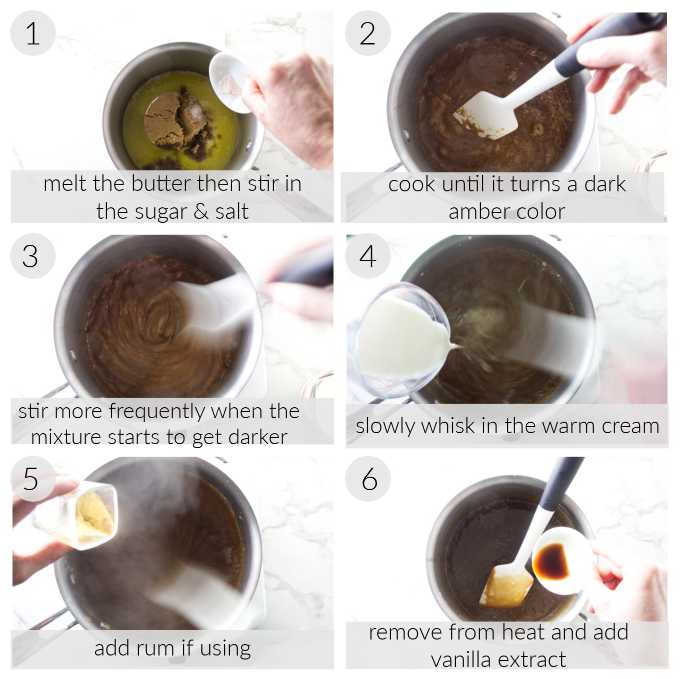 Tips for Success:
Avoid stirring too much in the first part of the process to prevent sugar crystals from forming. Stirring the mixture encourages recrystallization. However, when the sauce gets hotter and starts to get darker, you will need to stir it frequently to prevent burning.
Other ways to avoid recrystallization are making sure the sugar is pure and that the pan is super clean.
Making butterscotch is all about timing. You are looking for that perfect deep amber color. The sauce will change from light brown to amber to burnt very fast, so be vigilant.
Make the butterscotch in a 2- to 3- quart saucepan so that you have space if the mixture bubbles up when you add the cream.
Take the sauce out of the pot and pour it into prepared containers as fast as possible. The butterscotch sauce thickens as it cools, making it a bit difficult to clean the pot. If the butterscotch sauce gets stuck to the pot, soak the pot in warm water.
As mentioned earlier, the Scotch whiskey is optional, but it gives the butterscotch sauce a distinctly deeper, richer flavor. If alcohol is a hard 'no' for you, then don't worry. Traditional butterscotch sauce does not actually contain Scotch or any other alcohol.
What's the Difference Between Butterscotch, Toffee, and Caramel?
Butterscotch sauce and caramel sauce are often confused with each other. However, the two sauces have a difference. Caramel sauce is made with white sugar, while butterscotch sauce is made with brown sugar.
The brown sugar gives the butterscotch sauce a slightly more earthy and rich tone. Otherwise, both recipes use the same method and ingredients.
We will often interchange the name of butterscotch sauce with toffee sauce. That is because toffee sauce and butterscotch sauce are the same. They have the same ingredients and are made the same way. Same sauce, different name 😉
Toffee typically is cooked a bit longer to make a crunchy candy like our English toffee. When you don't cook it to the hard crack stage then it stays a pourable sauce.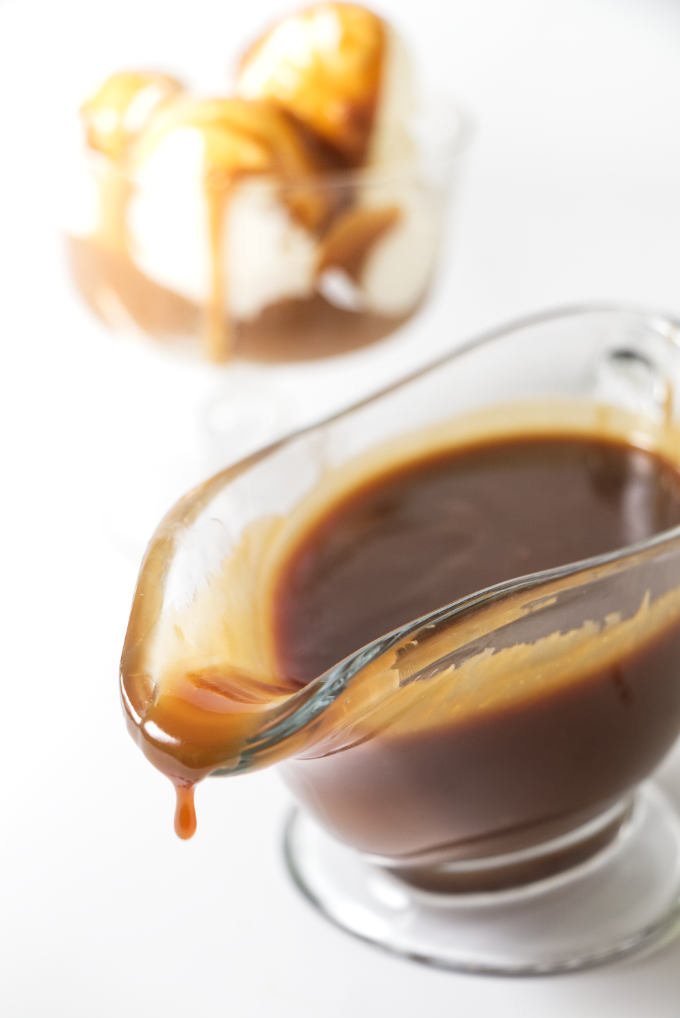 Frequently Asked Questions:
Should I purchase a candy thermometer?
No, you do not need a candy thermometer to make butterscotch sauce.
Can I substitute milk for heavy cream?
You will not get the same texture or consistency if you use milk in this recipe. The high butterfat content is what makes this butterscotch sauce so thick, rich, and creamy.
Can I freeze butterscotch sauce?
You can! Once the sauce is completely cooled, place it in an airtight container and freeze for up to 3 months.
Why is my butterscotch sauce separating?
Separation occurs when the sauce does not heat evenly. Use a heavy pot that distributes the heat evenly. Separation can also occur if there is too much humidity in the kitchen or if it doesn't get stirred when it heats up. If it separates, add a couple of tablespoons of water to the sauce and heat it until it bubbles. You could also use an immersion stick blender to combine the toffee sauce.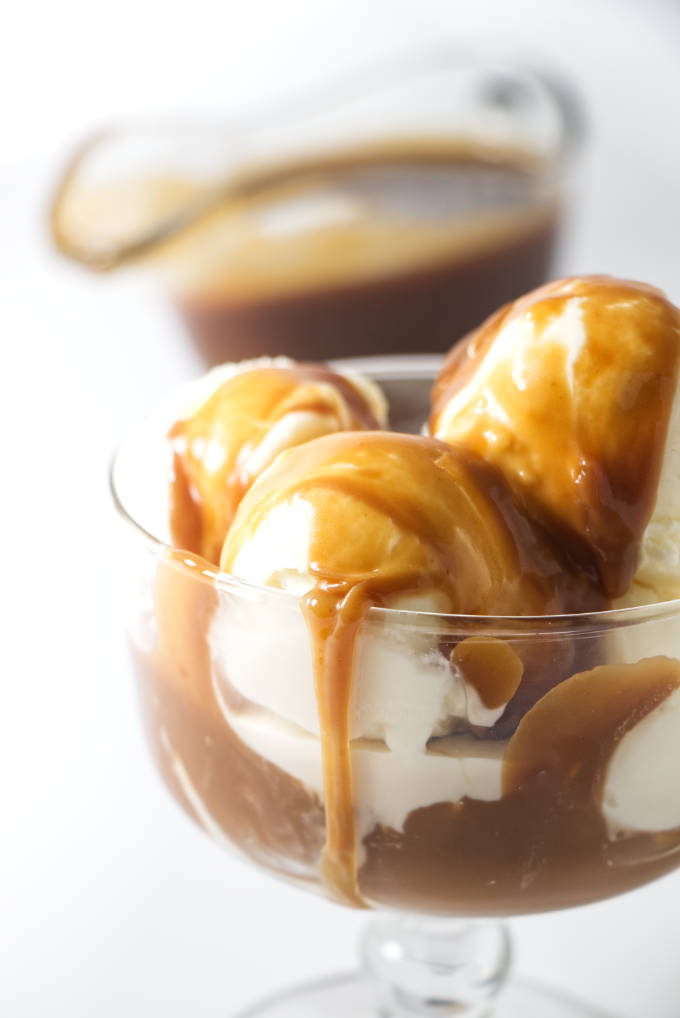 Helpful Tools:
Some of the following are affiliate links. If you click on these links and purchase something, we may receive a small commission. You don't pay any extra but it will help us keep the lights on.
Some Other Recipes We Are Sure You Will Love:
This brown sugar fudge has a similar flavor to our butterscotch sauce but it is in fudge form. Topped with a rich chocolate layer and loaded with nuts, this is a candy you will want to sink your teeth into.
Our chocolate chip muffins are loaded with mini chocolate chips and topped with a toffee streusel. Eat if for brunch or dessert and don't forget the coffee.
This chocolate chip banana bread is sweetened with a bit of brown sugar for a deeper, caramel note. Every bite has plenty of chocolate since with used mini chocolate chips that scatter throughout the batter.
Connect With Savor the Best:
Please follow us on our social media accounts
Facebook * Instagram * Pinterest * Twitter * Youtube
Did you make this recipe? We would love to hear from you. Drop us a comment below.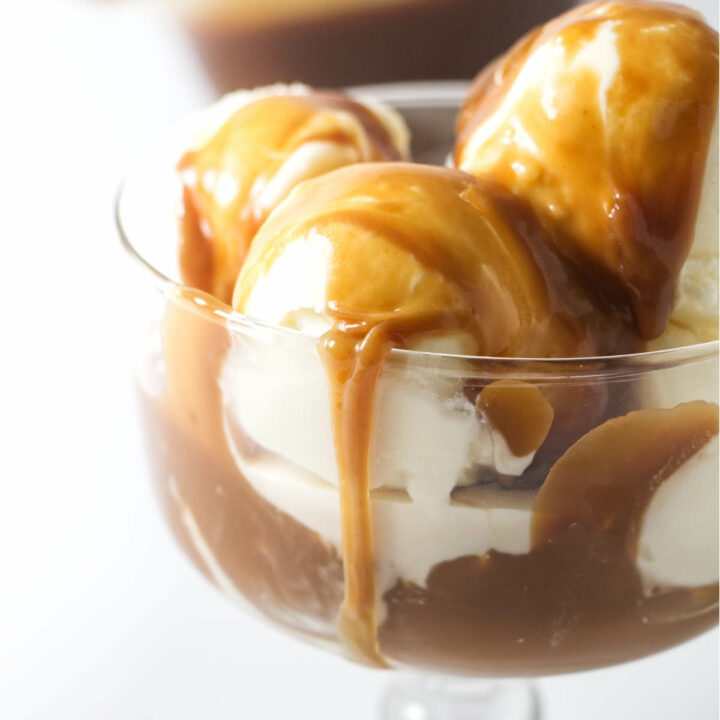 Butterscotch Sauce
Yield: makes 1-3/4 cups
Prep Time: 5 minutes
Cook Time: 10 minutes
Total Time: 15 minutes
This rich, decadent toffee or butterscotch sauce is remarkably easy to make and tastes great on so many things.
Pour it over ice cream, cakes, pudding, and custard or use it as a dip for a dessert and fruit board. The sauce thickens up as it cools down. If you want it thin and pourable just warm it up slightly.
Ingredients
1/2 cup (8 tablespoons) butter
1 cup brown sugar
1/4 teaspoon salt
1 cup heavy cream, warmed slightly
1 tablespoon rum or Scotch whiskey (optional)
1 teaspoon vanilla extract
Instructions
Melt the butter in a saucepan over medium high heat. Stir in the sugar and salt. Cook over medium high heat for 3 to 4 minutes until the sugar turns a dark amber color. Only stir occasionally during the first couple of minutes to distribute the heat evenly. When the mixture starts to get darker start to stir frequently.
When the mixture is a dark amber color, slowly pour in the cream while constantly whisking. If the it starts to bubble up too much stop pouring the cream and give the mixture a good whisk then start pouring slowly again.
Reduce the heat to medium-low. Add the rum or whiskey, if using and cook for 3 to 5 minutes until the sauce is glossy.
Remove from heat and stir in the vanilla extract.
Notes
Avoid stirring too frequently to prevent sugar crystals.
If the cream is warm it won't bubble up as much when you add it to the sugar mixture.
Use a 2 to 3 quart saucepan so you have plenty of head space in case the sauce bubbles up when you add the cream.
Recommended Products
As an Amazon Associate and member of other affiliate programs, I earn from qualifying purchases.
Nutrition Information:
Yield: 28
Serving Size: 1 tablespoon
Amount Per Serving:
Calories: 55
Total Fat: 3g
Saturated Fat: 2g
Trans Fat: 0g
Unsaturated Fat: 1g
Cholesterol: 10mg
Sodium: 23mg
Carbohydrates: 7g
Fiber: 0g
Sugar: 7g
Protein: 0g
Nutrition information is a guideline only, is calculated automatically by third-party software, and absolute accuracy is not guaranteed.