This buttery, rich, and sinfully delicious oatmeal shortbread is such an easy recipe and you only need 5 ingredients. It only takes 5 to 6 minutes to mix up the batter then the oven does all the work. You will be rewarded with a tender, crisp, and insanely addictive shortbread.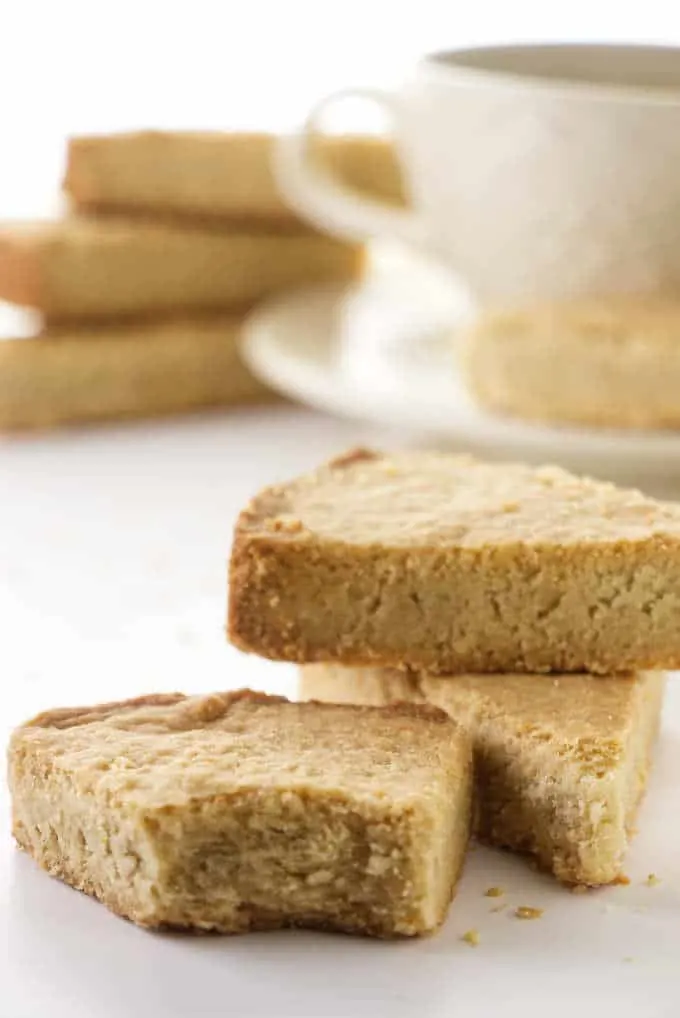 The oat flour adds a nutty flavor to this shortbread and it reduces the gluten development, which gives it a more tender, crumbly texture. It is only lightly sweetened and full of rich buttery flavor.
If you like this recipe, try our easy shortbread pastry for pies and tarts or our chocolate sugar cookies for a sweet treat.
Oatmeal Shortbread
This oatmeal shortbread is so easy. You don't need a food processor but if you happen to have one, you can mix the batter right in the processor bowl. If you don't have a food processor, no problem. There are a few ways to mix the shortbread batter and each method comes out perfectly.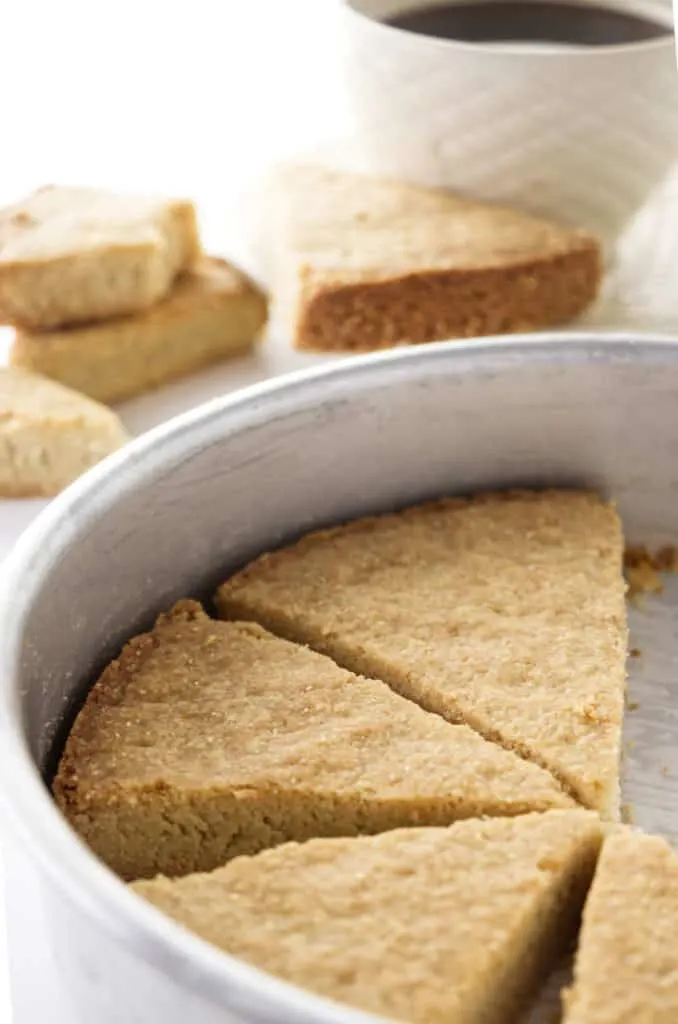 Ingredients needed for this recipe.
You only need 5 ingredients and that includes salt which a lot of people don't include when they count the ingredients. 😉
Rolled oats. Or use oat flour. Keep reading for all the tips.
Flour
Powdered sugar
Butter
Salt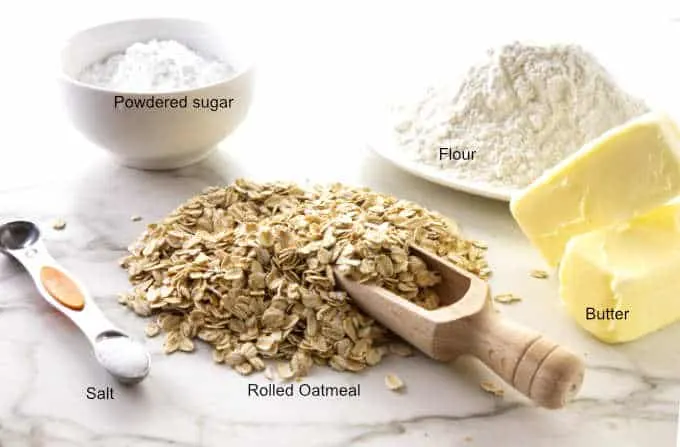 How to make oatmeal shortbread.
This recipe only takes a few steps and a few minutes of hands-on time. We are making this recipe with oat flour. You can grind your own oat flour or purchase the flour. Here is a quick low-down and some tips. Don't forget to scroll all the way to the bottom for the printable recipe card.
Grind the oatmeal into flour. Read below for different ways to do this… OR, you can skip this step if you start with oat flour. 😉
Blend the rest of the dry ingredients together with the oat flour.
Mix the butter into the dry ingredients.
Press the batter into a pan.
Bake! Then turn the oven OFF.
Score the shortbread into sections then let it sit in the oven to get crisp. Don't turn the oven on for this step.
Keep reading for all the tips and tricks!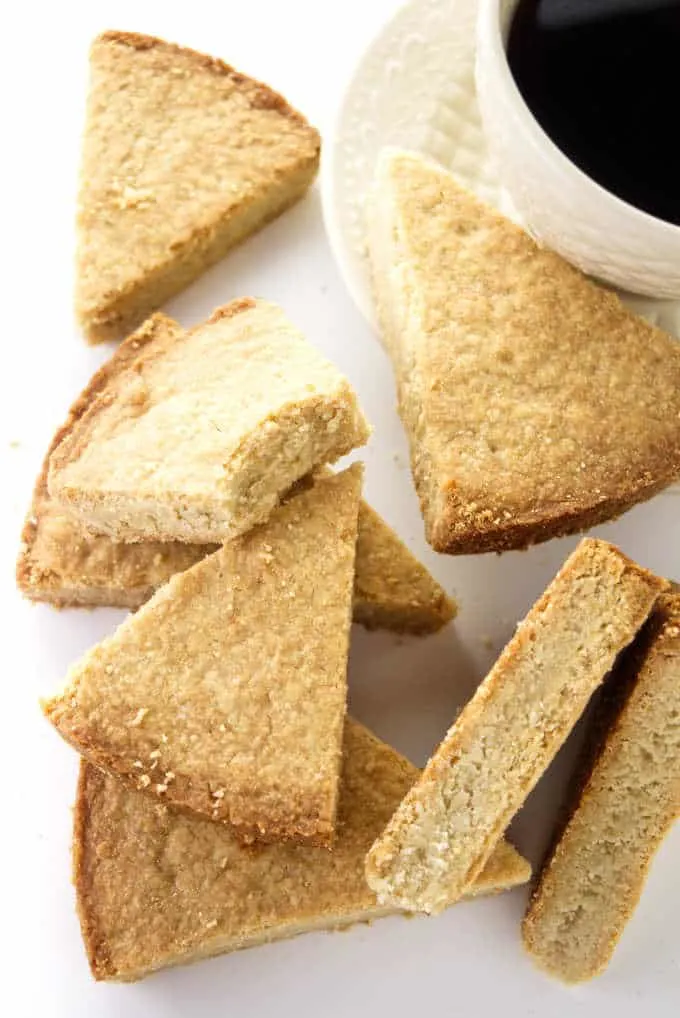 Tips for the best oatmeal shortbread.
Grind the rolled oats very finely for the best texture. Keep reading to see some different ways to grind the oats. If you have oat flour on hand you can skip this step.
Turn the oven down after 10 minutes. The recipe has you start the oven at 400°F. The high heat helps get a beautiful golden crust but you need to drop the temp after the first 10 minutes to avoid burning the shortbread cookie.
Score the oatmeal shortbread while it is still hot. As soon as the baking time is finished, the shortbread will be soft and easy to slice. Make as many slices in the giant cookie as you want but do it while it is still hot. If you wait then the cookie base will be too crumbly and hard to slice.
Put the shortbread back into the oven but DO NOT turn the oven on. By letting it sit in the warm, but OFF oven for an hour, the shortbread will dry out more. That will make the shortbread crisp and crumbly without burning it.
How to grind rolled oats to make oat flour.
We turned rolled oatmeal into flour. You can use a few different appliances to make oat flour.
Food processor
High-speed blender
Spice grinder
A food processor is the easiest, in my opinion. It only takes 1 to 3 minutes (depending on your food processor) and when you're finished you can mix the rest of the ingredients in the processor bowl.
A high-speed blender does a really good job but you will need to stop the blender a couple of times and shake it around. Some of the finely ground flour gets trapped at the bottom and prevents the rest of the oats from being ground. It takes a little bit more effort but about the same amount of time.
A spice grinder will work in a pinch but you will need to grind the oats in batches. The recipe uses 1 cup of oats and most spice grinders will only hold 1/4 cup to 1/3 cup at a time.
How to use oatmeal shortbread.
Oatmeal shortbread cookies are perfect to enjoy with a cup of tea or coffee but there are other things you can use this shortbread for.
Crumble the shortbread and use the crumbs for a pie crust like this graham cracker crust. It will taste similar to a shortbread pastry.
Dip the shortbread into melted chocolate. These shortbread cookie triangles are not too sweet so they are perfectly amazing with a drizzle of chocolate.
Crumble some chunks into chocolate chip cookie dough to give your cookies extra texture and flavor.
They freeze well so go ahead and bake a batch, eat a few then toss the rest in the freezer.
Frequently asked questions
What is the difference between butter cookies and shortbread cookies?
It may sound surprising but shortbread cookies have a higher ratio of butter in them than butter cookies. Butter cookies also call for eggs and a leavening but shortbread cookies do not have eggs or any leavening.
Why is my shortbread crumbly?
Shortbread is supposed to be crisp and crumbly. The high ratio of butter makes them tender and delicate. Since this recipe has oat flour in it (made from oatmeal flakes), it guarantees that you will have a tender, crisp, crumbly texture.
Can I bake these in a square pan?
Absolutely. You can use an 8-inch square pan for this recipe. The shortbread will be slightly thinner and you will want to decrease the baking time by 5 minutes.
Some Other Recipes We Are Sure You Will Love:
These butterscotch pumpkin oatmeal cookies are simply amazing. The cookies are tender, chewy, and gluten-free.
Chewy oatmeal raisin cookies are perfect pantry-ready cookies. You should have everything you need for these cookies.
Our blueberry banana baked oatmeal makes an amazing breakfast. The recipe is fast and easy to mix up then the oven does all the work.
Connect With Savor the Best:
Please follow us on our social media accounts
Facebook * Instagram * Pinterest * Youtube * Twitter
Did you make this recipe? We would love to hear from you. Drop us a comment below.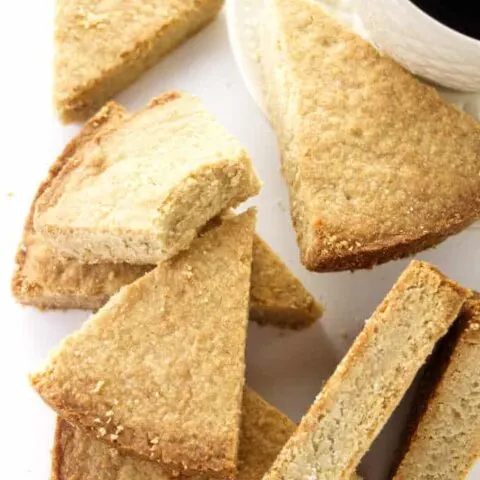 Oatmeal Shortbread
A buttery shortbread with the addition of ground oats to add a nutty, oaty flavor and crisp texture.
Ingredients
1 cup (100 grams) oats (or 1/3 cup oat flour)
1 ½ cups (210 grams) flour
2/3 cup (80 grams) powdered sugar
½ teaspoon salt
1 cup unsalted butter, at room temperature
Instructions
Preheat the oven to 400°F. Lightly grease an 8" round cake pan or springform pan.
Grind the oats in a blender or food processor until they are a fine powder (skip this step if you are using oat flour).
If you are using a food processor, add the flour, confectioners sugar, and salt to the processor bowl and pulse a few times. If you don't have a food processor add the oat flour and the dry ingredients to a mixing bowl and whisk them together.
Add the butter and blend the ingredients together either by pulsing the food processor or by using an electric mixer. The batter should come together in a smooth mass.
Press the dough into the prepared pan and use a knife to score it into 16 wedges.
Bake for 10 minutes at 400° then reduce the oven temperature to 250° and bake for 25 to 30 minutes until golden brown.
Remove the shortbread from the oven and turn the oven off. Using a sharp knife, cut along the scored lines while the shortbread is still hot. Place the pan back in the oven but do not turn the oven on. Let the shortbread sit in the oven with the door closed for 1 hour while the oven cools down (this will let the shortbread dry out and develop a crisp texture).
Remove the shortbread from the oven and allow it to cool completely.
Notes
When the shortbread is finished baking, if you let it stay in the oven with the oven off, the shortbread will get extra crispy.
Recommended Products
As an Amazon Associate and member of other affiliate programs, I earn from qualifying purchases.
Nutrition Information:
Yield:

16
Serving Size:

1
Amount Per Serving:
Calories:

102
Total Fat:

12g
Saturated Fat:

7g
Trans Fat:

0g
Unsaturated Fat:

4g
Cholesterol:

31mg
Sodium:

68mg
Carbohydrates:

0g
Fiber:

0g
Sugar:

0g
Protein:

0g
Nutrition information is a guideline only, is calculated automatically by third-party software, and absolute accuracy is not guaranteed.
This recipe was originally posted on October 13, 2014. We updated the photos but left one of the original photos below.