There is nothing better than waking up to the smell of freshly baked cinnamon rolls. Well I didn't exactly wake up to them but the other sleepy heads in the house did. I woke up at 5am, not because I had to or wanted to but because I just can't help it. No matter how hard I try, I can't seem to train myself to sleep in. So if I am not going to work, I still get out of bed early. It worked to Jon and Joshua's advantage this morning because I whipped up these delicious sticky gooey cinnamon rolls for them to wake up to.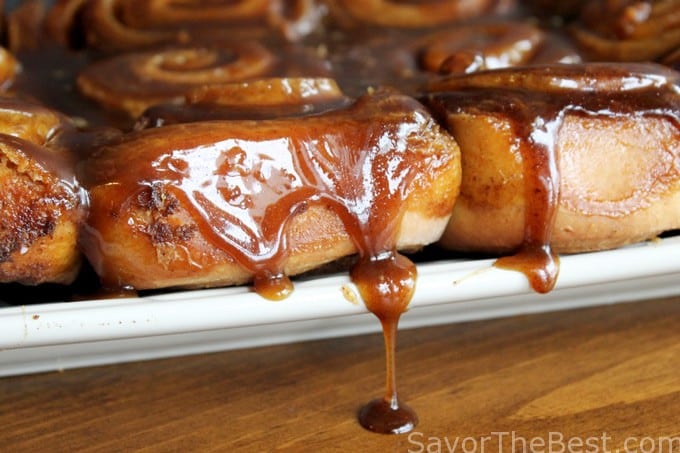 Josh came down from Seattle to visit a friend last night and stayed the night here since he was out late. With an extra mouth in the house and someone to take the cinnamon rolls away after I eat one, it was a good time to make some of my favorite sticky, gooey, rich, and tender cinnamon rolls.
Oh, these rolls are good! There is a bounty of sticky caramel sauce that oozes into the tender, buttery rolls. I can't control myself when I make these so I have to make them for other people, eat one and get them out of the house promptly. These are not your supermarket sticky cinnamon rolls.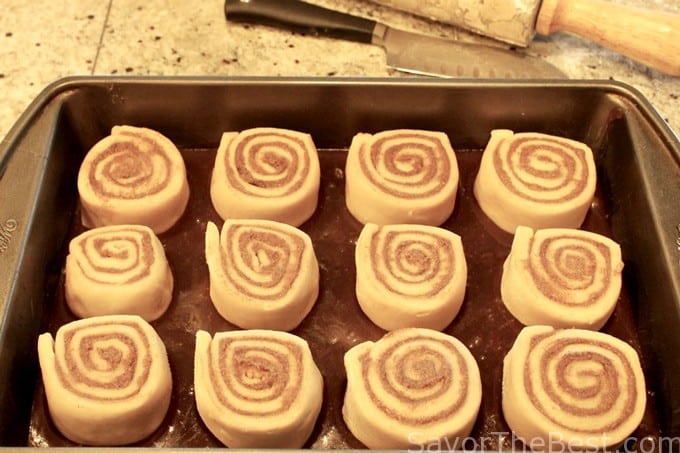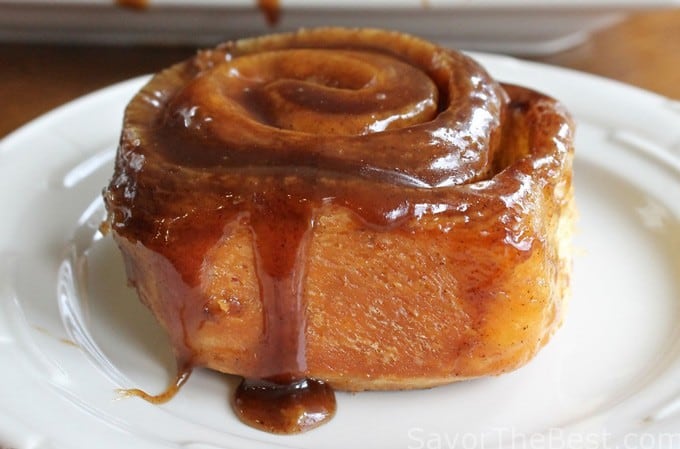 These are so much better that you will never want to buy a store bought cinnamon roll again. The brown sugar, caramel sauce is both sinfully rich and HEAVENLY at the same time.
The rolls are rich, tender, light, fluffy, and melt in your mouth. The dough is very similar to my brioche dough but adapted for a bread machine so I have some time to get a workout in while the machine works on the dough.
Come to think of it, I should get two workouts in with these in my belly.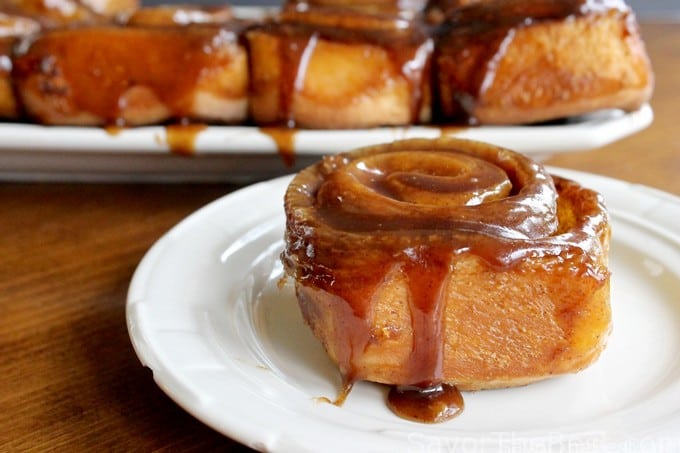 CONNECT WITH SAVOR THE BEST!
Be sure to follow us on our social media accounts
Facebook | Twitter | Youtube | Pinterest | Instagram
If you make one of our recipes, snap a photo and tag it @savorthebest on Instagram and hashtag it #savorthebest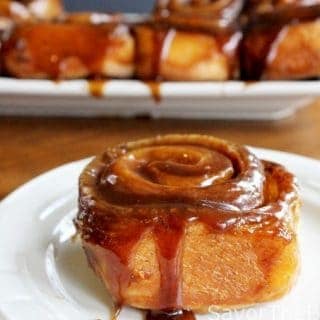 Sticky Gooey Cinnamon Rolls
Yield: 12 servings
Prep Time: 30 minutes
Cook Time: 30 minutes
Total Time: 1 hour
If you like cinnamon rolls you are sure to love these delicious sticky gooey cinnamon rolls and they are even more delicious right out of the oven for breakfast. This recipe uses a bread machine.
Ingredients
Tender Buns
3 eggs, room temperature
1/3 cup warm milk
½ cup (4 oz or 113 g) butter, softened
1 ¾ cups (228 grams) all-purpose flour
3 1/2 cups (420 grams) bread flour
1/4 cup sugar (50 grams)
3/4 teaspoons salt
2 ¼ teaspoons instant dry yeast
Cinnamon Filling
1/2 cup light brown sugar, packed (110 grams)
1/2 cup sugar (100 grams)
½ cup (4 oz or 113g) butter, softened
2-4 tablespoons cinnamon
Sticky Gooey Caramel Sauce
½ cup(4 oz or 113 g) butter
1 cup (220 g) light brown sugar, packed
¼ cup (50 g) sugar
1/3 cup corn syrup
2 tablespoons water
¼ teaspoon salt
¾ cup cream
½ teaspoon vanilla extract
Instructions
Make the Tender Dough:
Place all the ingredients in the bread maker in the order listed or as recommended by the machine manufacturer. Turn the machine to dough setting and press start. You may need to help the ingredients blend together in the first minute of mixing by stirring the edges with a spatula.
While the dough is mixing and proofing, make the cinnamon filling and sticky caramel sauce below. Set them aside until ready to use.
Cinnamon Filling
Mix the brown sugar, butter, and cinnamon together until they form a paste. Set aside at room temperature until the dough is ready to roll out.
Sticky Caramel Sauce
In a large saucepan, combine the butter, brown sugar, sugar, corn syrup, water, salt, and cream. Bring to a boil over medium-high heat and boil for 3 minutes. Remove from heat, stir in the vanilla extract and pour into a 13 by 9-inch baking pan. Set aside until the cinnamon rolls are ready to be placed on the sauce.
Make the Rolls and Bake them:
Once the bread dough cycle is complete, remove the dough and place it on a clean, floured work surface. Roll the dough out to a 16 by 24-inch rectangle.
Spread the cinnamon filling over the dough and starting at the long end, roll the dough into a 24-inch long log.
Using a sharp knife, slice the dough every 2 inches. If you do not have a very sharp knife then you can use dental floss or thread to wrap around the log then pull the ends to cut the roll without squishing it.
Place the rolls on top of the caramel sauce in the pan then cover loosely with a dish towel and let sit in a warm place for an hour until doubled in size.
Pre-heat the oven to 350°. Uncover the rolls and bake for 25 to 30 minutes until golden brown.
Allow the rolls to cool in the pan for 10 to 15 minutes then run a knife around the inside edge of the pan to loosen the rolls from the edge. Invert the pan onto a platter so the sticky gooey sauce is on top, be certain the pan is not too hot when you do this or the caramel sauce will burn you.
Serve warm.