Bite-sized portions of soft pretzels with a crisp exterior. These beer pretzel bites are perfect for a game day party.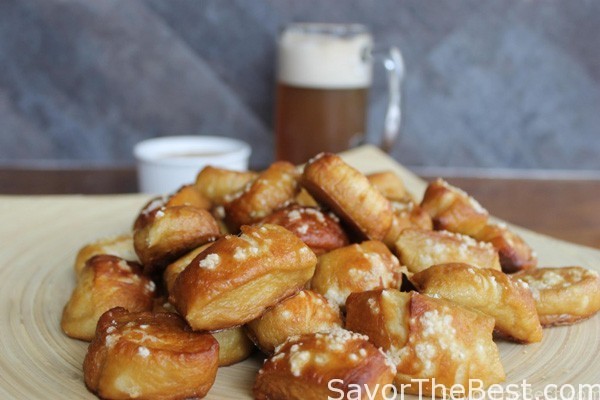 With the super bowl around the corner, Jon and I are planning to have family over to watch the game (and the commercials). I don't know how much of the game I will be able to watch because I am on call at work and could get called in at any time. So I have to plan for the possibility of missing the whole day but I will hope for the best.
Part of my plan is to make things ahead of time. These pretzel bites can be made in advance and frozen until game day. Not only is the batter spiked with beer, but the bath they are boiled in has beer in it to really ramp up the flavor.
Boiling them before baking creates that classic chewy exterior and soft tender interior so don't skip this step if you want that classic pretzel flavor and texture.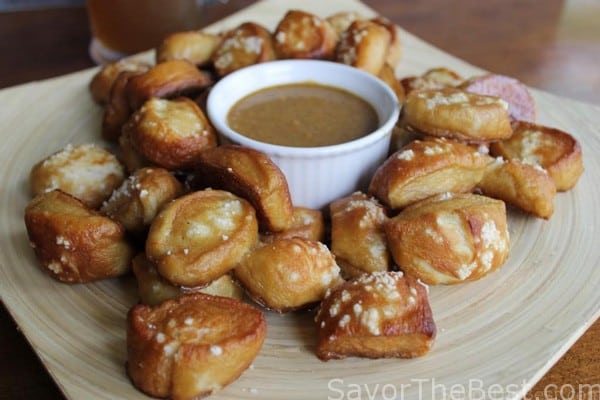 SOME OTHER RECIPES WE ARE SURE YOU WILL LOVE:
Slow Cooker Turkey and Beer Chili with Beans
Sauerbraten (German Style Pot Roast)
CONNECT WITH SAVOR THE BEST!
Be sure to follow us on our social media accounts
Facebook | Twitter | Youtube | Pinterest | Instagram
If you make one of our recipes, snap a photo and tag it @savorthebest on Instagram and hashtag it #savorthebest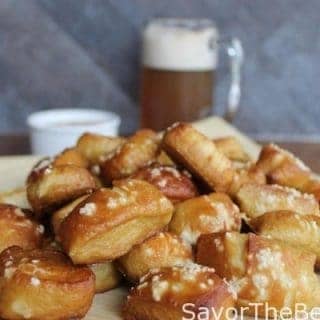 Beer Pretzel Bites
Yield: 60 pretzel bites
Prep Time: 30 minutes
Cook Time: 14 minutes
Total Time: 44 minutes
Bite sized portions of pretzels baked with beer to ramp up the flavor.
Ingredients
Pretzel Bites
2 ¼ cups (313 g) all purpose flour
¾ cup warm beer
4 tablespoons butter, melted
2 teaspoons sugar
2 teaspoons instant yeast
1 teaspoon salt
Beer bath
4 cups beer
4 cups water
1/3 cup baking soda
Topping
1 egg
1 tablespoon water
coarse sea salt or pretzel salt
Honey Mustard Dip
½ cup spicy brown mustard
1/3 cup honey
2 teaspoons mustard seeds
Instructions
Pretzel Bites
Combine all the ingredients in a large bowl and mix until it forms a ball. Cover the bowl with plastic wrap and let it sit for 10 to 15 minutes. Either with an electric mixer or by hand, knead the dough for about 10 minutes until it is smooth and elastic.
Place the dough in a bowl that has been lightly oiled. Oil the top of the dough and cover the bowl with a cloth. Place in a draft free area for 1 to 2 hours until it has doubled in size.
Line a baking sheet with parchment paper. Turn dough out onto a floured surface and divide it into 2 equal pieces. Roll each half of dough into a log 30 inches long then cut the logs into 1-inch sections and place them on the baking sheet. Cover the dough bites with a towel and let rest for 20-30 minutes.
Pre-heat oven to 450°. Place the beer, water, and baking soda in a large 8-quart pot. The mixture will foam up when the baking soda is added so make sure there is room at the top of the pot. Bring the mixture to a boil.
Working in batches of about 15 dough bites at a time, place the dough bites in the boiling beer bath for 30 seconds to 1 minute. Remove them with a slotted spoon or strainer and return them to the baking sheet.
Whisk the egg with 1 tablespoon of water and brush over the tops of the pretzel bites then sprinkle with salt.
Bake for 12 to 16 minutes until golden brown. Transfer to a cooling rack for 5 to 10 minutes.
Honey Mustard Dipping Sauce
Combine the honey, mustard, and mustard seeds until well blended. Serve with the pretzel bites
Nutrition Information:
Yield: 30
Serving Size: 2 pieces
Amount Per Serving:
Calories: 52
Total Fat: 1.6g
Sodium: 89mg
Carbohydrates: 8g
Protein: 1g