Beer pretzel bites are the perfect party food. They have a chewy, slightly crisp crust on the outside and are soft and tender inside.
Adding beer to the dough gives them a depth of flavor that takes these pretzel bites to a new level. Dunk them in a spicy mustard dip or beer cheese sauce and you have a party favorite.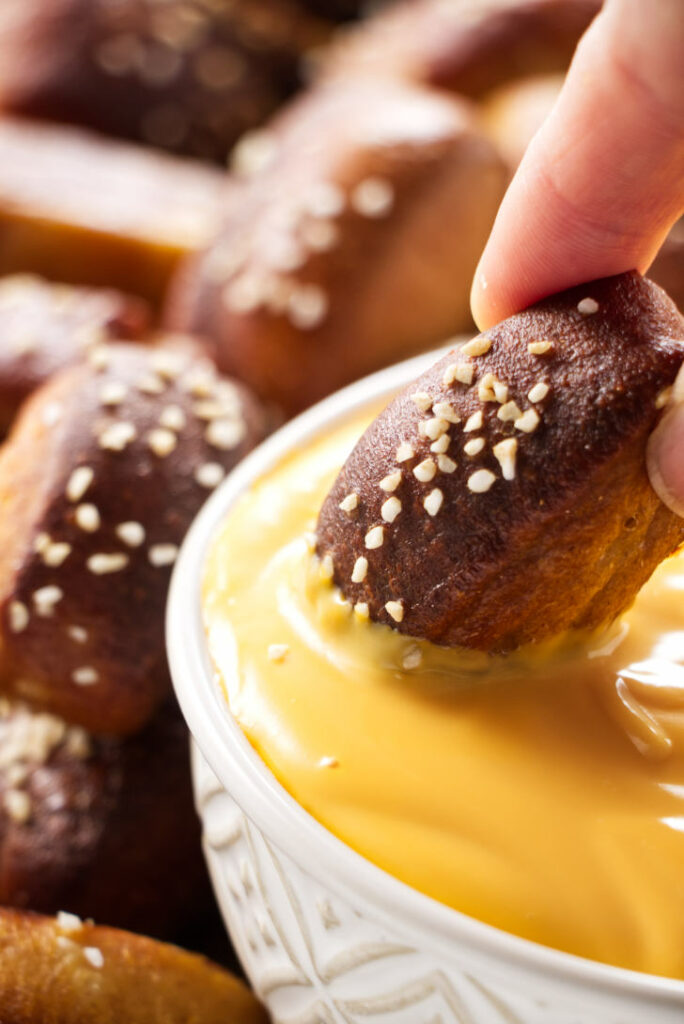 Serve these pretzel bites as an appetizer with dips and spreads like our Buffalo chicken dip , baked brie, and Liptauer cheese spread. They are also wonderful served alongside our turkey chili with beans.
If you want to include beer pretzel bites with a German theme dinner, we have several ideas for a fantastic German feast.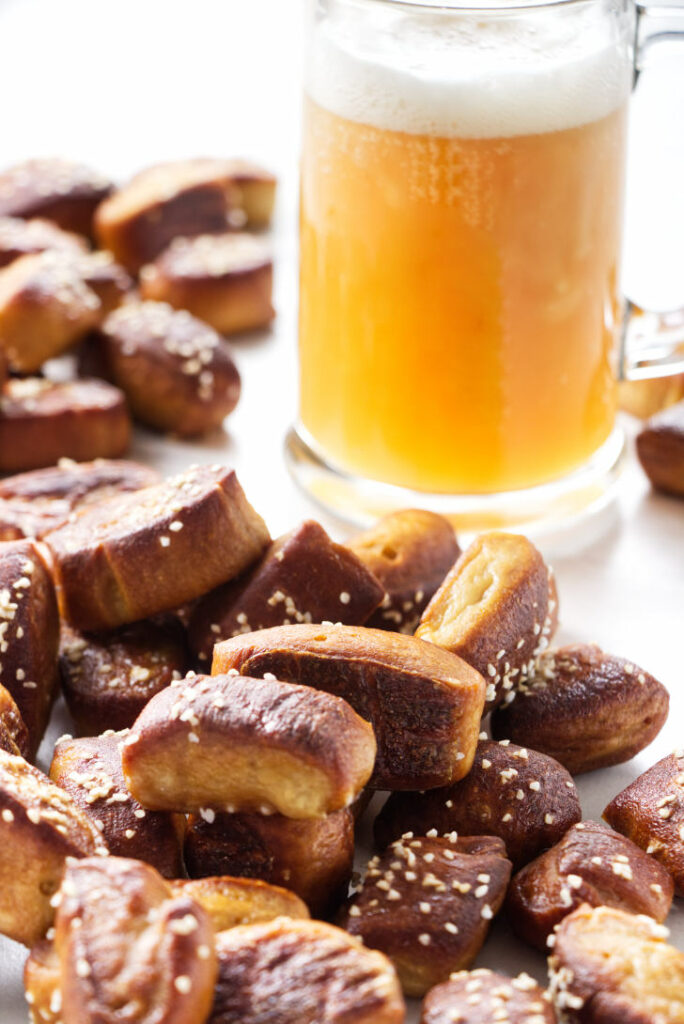 Here is Why This Recipe Works
Bread flour helps the pretzels get that iconic chewy texture.

A baking soda bath enhances the Maillard reaction, giving them a classic pretzel-brown color.

The baking soda bath aids in the formation of a crispy yet chewy texture for which pretzel bites are well-known.

Large, coarse flakes of pretzel salt give these briny pretzel bites an extra crunch and classic flavor.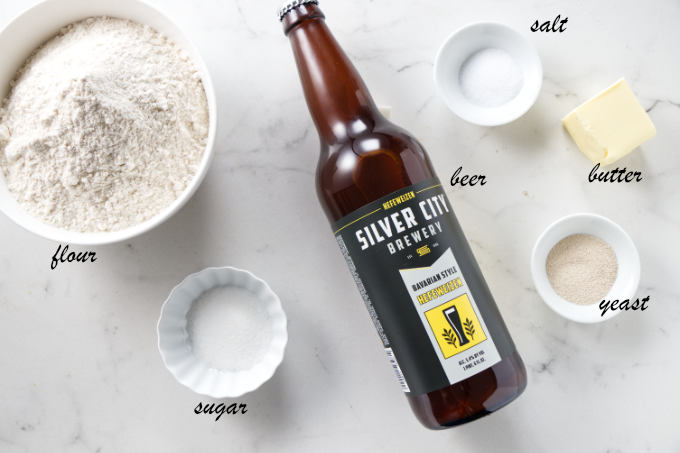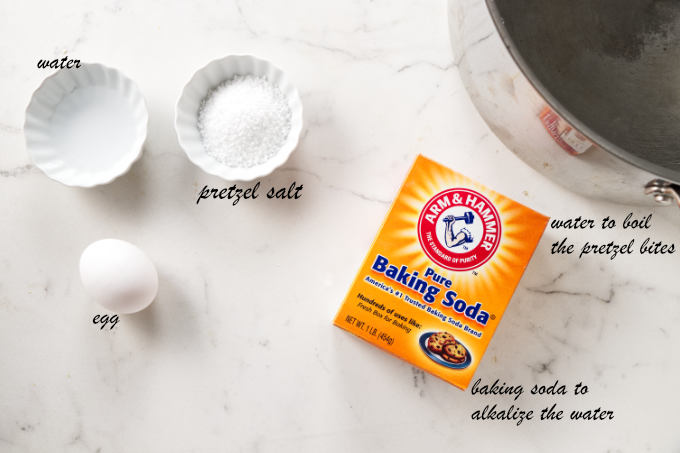 The Ingredients
Here is a list of the ingredients you will need for this recipe. Scroll down to the printable recipe card for all the details.
Beer. Any beer will work, but strong-flavored beer works best.

Sugar. The sugar speeds up the rise time and helps the browning process.

Yeast. We are using instant yeast in this recipe.

Butter. Butter adds richness to the dough.

Flour. Bread flour works best for this recipe, but you can use all-purpose flour if that is all you have.

Salt. Regular table salt for the dough and pretzel salt to sprinkle on top of the beer pretzel bites.

Baking soda. The baking soda alkalizes the water you use to boil the pretzel bites.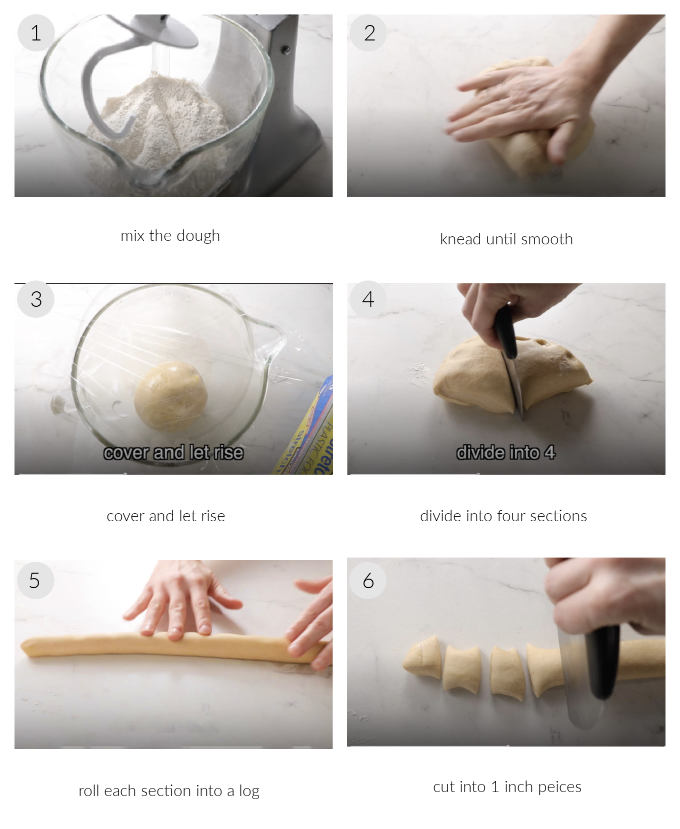 How to Make It
Here is a brief overview to get an idea of what to expect with the recipe. Scroll down to the printable recipe card for all the details.
Combine the ingredients for the pretzel dough and knead the dough until it is smooth. Let the dough rise.

Roll the dough into logs, slice into 1-inch pieces, and then lay them out on a baking sheet.

Let the dough bites sit until slightly puffy.

Mix the baking soda in a pot of water and bring it to a boil. Drop the pretzel bites in the boiling water briefly. Remove them and place them on a baking sheet.

Brush the pretzel bites with an egg wash and sprinkle them with pretzel salt. Bake until dark brown.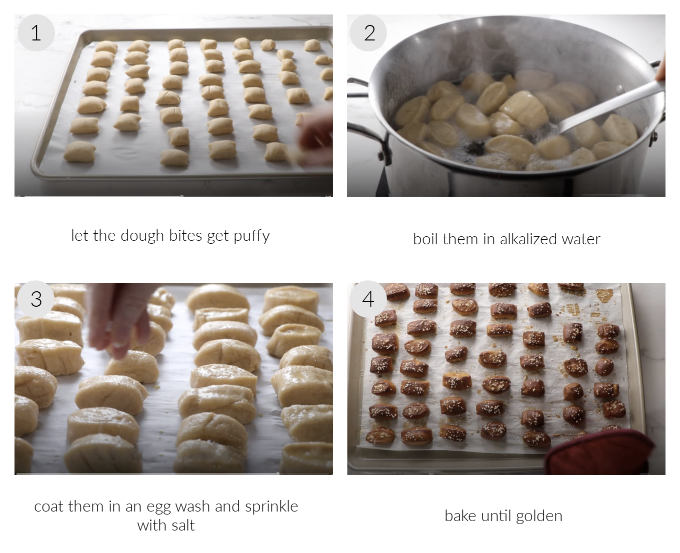 Tips for Success
Use bread flour for chewier pretzel bites and knead the dough until smooth.

If you want the pretzel bites denser and chewier, increase the length of time you boil them. Boil them for 60 seconds if you want a chewier crust.

When removing the pretzel bites from the water, let them drain on a rack before transferring them to the baking sheet.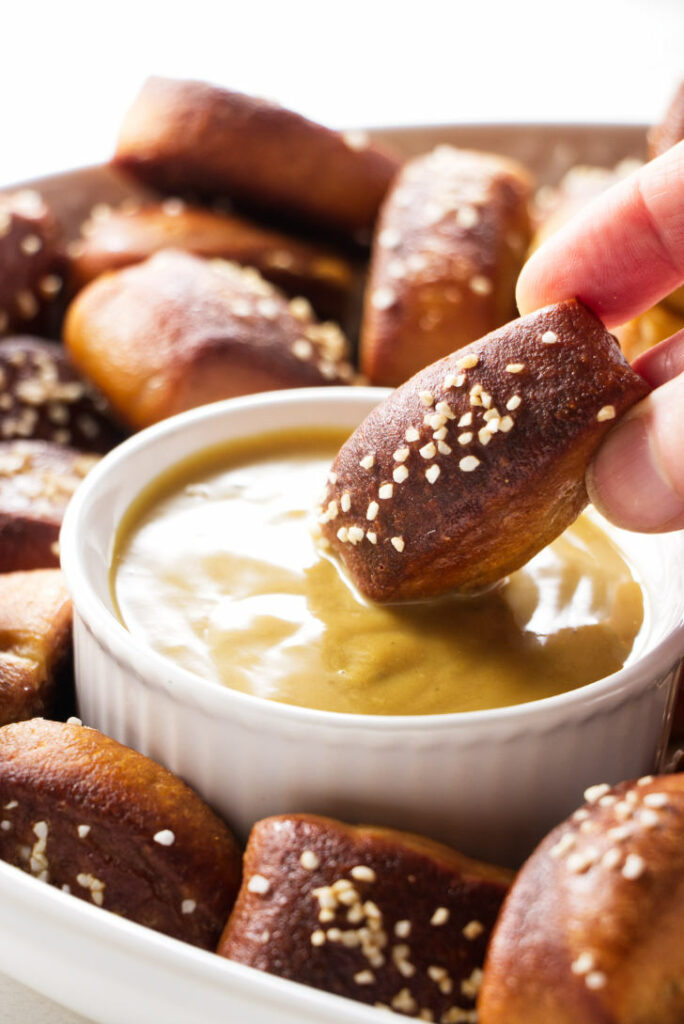 Frequently Asked Questions
How do you keep pretzel bites warm?
A ceramic bread warmer will keep the pretzel bites warm without drying them out. Heat the ceramic warmer in an oven, wrap it in a towel, and place it in a basket. Place the pretzel bites in the basket and keep it covered.
Can I make pretzel dough in advance?
Yes. After mixing the dough, you can place it in the refrigerator for up to 48 hours. You can also freeze the dough for up to 3 months.
Why do you boil pretzels in baking soda?
Boiling the pretzels in a baking soda water mixture is what gives them their unique flavor and texture.

The alkalinity of the baking soda reacts with the protein in the dough to form an elastic, chewy crust on the outside and gives them their characteristic dark brown color and shiny crust.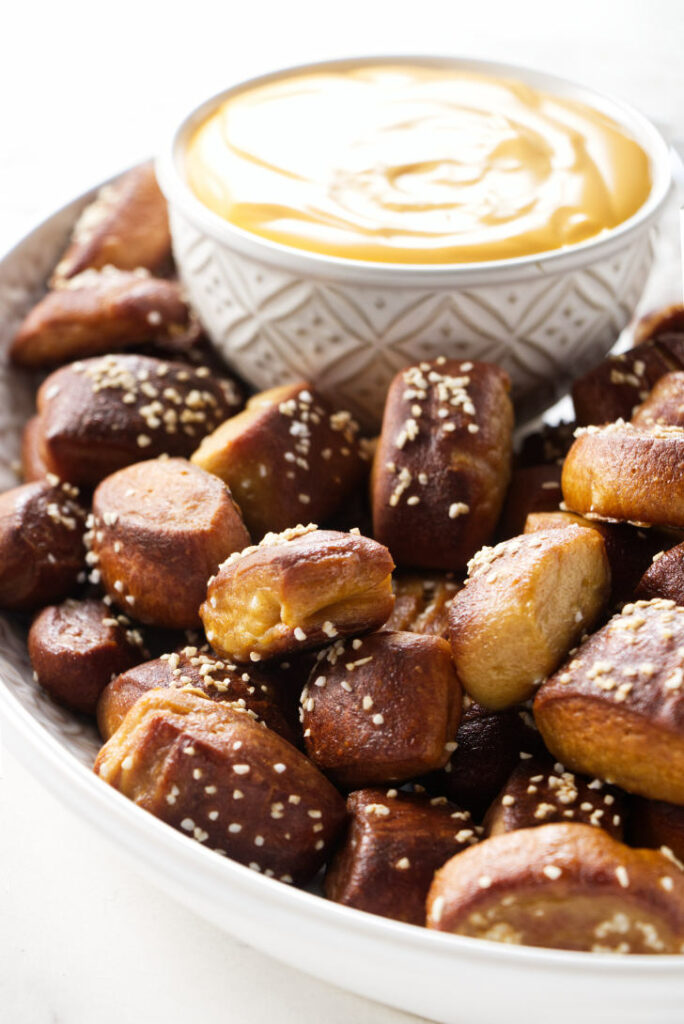 Some More Recipes You Will Love:
These cucumber shrimp bites are a simple yet delicious dish. They can be made in minutes, so they're ideal for last-minute parties or when you just need something fast.
This Homemade Chili Beans with dried beans is a recipe you'll want to try. A long, slow simmer ensures a deep, rich flavor!
These sirloin steak bites make a fantastic appetizer. They are simple to put together and make a favorite at any party. They're wonderful dipped in the aioli sauce.
Connect With Savor the Best:
Please follow us on our social media accounts
Facebook * Instagram * Pinterest * Youtube * Twitter
Did you make this recipe? We would love to hear from you. Drop us a comment below.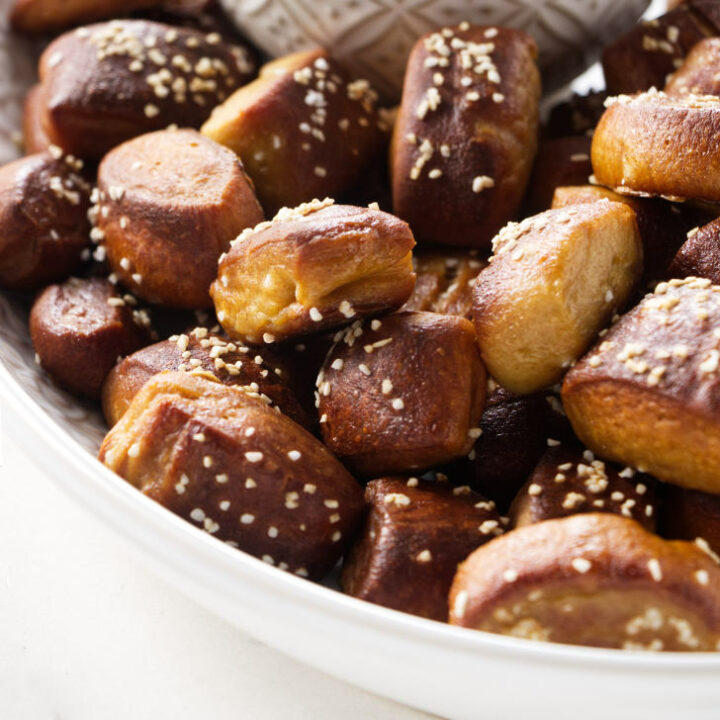 Beer Pretzel Bites
These beer pretzel bites have beer added to the batter to ramp up the flavor and give them a hint of maltiness.
With a slightly crisp outside and a fluffy, chewy inside, they're perfect for snacking on any time of day. And what's not to love about the classic combination of beer and pretzels?
Ingredients
Pretzel Bites
¾ cup warm beer
2 teaspoons sugar
2 teaspoons instant yeast
4 tablespoons butter, melted
2-1/2 cups (300 g) bread flour (or all-purpose flour)
1 teaspoon salt
Alkaline bath
7 to 8 cups water
1/2 cup baking soda
Topping
1 egg
1 tablespoon water
Pretzel salt
Honey Mustard Dip
½ cup spicy brown mustard
1/3 cup honey
2 teaspoons mustard seeds
Instructions
Pretzel Bites
Add the beer, sugar, and yeast to a mixing bowl and stir to dissolve the sugar. Let the mixture sit for a few minutes then stir in the butter, flour, and salt. Mix until it forms a ball.
Either with an electric mixer or by hand, knead the dough for about 10 minutes until it is smooth and elastic.
Place the dough in a bowl that has been lightly oiled. Oil the top of the dough and cover the bowl with a cloth. Place in a draft-free area for 1 to 2 hours until it has almost doubled in size.
Line a baking sheet with parchment paper. Turn the dough out onto a floured surface and divide it into 4 equal pieces. Roll each section of dough into a log 15 inches long. Cut the logs into 1-inch sections and place them on the baking sheet. Cover the dough bites with a towel and let rest for 20-30 minutes. They should get slightly puffy.
Pre-heat oven to 450°. Place the water and baking soda in a large 8-quart pot. Bring the mixture to a boil.
Working in batches of about 15 dough bites at a time, place the dough bites in the boiling baking soda bath for 30 seconds. Remove them with a slotted spoon or strainer and let them drain on a rack. Transfer then to the baking sheet.
Whisk the egg with 1 tablespoon of water and brush over the tops of the pretzel bites. Sprinkle with pretzel salt.
Bake for 12 to 16 minutes until golden brown. Transfer to a cooling rack for 5 to 10 minutes.
Honey Mustard Dipping Sauce
Combine the honey, mustard, and mustard seeds until well blended. Serve with the pretzel bites
Notes
Warm the beer to about 105°F to 110°F so the yeast proofs quicker. If you don't have an instant-read thermometer, just make a good guess. It should be warm enough for a baby bottle.
As a general rule, instant yeast does not need to be proofed but it gives the dough a head start if you give it a brief proof time before adding the flour.
Bread flour has a higher gluten content than all-purpose flour and will give the pretzels a chewier texture. It is worth getting bread flour for this recipe but all-purpose flour will also work.
We tried adding beer to the alkaline bath but since beer is acidic, we never achieved the iconic texture that pretzels have.
Recommended Products
As an Amazon Associate and member of other affiliate programs, I earn from qualifying purchases.
Nutrition Information:
Yield:

30
Serving Size:

2 pieces
Amount Per Serving:
Calories:

52
Total Fat:

1.6g
Sodium:

89mg
Carbohydrates:

8g
Protein:

1g
This recipe was originally published on January 31, 2014. We updated the photos and added a video and some helpful tips and guidance. We left one of the original photos below.
You can view our Web Story here.