Our beef steak bites with fresh horseradish aioli sauce are amazing! The steak bites are tender and juicy and one of the easiest appetizers that you can put together and add to the hostess' party table. Served room-temperature and with a garlic-horseradish aioli sauce to dip into they will be devoured in minutes.
What kind of steak should I use:
We used New York steaks, a little over one-inch thick in this recipe. But just about any steak, rib eye, tenderloin, porterhouse, etc. of an inch or thicker will work.
To keep this as simple as possible the steak is seasoned well with only salt and pepper and then pan-seared on a screaming hot cast iron griddle. A last-minute basting of butter, garlic and fresh thyme leaves adds additional amazing flavors.
How to make beef steak bites:
You want to start with a very hot pan. A cast iron skillet works really well here because it can take the heat. While the pan is heating up, trim the fat off your steaks then blot them dry with a paper towel. Season both sides of each steak with oil, salt and pepper then add them to the hot skillet.
According to Kenji at Serious Eats-The Food Lab, turning the steaks frequently during the cook time will produce a much more evenly cooked steak that will be tender and juicy. If you use this method, just keep turning the steaks with some tongs every two minutes.
After about six minutes, add the butter, garlic, and thyme to the pan and spoon the melted butter over the steaks. Cook the steaks until they are done to your preference.
We wanted our steak bites on the rare-ish side and we seared and flipped our steak until it reached 125°F on our instant read thermometer. If you like your steak cooked to medium then it should read 140°F to 145°F. For well done, the steak should be 155°F to 160°. We recommend taking the steak off the heat before it reaches your desired temperature. The steak will continue to cook for a couple of minutes after you remove it from the stove. When you take it off the heat before it reaches the final internal temperature then you have some insurance against over-cooking the steak.
After the steaks rest and cool for a few minutes, cut them into bite-size cubes insert wooden picks into each little steak bite.
Fresh Horseradish Aioli:
Horseradish is always a great option for beef and our fresh horseradish aioli sauce has a nice balance of garlic and horseradish.
You can make the aioli in advance and keep it refrigerated for up to one week.
This aioli sauce is smooth, creamy and does not have the sharp, vinegary taste that you find in commercial horseradish products. It is easy to put together and perfect for the beefsteak bites.
You may also like these appetizers:
CONNECT WITH SAVOR THE BEST!
Be sure to follow us on our social media accounts
Facebook | Twitter | Youtube | Pinterest | Instagram
If you make one of our recipes, snap a photo and tag it @savorthebest on Instagram and hashtag it #savorthebest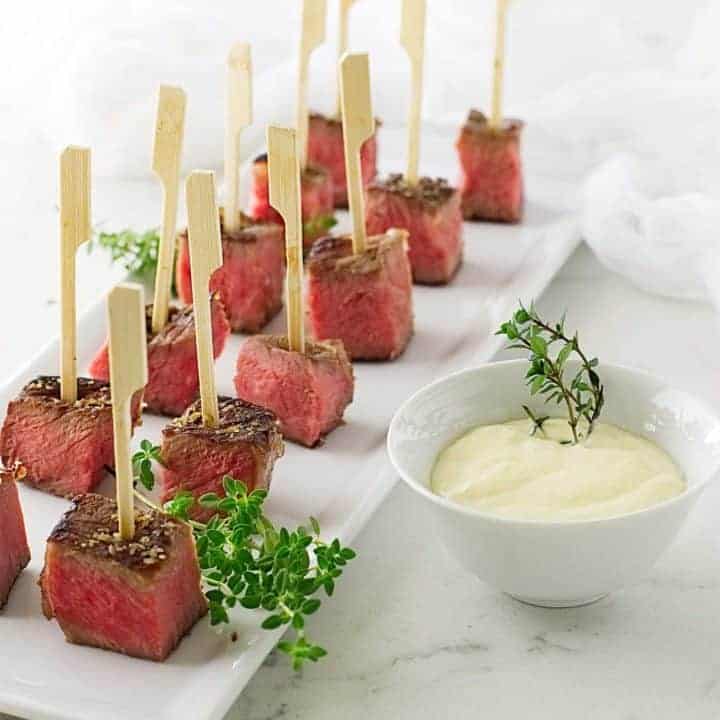 Beef Steak Bites with Fresh Horseradish Aioli Sauce
Yield: 12 servings
Prep Time: 10 minutes
cook Time: 10 minutes
Total Time: 20 minutes
Perfectly seared beef steak bites dipped in a garlic-horseradish aioli sauce. These bites are one of the easiest appetizers to put together. They are cooked rare and are juicy, tender. Cut into bite-size chunks they are perfect with the aioli sauce.
Ingredients
2 New York steaks, at least 1 1/2-inches thick, about 1 pound each
2 tablespoons oil
1 tablespoon Kosher salt
Freshly ground black pepper
2 tablespoons butter
1 teaspoon grated fresh garlic
Fresh thyme leaves
Fresh Horseradish Aioli Sauce
Instructions
Heat a cast iron skillet over high heat until it begins smoking.
While the skillet is heating, trim and discard the fat from the edges of the steaks, blot the steaks dry with paper towels. Brush one side of each steak with oil and season with salt and pepper.
Add the steaks to the hot skillet, seasoned side down. Brush oil on the upper side of the steaks and season with salt and pepper. Cook 2 minutes, using tongs, turn steaks over and cook the other side for 2-minutes. Continue to flip for 6 minutes, add the butter, garlic and thyme leaves to the pan and spoon over the top of the steaks as you continue to cook and turn them.
Cook to the desired doneness and remove from the skillet when the internal temperature reaches 125°F for rare, 135°F for medium rare or 145°F for medium. (Keep in mind the steak will continue to cook while resting. See notes below). Lightly cover the steaks with foil and allow to rest for at least 10 minutes.
Transfer the steaks to a cutting board and cut the steaks into 1-inch cubes, insert a wooden pick into each cube and arrange them on a serving plate. Garnish the plate with fresh herbs and serve the beef steak appetizers with a side dish of the fresh horseradish aioli sauce
Notes
Nutrition is based on two steak bites of 1 oz. each per serving
One-half tablespoon of aioli sauce is: 40 calories and 4.5 grams fat
If you want to ensure the steaks are cooked to your desired doneness, remove them from the heat when the internal temperature is 10 degrees lower than what you actually want it to be. For example, if you like your steak rare at 125° then take them off the heat when the temperature reads 115°F. They will continue to cook after you take them off the heat.
Recommended Products
As an Amazon Associate and member of other affiliate programs, I earn from qualifying purchases.
Nutrition Information:
Yield: 12
Serving Size: 2 pieces
Amount Per Serving:
Calories: 130
Total Fat: 6g
Saturated Fat: 2g
Cholesterol: 32mg
Sodium: 40mg
Protein: 15.4g