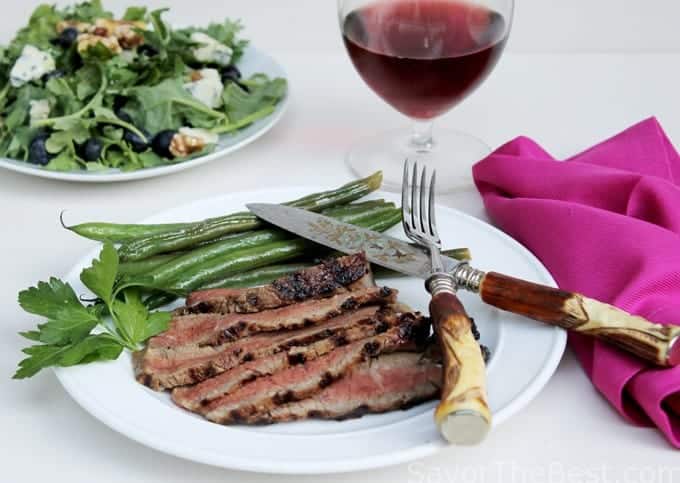 Recently, Don and I joined our long-time friends, Val and Nori, for a dinner at a great restaurant in Gig Harbor, Washington. While munching on our appetizers, Val told us of one of his most memorable appetizers, he called it sake-soy grilled rib-eye steak bites. It sounded so good that I had him write the recipe down for me.
This is a very easy recipe to put together and the longer you can let it marinate, the better. Val's recipe called for cutting the rib-eye steak into cubes after marinating and broiling it, then serving it as an appetizer.
Well, I just could not stand the thought of cutting this beautiful cut of beef into pieces and serving it as an appetizer so I adapted his recipe to a steak dinner. This steak was huge and was enough for two servings.
Val's instructions say to marinate the steak for "at least 24 hours and 48 hours is better" but I was impatient and adjusted the marinating time.
After marinating the thick, one-and-one-half inch steak for 12 hours I popped it onto a hot charcoal grill and grilled it to a medium-rare.
That was a memorable steak! Tender, juicy and delicious. I must invite Val and Nori for dinner soon and prepare this as the entree, I know they will love it!
I hope you get a chance to prepare this sake-soy grilled rib-eye steak soon as if you are a lover of beef steaks you will not be disappointed.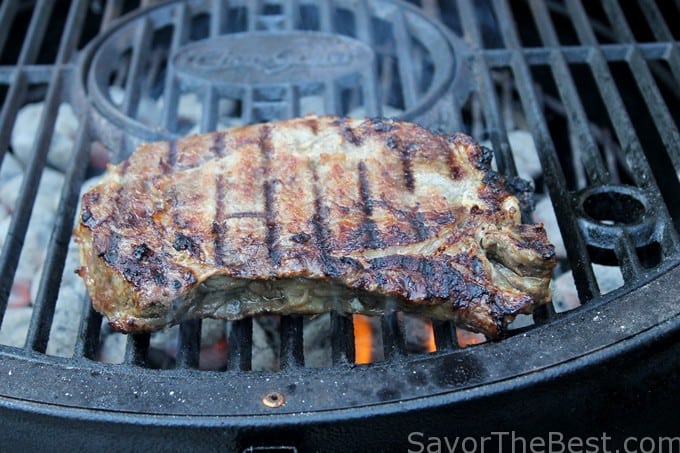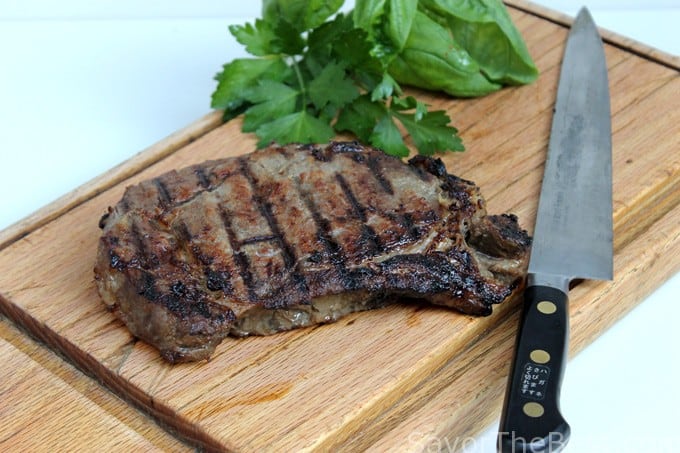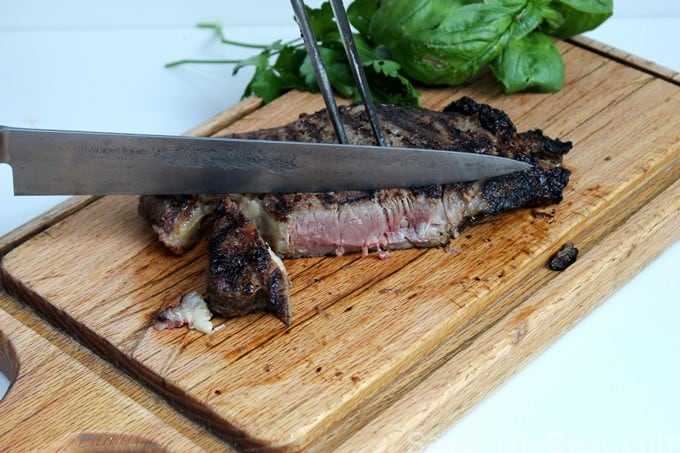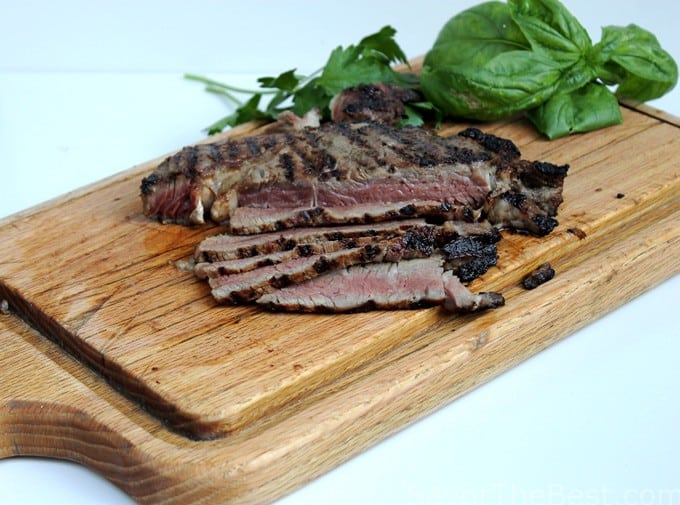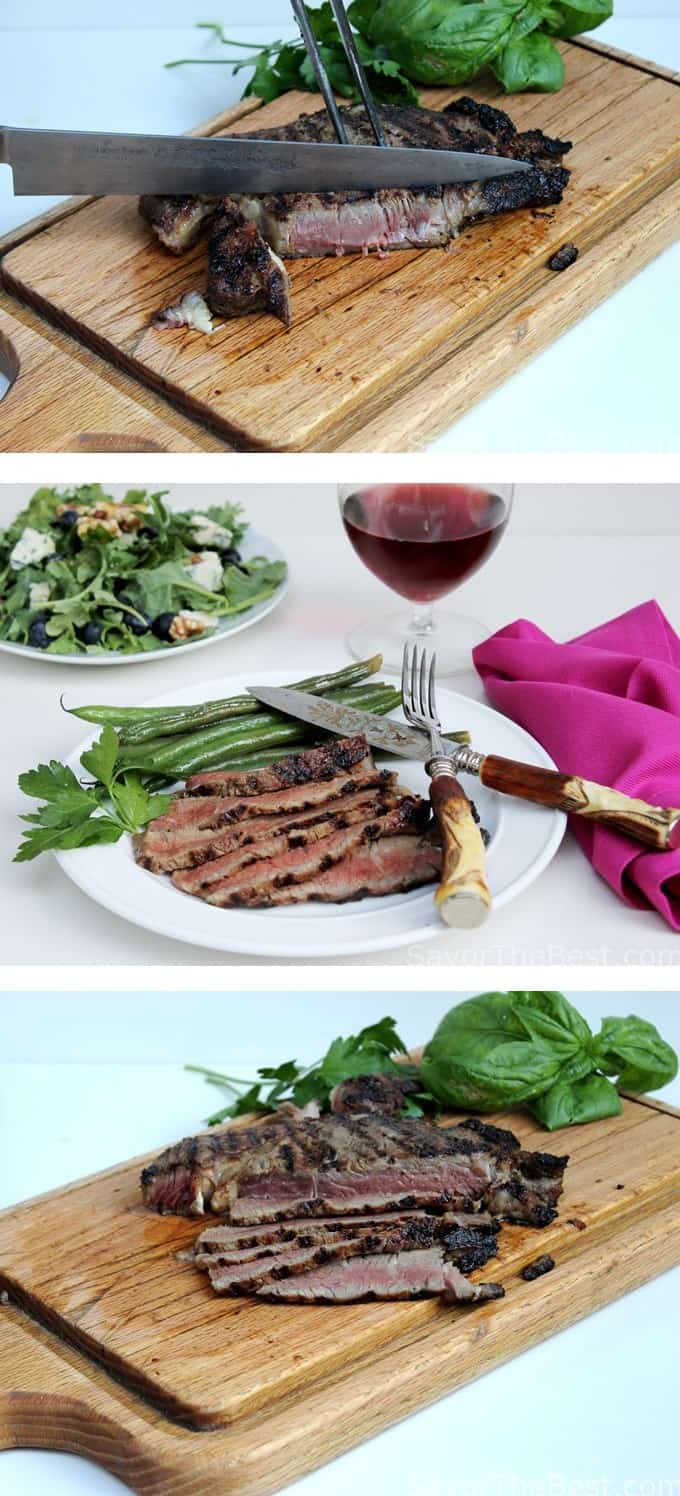 CONNECT WITH SAVOR THE BEST!
Be sure to follow us on our social media accounts
Facebook * Instagram * Pinterest * Twitter * Youtube
Did you make this recipe? We would love to hear from you. Drop us a comment below.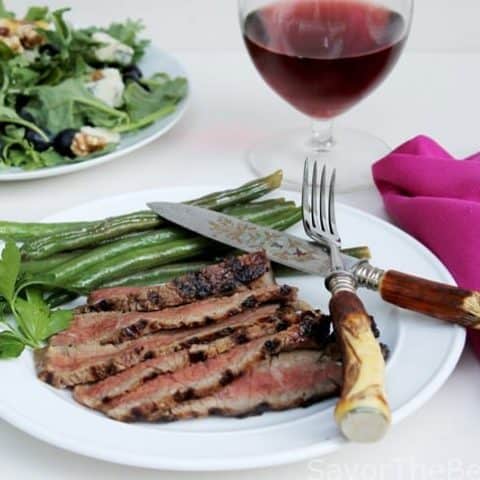 Sake-Soy Grilled Rib-Eye Steak
Yield: 2 servings
Prep Time: 20 minutes
Cook Time: 8 minutes
Total Time: 28 minutes
A tender, juicy rib-eye steak, marinated in sake, soy sauce, ginger and garlic. Grilled over charcoal to medium-rare.
Ingredients
1-rib-eye steak, 1-1/2 inch thick
1/3 cup soy sauce
1/3 cup sake
1/3 cup water
1 tablespoon freshly grated ginger
2-3 cloves garlic, finely chopped
Instructions
In a small dish, whisk together the soy sauce, sake, water, ginger and garlic.
Add the steak to a shallow dish and pour the marinade over the top, turn to coat both sides with the marinade. Cover with plastic wrap and marinate for 24 hours or more in the refrigerator, turning every few hours. Alternatively, add the marinade and steak to a closeable plastic bag and allow the steak to marinade, turning the bag frequently.
Prepare a hot charcoal grill, and grill the steak six minutes on one side, flip and grill the other side for four-five minutes to a temperature of 130°F, with a meat thermometer, for medium-rare, 140°F for medium and 160°f for well done (oh, no!) Allow to rest for 3 minutes before serving.
Notes
If you need to be strictly gluten free, then make sure you use gluten-free soy sauce
Nutrition Information:
Yield: 2
Serving Size: 1
Amount Per Serving:
Calories: 198
Total Fat: 8g
Saturated Fat: 4g
Trans Fat: 0g
Unsaturated Fat: 4g
Cholesterol: 33mg
Sodium: 2339mg
Carbohydrates: 6g
Fiber: 1g
Sugar: 0g
Protein: 15g
Nutrition information is a guideline only, is calculated automatically by third party software, and absolute accuracy is not guaranteed.