If you're struggling to amp up your Wednesday night dinners, then let me tell you about the impact this lemon garlic butter sauce can have on your meals. Not only is it a classic delicious dinner addition, but it's not difficult to make and it's ridiculously good!
In less than 15 minutes, you will have an amazing sauce that will go with just about anything. Serve it with a casual family dinner or as a crowd pleaser when company comes over.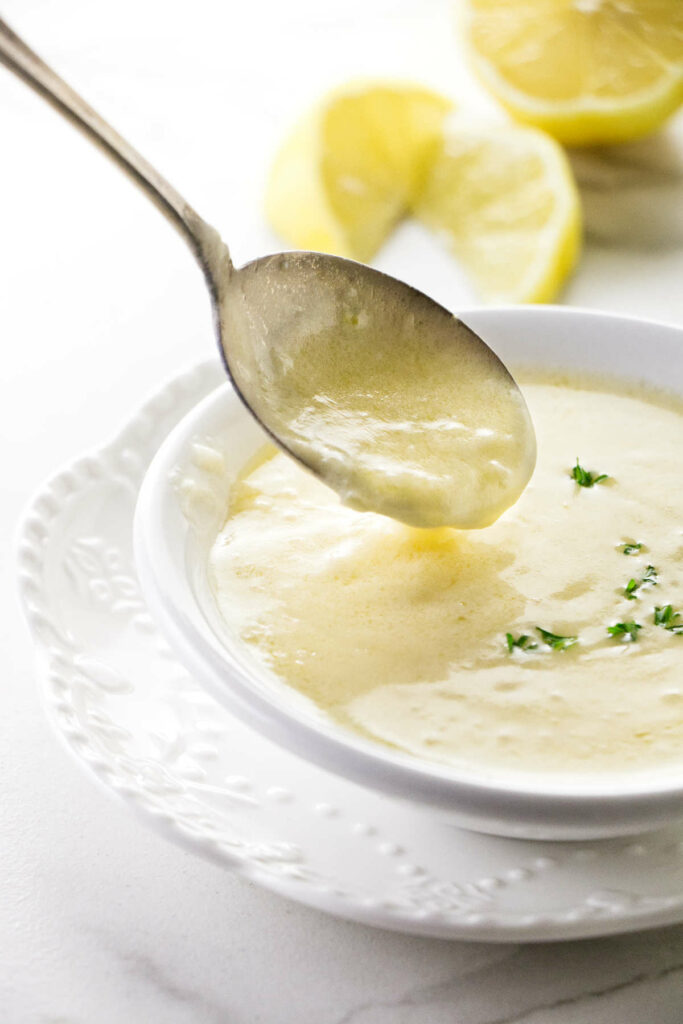 This sauce is a ramped-up version of garlic butter sauce with extra richness and complexity.
How to use this Sauce:
The concept of this sauce easily sounds delicious. After all, a rich, heavily seasoned, and tart sauce could hardly sound unappealing to anyone. But what exactly can you use it for?
Once you start enjoying your sauce, you'll make up plenty of your own lemon garlic butter recipes. However, if you need a little inspiration, these recipes will give you a great headstart.
Meat/Seafood:
Lemon, garlic, butter. All in a creamy sauce. — It creates a classic flavor that pairs well with broiled lobster, grilled tuna, or steamed salmon. But it is also great with other seafood, from clams to shrimp to mussels. The list is endless. You could even dunk slices of crusty bread into the sauce to sop up every last drop.
But this sauce isn't just for seafood. It is a match for our roasted chicken or slow cooker pork chops. It even goes well with steak.
Pasta:
This sauce is a fantastic base for pasta. Simply stir it into a pot of cooked noodles. Even better, you can hit two birds with one stone by adding shrimp or chicken into the mix!
Over Vegetables:
If you can't get picky eaters to eat their veggies, just add this lemon garlic butter sauce to the mix and the vegetables will disappear. Try it on steamed broccoli, roasted carrots, or asparagus. It's one of those all-purpose sauces that you will want to keep on hand all the time.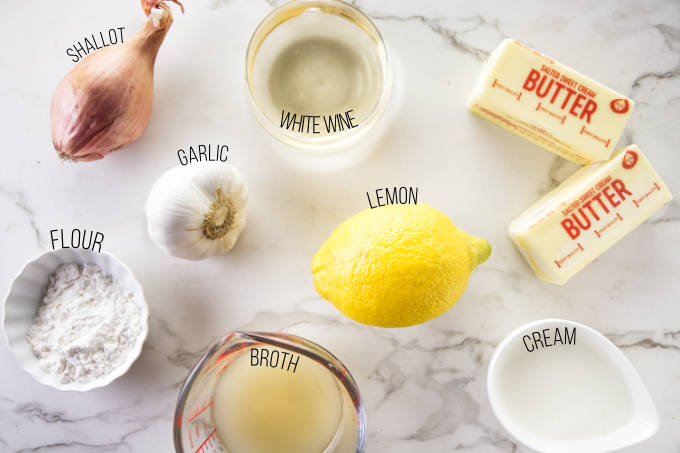 Ingredients:
Butter. Salted or unsalted butter will work equally well.
Shallot. You could substitute half of a small onion.
Garlic.
White wine. Wine adds an extra special element of flavor that just can not be duplicated. If however, you can not use alcohol, replace it with extra chicken broth and a splash of Worcestershire.
Flour. The flour thickens the sauce and helps it cling to your food.
Chicken broth.
Lemon.
Cream.
How to Make Garlic Sauce from Scratch:
Here is a quick overview of the steps. Make sure to scroll down to the printable recipe card for all the details.
Saute the shallot until it is soft then toss in the garlic.
Add the wine to the pan. Let it simmer for a while to burn off the alcohol.
Stir in the flour.
Slowly whisk in the chicken broth.
Stir in the butter until it melts.
Add the lemon zest and lemon juice.
Stir in the cream.
Tips for Success:
Don't worry if the shallot leaves little bits stuck to the bottom of the pan. When you add the wine, it will deglaze the pan and loosen all the cooked-on bits.
After you add the flour, let it cook for a couple of minutes to get the raw taste out of the flour.
When you start to add the chicken broth to the pan, it will look clumpy. Just keep slowly pouring in the broth and don't stop whisking. The sauce will smooth out if you pour the broth in slowly. However, if you pour the broth in all at once, it will be difficult to get the lumps out.
You can freeze this sauce. It tends to break when you thaw it out and warm it up. If that happens, give the sauce a good whisk and it will come together again.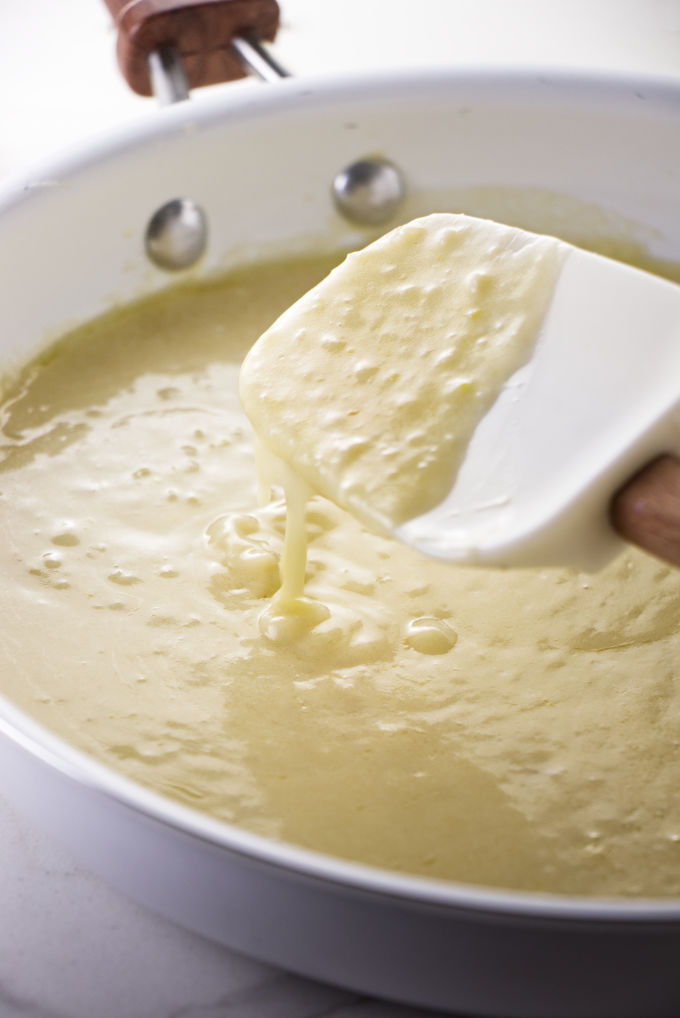 Boost Your Culinary Game:
Lemon makes this sauce shine. That acidic cut adds a tart dimension that levels out the rich garlic butter sauce. The extra addition of lemon zest helps bring out even more citrus flavor.
At Savor the Best, we understand how important and hectic those midweek meals can be. That's why we've created recipes that are both easy-to-follow and complex in flavor. So if this sauce inspired your dinners, then see what other side dishes you can bring to the table.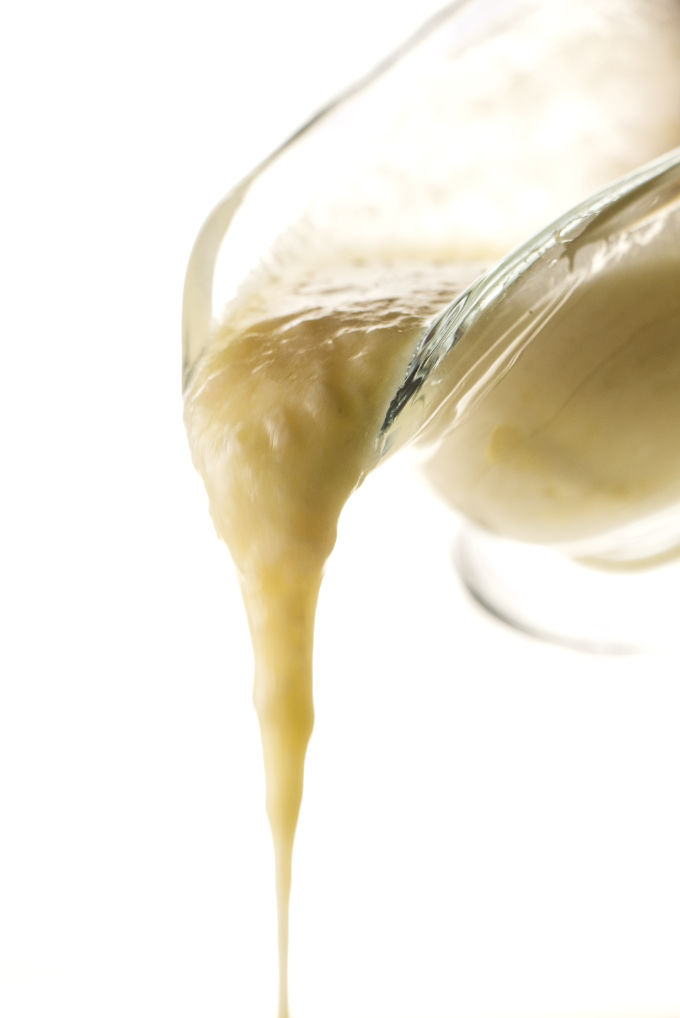 Helpful Tools:
Some of the following links are affiliates. If you click on these links and purchase something, we may receive a small commission. You don't pay any extra but it will help us keep the lights on.
Some Other Recipes We Are Sure You Will Love:
Connect With Savor the Best:
Please follow us on our social media accounts
Facebook * Instagram * Pinterest * Twitter * Youtube
Did you make this recipe? We would love to hear from you. Drop us a comment below.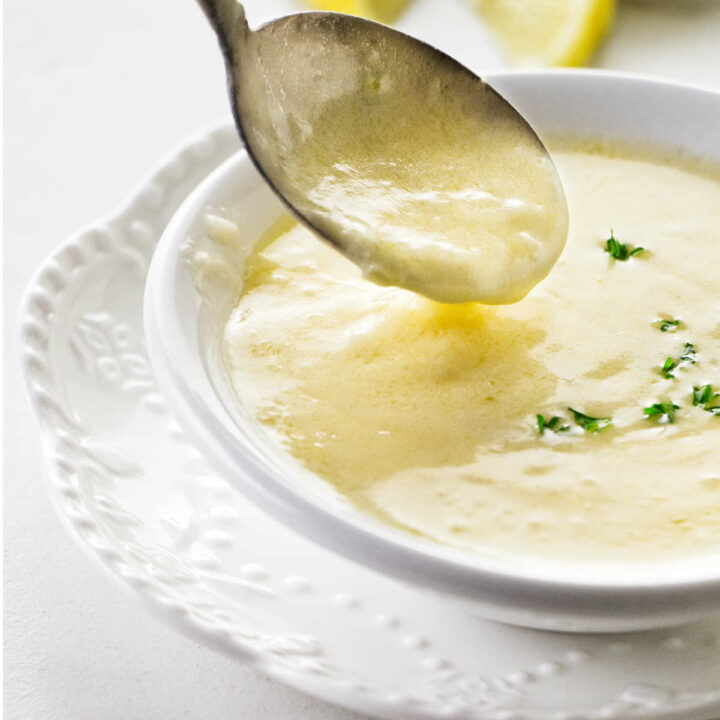 Lemon Garlic Butter Sauce
Yield: 2 cups
Prep Time: 5 minutes
Cook Time: 15 minutes
Total Time: 20 minutes
This silky, creamy sauce is perfect for pasta, seafood, vegetables, pizza, or even as a bread dip. Put it on anything that goes well with lemon and garlic. It will bring your meals up a notch.
Ingredients
16 tablespoons butter, divided
1/2 shallot, finely chopped
7 to 8 garlic cloves, minced (about 4 teaspoons minced)
1/2 cup white wine
2 tablespoons flour
1 cup chicken broth
zest from 1 lemon
3 tablespoons lemon juice
1/4 cup cream
Instructions
Melt 2 tablespoons of butter in a skillet over medium heat (reserve the rest of the butter for later). Add the shallot and cook until soft, about 2 minutes. Add the garlic and cook for 30 seconds.
Pour in the wine, increase the heat and bring to a boil. Cook for about 5 minutes until it is almost completely evaporated.
Stir in the flour. The mixture will look thick and paste-like. Cook for 2 minutes to remove the raw flour taste.
Slowly whisk in the chicken broth, about 1/4 cup at a time, and whisk until smooth. Simmer for about 2 minutes, stirring constantly. Stir in the rest of the butter.
Turn the heat to low and stir in the lemon zest, lemon juice, and cream. Stir until heated through.
Taste and season with salt and pepper. Garnish with chopped parsley.
Recommended Products
As an Amazon Associate and member of other affiliate programs, I earn from qualifying purchases.
Nutrition Information:
Yield: 32
Serving Size: 1 tablespoon
Amount Per Serving:
Calories: 65
Total Fat: 6g
Saturated Fat: 4g
Trans Fat: 0g
Unsaturated Fat: 2g
Cholesterol: 18mg
Sodium: 76mg
Carbohydrates: 1g
Fiber: 0g
Sugar: 0g
Protein: 0g
Nutrition information is a guideline only, is calculated automatically by third-party software, and absolute accuracy is not guaranteed.