A big bowl of plump, steamed Mussels in Garlic Wine Sauce, so good with grilled sourdough bread. Add a crisp green salad and a glass of white wine and that's dinner for me!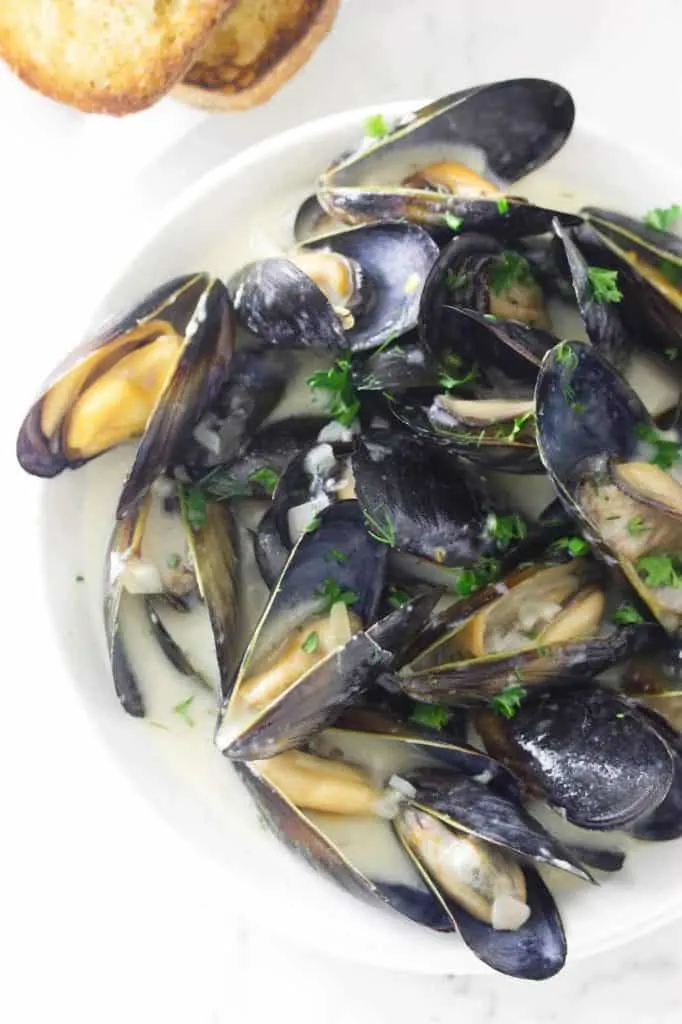 This is one of our favorite bounty-of-the-sea treats. We love those big, meaty mussels swimming in a bowl of savory sauce of garlic and white wine.
You do not have to pay big bucks at a restaurant for a bowl of sumptuous, briny-tasting steamed mussels you can do this at home. Now is the day to be adventurous and creative.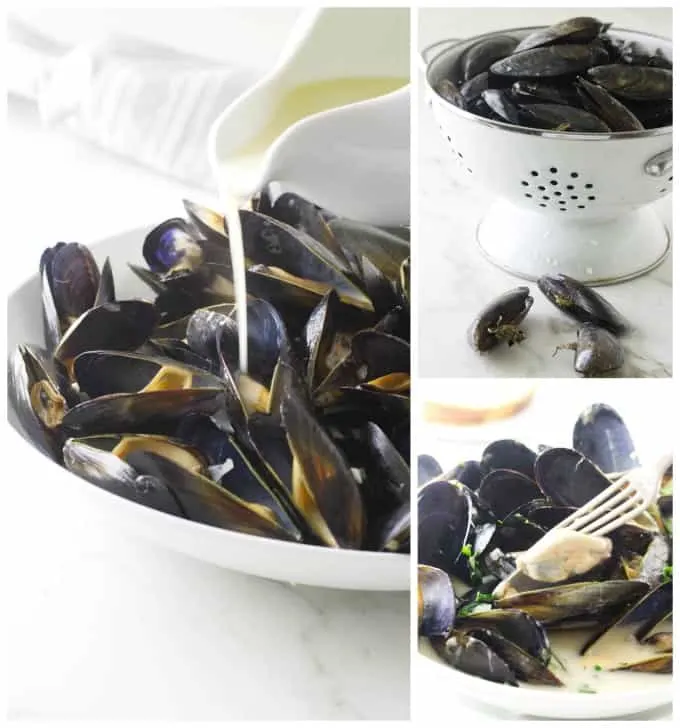 Surprisingly, mussels are very budget-friendly. Plus they are so easy and quick to prepare. There are a few basic things to know about mussels that will make your adventure memorable.
Mussels 101:
Buy fresh mussels from a trusted fishmonger. By law, there will be a dealer-tag attached to the packaging to indicate the harvest time and shipment date.
Mussels are alive and usually sold in mesh plastic bags and packed in ice. My rule is to cook them within two days of buying them. The sooner, the better.
Until ready to cook the mussels, remove them from their plastic bag and keep them refrigerated in a colander of ice. Set a bowl under the colander to catch the melted ice; mussels do not like to be in fresh water as it suffocates them.
When ready to cook the mussels, sort through them and discard any that are cracked or chipped. Some of the mussels may be open a bit, tap lightly on the shell while under running cold water. If it is alive it will close. If the mussel doesn't close, you should discard it. You should throw away any mussels that do not open after cooking.
Clean the mussels by rinsing lightly under cold water while scrubbing the shells with a brush to remove any soil.
Mussels have a 'beard,' and it looks like a long piece of seaweed stuck inside the shell.

To remove the beard grab it and pull sharply toward the pointed end of the mussel shell. To get a good grip you

may need to hold it firmly with a paper towel. Sometimes the beard has already been removed or partially removed by the shipper. Since the mussel begins to die after the beard is removed, I prefer to buy the mussels with the beard still attached.
After cleaning and removing the beard, the mussels will be ready to cook! There are endless ideas to prepare these delicacies.
What Kind of Wine Goes with Mussels?
That is a great question! We are using a white Sauvignon Blanc in our recipe and we finished off the bottle with our dinner. Any good, dry white wine such as a Chardonnay or Pinot Grigio, Pinot Blanc or a Sémillon is an excellent choice.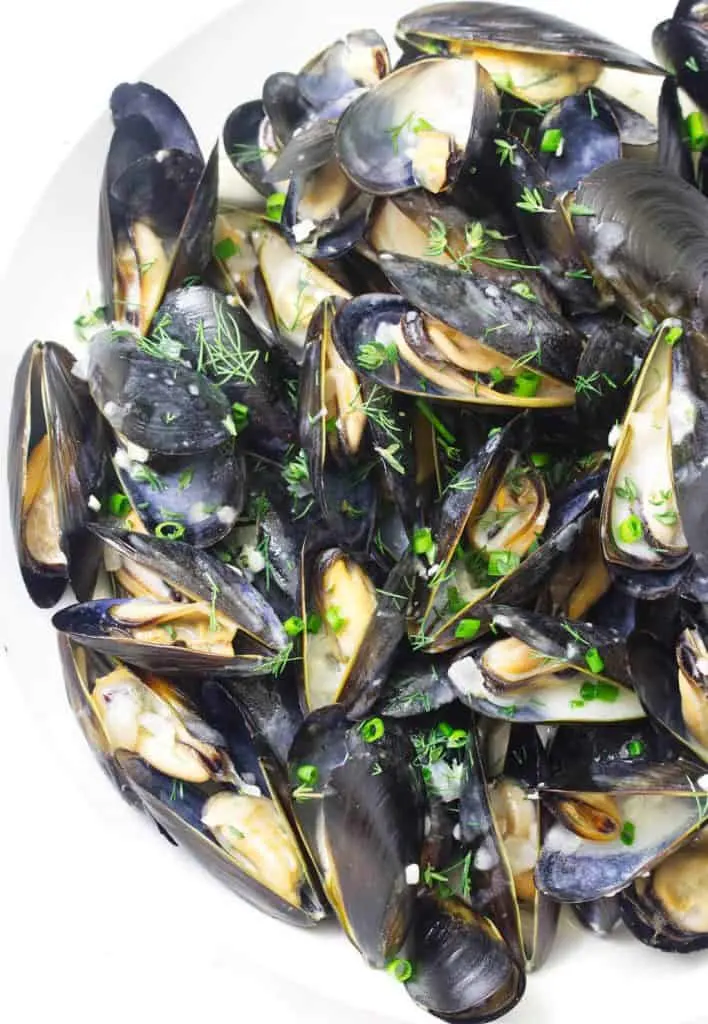 How We prepared Our Mussels in Garlic Wine Sauce:
This is a really easy recipe and it only takes 15 minutes to cook. That makes this a fast and easy dinner that you can have any night of the week. Make sure you scroll down to our printable recipe card for complete instructions.
Sauté the shallots and garlic in olive oil, then add the chicken broth.
After the mixture comes to a boil, add the mussels and the wine.
Finally, cover and simmer the mixture for two or three minutes until the mussels open.
Now, concentrate all the flavors in the sauce!
Portion out the mussels into serving bowls but leave that yummy broth in the pot.
Bring it to a boil to reduce it.
Add some butter to thicken it up a little and give it more flavor.
Pour the sauce over each serving of mussels and garnish with chopped parsley. Serve with grilled sourdough bread and the rest of that bottle of white wine!
Here are some other recipes you might like:
Connect With Savor the Best:
Please follow us on our social media accounts
Facebook * Instagram * Pinterest * Youtube * Twitter
Did you make this recipe? We would love to hear from you. Drop us a comment below.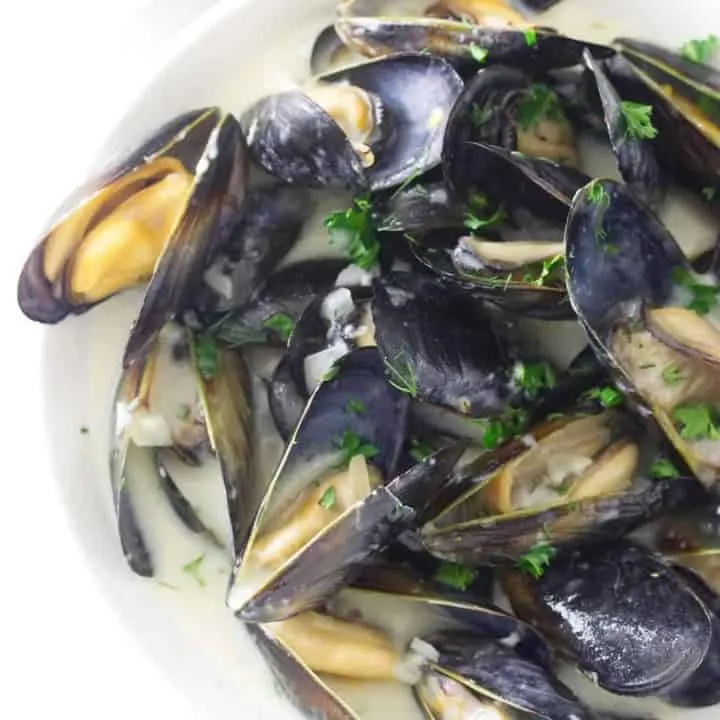 Mussels in Garlic Wine Sauce
A big bowl of plump, steamed Mussels in Garlic Wine Sauce, so good with grilled sourdough bread. This is a budget-friendly, easy one-pot meal. Add a glass of wine and make it a special dinner for date-night.
Ingredients
2 tablespoons olive oil
1 medium shallot, finely chopped
3 garlic cloves, finely chopped
Salt and freshly ground pepper
4 pounds mussels, scrubbed
1 cup chicken broth
1 1/2 cups dry white wine, (I like Sauvignon Blanc)
4 tablespoons butter,
1/4 cup coarsely chopped flat-leaf parsley, plus more for serving
Instructions
In a Dutch oven or large pot with a lid, heat the olive oil and add the shallot and chopped garlic, season lightly with salt and pepper and cook over medium heat, stirring, until the garlic is softened and barely golden, about 2 minutes.
Add the chicken broth and bring to a boil then add the mussels and wine, cook for 1 minute, giving it a stir occasionally. Cover with the lid and steam the mussels until they open, about 4-5 minutes. Remove from the heat. Using a slotted spoon, transfer the mussels to 6 serving bowls, discarding any mussels that do not open.
Return the pot to the heat and bring to a boil to reduce the pot broth slightly. Add the butter and parsley to the broth, and stir until the butter melts. Slowly pour the broth over each serving of the mussels. Garnish each serving with a sprinkle of chopped parsley and serve with crusty grilled bread.
Nutrition Information:
Yield:

8
Serving Size:

1
Amount Per Serving:
Calories:

319
Total Fat:

14g
Saturated Fat:

6g
Trans Fat:

0g
Unsaturated Fat:

10g
Cholesterol:

143mg
Sodium:

1042mg
Carbohydrates:

10g
Fiber:

0g
Sugar:

1g
Protein:

27g
Nutrition information is a guideline only, is calculated automatically by third-party software, and absolute accuracy is not guaranteed.