One taste of our Seared Scallops with Romesco Sauce and you will be over the moon. They are large sea scallops that are pan-seared to a golden brown and basted with garlic-thyme butter. These scallops are rich, with an ultra-creamy, tender center and are well complimented when served on a swath of smooth romesco sauce.
If you like this recipe you will like our seared scallops in black truffle sauce.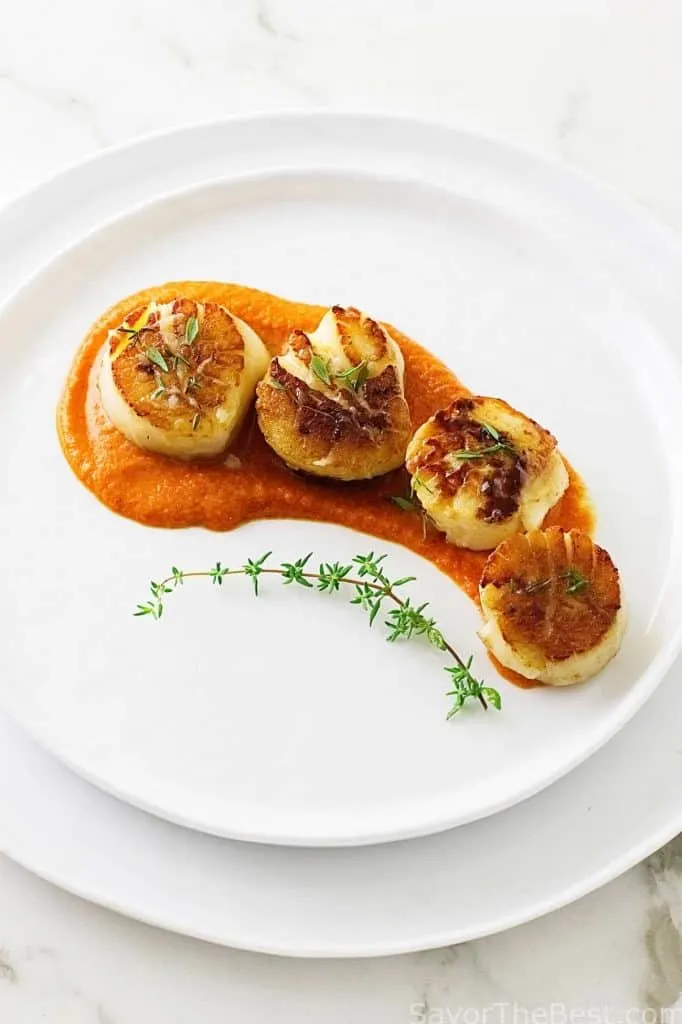 Sea scallops are among the most luxurious finds in the ocean. They are naturally sweet and tender with a delicate flavor. The 'melt-in-your-mouth' creamy texture of fresh scallops make an impressive dinner entrée.
Scallops can be prepared in any manner of ways, broiled, pan seared, grilled and even deep-fried. However, there is one important thing to remember in each of these methods. That is to not over-cook them or they will be tough and chewy.
A large, two-plus ounce sea scallop will cook in one-and-one-half to two minutes per side. Also, they will continue to cook from residual heat when removed from the heat source.
When buying scallops it is tempting to choose those pretty, pure-white babies but don't spend your dollars on them as they will have been processed with chemicals to enhance their appearance. They are known as 'wet' because of the phosphorus that is pumped into them.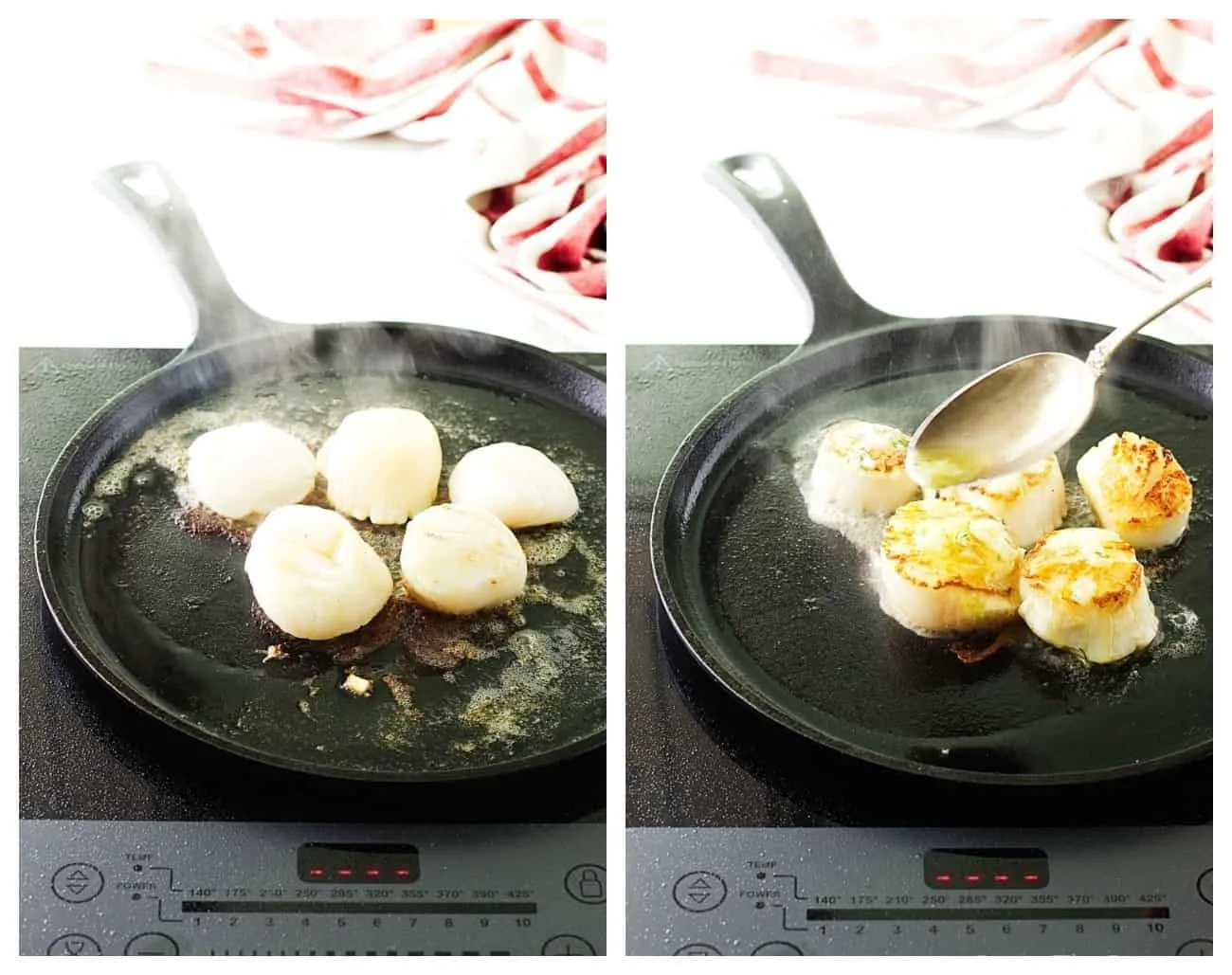 Instead, look for the off-white, ivory-colored scallops they may even have a translucent look to them. These are the ones you want. They are unadulterated and known as 'dry' scallops. If you live in an area where fresh scallops are not available the frozen scallops are just fine but check the ingredient label to see if they are wet or dry.
If you are using frozen scallops, when ready to cook remove them from their package and put them on a wire rack in one layer, set over a plate. Drape a piece of parchment paper over them and set them in the refrigerator overnight to thaw.
The reason to have them on a wire rack is they will drip moisture and you don't want them laying in a puddle reabsorbing moisture. The dryer they are the better they will brown.
When preparing scallops, whether fresh or frozen, pat them dry with paper towels as the dryer the surface the better to get that rich brown crust. There may be a little chunk of muscle attached to the side of the scallop, although it is often removed at the time they are packed. If it is still there just give it a tug. It will pull off easily.
We seared our scallops on a very hot cast iron griddle for one and one half minutes. Take a little peek underneath one of them to check for color. If there's good color, flip them and sear the other side for one more minute. Just a couple of seconds before removing them from the skillet we spooned the melted garlic-thyme butter over the top.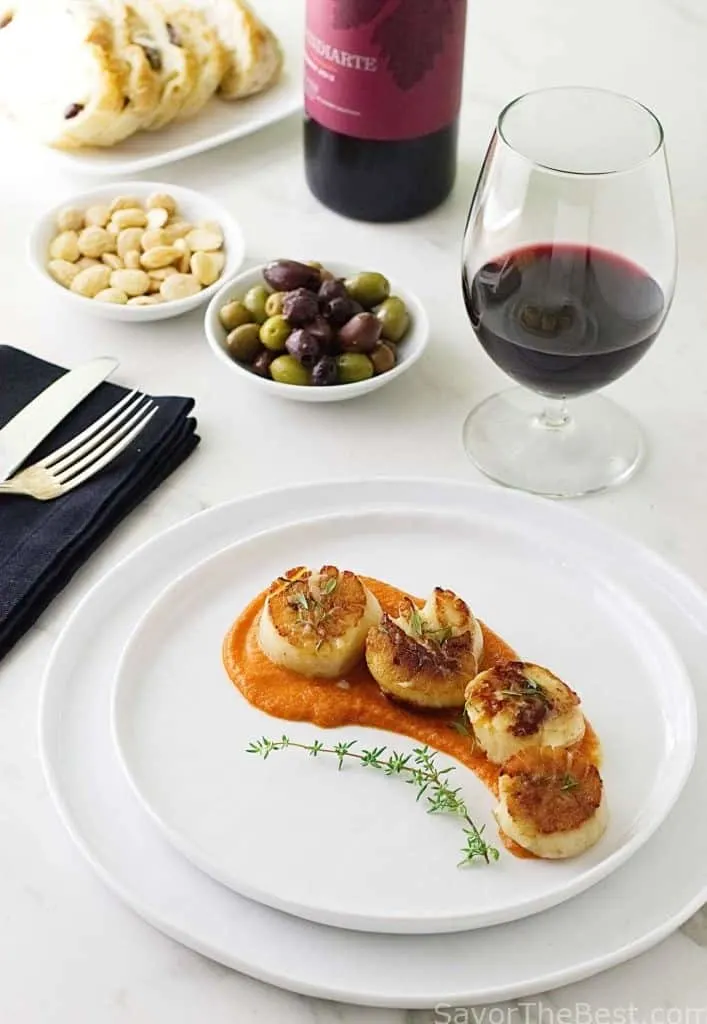 To serve these beauties, spoon a puddle or swath of romesco sauce on the plate and arrange the scallops on top. Serve a dish of romesco sauce on the side along with a crisp green salad and a side of Spanish rice. Or, serve them as part of a casual 'tapas party' with a variety of Spanish foods for a fun and exciting get-together.
Romesco sauce is a rich, smooth sauce that pairs particularly well with scallops. It is one of Spain's most loved sauces. The sauce is easy to make from scratch.
The sauce is super flavorful and very mild and can be used for meat, sausage, fish, vegetables, pasta and more. Romesco sauce is not meant to be fiery hot.
More Appetizer Recipes
More Recipes from the Sea:
Coconut Steamed Mussels are plump, luscious, and delectable, and are among the most flavorful "fruits of the sea." They're cooked in a flavorful Asian broth made with lemongrass, coconut milk, and Thai basil.
You need to try this recipe for Miso Glazed Sablefish for a very special night's dinner. It will not disappoint, promise.
This dish for Honey-Lemon Glazed Salmon is a simple entrée that is both moist and delicious. And our shrimp linguini makes a quick dinner.
Connect With Savor the Best:
Please follow us on our social media accounts
Facebook * Instagram * Pinterest * Youtube * Twitter
Did you make this recipe? We would love to hear from you. Drop us a comment below.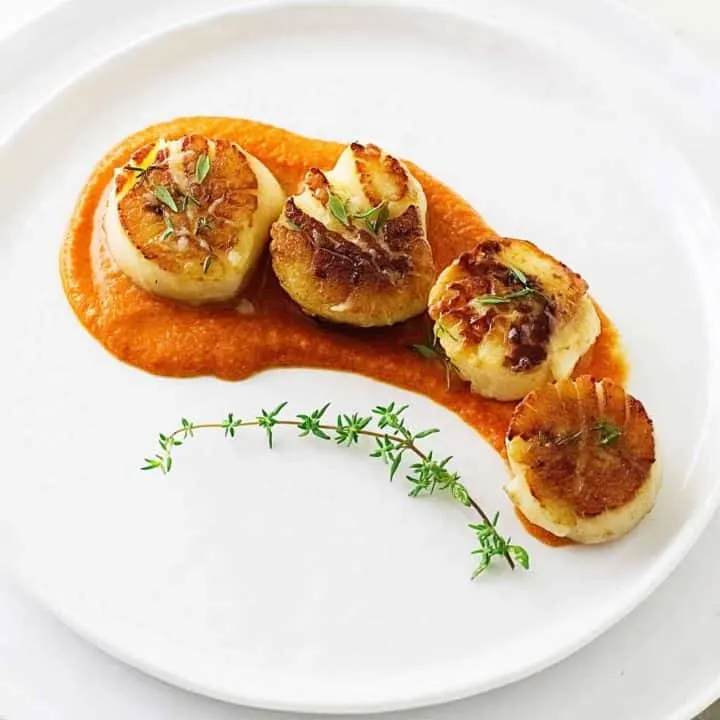 Spanish Scallops with Romesco Sauce
These large sea scallops are pan seared to a golden brown and basted with a garlic-thyme butter. They are rich, with an ultra-creamy, tender center and are well complimented when served on a swath of smooth romesco sauce.
Ingredients
16 large (U-10) dry sea scallops *see notes
Salt
Freshly ground white pepper
4 tablespoons butter
1 garlic clove, grated or finely minced
2 tablespoons fresh thyme leaves
1 tablespoon avocado or canola oil
3/4 cup Spanish romesco sauce store-bought or homemade
Fresh thyme leaves and lemon wedges for garnish
Instructions
For frozen scallops, remove them from the package and place them, in one layer, on a wire rack set over a plate or baking sheet, cover with a sheet of parchment paper and transfer to the refrigerator to thaw. When ready to cook, proceed as follows:
For fresh or thawed scallops, place scallops on a large plate that has been lined with a double layer of paper towels. Salt liberally and allow to rest for 5 minutes. Using more paper towels, pat the scallops on all sides as dry as possible. Sprinkle lightly with salt and pepper and set aside while preparing the griddle and butter.
Add the butter to a small dish and melt in the microwave. Remove and add the grated garlic and fresh thyme leaves. Reserve and keep warm.
Heat the oil in a cast iron griddle, fry pan or a heavy-bottomed skillet set over high heat until it just begins to smoke. Working in batches, add some of the scallops spacing them an inch or so apart, cook for 1 1/2 minutes to a rich brown. Turn the scallops with tongs and cook the other side for 1 minute. Just before removing the scallops from the pan, spoon the melted garlic-thyme butter over the top. Transfer to a paper towel lined plate and repeat with the remaining scallops.
To serve, add a 2 tablespoon pool of the romesco sauce to a dinner plate, place 4 scallops on the sauce and garnish with fresh thyme sprigs and lemon wedges.
Notes
In scallop world, scallops that are sized U-10 means that fewer than 10 scallops add up to 1 pound. Each scallop will weigh about 2 ounces each.
If you are using smaller size scallops, adjust the cooking time to 1 minute per side.
Nutrition Information:
Yield:

4
Serving Size:

4 scallops
Amount Per Serving:
Calories:

377
Total Fat:

33g
Saturated Fat:

10g
Trans Fat:

0g
Unsaturated Fat:

22g
Cholesterol:

52mg
Sodium:

662mg
Carbohydrates:

10g
Fiber:

2g
Sugar:

2g
Protein:

13g
Nutrition information is a guideline only, is calculated automatically by third-party software, and absolute accuracy is not guaranteed.