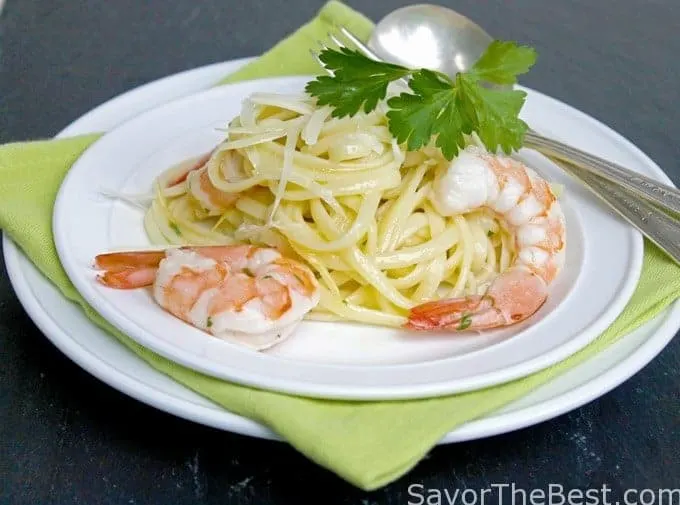 We are having lemon-garlic shrimp with linguini for dinner and this is one of Don's very favorite shrimp recipes. It is quick and easy to fix and if you come home from work or shopping you can have dinner on the table in thirty minutes.
I was out shopping at the mall and I didn't intend to stay so long but was so absorbed in the racks of clothes on sale at Macy's that I completely lost track of time. My stomach was roaring and I checked the time and realized it was time to get home to fix dinner. Alas, I did not take anything out of the freezer before I went shopping. But, I had shrimp! it was a quick thaw in cold water and by the time I had the pasta cooked the garlic sauce and shrimps were ready and the salad made. How easy was that!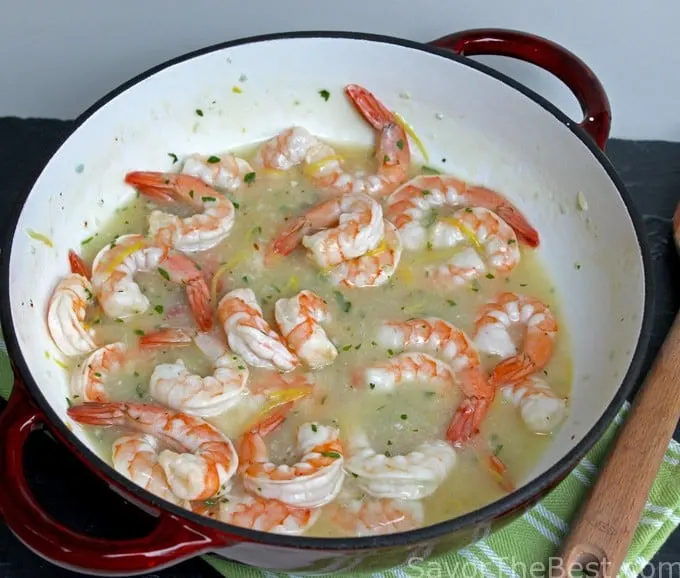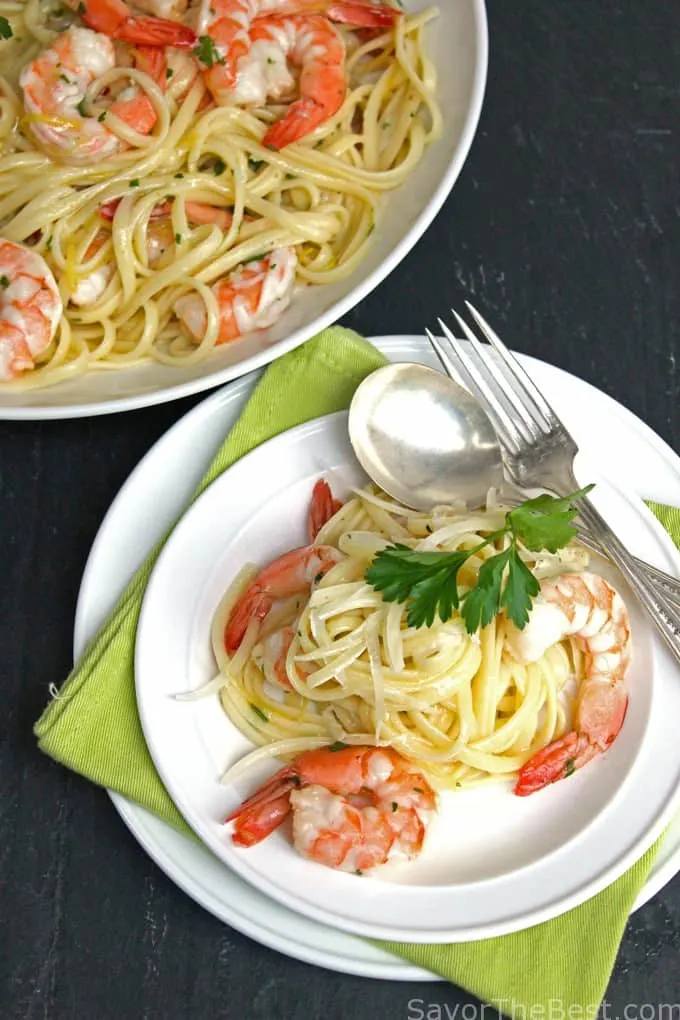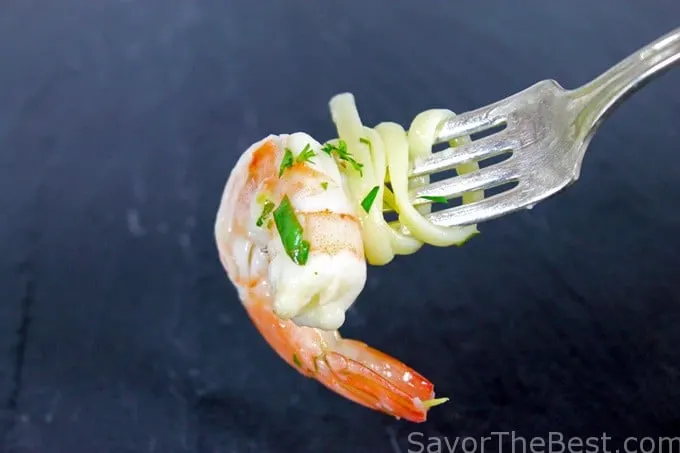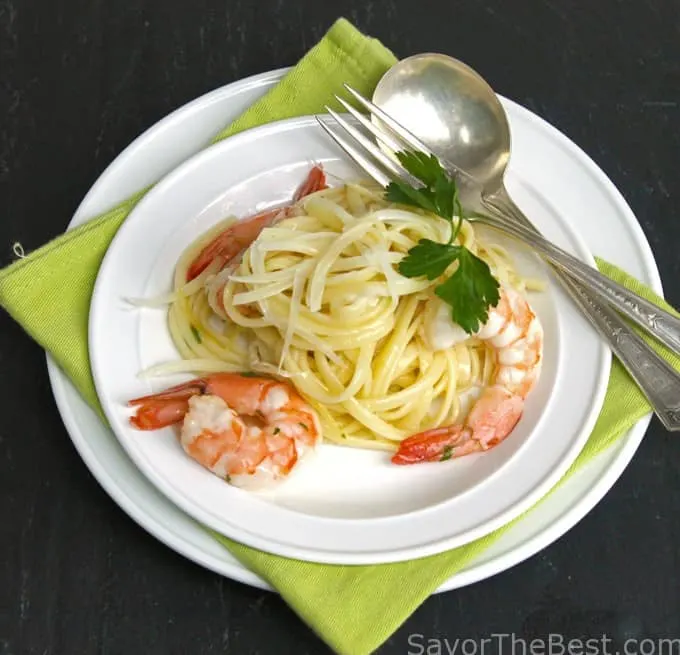 ➡️ More Recipes You Will Love: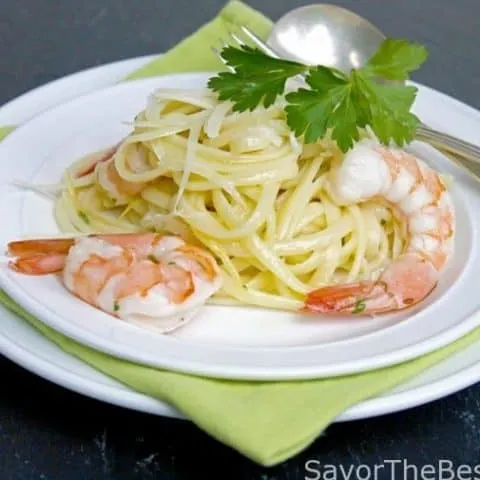 Lemon-Garlic Shrimp Linguini
Shrimp scampi style recipe with garlic, white wine and fresh parsley served over perfectly cooked linguini.
Ingredients
1 tablespoon kosher salt plus 1 1/2 teaspoons
1 pound linguine
2 teaspoons cornstarch, mixed with 1/4 cup cold water
2 tablespoons unsalted butter
2 tablespoons olive oil
6 cloves garlic, minced
1/4 teaspoon freshly ground black pepper
1/3 cup chopped fresh parsley leaves
1 lemon, zest or grated
1/2 cup freshly squeezed lemon juice (1 or 2 lemons, depending on size)
1/2 cup white wine
1/8 teaspoon hot red pepper flakes
1-1/2 pound medium-size frozen shrimp (21-24 per pound), defrosted, peeled and deveined
1/2 cup parmesan cheese
Fresh parsley sprigs for garnish
Instructions
Preheat the oven to it's lowest temperature and place a large oven-proof serving dish on the middle rack to warm.
In a large pot of boiling water, add the salt and the linguini and cook according to package instructions.
Meanwhile, in a small dish mix the cornstarch and water and set aside.
In a large heavy-bottomed pan, melt the butter and olive oil over medium-low heat. Add the garlic and sauté for 1 minute. Add the pepper, parsley, lemon zest, lemon juice, white wine and the red pepper flakes. Bring the sauce to a boil, add 3 or 4 tablespoons of the liquid to the cornstarch mixture and whisk into the sauce to just thicken it sligtly. Remove the pan from the heat and add the shrimp and allow to poach in the hot thickened sauce, about 4 or 5 minutes.
Remove the warm serving dish from the oven, drain the pasta and add to the serving dish. Pour the hot sauce and the shrimp over the linguini, sprinkle with 1/2 cup of the parmesan cheese, add a sprig of parsley and serve immediately.
Nutrition Information:
Yield:

8
Serving Size:

1
Amount Per Serving:
Calories:

375
Total Fat:

13g
Sodium:

243mg
Carbohydrates:

45g
Sugar:

1.9g
Protein:

16g