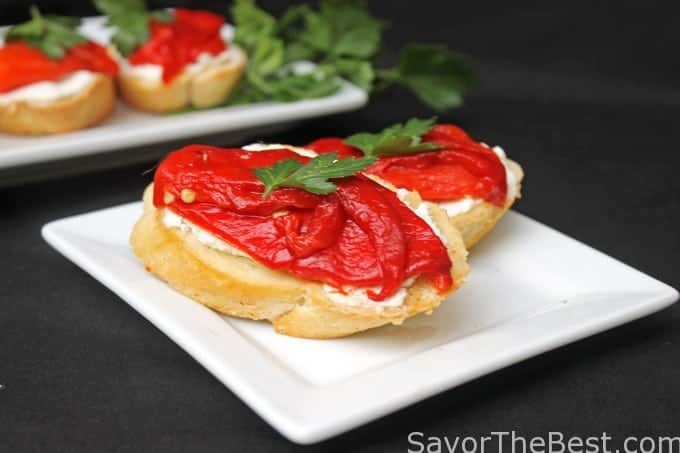 Last summer I grilled up a lot of Italian Sweet Peppers and preserved some of them in jars for the refrigerator. I also froze a bunch of them and packaged them in my vacuum sealer to save for a rainy winter day. Well, that day has arrived and I have rescued them from the freezer to make these Goat Cheese-Sweet Red Pepper Bruschetta appetizers.
Dahn has invited me to the annual ladies event at her church and I will be bringing these appetizers to the party. They look so pretty and festive with the red pepper and green parsley and it is perfect for the Christmas-time event.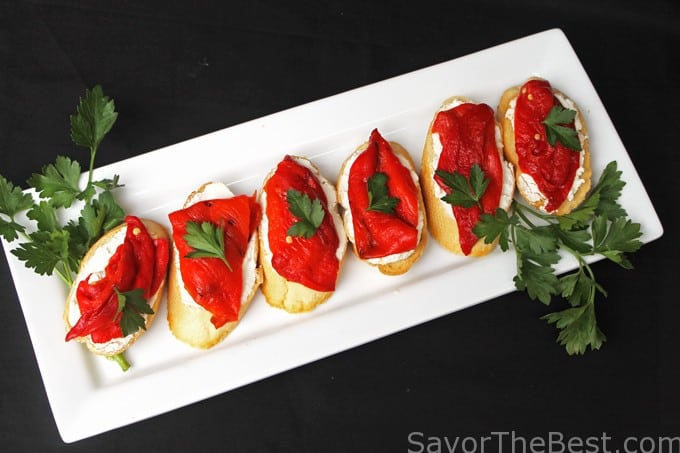 Dahn's BFF, Michele, always does a beautiful tablescape for the season with lots of good food and little individual favors to each of the eight ladies. Dahn bakes the dessert cake and this year It will be a carrot cake which is Michele's all-time favorite.
These goat cheese-sweet red pepper bruschetta appetizers are easy and fast to put together. The gorgeous long, red sweet Italian peppers are no longer in season but the commercial jars of preserved red peppers taste the same. Or, if time isn't an issue the red bell peppers that are always available in the produce section will be perfect roasted in your oven. The toasted bread slices are crisp and crunchy and I love the tangy taste of the soft goat cheese topped with the smooth, slightly smokey peppers. A sprig of green parsley adds the festive touch. Delicious!
I am looking forward to the event and the social time with the ladies. I know there will be a nice program with an inspirational speaker.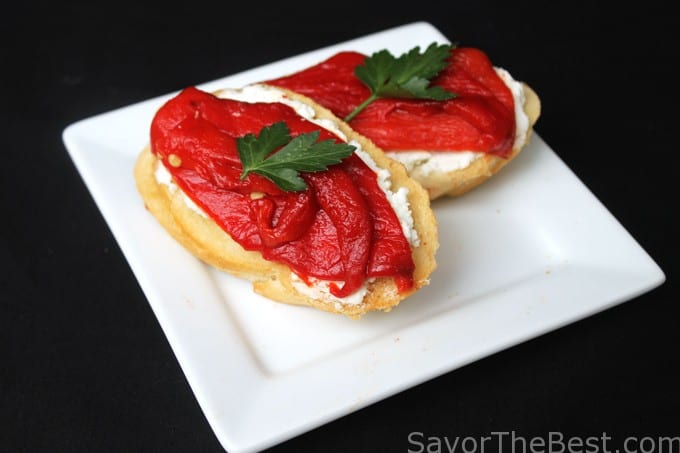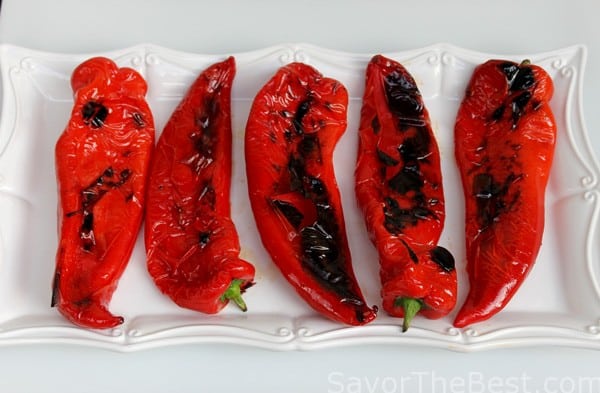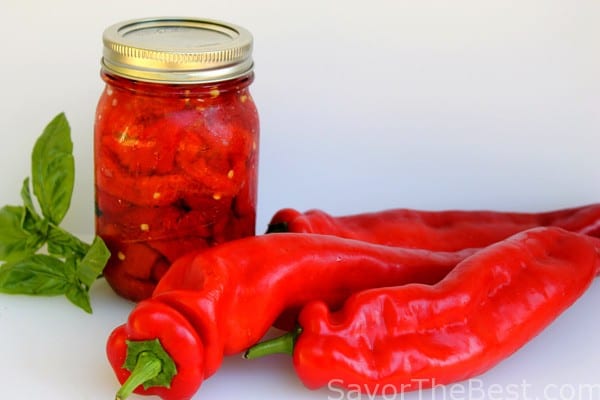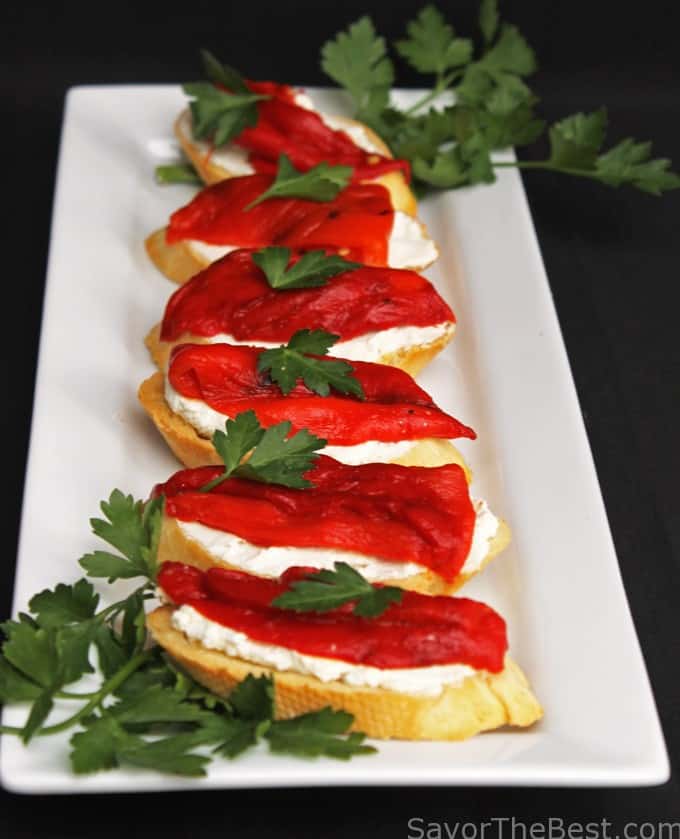 CONNECT WITH SAVOR THE BEST!
Be sure to follow us on our social media accounts
Facebook * Instagram * Pinterest * Twitter * Youtube
Did you make this recipe? We would love to hear from you. Drop us a comment below.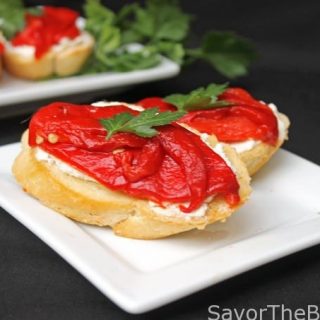 Goat Cheese-Sweet Red Pepper Bruschetta
Yield: 12
Prep Time: 30 minutes
Cook Time: 10 minutes
Total Time: 40 minutes
A crisp, crunchy appetizer of tangy goat cheese and sweet red peppers topped with a festive touch of green parsley.
Ingredients
1 baguette, sliced on a diagonal, 1/2-inch thick (about 20-24 slices)
4 tablespoons olive oil
4-5 cloves fresh garlic
10 ounces soft goat cheese
4 tablespoons heavy cream
1 jar of commercial preserved roasted sweet red peppers
sprigs of fresh Italian parsley
Instructions
Place the slices of bread on a baking sheet and brush olive oil on them lightly. Toast them just until slightly browned and crisp. Remove from the oven and allow them to cool slightly, then rub each slice with garlic.
Drain the liquid from the jar of peppers and lay them on several thickness of paper towels and blot with dry paper towels. Cut the peppers into pieces to fit onto the slices of toast.
Add the goat cheese and the cream to a medium-size bowl and with a hand mixer on low speed beat just until it is combined and smooth.
Spread one tablespoon of the goat cheese mixture on each slice of toast, add slices of the
red pepper and top with a sprig of parsley. Arrange the appetizers on a serving plate and enjoy!