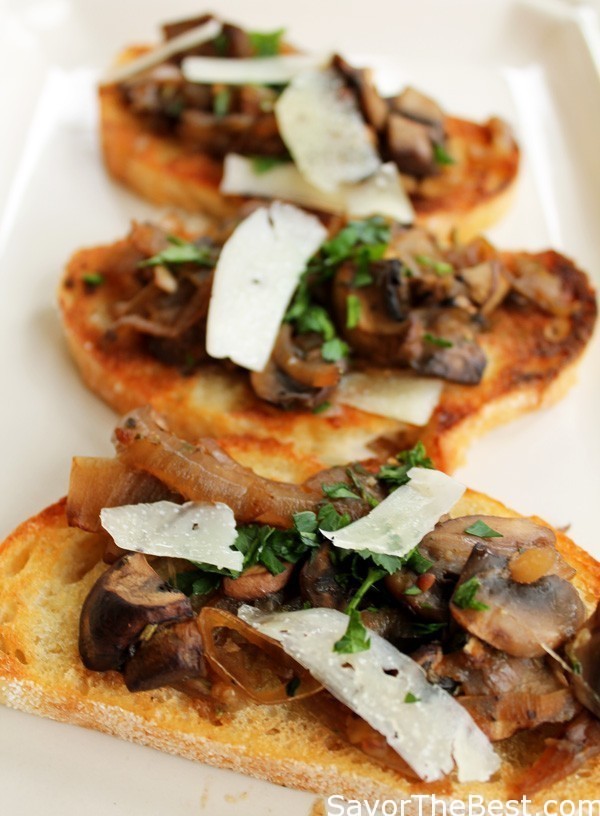 Caramelizing onions deepens and sweetens their flavors. The process can take some patience but is worth it. Once the onions start to brown and release their sugars it may look as if the bottom of the pan is burning but just add water to release the sugars from the pan and stir it into the onion mixture. Once you add the mushrooms to the mixture they will release some of their liquid and help keep the sugars from sticking as well.
You could double or triple the batch and use the extras to add amazing flavor to omelets, baked potatoes, steaks or anything that suits your fancy. This mixture also freezes well, just divide it into separate servings and place in a sealed container for a quick weeknight condiment.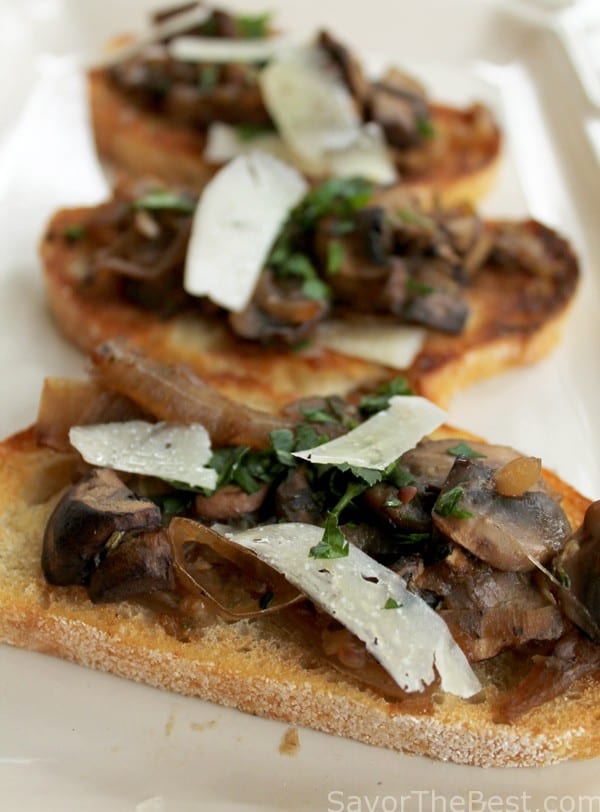 SOME OTHER RECIPES WE ARE SURE YOU WILL LOVE:
French Onion-Gruyere Mini Boules
CONNECT WITH SAVOR THE BEST!
Be sure to follow us on our social media accounts
Facebook | Twitter | Youtube | Pinterest | Instagram
Did you make this recipe? We would love to hear from you. Drop us a comment below.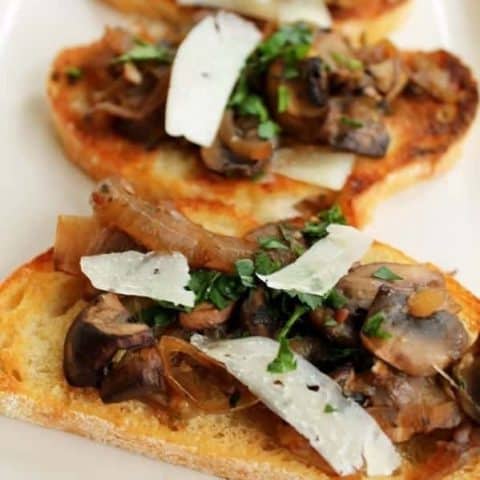 Bruschetta with Caramelized Onions and Mushrooms
Yield: 18 servings
Prep Time: 10 minutes
Cook Time: 40 minutes
Total Time: 50 minutes
A delicious appetizer or snack of richly browned, sweet onions and meaty mushrooms
Ingredients
1 loaf Italian bread cut into 16 to 18 slices
6 tablespoons olive oil, divided
2 medium onions
1 pound mushrooms, cleaned and sliced
2 garlic cloves
1 small handful fresh thyme, leaves picked and chopped
½ teaspoon salt
½ cup Parmesan shavings (use a vegetable peeler for thin shavings)
1 handful flat leaf parsley, chopped
Instructions
Pre-heat the oven broiler.
Place the slices of bread on a baking sheet and brush them with about 3 tablespoons of olive oil. Place them under the broiler for 2 minutes on each side or until they are golden. Set aside.
Heat the remaining olive oil in a large pan over medium heat. Add the onion slices and cook until they are soft and have a deep brown, about 25 to 30 minutes, if the onions dry out and stick to the pan, add water as needed, usually a couple of tablespoons will do but keep adding more if the onions stick. Add the mushroom slices. Cook for an additional 8-10 minutes until the mushrooms are tender. Add the garlic, fresh thyme and salt.
Divide the onion mixture over each of the slices of bread, sprinkle with Parmesan shavings and chopped parsley. If desired, drizzle with olive oil before serving. Serve warm or at room temperature
Notes
The topping can be prepared 1-2 days in advance, stored in the refrigerator and re-warmed before serving. It also freezes well.
Nutrition Information:
Yield: 18
Serving Size: 1
Amount Per Serving:
Calories: 130
Total Fat: 6g
Cholesterol: 2mg
Sodium: 244mg
Carbohydrates: 15g
Fiber: 1.3g
Sugar: 1.2g
Protein: 4g