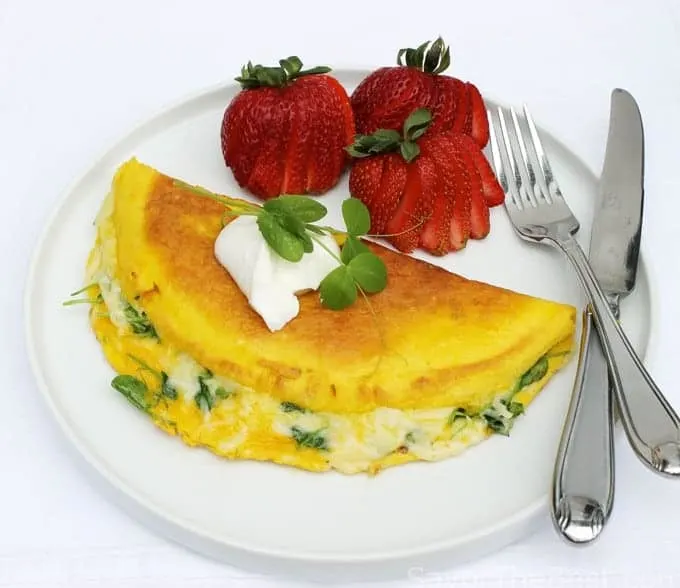 Sunday's are usually a lazy sort of day at our house, a day off from my daily workout routine and a chance to get together with family. We overslept a little last Sunday and rushed off to church without our breakfast so when we returned I made this nice pea shoots and swiss cheese omelet.
Dahn grew several trays of pea shoots recently and posted her pea shoot, mint and carrot salad, she gave me a large tray of the pea shoots that she planted. I have been making salads and sandwiches with them and they have grown to about eight inches.
They were just delicious in this omelet! To make the filling I chopped and steamed the shoots slightly and added a little fresh tarragon and Swiss cheese.
I make the folded American-style omelets as the rolled French-type never seem to turn out looking the way I think they should look. This recipe makes a three-egg omelet which, cut in half is plenty for Don and I with toast, fruit and coffee. Besides, I only have one ten-inch skillet.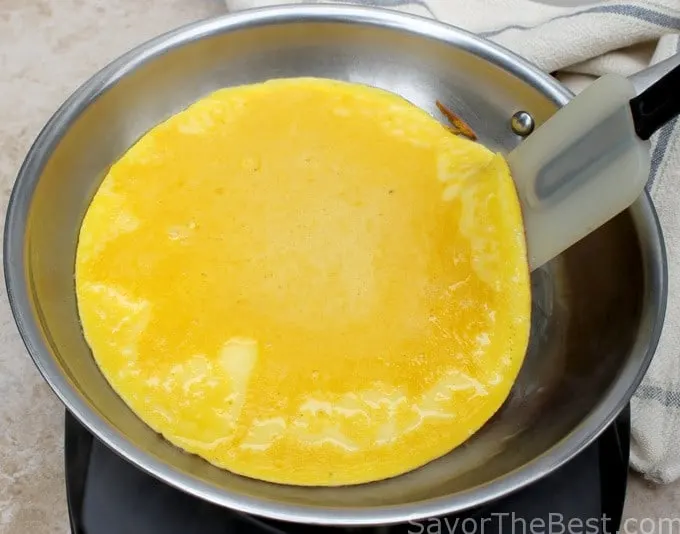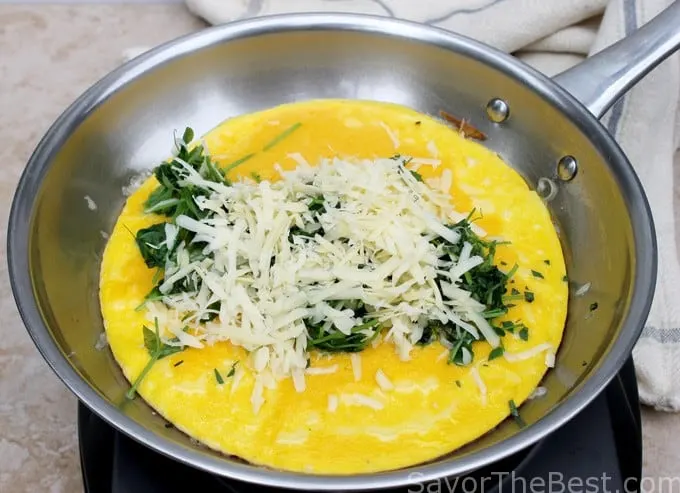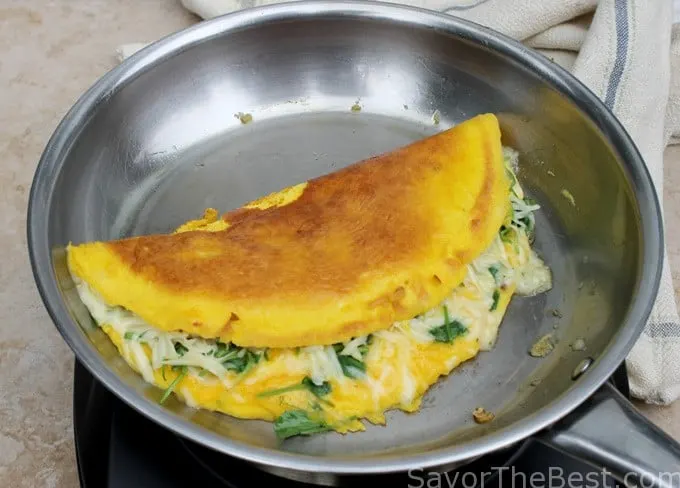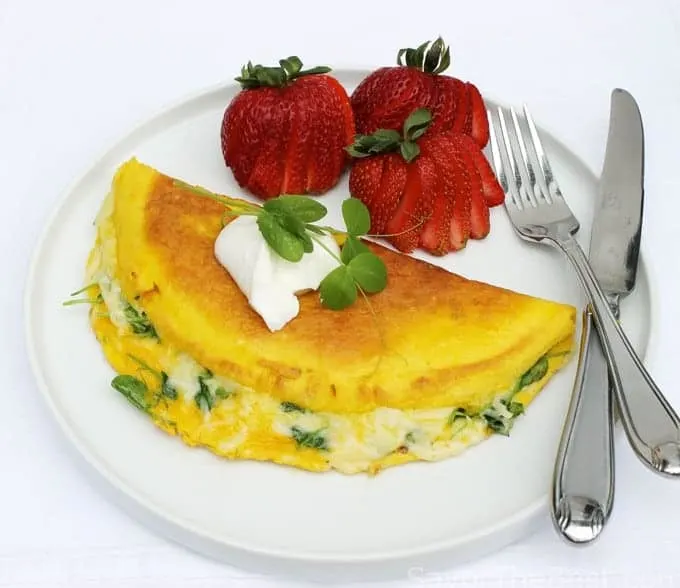 CONNECT WITH SAVOR THE BEST!
Be sure to follow us on our social media accounts
Facebook * Instagram * Pinterest * Twitter * Youtube
Did you make this recipe? We would love to hear from you. Drop us a comment below.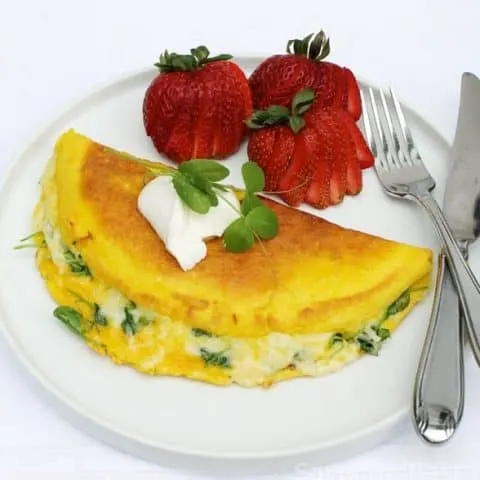 Pea Shoots and Swiss Cheese Omelet
recipe for pea shoots and Swiss cheese omelet, an American-style three-egg omelet filled with fresh pea shoots and Swiss cheese.
Ingredients
3 large eggs
1/4 cup milk
1/2 teaspoon sea salt
1/4 teaspoon freshly ground black pepper
1 tablespoon olive, avocado or coconut oil
1-1/2 cup chopped fresh pea shoots
2 teaspoon chopped fresh tarragon
1/2 cup grated Swiss cheese
1 tablespoon sour cream for garnishment
Pea shoots for garnishment
Instructions
In a small saucepan over high heat, bring 1/4 cup of water to a boil. Add the pea shoots, put a lid on the pan and remove it from the stove burner. Allow the pea shoots to wilt for 2 minutes. Drain and discard any remaining water from the pea shoots and reserve.
Add the eggs, milk, salt and pepper to a small dish and whisk to combine.
Heat a 10-inch omelet pan or skillet with slopping sides, over medium-high heat and add 1 tablespoon of oil. Pour the egg mixture into the pool of oil, allowing the egg mixture to spread the oil out.
Cook the eggs until they are set on the bottom and the edges begin to firm up. Using a stiff spatula, lift the edges all around the pan slightly to push the eggs into the center area. When you see that the center is beginning to slightly firm up, about 20-30 seconds, add the pea shoots, tarragon and cheese in a strip, just slightly off-center. Loosen up the edges and carefully, flip the larger side up over the filling. If you allow the eggs to cook too long the omelet will crack at the fold. Reduce the heat to it's lowest point and continue to cook for another 30 to 45 seconds or until the eggs are firm and no longer runny.
Plate the omelet, garnish with the sour cream and pea shoot sprigs and serve.
Nutrition Information:
Yield:

2
Serving Size:

1
Amount Per Serving:
Calories:

668
Total Fat:

39g
Saturated Fat:

16g
Trans Fat:

0g
Unsaturated Fat:

20g
Cholesterol:

310mg
Sodium:

717mg
Carbohydrates:

51g
Fiber:

20g
Sugar:

16g
Protein:

33g
Nutrition information is a guideline only, is calculated automatically by third-party software, and absolute accuracy is not guaranteed.