This recipe for sautéed zucchini with herbs is a super easy, tasty, and healthy dish that takes almost no preparation time. It's full of flavor, making it a perfect side dish for any meal.
Zucchini, also known as courgettes, is a versatile vegetable with a mild flavor that absorbs the fresh herbs in this recipe, resulting in a delicious garden-fresh meal.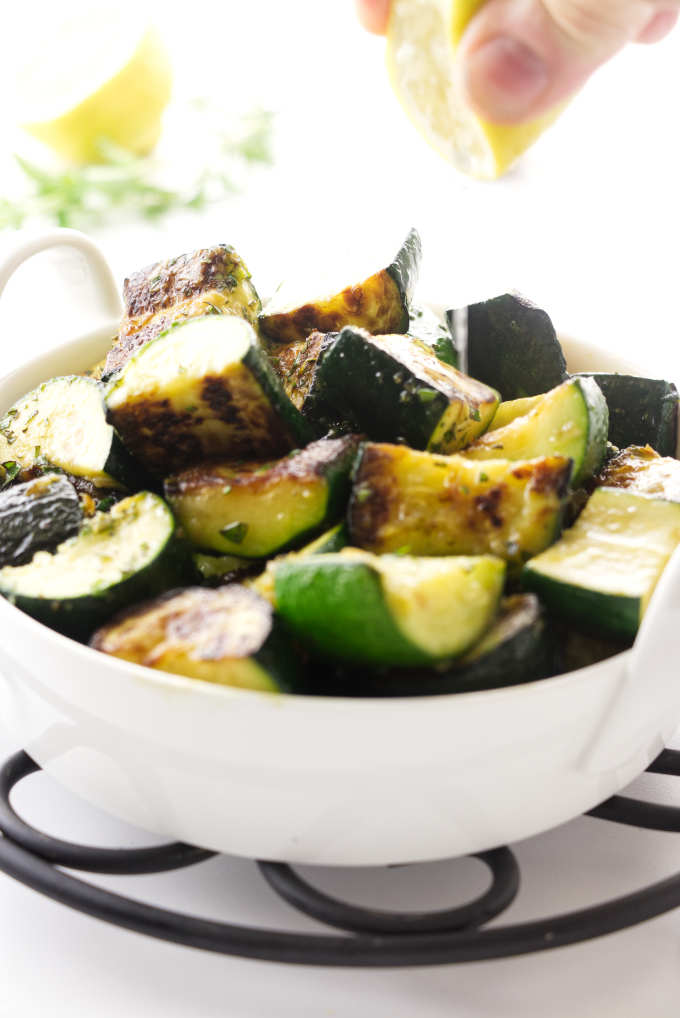 Our garden always produces an over-abundance of zucchini. It is easy to grow and doesn't require much upkeep in the garden. The delicate flavor goes well in savory dishes as well as sweet desserts.
If you need some ideas for using up your zucchini, try making zucchini fritters or zucchini garlic soup. If you have a sweet tooth, try it in our brown sugar zucchini bread or our Kamut zucchini muffins.
I plucked a few zucchinis from the vines to make this herbed zucchini squash as a side dish for our dinner. I may still get a few more of these beauties before the end of the season.
The herbs in the garden are also doing well, and I used them to make this herbed zucchini squash.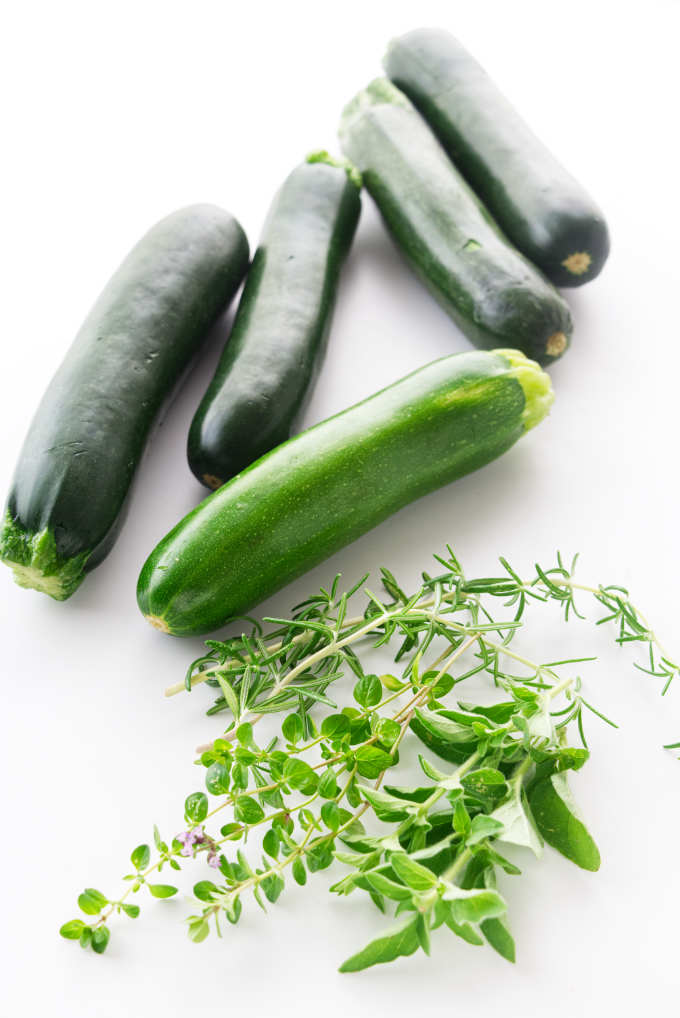 The Ingredients for Sautéed Zucchini with Herbs
Oil. See the tips below for suggestions on cooking oils.
Zucchini. We prefer smaller zucchini for this recipe.
Garlic. The flavor of fresh garlic is sharper and pepperier than that of dried garlic..
Salt and pepper.
Thyme. You can also use savory or marjoram.
Oregano. Fresh oregano has an assertive flavor. A little goes a long way.
Rosemary. Like oregano, rosemary has a pronounced flavor.
Lemon. Add the lemon before serving for a burst of brightness.
Herbs that go with Zucchini
If you don't have some of the herbs listed in the recipe, you can use many other herbs for a sensational flavor. Here is a brief list of herbs that taste great with zucchini.
Savory
Thyme
Oregano
Rosemary
Marjoram
Italian seasoning
Red pepper flakes
Parsley
Chives
Dill
Basil
If you don't have fresh herbs, you can use dried herbs. Spiceology has some great blends of herbs and seasonings that go well with vegetables. Here are a few of our favorites.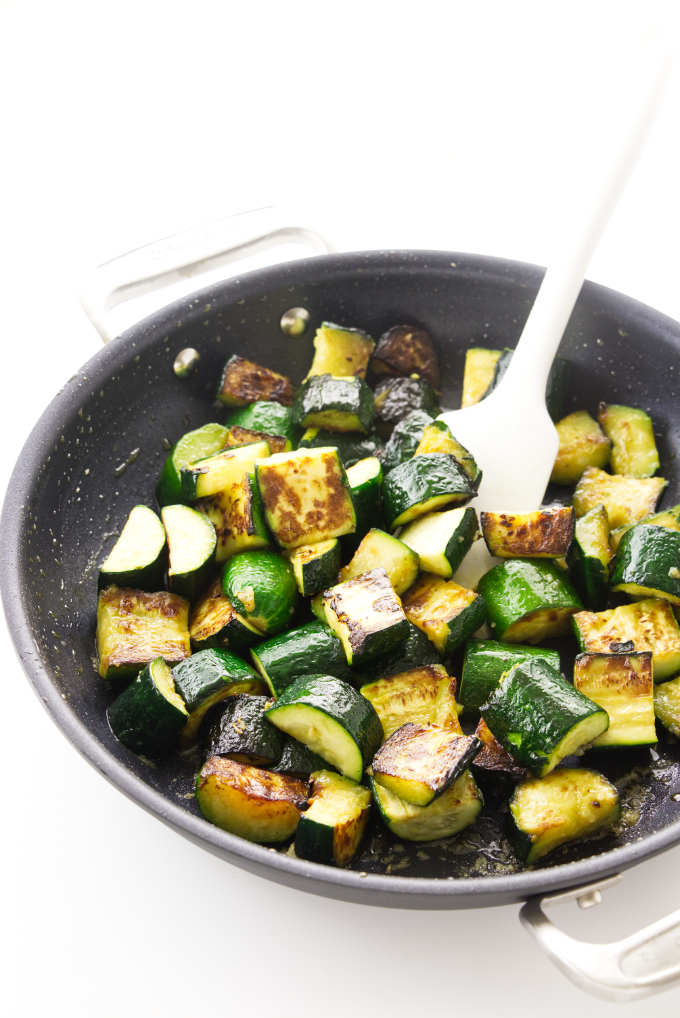 How To Saute Zucchini
This herbed zucchini squash recipe is a breeze to prepare. It can be prepped ahead of time and finished a few minutes before serving the main course. Here is a quick breakdown of the recipe. Make sure you scroll down to the printable recipe card for all the details.
Clean and slice the zucchini squash.
Heat some oil in a skillet. When the oil is hot, toss in the sliced zucchini.
Cook the zucchini for a few minutes before adding the garlic then continue cooking until it looks slightly caramelized.
Remove the pan from the heat and toss in the fresh herbs.
Squeeze some lemon juice over the zucchini just before serving the dish.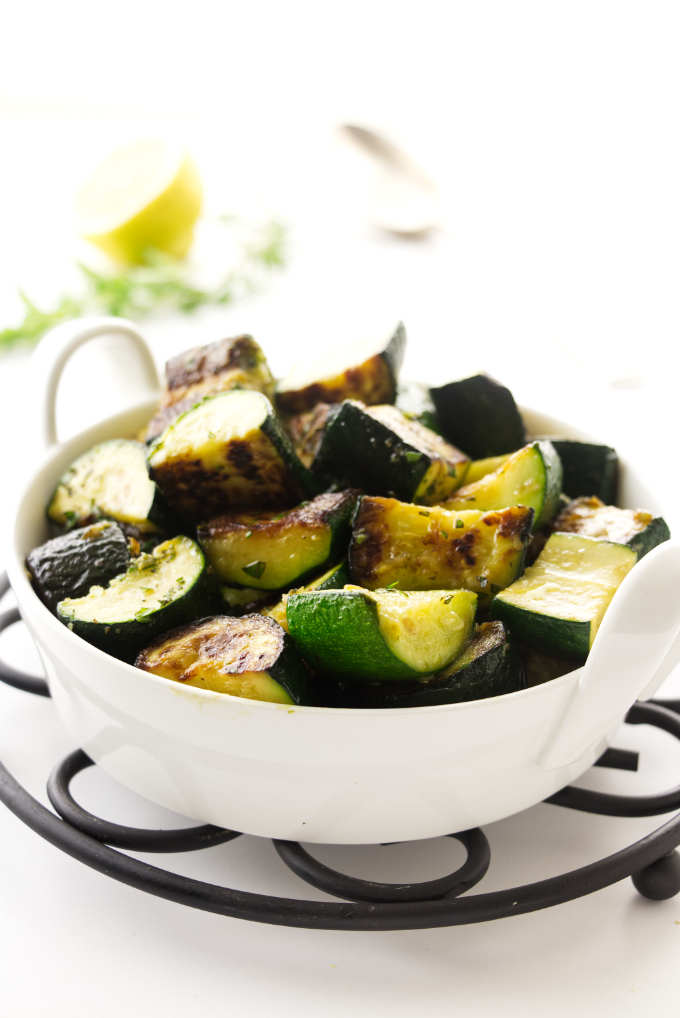 Tips for the Best Sautéed Zucchini
You don't need to peel zucchini. Leave the skin on for extra nutrition and flavor.
Try to pick smaller zucchini for the best flavor. Giant, overgrown zucchini are still edible, but they aren't as tender. Larger zucchini also have a pulpy texture, big seeds, and release more liquid than smaller zucchini.
Saute over moderate heat so the zucchini has time to sweeten and caramelize evenly!
To retain the fresh, bright flavor of the herbs, add them at the end of the cooking process. If you're substituting with dried herbs instead of fresh herbs, add them at the start of the cooking time.
Make do with whatever cooking oil you have on hand. Coconut oil will lend a sense of tropical sweetness, while olive oil will bring peppery, green flavors. The garden-fresh tastes of the zucchini and herbs will shine through with a neutral oil like canola oil.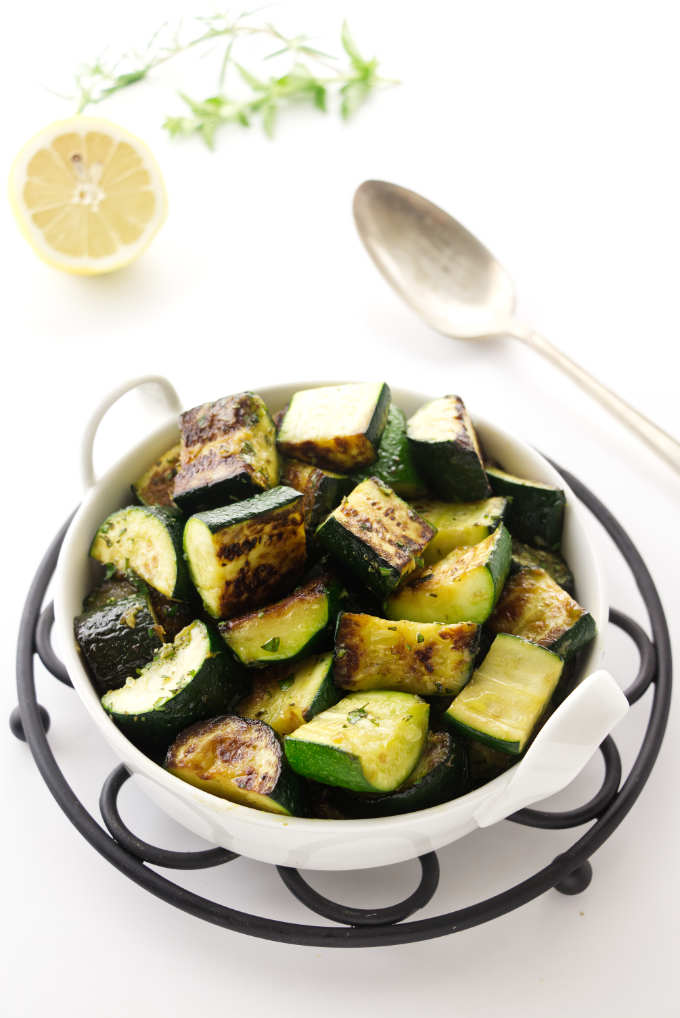 This sautéed zucchini would go well with any main course meat you choose. We suggest serving this alongside your next meal! I hope that you enjoy cooking up this easy side dish tonight (or whenever).
Helpful Tools
Some of the following are affiliate links. If you click on these links and purchase something, we may receive a small commission. You don't pay any extra but it will help us keep the lights on.
Some Other Recipes We Are Sure You Will Love:
This beautiful and delicious corn succotash is a great side dish with a variety of bright summer vegetables. It's easy to make and adaptable: leave off the bacon for a vegetarian version, or add beans for a more traditional corn succotash.
Crisp bacon, juicy tomatoes, and creamy blue cheese top our green bean salad. Toasted almonds give a bit more variety to the kaleidoscope of textures, and the salad is finished with a tart Dijon vinaigrette. It's a great way to use up some fresh green beans.
Our recipe for sautéed beet greens is a healthy and delicious side dish. The additions of garlic, lemon juice, and crispy bacon pieces improve the flavor of the beet greens even more!
Connect With Savor the Best:
Please follow us on our social media accounts
Facebook * Instagram * Pinterest * Youtube * Twitter
Did you make this recipe? We would love to hear from you. Drop us a comment below.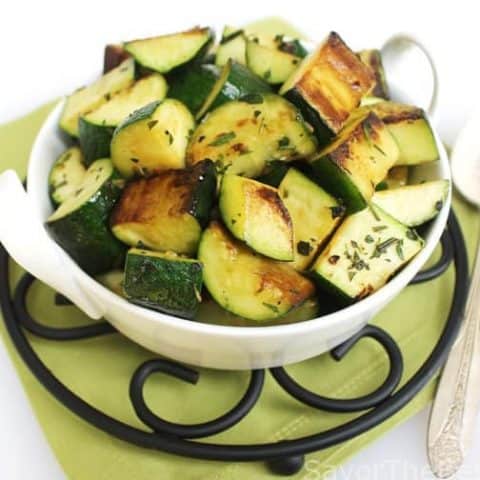 Sautéed Zucchini with Herbs
This is an easy recipe for a side dish of herbed zucchini squash. Zucchini is available all year but is never better than fresh from the garden. A squeeze of fresh lemon juice brightens the flavors
Ingredients
1 tablespoon coconut oil, or oil of your choice
1 1/2 pounds fresh zucchini, cut into 1-inch cubes
1 large clove of garlic, crushed
1/4 teaspoon kosher salt
Pinch of fresh ground black pepper
1 tablespoon chopped fresh thyme
1 tablespoon chopped fresh oregano
1 tablespoon chopped fresh rosemary
1/2 fresh lemon
Instructions
In a medium-size, heavy-bottomed skillet, over medium-high heat, add the oil.
When the oil is hot add the zucchini cubes. Cook for three minutes then add the crushed garlic, salt, and pepper. Stir gently as the squash begins to color. Cook for an additional two or three minutes just until the squash begins to soften slightly.
Remove the pan from heat and add the fresh herbs, gently toss to combine. Transfer the zucchini to a serving dish and squeeze the juice of the lemon over the top.
Notes
Zucchini does not need to be peeled. Keep the peel on for added taste and nutrients.
For the best taste, choose smaller zucchini. Larger zucchini have a pulpy texture, larger seeds, and higher liquid content.
Add the herbs towards the end of the cooking process to keep their fresh, vibrant taste. If you're using dried herbs instead of fresh herbs, put them in at the beginning of the cooking process.
Use whatever cooking oil you have on hand. Coconut oil will provide a tropical sweetness to the dish, while olive oil will add peppery, green notes. With a neutral oil like canola oil, the zucchini and herbs' garden-fresh flavors will shine through.
Nutrition Information:
Yield:

4
Serving Size:

1
Amount Per Serving:
Calories:

96
Total Fat:

8g
Saturated Fat:

3g
Trans Fat:

0g
Unsaturated Fat:

4g
Cholesterol:

0mg
Sodium:

140mg
Carbohydrates:

7g
Fiber:

3g
Sugar:

3g
Protein:

2g
Nutrition information is a guideline only, is calculated automatically by third-party software, and absolute accuracy is not guaranteed.
This recipe Sautéed zucchini was originally posted on September 17, 2015. We updated the photos but left a few of the original pictures below.