Zucchini garlic soup is a healthy, low-fat option that tastes decadent and creamy without the use of any cream. Pureed white beans add thickness and body to this light but satisfying soup. This is a delicious way to use all your zucchini (or courgette) from the garden. Bonus: it's gluten-free.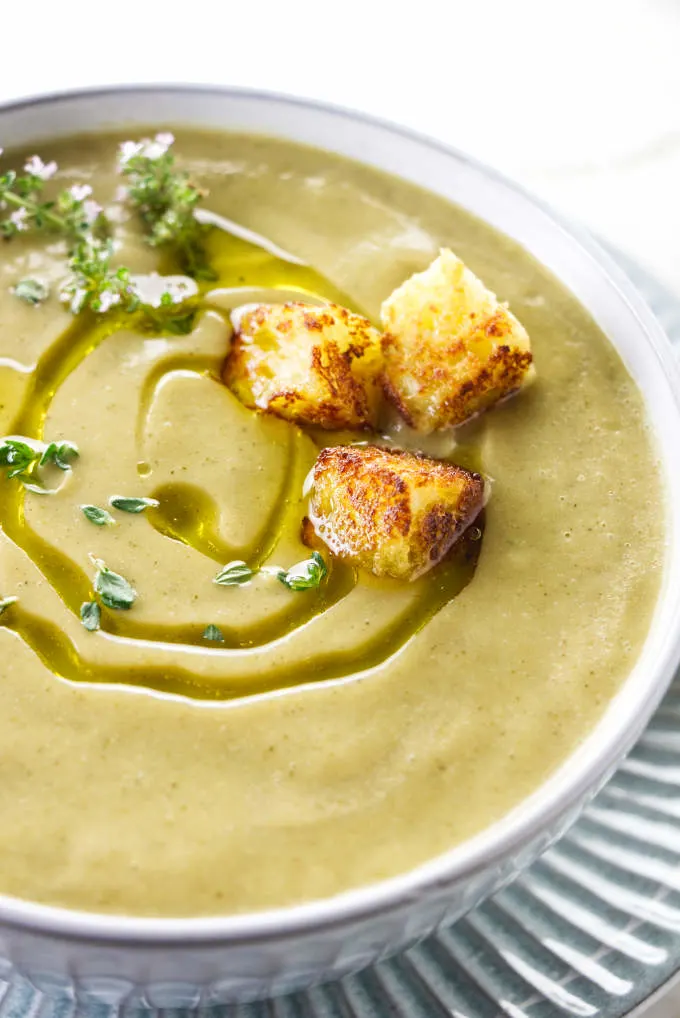 This zucchini garlic soup is simple and healthy. It tastes like we added a lot of cream but that is just not the case! It's the puréed white beans that does the magic in this healthy, delicious soup! Drizzle the top with some extra virgin olive oil, sprinkle some chopped chives or basil over it then serve it up with some crusty bread and a salad.
Courgette or Zucchini?
Another name for zucchini is courgette. Depending on where you live, you may be more familiar with the name "courgette". The term zucchini has Italian origins, but the phrase courgette is from French origins. They are two different names for the same fruit. So if you are looking for courgette and garlic soup, this is the recipe for you.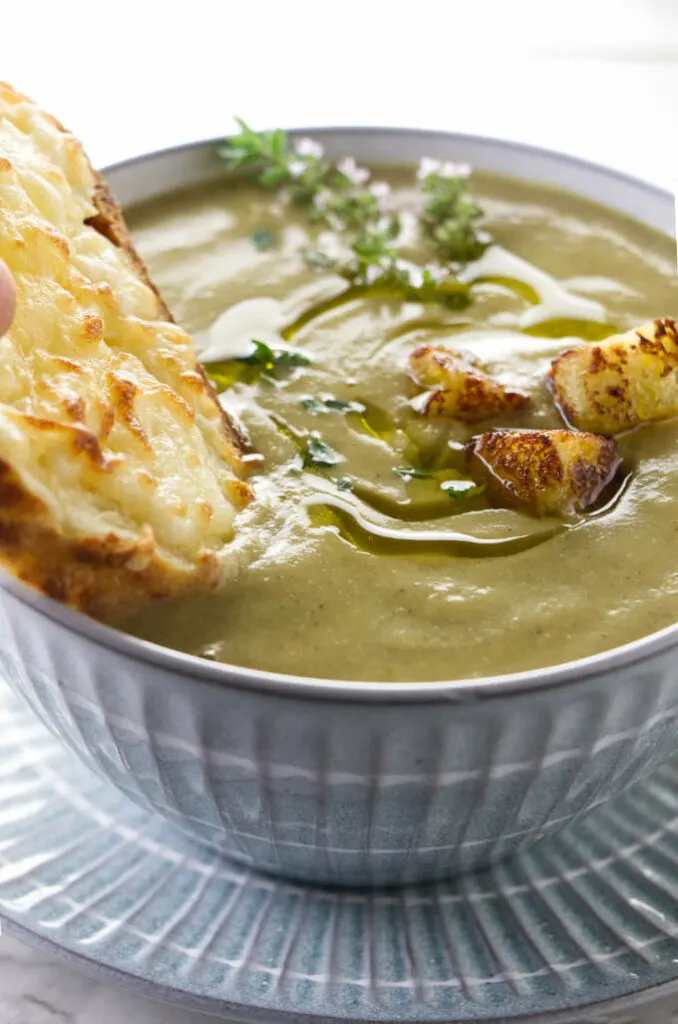 Ingredients You Will Need:
Here is the list of ingredients you will need to make this creamy, creamless zucchini soup.
Olive oil.
Onions.
Garlic. We use a LOT of garlic in this soup. If you want to use more than the recipe calls for, feel free.
Zucchini. There are several types of zucchini or courgettes. Use whatever you have on hand. The color of your zucchini will affect the color of the soup but the flavor will still be superb.
White beans. We used canned white beans to make this fast and easy soup. You can use navy beans, Great Northern, or Cannellini. You can even cook your own Mayocoba beans if you want.
Broth. We used chicken broth but if you want to keep this soup vegetarian then you can use vegetable broth.
White wine. If you don't want to cook with alcohol then just use a bit more broth or replace the wine with some water.
Salt and pepper.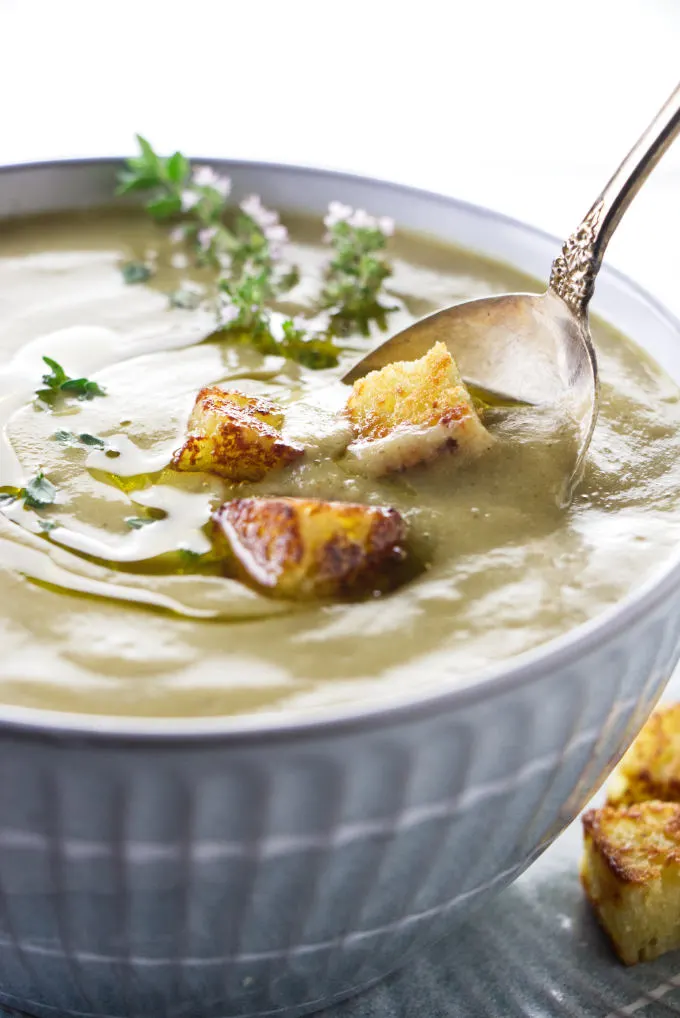 Making the Soup Smooth:
You can leave the zucchini soup chunky and brothy but we really like the creamy texture that it gets when it is pureed.
One of my favorite tools in the kitchen is an emersion blender. It allows you to blend hot liquids right in the pot. It is portable, easy to store and makes clean up fast.
I use it to puree soups all the time. It is so much easier and safer than using a standard blender for hot liquids. If you try to blend hot soup in a standard blender you could end up with an explosion of soup all over the kitchen. The hot air in a standard blender will expand, pushing off the lid and blowing the hot soup out of the top.
You can puree soup in a blender if you use caution but you won't ever want to if you have an emersion blender. It makes your work in the kitchen so easy. I don't just use it for pureeing soup.
I make pesto, sauces, hummus, aioli, smoothies and chopped nuts with an emersion blender. It is truly one of my favorite kitchen tools.
Healthy Zucchini Soup:
This zucchini garlic soup is perfect for those who want the taste of a creamy soup without all the fat. It's gluten-free, low in calories, and high in protein from the beans. The creaminess comes from pureeing the beans and zucchini and will trick your taste buds.
Useful tools:
Connect With Savor the Best:
Please follow us on our social media accounts
Facebook * Instagram * Pinterest * Youtube * Twitter
Did you make this recipe? We would love to hear from you. Drop us a comment below.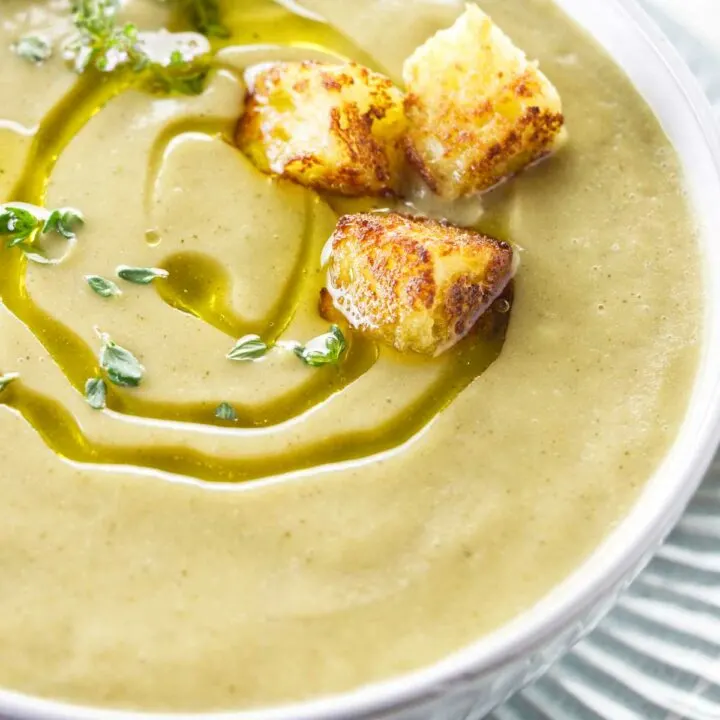 Zucchini Garlic Soup
This zucchini garlic soup is creamy and delicious without the use of cream. The recipe is just as satisfying when you're trying to cut back on calories or carbs, but it's also a great option for those following a vegetarian diet. It's easy to make and requires minimal prep time.
Ingredients
3 tablespoons olive oil
1 large yellow onion, chopped
20 large garlic cloves, chopped (approximately 2 bulbs of garlic)
2 pounds zucchini, (courgettes) shredded
1 can (15 ounces) white beans
4 cups chicken or vegetable broth
1/4 cup white wine
1/2 teaspoon salt
1/2 teaspoon pepper
Instructions
Heat the oil in a large pot over medium heat. Add the onion and cook on medium-low heat for about 5 minutes, or until soft. Add the garlic and heat for 2 to 3 minutes. Add the zucchini, beans, chicken broth and wine.
Bring to a simmer and cook uncovered for 40 to 50 minutes
Blend with an immersion blender and puree until smooth. If you don't have an immersion blender, you can transfer the soup to a standard blender after it has cooled down (see notes).
Taste and season with salt and pepper.
Notes
Always use caution when blending hot liquids in a standard blender. The hot air will expand and push the lid off, exploding hot liquid all over your kitchen. You should either let the soup cool down before blending it or only fill the blender partly and keep a dish towel over the top so it can vent.
Nutrition Information:
Yield:

6
Serving Size:

1
Amount Per Serving:
Calories:

196
Total Fat:

8g
Saturated Fat:

2g
Trans Fat:

0g
Unsaturated Fat:

13g
Cholesterol:

85mg
Sodium:

361mg
Carbohydrates:

21g
Fiber:

5g
Sugar:

4g
Protein:

9g
Nutrition information is a guideline only, is calculated automatically by third party software, and absolute accuracy is not guaranteed.
This recipe was originally published on August 3, 2015. We updated the photos but left some of the original photos below.