Garbanzo beans, also known as chickpeas, are used extensively in Middle Eastern cooking. They have become very popular in American cooking. But it is Hummus, a traditional Lebanese dip, made with mashed garbanzo beans, tahini, olive oil, garlic and lemon juice that has become ultra-popular.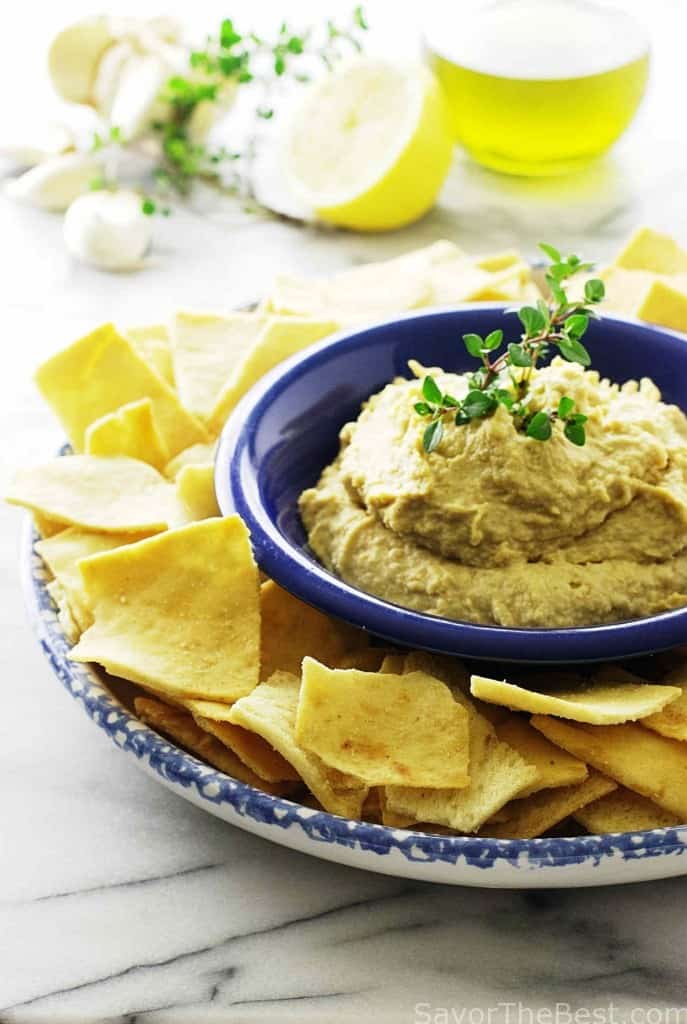 If you have never experienced the fresh taste of homemade hummus you will be surprised at how good it tastes and it is so much more healthy than a commercial-made hummus that will have a list of ingredients/preservatives added to it.
It is also pretty simple to make hummus with either dried garbanzo beans or the canned variety. You can control the texture by the amount of processing, sometimes I make it creamy and smooth but I prefer it a little bit chunky. If I am making a small batch with one can of garbanzo beans I use my mini-food processor which is a perfect size.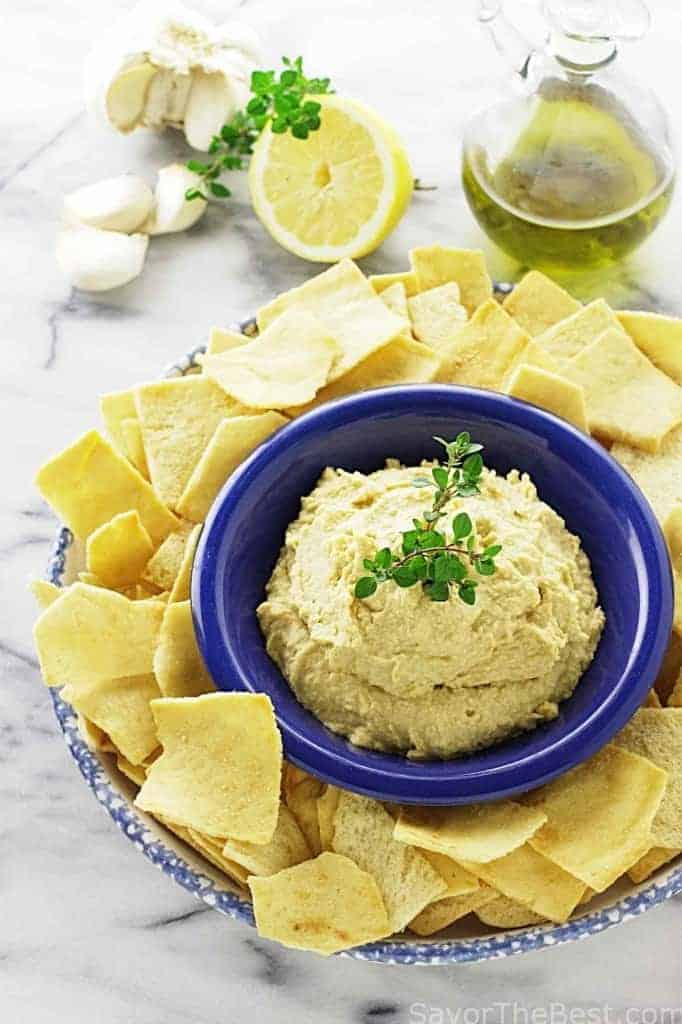 Try different flavors for your hummus.
This is a basic recipe for hummus that is quite adaptable to a variety of flavors. I have made it with sun dried tomatoes, also chopped black olives are delicious stirred in and spiked with a touch of chipotle. Get your imagination going and see what you can dream up. This hummus is delicious served with raw vegetables, chunks of naan bread or crisp pita chips.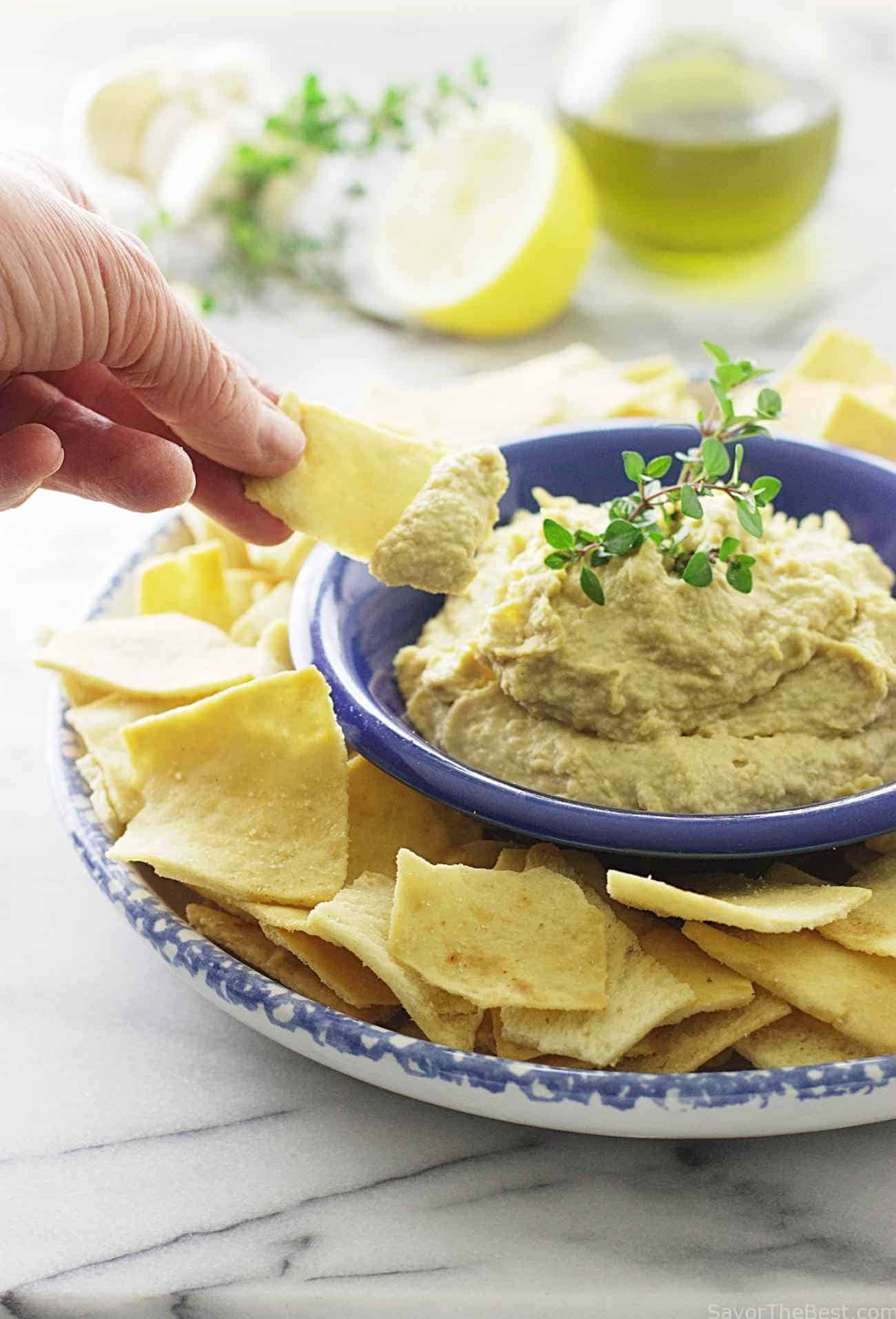 Check out the appetizer recipes:
CONNECT WITH SAVOR THE BEST!
Be sure to follow us on our social media accounts
Facebook | Twitter | Youtube | Pinterest | Instagram
If you make one of our recipes, snap a photo and tag it @savorthebest on Instagram and hashtag it #savorthebest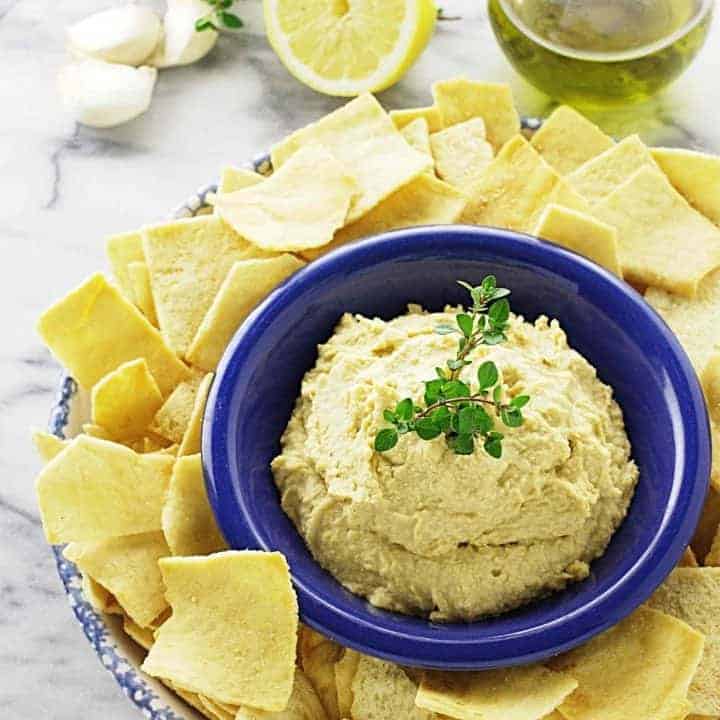 Hummus
Yield: 6 servings
Prep Time: 15 minutes
Total Time: 15 minutes
A recipe for hummus dip that is always a big hit. Serve with fresh vegetables, pita bread or chips.
Ingredients
¼ cup tahini
¼ cup fresh lemon juice
6 garlic clove, minced
¼ cup olive oil or sesame oil (toasted or plain)
¼ teaspoon ground cumin
½ to 1 teaspoon kosher salt, depending on taste
1-15 ounce can of garbanzo beans, drained and rinsed with cold water
⅛ teaspoon cayenne pepper or a dash of hot sauce
2 to 3 tablespoons hot water or lemon juice
Sprigs of fresh parsley for garnish
Instructions
In the bowl of a food processor, combine tahini and lemon juice. Process for 1 minute. Scrape down the processor bowl and add the olive oil or sesame oil, minced garlic, cumin and the salt to the tahini and lemon juice mixture. Process for 30 seconds, scrape sides and bottom of bowl then process another 30 seconds.
Add half of the chickpeas and cayenne pepper to the food processor and process for one minute. Scrape sides and bottom of bowl, add remaining chickpeas and process for 1 to 2 minutes or until thick and smooth.
Notes
After processing the garbanzo beans you may need to thin the consistency which can be achieved by adding a couple spoons full of either water or fresh lemon juice. I like a tangy taste and I thin with lemon juice.
Nutrition Information:
Yield: 4
Serving Size: 1/3 cup
Amount Per Serving:
Calories: 140
Total Fat: 8g
Saturated Fat: 3g
Sodium: 310mg
Carbohydrates: 16g
Fiber: 4g
Protein: 4g