This authentic Lebanese hummus recipe is a velvety smooth, creamy dip. It's perfect for entertaining or as an easy snack! The recipe is straightforward, uses pantry ingredients, and it's so much better than store-bought!
Garnish it with pine nuts and Aleppo pepper flakes, then drizzle it with a glug of good olive oil. This rich hummus is perfect for spreading on pita bread, naan, or as a veggie dip.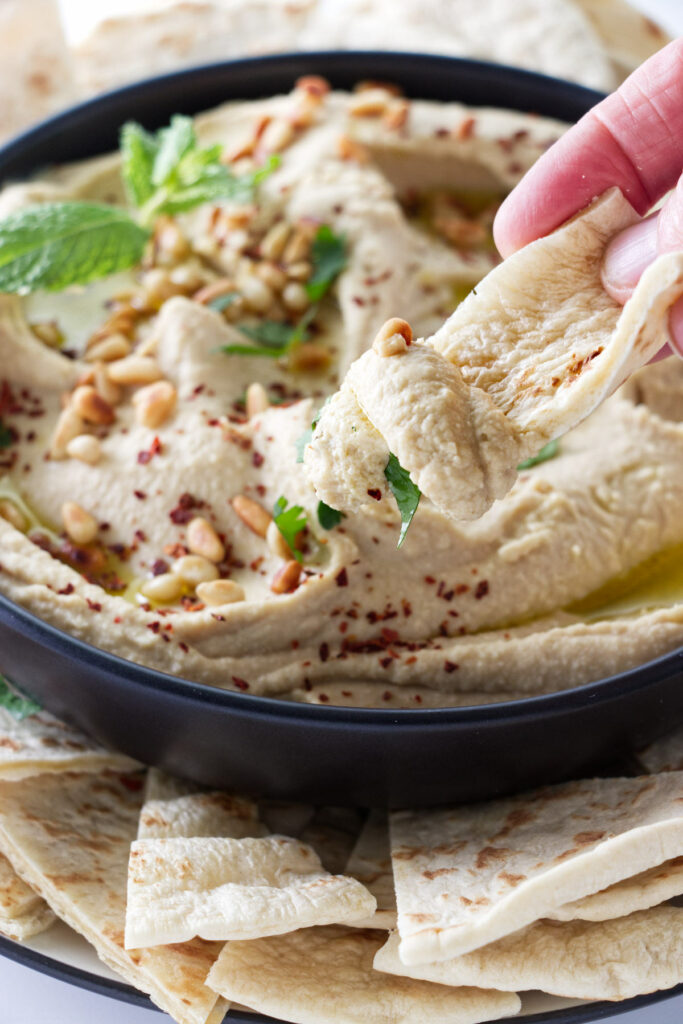 It seems that every country has some variation of hummus. Some like it hot and spicy, while others want their hummus more chunky with few seasonings. We started dried garbanzo beans for our Lebanese hummus recipe, which gives a fresh taste to this traditional Mediterranean spread.
You can use canned beans if you want to take a shortcut, but we think you will notice a difference in the flavor if you cook the beans yourself.
If you are interested in a unique variation of this creamy dip, try our carrot hummus or beet hummus.
Why This Lebanese Hummus Recipe Works:
This homemade hummus recipe is ultra creamy and full of flavor! It's perfect for dipping, spreading on sandwiches, or eating straight up with a spoon.

Cooking dry chickpeas adds a fresh taste and eliminates the metallic flavor that canned beans tend to have. However, if you want to take a shortcut and start with canned beans, that works as well.

It is a nutritious and healthy condiment.

The hummus is smooth and velvety.

It is an easy-to-make recipe that uses pantry items.
It is worth the extra time to start from scratch by soaking the dried garbanzo beans overnight before cooking them. I promise you will love this hummus recipe, whether made from freshly cooked or canned garbanzo beans.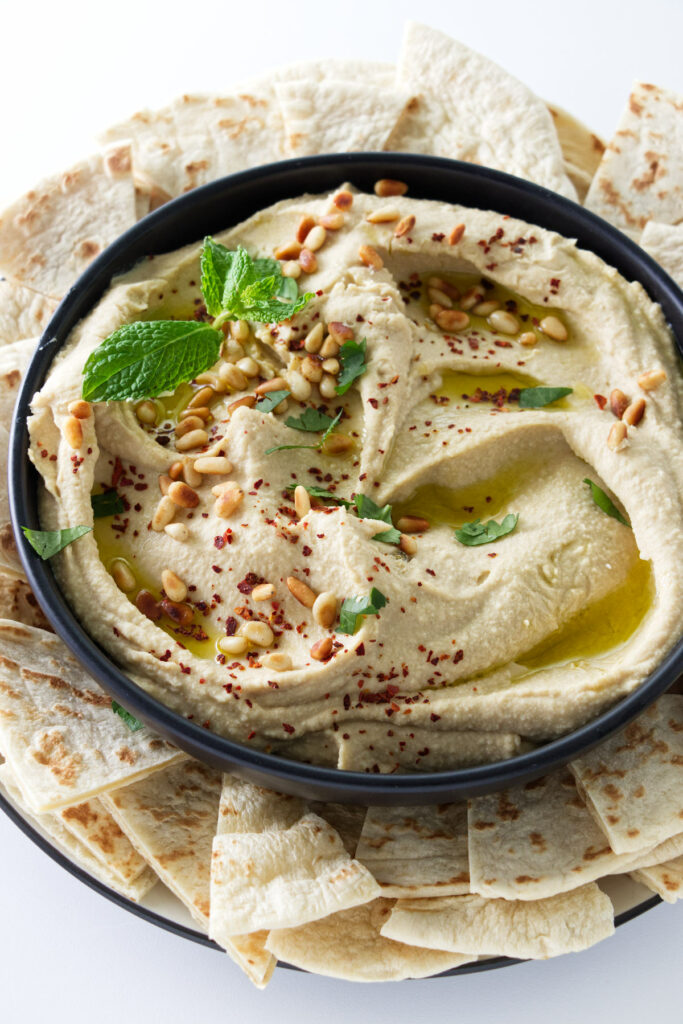 The Ingredient List:
Lebanese hummus is traditionally served as part of a meze platter with pita bread and vegetables. We also love it with crisp, crunchy baked pita chips. You only need a few simple ingredients to make the best hummus recipe.
Dried garbanzo beans. They are also called chickpeas, and this is the key ingredient in hummus. You can use canned chickpeas if you prefer.

Baking soda. It softens the beans when added to the soaking water.

Tahini paste. Use good tahini that isn't chalky or bitter. If you can't find it in your local grocery stores, Amazon sells some good brands. We like Seed + Mill and Soom (affiliate links), to name a couple, but there are many other solid brands that taste great.

Lemon juice. Adds a tangy flavor to the hummus. Use fresh lemon juice if you can.

Garlic cloves. Finely chopped or minced.

Salt and pepper

Garnishes of choice. We serve the hummus with a drizzle of extra virgin olive oil and a dash of paprika.
How to Make This Lebanese Hummus Recipe:
Here is a brief overview of how to make this recipe. Please scroll to the printable recipe card at the bottom of the post for all the details.
Transfer to a dish, drizzle with olive oil, then garnish with pine nuts and dried Aleppo pepper flakes.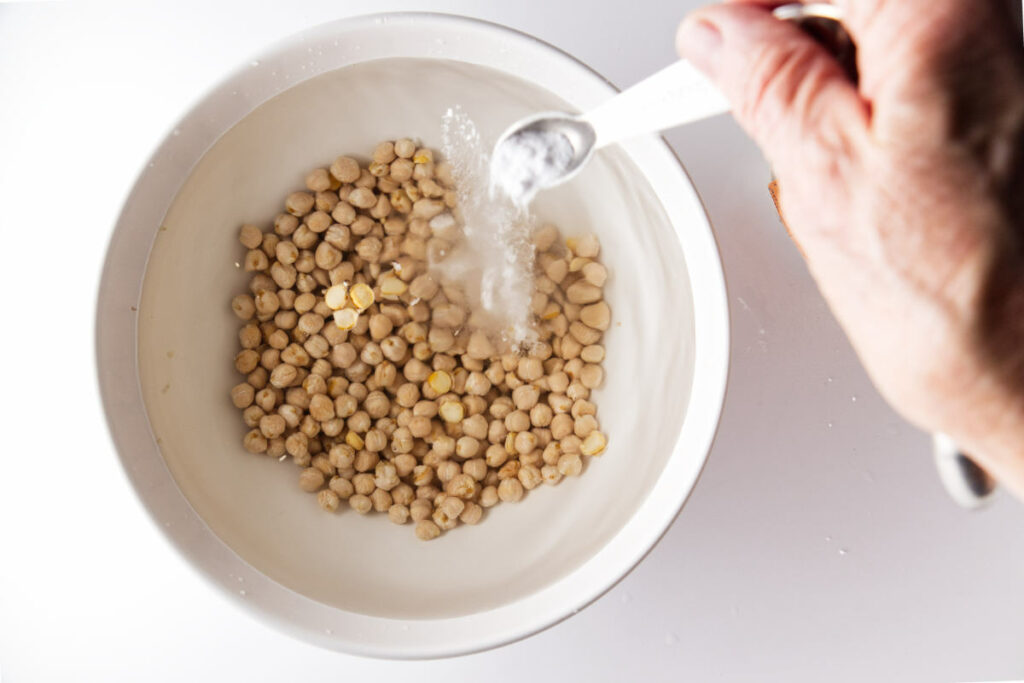 Rinse the garbanzo beans and add them to a bowl, cover with cold water and stir in the baking soda. Let soak overnight at room temperature.

Drain and rinse the beans. Place in a large pot and cook until soft. Drain the cooked beans, reserving 1 cup of the cooking liquid (aquafaba). By the way, you can also cook the chick peas in a pressure cooker like an Instant Pot.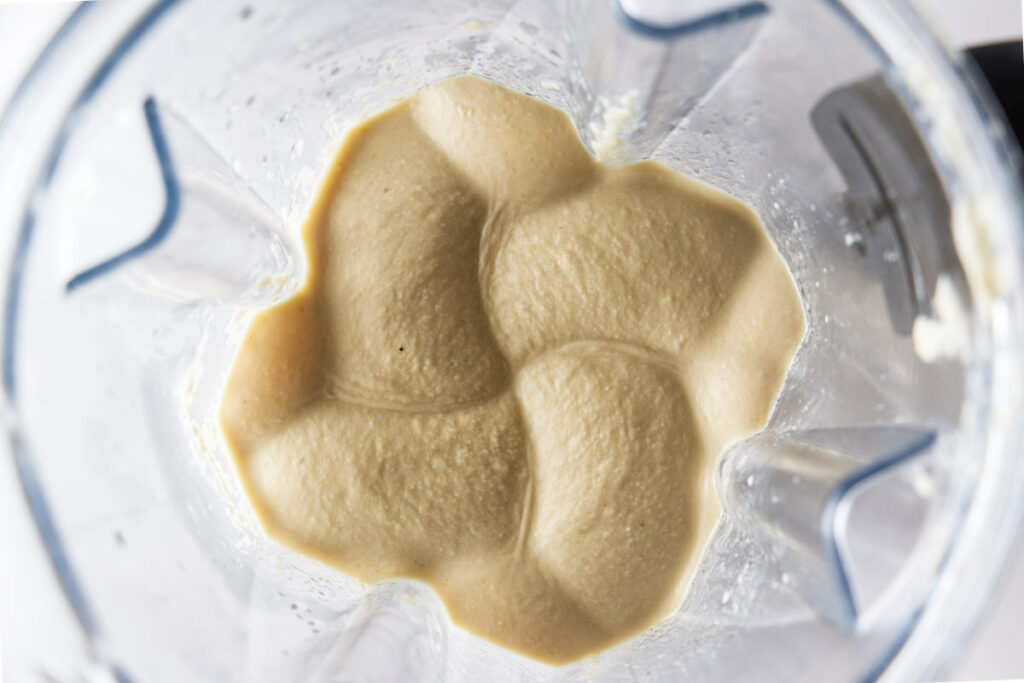 Add the tahini (sesame paste) and lemon juice to a blender and process until thick and creamy. Add the garlic, salt, and half of the cooked garbanzo beans, then process again.

Add the remaining garbanzo beans and process, thinning to desired consistency with portions of the aquafaba, lemon juice, or tap water until creamy and smooth.

Transfer to a dish, drizzle with olive oil, then garnish with pine nuts and dried Aleppo pepper flakes.
Tips for Recipe Success:
When using dried garbanzo beans, be sure to rinse them very well after their baking soda soaking.

If using canned garbanzo beans, rinse them with cold water.

For creamy hummus, use a high speed blender or a good food processor and process to the desired consistency. You will need to scrape down the sides a few times. For chunky hummus, use a food processor and pulse to desired consistency.

To flavor traditional hummus, use your favorite herbs and add-ins, such as chopped sun-dried tomatoes, olives, roasted red peppers, or roasted garlic.

If you want the smoothest hummus possible, you can remove the chickpea skins before you blend them. We don't trouble ourselves with that step but if you want to give it a try, place the warm chickpeas in a bowl of water along with some ice cubes and rub them between your hands. The skins will float the top, and you can skim them off.
Frequently Asked Questions:
Chickpeas vs. Garbanzo Beans…..What is the Difference?
Actually, they are both the same legume and can be used interchangeably. Whether you call these legumes chickpeas or garbanzo beans, they are healthy and versatile legumes packed with fiber and nutrition. The canned variety is more convenient as dried garbanzo beans require cooking to soften them.
How long will hummus last?
Homemade hummus will last for 3 or 4 days in the refrigerator. Store-bought hummus brands contain preservatives and will last 6 or 7 days.
Can I freeze leftover hummus?
Yes, you can. Spoon portions into the greased cavities of a standard muffin tin, then transfer to the freezer. Once frozen, the portions can be removed and stored in a closeable plastic bag or container.
Is hummus Greek or Lebanese?
Hummus is part of the cuisine in many Middle Eastern countries. There are slight variations between the different countries, but they all share some common characteristics. So, while hummus is not exclusively Lebanese or Greek, it is often thought of as being associated with these cultures.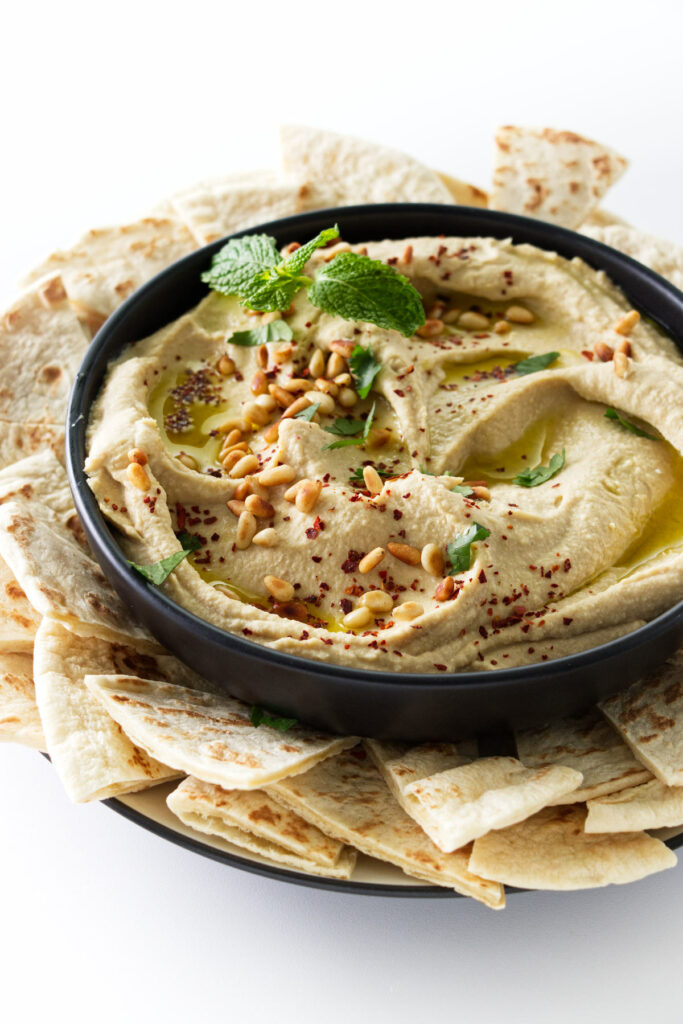 This authentic Lebanese hummus recipe was adapted from Julie Taboulie's Lebanese Kitchen. It is a healthy snack or appetizer that is perfect for any gathering! The best part about this recipe is that it is so simple to make and requires only a few ingredients you likely already have in your pantry. Grab some carrot sticks and dig in.
Variations
This Middle Eastern hummus recipe is quite adaptable to a variety of flavors. Sun-dried tomatoes or chopped black olives are delicious stirred into the creamy mixture, as well as a touch of chipotle for a spicy hummus (although it will no longer be a traditional Lebanese hummus with the variations).
Get your imagination going and see what you can dream up. This hummus is delicious served with tabouli salad and chunks of naan bread or crisp pita chips.
Check out the appetizer recipes:
Our Stuffed Dates are filled with gorgonzola and spicy chorizo. They make great party starters and fun finger food.
Labneh is a Middle Eastern yogurt cheese that is perfect as a creamy dip or spread. Serve it with some warm pita bread and you have a delicious and healthy snack! We also have a Red Beet Labneh.
Lebanese Garlic Sauce is a thick, creamy sauce with an intense garlic flavor. Serve it with steak, falafel, and shawarma.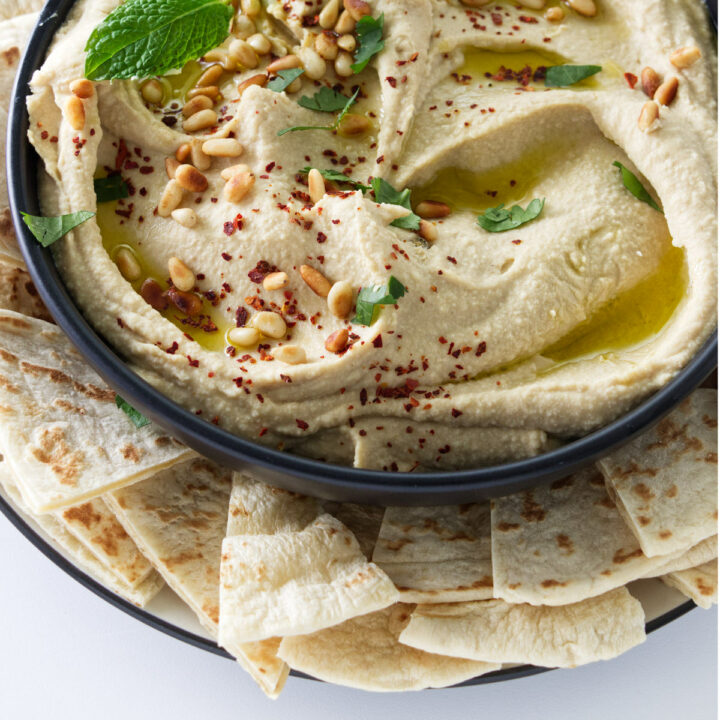 Lebanese Hummus Recipe
Cook Time:
1 hour
30 minutes
A creamy, velvety smooth spread garnished with pine nuts, and Aleppo pepper flakes, then drizzled with olive oil. This authentic Lebanese hummus is perfect for spreading on pita bread or as a dip for veggies.
Ingredients
To Cook the dried garbanzo beans:
1 cup (200 grams) dried garbanzo beans
Cold water to cover
1 teaspoon baking soda
For the Hummus
1/3 cup tahini sauce
1/2 cup freshly squeezed lemon juice
3 garlic cloves, minced
1 teaspoon salt
Garnishes:
Extra-virgin olive oil
Pinch of chili flakes
Toasted pine nuts
Chopped fresh parsley
Instructions
Cooking the dried garbanzo beans chickpeas:
Sort the garbanzo beans and discard any small dirt clumps or rocks. Rinse them well and place them into a large bowl. Submerge the garbanzo beans completely in cold water, then stir in the baking soda. Soak overnight at room temperature.
The next day, drain the garbanzo beans and rinse thoroughly. Place them in a large pot with 8 cups of cold water. Cover with a lid and bring them to a boil over high heat. When the water comes to a rolling boil, remove from the heat and skim off the foam on top.
Return the pot to medium-high heat and cook uncovered for another 10 to 15 minutes. Skim off any additional foam several times as they cook.
Test the garbanzo beans for doneness by squeezing one between your fingers. It should be a bit soft. Reduce the heat to simmer and cover the pot. Continue to simmer for another 25 to 30 minutes.
The finished garbanzo beans should be very soft but still hold their shape, and the skins will begin to come off. Taste a bean. It should melt in your mouth with no crunch to it. If needed, continue to cook until very soft. Drain the garbanzo beans and reserve 1 cup of the cooking liquid (aquafaba).
To Make the Hummus:
In a blender or food processor, add the tahini sauce and lemon juice. Process until thick and creamy, pausing periodically to scrape down the sides and bottom of the container.
Add the garlic and salt and process until completely smooth. Stop the motor, scrape down the sides, and add half of the garbanzo beans. Process the mixture with enough leftover liquid (aquafaba) to make a smooth mixture. Add the remaining chickpeas and process until smooth and creamy.
Add additional aquafaba liquid, or cold tap water, blending to the desired consistency.
Transfer the hummus to a serving bowl and drizzle with olive oil. Sprinkle with toasted pine nuts, chili flakes, and parsley. Serve with pita bread, baked pita chips, or fresh veggies.
Notes
Garbanzo beans and chickpeas are the same legumes.
Soaking the beans overnight will soften them and reduce the cooking time.
Tahini is a rich, nutty-flavored paste made from ground sesame seeds. When opening the container, the oil will be at the top. Stir well to combine. Store any unused portion in a covered container in the refrigerator.
If using canned garbanzo beans, open the cans and pour the contents into a mesh strainer set over a bowl. Reserve one cup of the liquid (aquafaba) and discard the remainder. Rinse the beans under cold water, and drain well. Proceed with making the hummus as instructed beginning with the lemon juice.
If you like a more tangy, lemony hummus add additional lemon juice during step #3 of the instructions.
For variations, try adding 1 teaspoon of cumin powder, additional minced garlic, and any fresh herbs of your choosing.
Nutrition Information:
Yield:

12
Serving Size:

1
Amount Per Serving:
Calories:

197
Total Fat:

9g
Saturated Fat:

1g
Trans Fat:

0g
Unsaturated Fat:

7g
Cholesterol:

0mg
Sodium:

469mg
Carbohydrates:

25g
Fiber:

2g
Sugar:

1g
Protein:

6g
Nutrition information is a guideline only, is calculated automatically by third-party software, and absolute accuracy is not guaranteed.