This roasted red beet hummus recipe makes a smooth, naturally-sweet and creamy hummus that's a brilliant shade of fuchsia. You can use roasted beets from the grocery store or easily make your own. Either way, this delicious homemade hummus has a gorgeous color and delicious earthy flavor from the beets.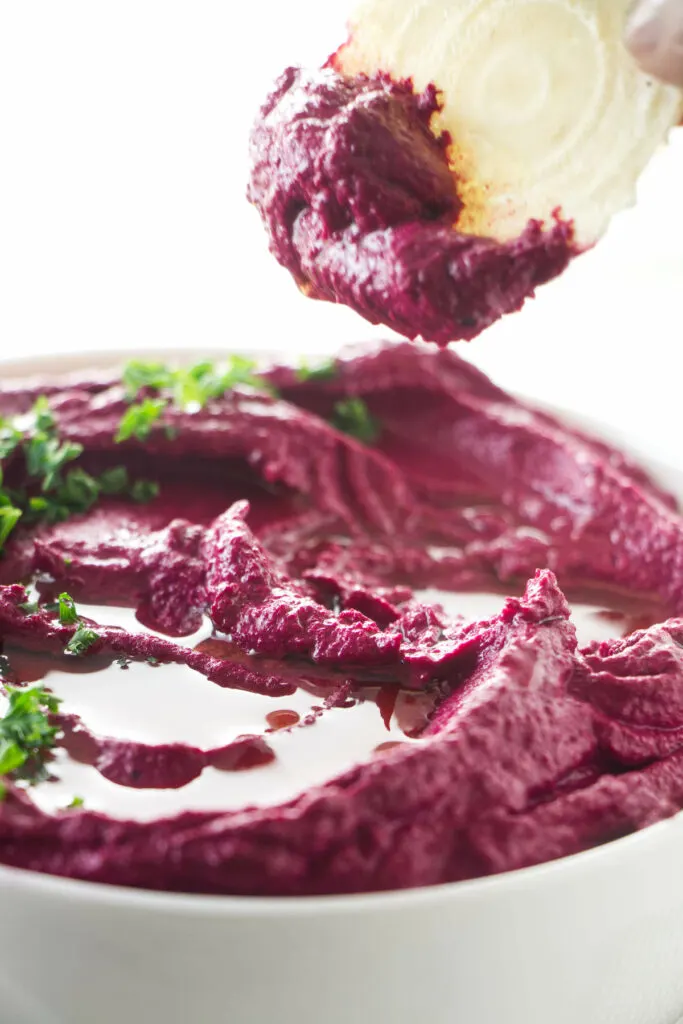 Homemade hummus is super easy to make. If you've ever enjoyed our traditional hummus recipe, you'll know how simple it is- a blend of garbanzo beans, tahini, olive oil, garlic and lemon juice.
Store-bought hummus just doesn't hold up to the creamy hummus you can make at home, and this red beet hummus recipe is no different!
It has a lovely beet flavor and is a versatile recipe you can enjoy year-round.
Why this Recipe Works
Our beet hummus recipe is one that hummus fans will love. Roasted beets develop a rich, slightly sweet flavor as they cook. We like to bake up a large batch and store them in the fridge or freezer to use for recipes like our roasted red beet soup and our fried goat cheese and roasted beet salad.
And, of course, this hummus recipe. With a creamy, chickpea and tahini base, the roasted beets add a beautifully subtle sweet flavor to the hummus.
Get the pita chips or some homemade naan ready for some delicious dipping action or enjoy this beetroot hummus as a sandwich spread.
The Ingredient List
Just like a classic recipe for hummus, a few simple ingredients are all you need to make your own beet hummus.
Nutty tahini, fresh garlic, and tangy lemon are familiar ingredients in regular hummus, and when combined with the roasted beets, it all comes together for a delicious and brilliant pink hummus with so much flavor.
fresh beets (or store-bought roasted red beets)
garbanzo beans (also known as chickpeas), reserve the liquid
tahini
fresh lemon juice
garlic cloves, minced
salt and black pepper
liquid from the canned garbanzo beans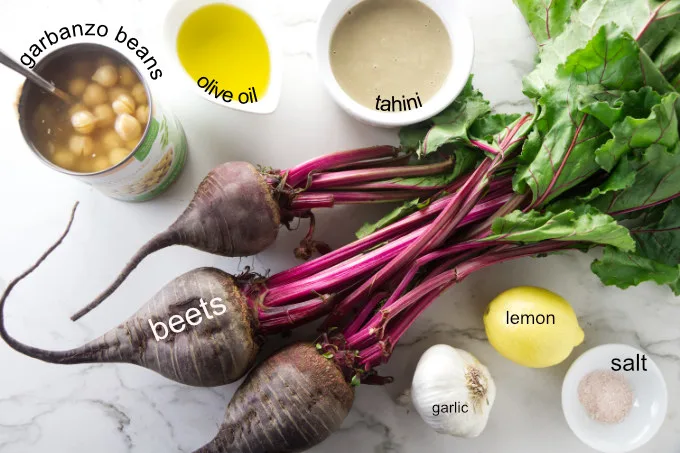 A food processor or high-speed blender is also required. That's how we get the hummus super smooth, creamy, and spreadable.
An Easy Beet Hummus Recipe
If you're using store-bought roasted organic beets, go ahead and skip the first step of this process and jump down to making the beet hummus.
If you're starting with fresh beets, roasting them is simple, you will just need to account for a bit of extra time.
Here's a quick look at the process. Scroll down to the printable recipe card for all the details.
Roast the beets: It takes about 45 to 60 minutes until the beets are tender. Set them aside and let them cool until you can easily handle them.

Remove the beet skins: Use a paper towel to grip the beets and slide the skin off. You can view our roasted beets recipe to see how we do this. Cut the beets into cubes.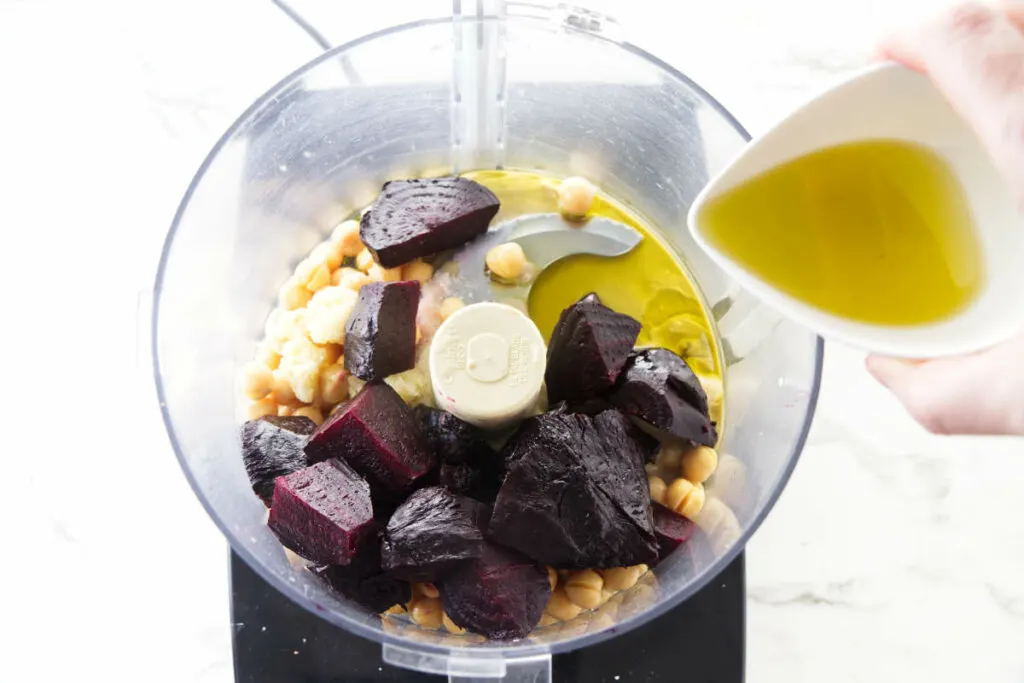 Make the beet hummus: Toss all the ingredients in the bowl of a food processor. Process until smooth (stop and scrape down the sides of the bowl as needed).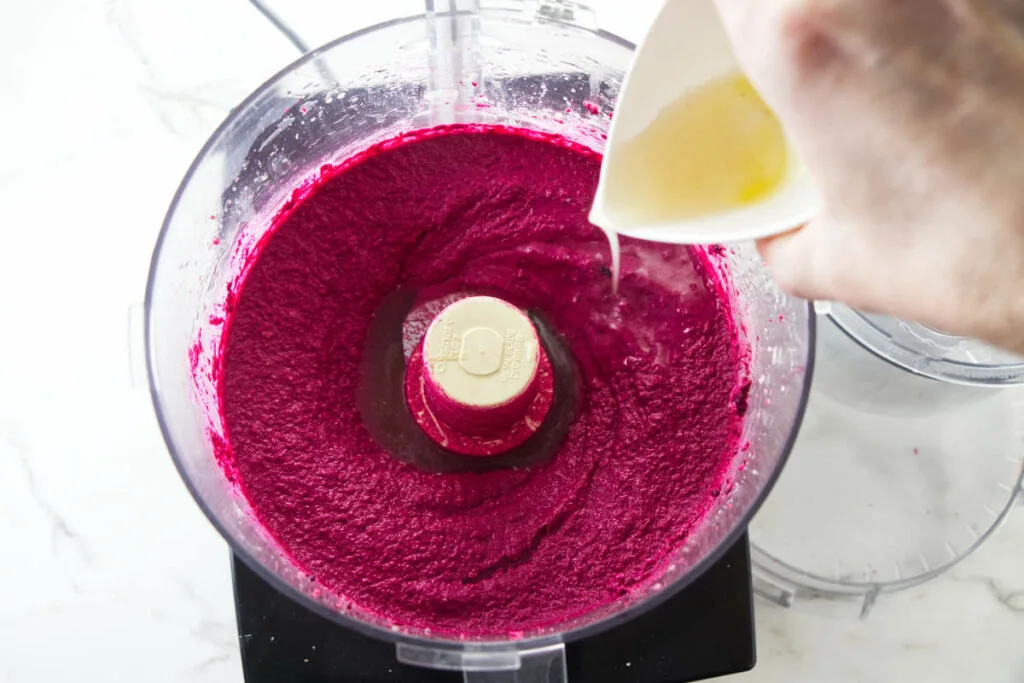 Drizzle some of the liquid from the garbanzo beans into the hummus and process a bit more. Adjust as needed, adding more liquid for thinner hummus. Taste and season with salt and pepper.
Tips for Our Red Beet Hummus Recipe
If you use a standard blender to make the hummus, you will need to stop the blender frequently and scrape the bottom and sides.

Store leftover beet hummus in an airtight container in the refrigerator until time to serve.

You can freeze the hummus for up to 6 months. Make sure you keep it in a freezer-proof container.

To serve the hummus, spread it on a small dish and top with fresh parsley, a drizzle of olive oil, or a sprinkle of sesame seeds, if desired.
What to Serve Hummus
This delicious recipe is similar to a classic hummus recipe, even when it comes down to all of the options for how to enjoy it!
We love this red beet hummus paired with:
garlicky einkorn naan or pita bread
pita chips
fresh vegetables like cucumber slices, celery, sliced bell peppers, and baby carrots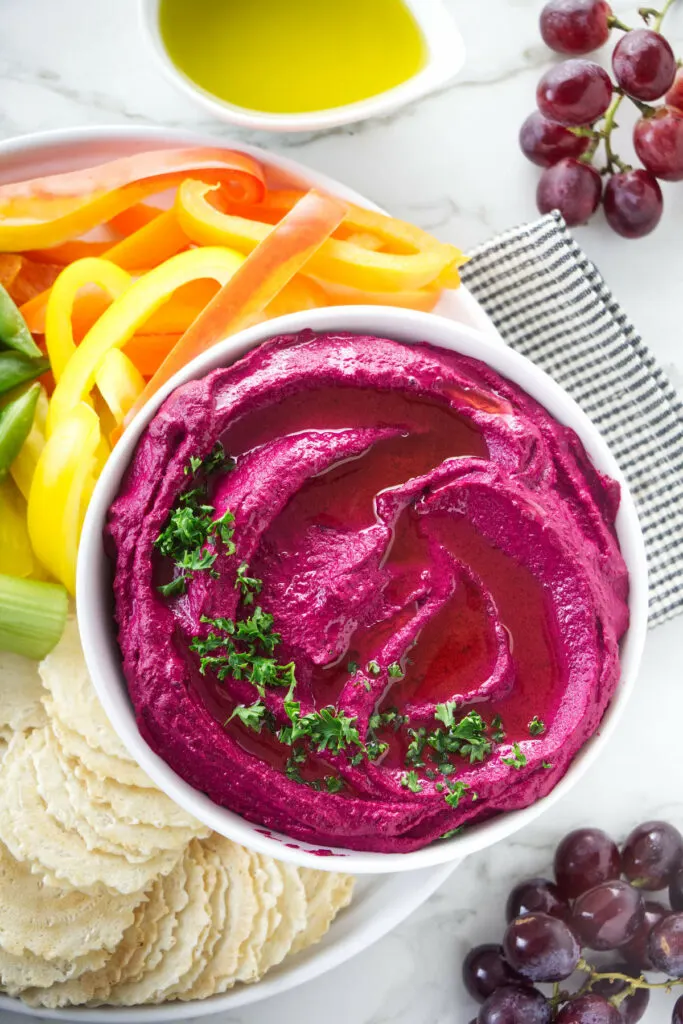 Frequently Asked Questions
Is beet hummus good for you?
This beet hummus recipe creates a healthy, nutrient-dense dip or spread that tastes delicious, too! Packed with protein from chickpeas and antioxidants from the red beets, it is most definitely a healthy choice.
How long does fresh beet hummus last?
It will keep well for up to five days as long as it's covered or stored in an air-tight container.
Does beet hummus have protein?
Chickpeas have about 2.4 grams of protein for every tablespoon, so yes, this beet hummus recipe is packed with protein!
Can you freeze beet hummus?
You can definitely freeze this roasted beet hummus. Portion smaller amounts into freezer-safe bags (or place all of it in a large bag). It will keep well in the freezer for up to six months.
Homemade beet hummus is the perfect dip to enjoy as a party starter and a great way to add a vibrant, healthy recipe to your menu.
It has a delicious earthy and nutty flavor we can't get enough of! It's so good in fact, you might have a hard time deciding whether you love this version or traditional hummus more!
More Appetizer Recipes
Helpful Tools
Some of the following links are affiliates. If you click on these links and purchase something, we may receive a small commission. You don't pay any extra but it will help us keep the lights on.
Some More Recipes We Are Sure You Will Love:
We've captured the flavors of Thai street food in this delicious Thai pork satay recipe! Tender, juicy bits of marinated pork with smokey, charred edges are served with a peanut butter dipping sauce.
This classic Italian herbed olive oil dip is a delicious appetizer you can quickly make in a hurry! Fresh herbs, olive oil, garlic clove and seasonings blend into one magical dipping sauce that pairs beautifully with slices of sourdough bread.
Hot Crab Dip is perfect for your next party. This dip is irresistible! It's cheesy, creamy, and packed with lump crab meat and TONS of flavor. Get the dippers ready- this one will go fast!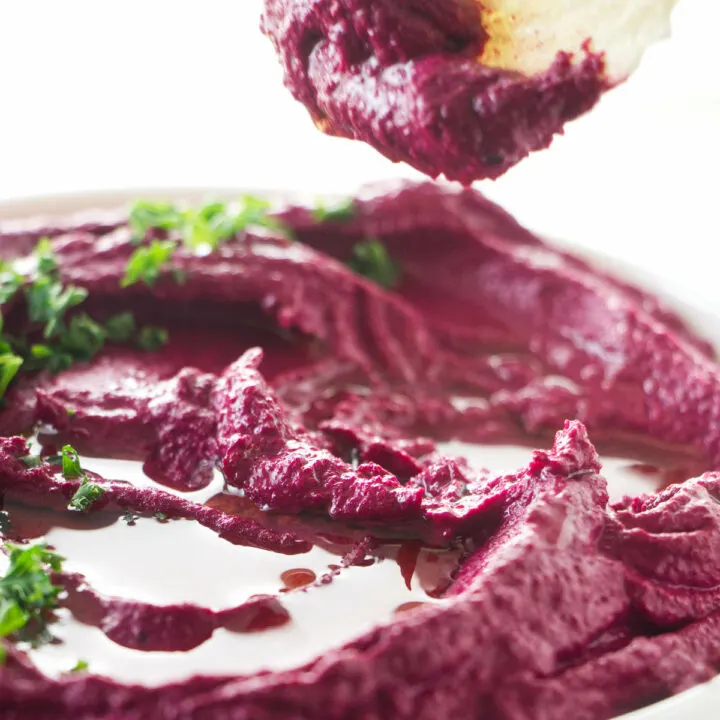 Red Beet Hummus
Roasted red beets add a brilliant red color and a naturally sweet flavor to traditional hummus. If you use store-bought roasted beets, you can skip the instructions regarding roasting the beets.
Ingredients
3 medium beets
1 can (15 ounces) garbanzo beans, reserve the liquid
1/2 cup tahini
2 tablespoons lemon juice
2 to 3 garlic cloves, minced
1/2 teaspoon salt
3 to 6 tablespoons liquid from the canned garbanzo beans
Instructions
Roast the beets
Preheat the oven to 400°F.
Cut the leaves off the beets, leaving about 1/2 inch of the stems attached. Clean the dirt off of them and brush them with olive oil. Place them in a baking dish and cover the dish with foil. Bake for 45 to 60 minutes or until tender. Set aside until they are cool enough to handle.
Use a paper towel to grip the beets and slide the skin off (watch how we did this in our post for roasted beets).
Cut the beets into cubes.
Make the beet hummus
Place the beets, garbanzo beans (without the liquid), tahini, lemon juice, garlic, and salt in a food processor. Process until smooth. You may have to stop and scrape down the sides of the bowl a couple of times.
Drizzle some of the liquid from the garbanzo beans into the hummus and process. If you want it thinner, add more liquid and process again. Taste and season with salt and pepper.
Nutrition Information:
Yield:

8
Serving Size:

1
Amount Per Serving:
Calories:

131
Total Fat:

8g
Saturated Fat:

1g
Trans Fat:

0g
Unsaturated Fat:

7g
Cholesterol:

0mg
Sodium:

265mg
Carbohydrates:

13g
Fiber:

3g
Sugar:

4g
Protein:

5g
Nutrition information is a guideline only, is calculated automatically by third-party software, and absolute accuracy is not guaranteed.