I am sure that if you are gluten-free you have to pass up many of those yummy-looking appetizers on the party tray. Well, you are safe with these crispy gluten-free artisan crackers as they are made with millet flour, sweet rice flour and tapioca flour all of which are gluten free.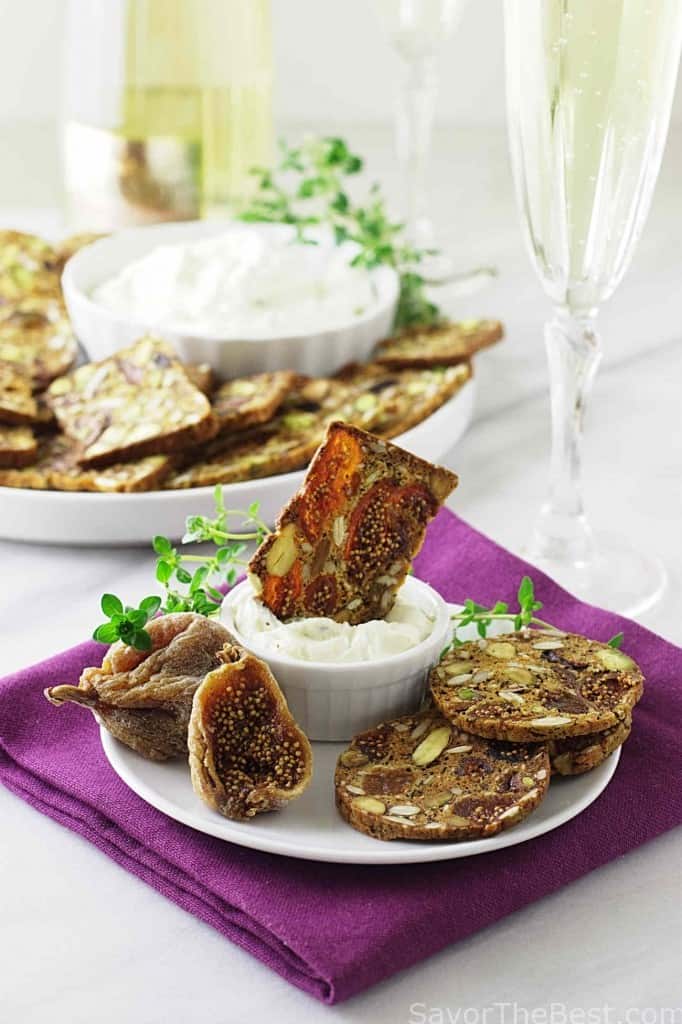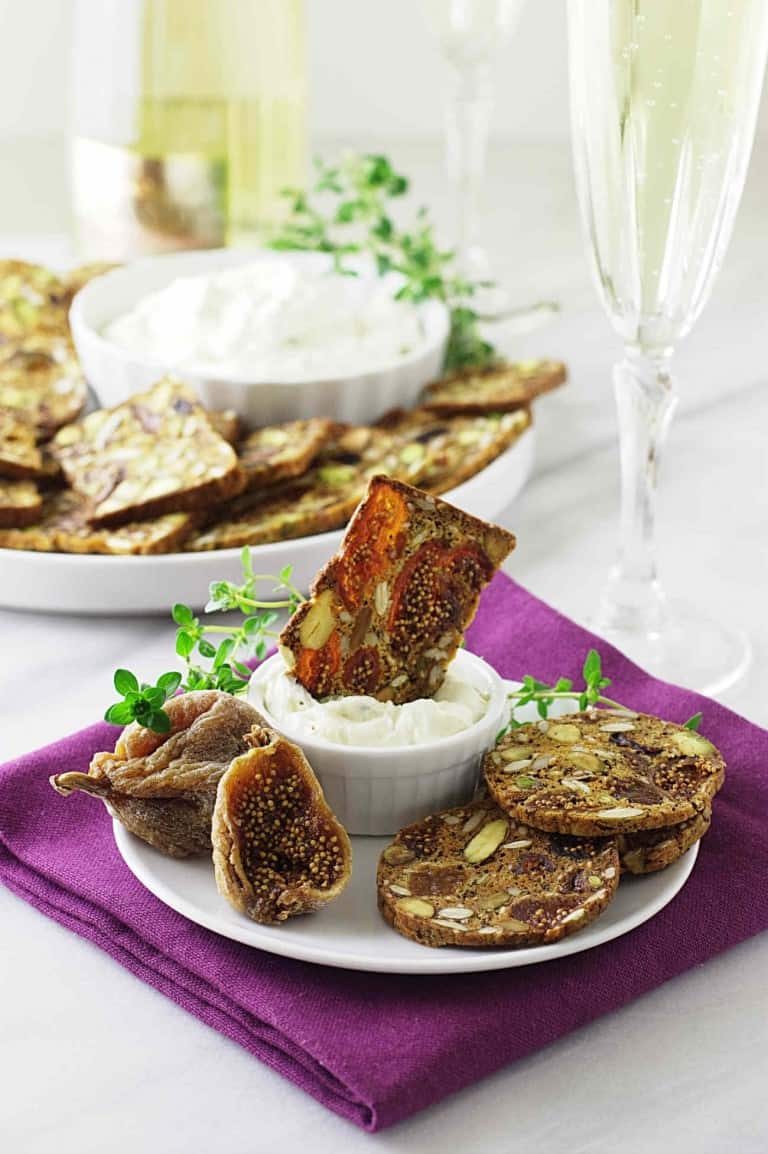 These gluten-free artisan crackers are crisp, thin crackers that are packed with organic dried figs, organic raisins, pistachio nuts and several kinds of seeds. The crackers are baked in small loaf pans for the rectangle crackers and small ten-ounce tomato cans for the round crackers.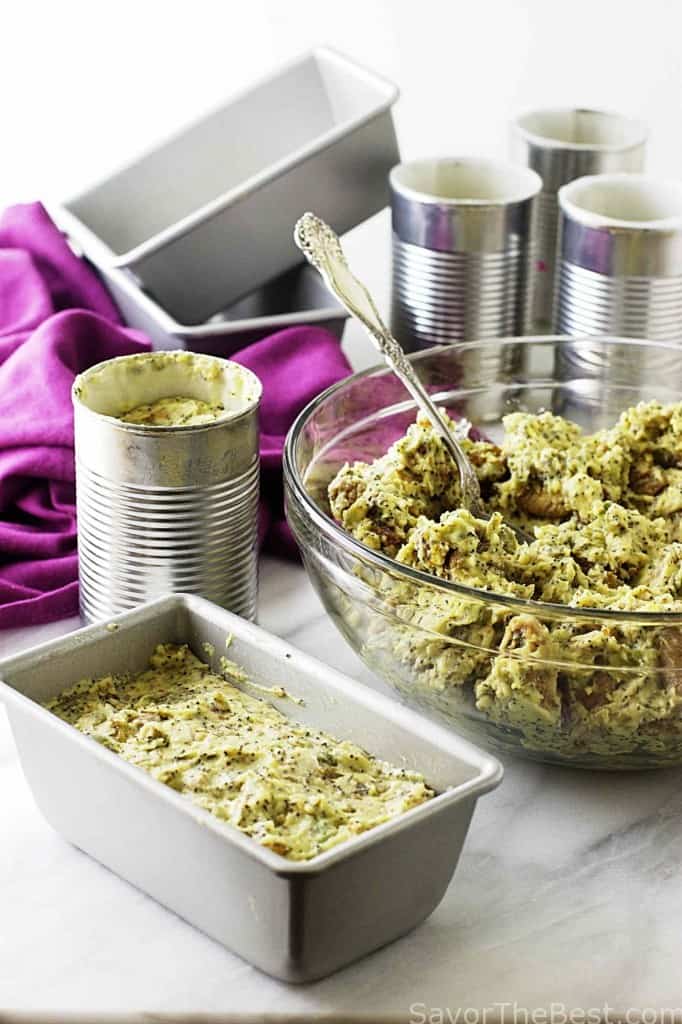 After the crackers are baked and cooled they are transferred to the freezer for a short time which helps in slicing them wafer thin. They are again popped back into a low-temperature oven to dry out to cracker-crispness. We served these crackers with a soft lemon-thyme mascarpone cheese spread but a soft goat cheese is another great choice.
The crackers are delightfully nutty, slightly sweet and have a perfectly crisp texture. If you think gluten free foods are boring and bland you must try these. They will change your mind and become your new obsession.
These crackers are a gluten-free version of our recent post of Ancient Grain Gourmet Crackers that are always a huge hit whenever they are served.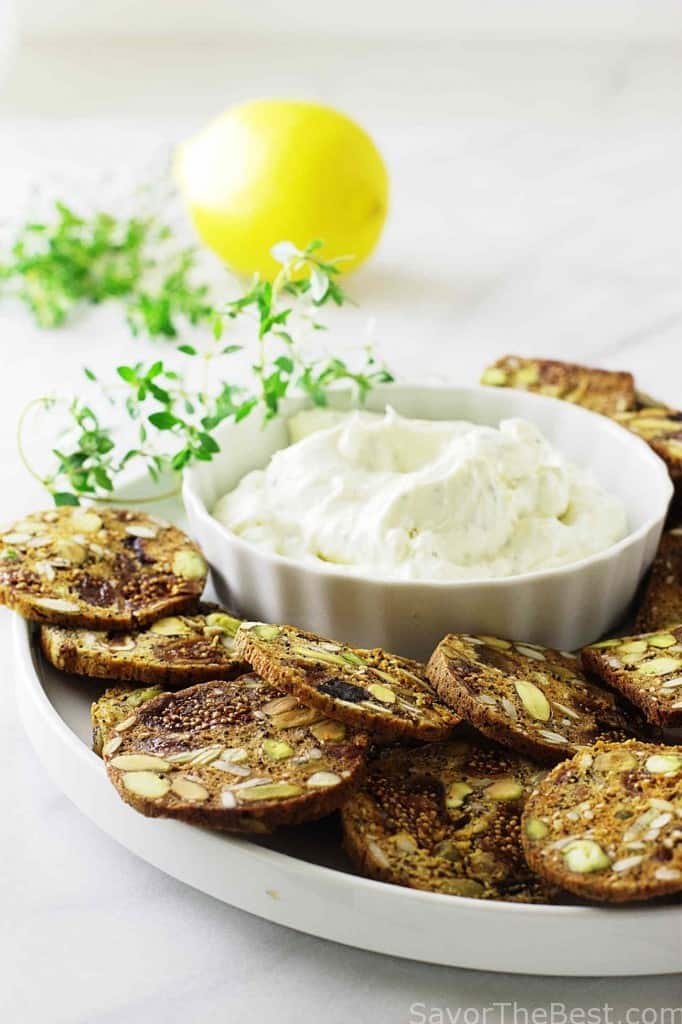 I was so happy to see that Costco had added organic sun-dried Calimyrna figs to their product line-up. As much as I love dried fruit of any kind it is the sulfite used in the drying process that has an explosive effect on me. Sulfite is an ingredient found in much of the dried fruit products on the market and many people have an allergy to it. These organic Calimyrna figs have not been dried with sulfite but are dried naturally in the sun. They are large, moist and sweet and a great addition in this cracker recipe.
There is an exciting event planned for July 30th as Dahn's son, (my grandson), Joshua and his bride-to-be, Sara are getting married. Dahn and I will be bringing a few appetizers to add to the refreshments and we baked these crackers especially for any gluten-free guests at the wedding.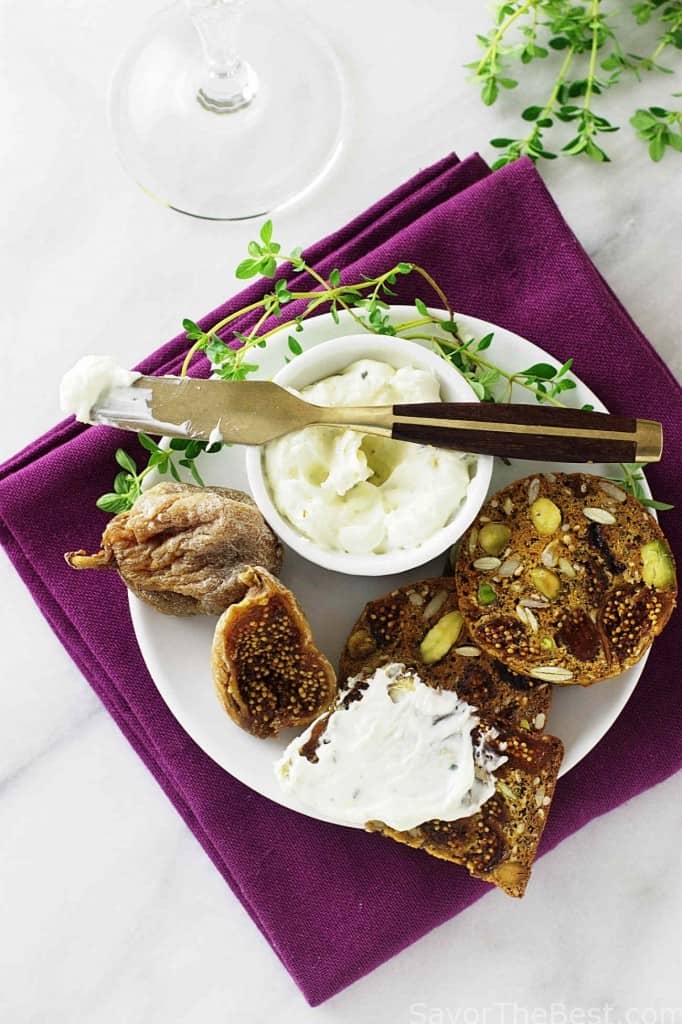 More gluten-free appetizers to check out: Figs and Gorgonzola Superfood Energy Bites Gorgonzola-Chorizo Stuffed Dates Shrimp Cocktail Appetizers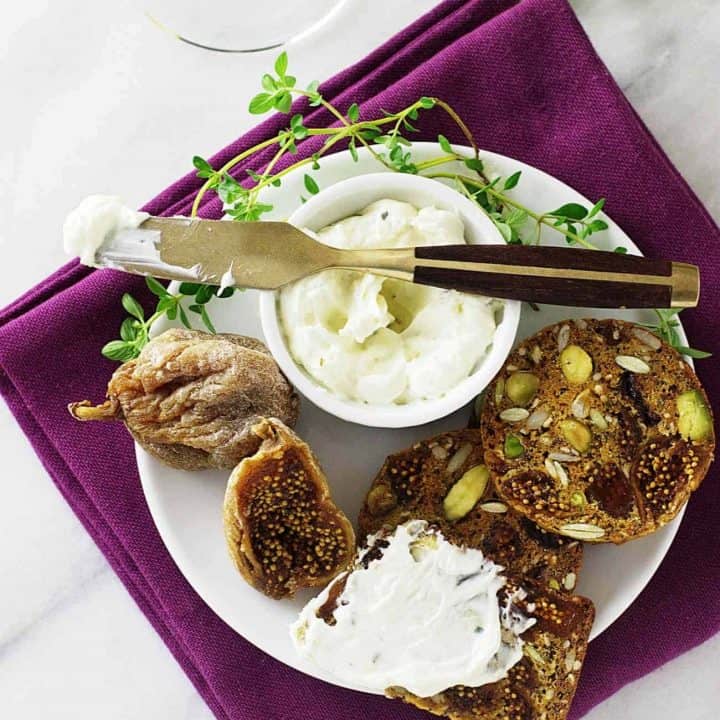 Gluten-Free Artisan Crackers
Yield: 150 crackers
Prep Time: 45 minutes
Cook Time: 2 hours
Total Time: 2 hours 45 minutes
These gluten-free artisan crackers are crisp, thin and packed with organic dried figs, organic raisins, pistachio nuts and several kinds of seeds. We served these crackers with a lemon-thyme mascarpone cheese spread that compliments the crackers deliciously.
Ingredients
1 1/4 cup (150g) millet flour
1 cup (140g) sweet rice flour
1/2 cup (60g) tapioca flour
2 teaspoons baking soda
1 teaspoon kosher salt
2 tablespoons chopped fresh thyme
2 cups dried figs (I used organic, sun-dried Calimyrna figs)
1 cup organic raisins
1 1/2 cups toasted pistachio nuts
1/2 cup sunflower seeds
1/2 cup pepitas seeds
1/2 cup sesame seeds
1/4 cup poppy seeds
1 1/2 cups whole milk
1 cup Greek yogurt
1 egg white, lightly beaten with a fork
1/2 cup honey
Instructions
Preheat oven to 350˚F. Coat three small loaf pans generously with cooking spray. Using an empty clean 10.5 ounce tomatoes with chiles can (label removed) measure parchment paper and form a tube with it to fit inside the can. Cut a circle of parchment paper to fit the bottom inside. Spray the can and the parchment liner with cooking spray. Reserve
To a large mixing bowl, add the flours, baking soda, salt and chopped thyme and whisk to combine. Add the figs, raisins, pistachios and the seeds to the mixing bowl and toss to combine. Reserve.
In a medium-size bowl, whisk the egg white, yogurt, milk, and honey together and add to the flour mixture. Using a stiff spatula or wooden spoon, combine the ingredients, scraping the bottom and sides well to incorporate the flour mixture well.
Divide the batter into the prepared containers, pressing into the corners and smoothing the tops, set them on a baking sheet and transfer to the middle of the oven.
Bake for 25-30 minute to a golden brown and a testing pick comes clean when inserted into the middle of a loaf.
Transfer the loaves to a cooling rack and allow to cool for 10 minutes, then remove from the pans and allow to finish cooling. Place the cooled loaves into the freezer for 1½ hours to partially freeze in order to slice easier.
Preheat the oven to 250°F Line 2-3 baking sheets with parchment paper and reserve.
With a sharp knife, cut the loaves into ⅛-inch slices, or as thinly as possible. Place the slices on the baking sheets, transfer to the oven and bake for 25 minutes, turn the crackers over and continue to bake for an additional 20 minutes until crisp.
Remove the baking sheets from the oven and transfer to a cooling rack, they will continue to crisp as they cool. Store in an airtight container until serving.
Nutrition Information:
Yield: 30
Serving Size: 5 crackers
Amount Per Serving:
Calories: 225
Total Fat: 1g
Cholesterol: 14mg
Fiber: 4g
Sugar: 11g
Protein: 8g