These superfood energy bites are packed with healthy, nutrient dense foods that are rich in antioxidants, vitamins and minerals. These powerful energy bites are sure to keep you going throughout your busy day or an intense workout.
With superfoods like dark chocolate, protein-packed nuts, and healthy antioxidant-rich fruits, these energy bites will provide your mind and body with sustained energy. They make a great pre or post workout snack or just keep you moving when you are on the go and need to fuel your day.
Nuts are a rich source of mono-unsaturated fatty acids and antioxidants. Regular consumption of tree nuts may help lower bad LDL cholesterol and increase the good HDL cholesterol.
Hazelnuts
Hazelnuts with their skin intact are extremely high in antioxidants and are among the most nutritious nuts with the highest proanthocyanidin levels of any tree nut.
Proanthocyanidins are condensed tannins. They are the same antioxidants found in red wine and dark chocolate. Leave the skin on these nuts for an extra boost in this healthy antioxidant.
Pistachios
Pistachios have the highest protein content in comparison to other tree nuts and are an excellent source of vitamin E which is a powerful antioxidant that helps maintain healthy cells for glowing skin.
Several studies have shown that the antioxidants and other phytochemicals found in fruits and vegetables have a protective effect from cardiovascular disease, cancer and obesity. Cherries are particularly high in these phytocompounds and also known to possess strong antioxidant and anti-inflammatory properties.
Goji Berries
Goji berries are an excellent source of vitamin C and vitamin A and they contain powerful antioxidants. They help promote healthy skin, boost your immune system and protect your eyes.
Goji berries have more beta-carotene than carrots and more iron than spinach. They are a bit more tart and sour than tart cherries but have a higher antioxidant rating than tart cherries and acai combined.
Acai
Acai is another superfood that has powerful antioxidant properties with the same protective effects as tart cherries and goji berries. The phytochemicals in these fruits can help protect against the oxidative damage that causes health problems, weakened immune systems and accelerates the effects of aging.
Honey
A true superfood, honey contains vitamins and minerals, especially B-vitamins, calcium, phosphorus and potassium. It has anti-bacterial, anti-fungal. anti-viral, anti-inflammatory and anti-oxidant properties. In addition, honey is the only form of sugar that will not spoil over time if stored properly.
Honey is nature's energy food. The glucose in the body is absorbed quickly and gives a quick boost while the fructose is absorbed more slowly and gives a sustained release of energy. Combining honey with fruits and nuts gives a natural, balanced energy that gives you a time-released fuel to sustain you over a longer period of time for optimized endurance.
Chocolate
Chocolate stimulates the release of endorphins, natural hormones produced by the brain. These endorphins help increase alertness, create a sense of well-being and boost your memory.
Cacao nibs are the most natural and least processed form of chocolate. The cacao nibs do not have processed sugar. As a result, they are a bit bitter but they have a nutty, chocolate flavor and a crunchy texture. They are an excellent source of antioxidants, flavonoids, fiber, magnesium and iron.
Some other healthy snacks you might like:
We entered this recipe in a recipe contest hosted by Nuts.com. All of the ingredients can be conveniently found on their website.
CONNECT WITH SAVOR THE BEST!
Be sure to follow us on our social media accounts
Facebook | Twitter | Youtube | Pinterest | Instagram
If you make one of our recipes, snap a photo and tag it @savorthebest on Instagram and hashtag it #savorthebest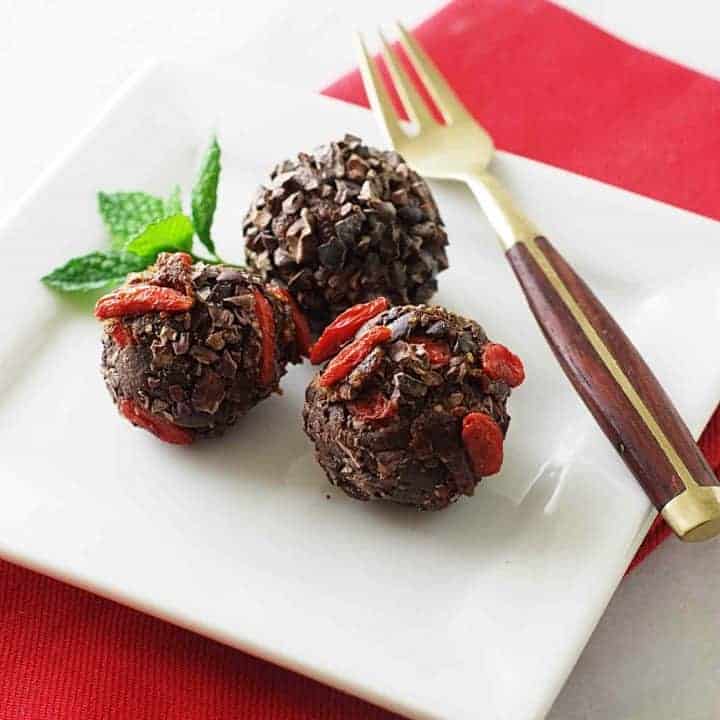 Superfood Energy Bites
Yield: 20
Prep Time: 10 minutes
Total Time: 10 minutes
These energy bites are packed with superfoods that are rich in antioxidants and healthy nutrients to sustain you and keep you going.
Ingredients
For the energy bites
½ cup hazelnuts
½ cup pistachio nuts
½ cup dried tart cherries
½ cup goji berries
3 tablespoons acai powder
2 tablespoons honey
1 teaspoon vanilla extract
¼ teaspoon salt
For the coating
½ cup cacao nibs
¼ cup goji berries
Instructions
In a large food processor fitted with a metal blade, process the hazelnuts and macadamia nuts until crumbly. Add the cherries, goji berries, honey, acai powder, vanilla and salt. Process until a smooth, thick paste forms.
Prepare the coating by placing the cacao nibs and goji berries in a pie plate.
Scoop the dough by heaping tablespoons and roll into balls then roll them in the cacao nibs and/or goji berries to coat them.
Place on a large plate or cookie sheet and chill in the refrigerator for 1 hour before serving.
Keep stored in a sealed container in the refrigerator.
Nutrition Information:
Yield: 20
Serving Size: 1
Amount Per Serving:
Calories: 56
Total Fat: 2.8g
Saturated Fat: 0.7g
Sodium: 36mg
Carbohydrates: 9.5g
Fiber: 3g
Sugar: 4.7g
Protein: 2g