Our incredible, and delicious Kamut grain bowl with roasted chicken and curry sauce is a sure winner any day of the week. This grain bowl is colorful and delicious with a full mix of flavors, sweet, sour, salty, crunchy and creamy that creates a delight to taste buds.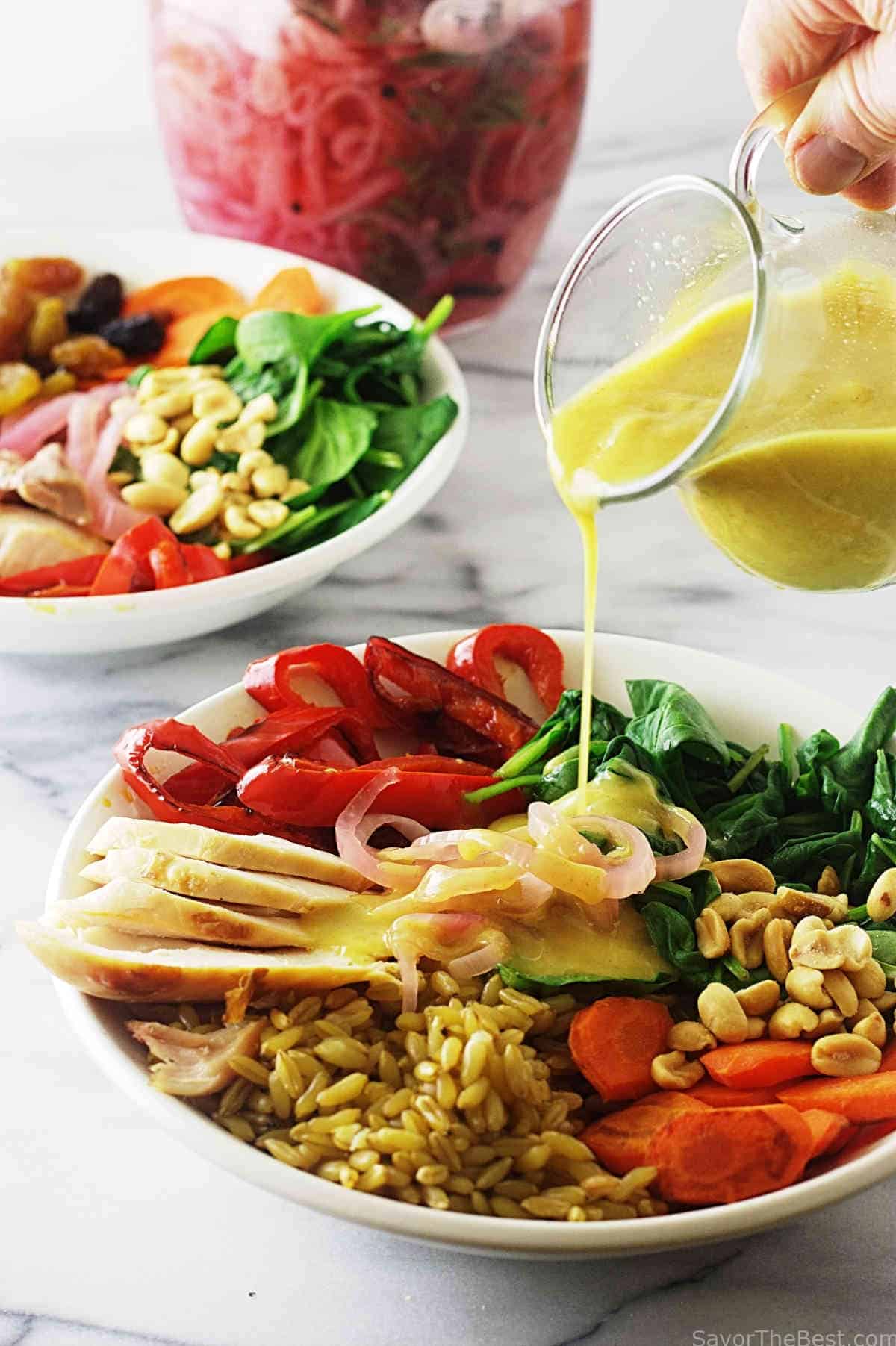 This is a hot grain bowl made easy with rotisserie chicken and a mix of fresh vegetables and all the components of a grain bowl. I chose the nutrient-dense ancient, whole-grain Kamut for our grain bowl because I love the nutty flavor and chewy texture. Plus, I knew that it would be delicious in this grain bowl.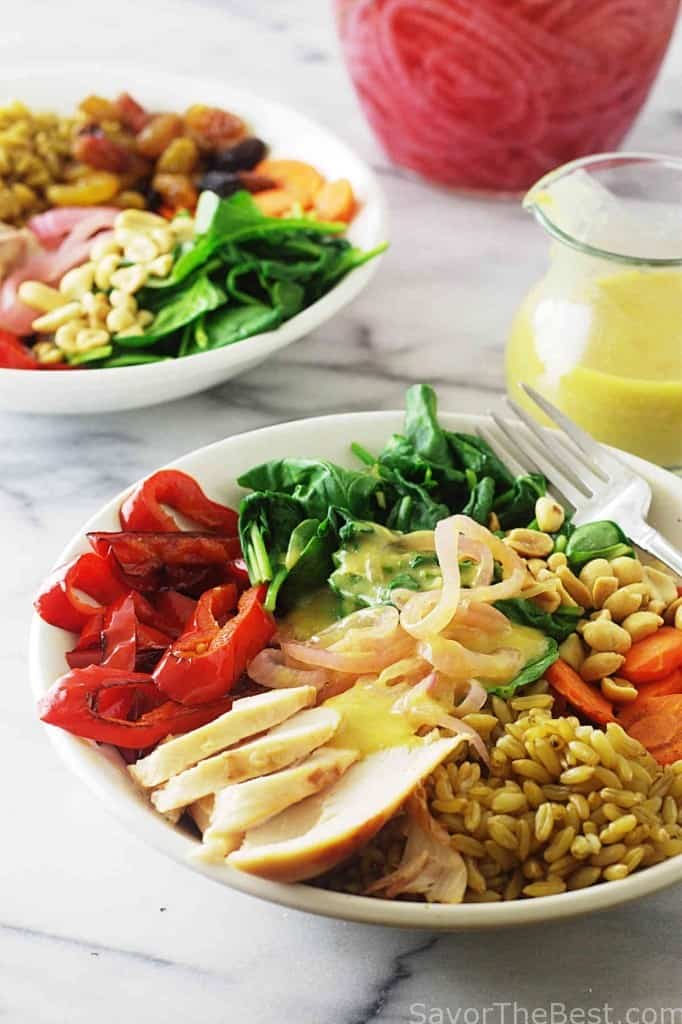 The sliced red peppers are slightly sweet like a bell pepper and are soooo perfect while adding vibrant color to the dish. The sautéed spinach and carrots are tender-cooked and also add tons of flavor and color.
We poured a creamy chicken-curry sauce over the grain, chicken, and vegetables then added a little sweetness from the raisins and the sour of pickled onions. Finally, the crunchy, salty peanuts topped it off. This is a fantastic, full-flavor grain bowl. You will love it!
What is Kamut?
I would like to tell you about this whole-grain Kamut that I used in this recipe. Actually, the common name of this ancient wheat is Khorasan and it is being marketed under the KAMUT® brand. It is an ancient relative of the modern durum wheat originating in the Mediterranean area and dating back to biblical times.
This ancient grain is the same as what the pharaohs ate eons ago. The extra-large size of the grains have a sweet, nutty taste. It is rich in vitamins and nutrition plus it is a powerhouse of protein with 14.7 grams in 3.5 dry ounces of grain.
Kamut is the star of this grain bowl. The cooking instructions on the package said to cook this grain one cup grain and three cups of water for 60 minutes. But the grains do not absorb water and swell up like rice does. When the grain finished cooking I poured it through a fine-mesh strainer to remove the excess liquid.
What fun we had putting together this Kamut grain bowl with roasted chicken and curry sauce. Cooking the grain the day before and then reheating it when needed would really add an edge to creating this grain bowl if you are in a hurry. Maybe you already have some leftover rice or another grain in your refrigerator? Grain bowls would make a fun party-night.
Plan on several varieties of grains, proteins and all the components for guests to construct their own variation. Maybe two or three different themes with matching components for each theme.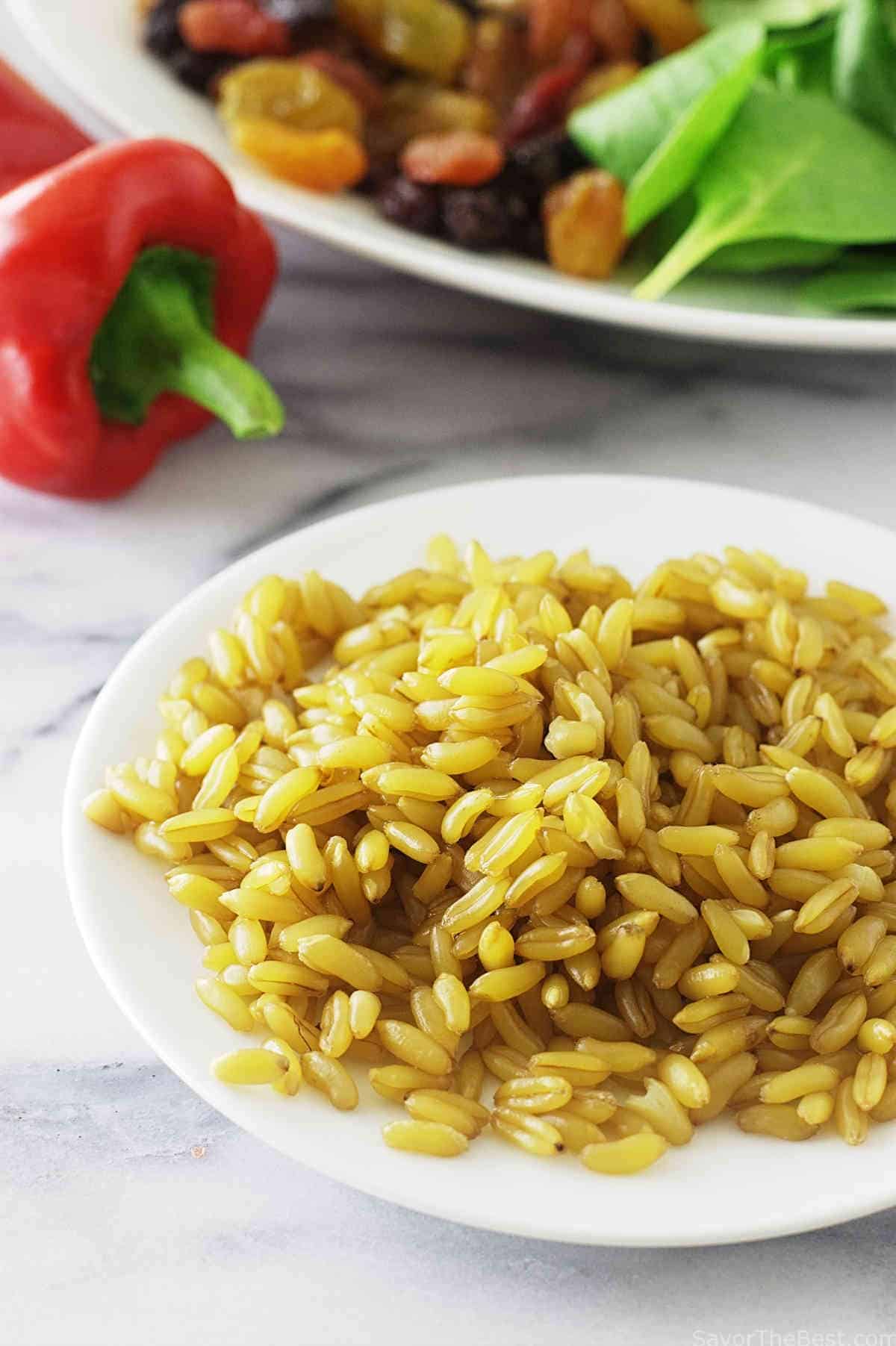 What is a Grain Bowl?
You ask….What exactly is a grain bowl? Well, it is meal-in-a-bowl that is healthy, wholesome, nutritious and delicious. Grain bowls consist of grains, proteins, vegetables, and/or fruits, nuts, seeds, something sour like pickles and some sort of dressing or sauce. A grain bowl can be created as a breakfast, lunch or dinner. There isn't really a recipe; you have full creative control of what is included.
Some general guidelines that I learned are, first of all to choose a theme, maybe a Mediterranean, Mexican, Indian or an Asian bowl as in my Ahi tuna grain bowl. The next step would be to choose a whole grain that complements the theme.
How to Make a Grain Bowl:
This is a great opportunity to try out some of those ancient grains that are becoming so popular again, such as this Kamut or a non-gluten amaranth. Barley, buckwheat, einkorn, farro, millet and teff are also on the 'ancient' list along with many others. Then there are all the old everyday grains that we are familiar with.
Some of those old familiars are also 'ancient' grains such as oats, corn, rice in white, brown and black. Wild rice, which is actually a grass is exceptionally delicious in grain bowls. There are so many choices!
Protein:
Next on the list would be to decide on what type of protein you want to include. It may be a red-meat protein, fish, shellfish, poultry, or eggs but can also include cheese, yogurt, legumes and tofu. Whatever turns you on.
Veggies:
Then, on to the fun part….choosing some veggies. Check out what is right there in your refrigerator. Choose two or three varieties, they can be raw, steamed or sautéed or any way you want. Your grain bowl should have some leafy greens included in there. How about sautéed wilted spinach, chard or kale? Try spicy arugula, dandelion and mustard greens or bok choy.
Choose at least one non-leafy vegetable like carrots, raw bean sprouts. Tender sliced green scallions, smoked eggplant, asparagus and broccoli are great choices. And don't forget the squash family, roasted winter squash….butternut, carnival or delicata are delicious. I could go on and on as the choices are endless. But the best choice is to include what is in season as it will be fresh and the most nutritious.
Choose a Sauce:
You will also need a sauce or dressing and a couple condiments that will additionally compliment your theme. The important thing is to stay with one main flavor profile. A Mediterranean grain bowl could have a pesto, tzatziki, yogurt or roasted red pepper sauce. A soy or peanut sauce would be great in Asian grain bowls. A dash of Sriracha sauce or salsa would be wonderful in a variety of themes and a mango salsa is delicious in Caribbean bowls. There is also, balsamic vinegar, yogurt or a dollop of sour cream.
Add Some Crunchy, Sweet, Sour and Salty:
Finally, there are the add-ons that will take the flavors and textures of your grain bowl to a new dimension. This should include something crunchy like toasted seeds or nuts. Crisp bacon bits, chopped crisp carrots or crunchy croutons all work well.
Something sour is a must. Choices to include would be pickled vegetables like cucumbers, radishes, ginger root, red onions or green beans.
You could add some sweetness like dried cranberries, raisins or coconut. And still staying with the theme you could add some creamy goat cheese, avocado slices or savory cheese such as cheddar bits, shredded parmesan or gorgonzola. Again, keep the choices within the theme. I think it would taste odd to have a strong gorgonzola topping off an Asian grain bowl.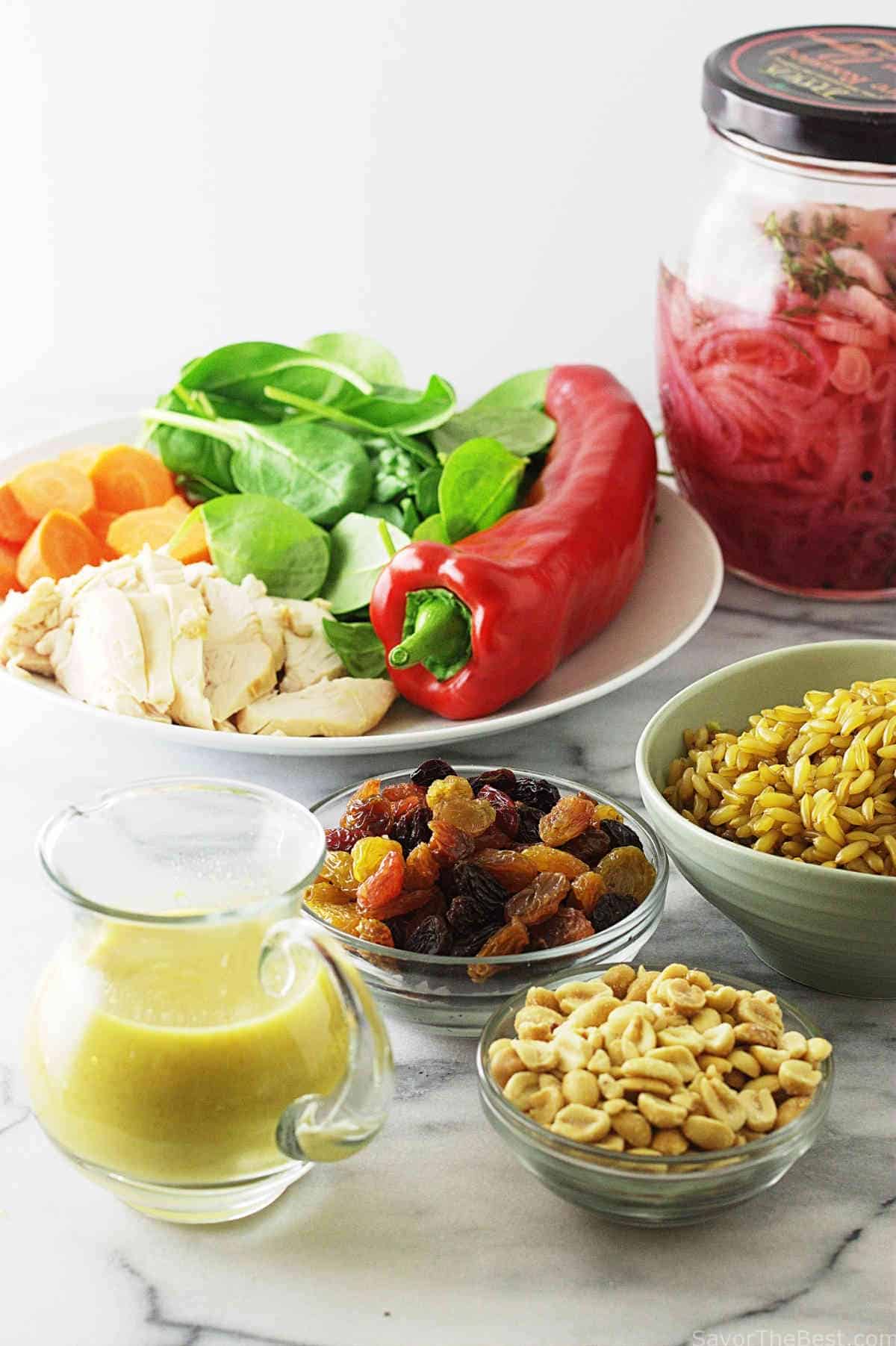 Assembling The Kamut Grain Bowl With Roasted Chicken and Curry Sauce:
So, how do we go about putting this all together? Take a look at your bowl and figure that one-third will be comprised of the whole grain and protein with the protein about four ounces.
Add two to four fresh vegetables, either raw or cooked or a combination of both. The bowl will be pretty full at this point. The add-ons of crunchy, creamy and tangy will fill it up. Spoon on the sauce or dressing, dig in and enjoy!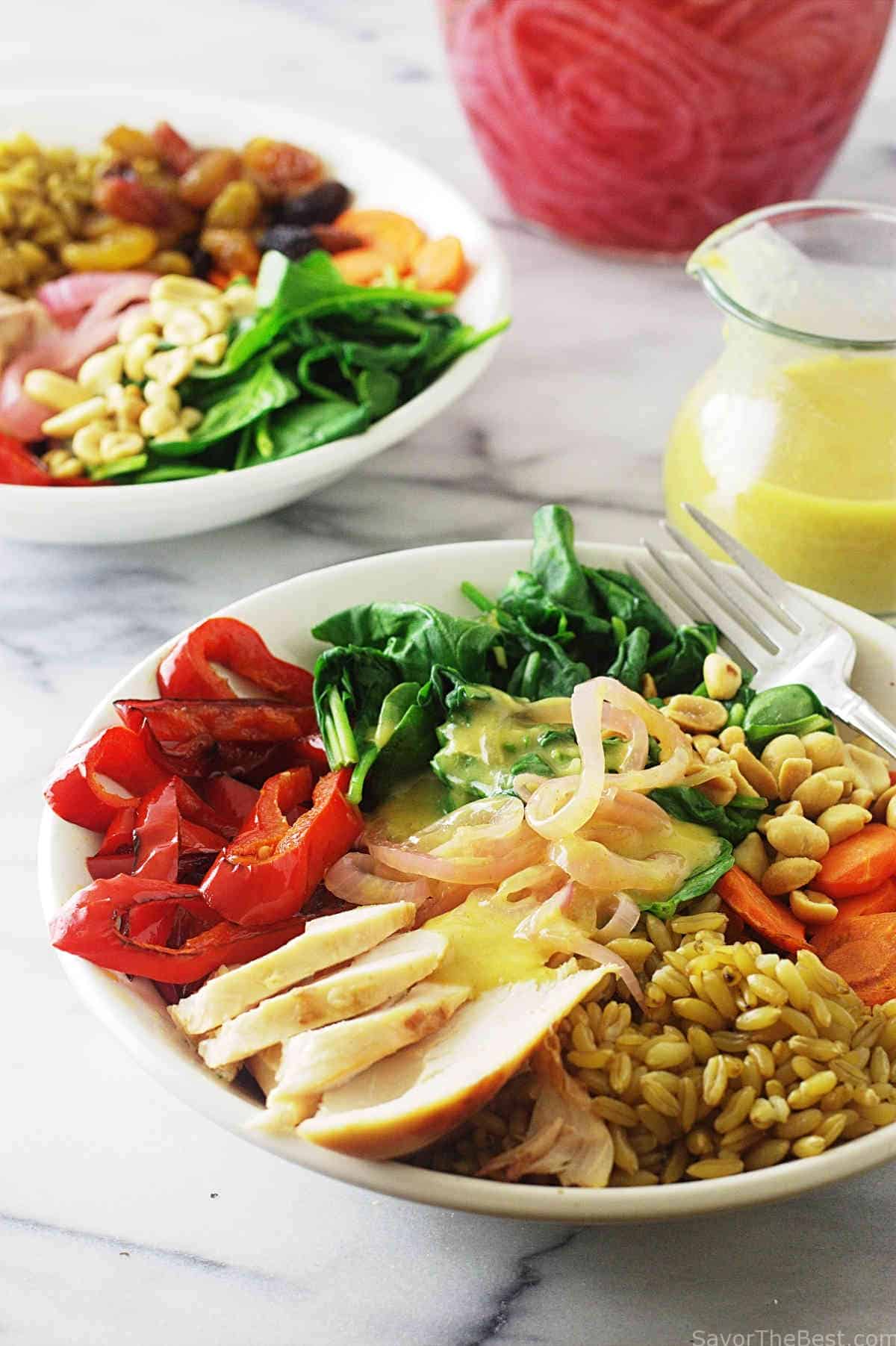 More one-pot/dish meals:
CONNECT WITH SAVOR THE BEST!
Be sure to follow us on our social media accounts
Facebook * Instagram * Pinterest * Twitter * Youtube
Did you make this recipe? We would love to hear from you. Drop us a comment below.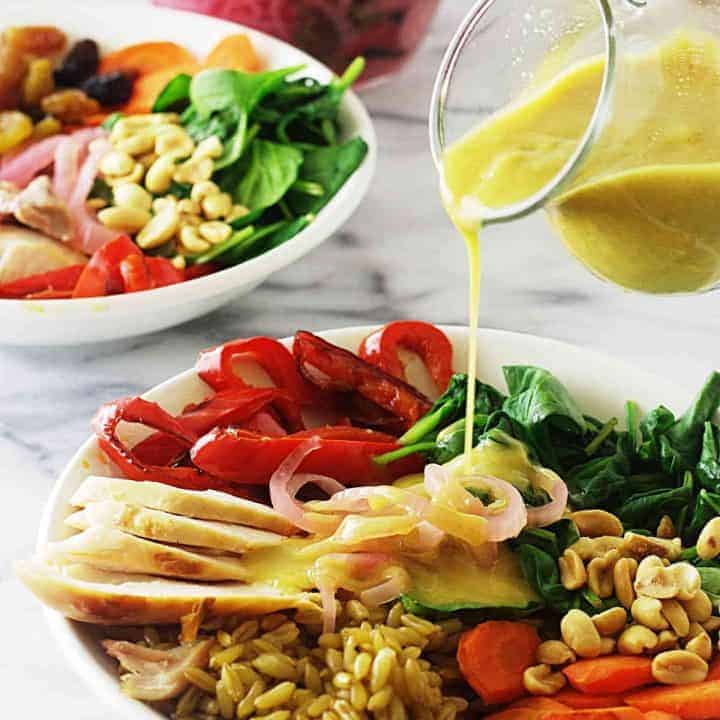 Kamut Grain Bowl with Roasted Chicken and Curry Sauce
Yield: 4 servings
Prep Time: 30 minutes
Cook Time: 1 hour
Total Time: 1 hour 30 minutes
This grain bowl is a one-dish meal as a kamut grain bowl with roasted chicken. We combined a variety of vegetables, nuts, raisins and pickled onions and topped it off with a creamy curry sauce.
Ingredients
To Cook the Kamut Grain:
For the Bowl:
16 ounces cooked chicken (I used part of a rotisserie chicken)
2 tablespoons coconut or olive oil
4 carrots 6-inches each, scraped and sliced 1/4-inch thick
2 medium long red Italian grilling peppers or red bell peppers
5 ounce package fresh baby spinach
1 cup pickled red onions
1 cup raisins
1 cup peanuts, roasted and salted
To make the Curry Sauce:
2 tablespoons butter
2 tablespoons flour
1 1/2 cups chicken broth
1 cup canned coconut milk
1 1/2 teaspoon Indian curry powder (or to taste)
Instructions
Combine the kamut with the water in a pot and bring to a boil. Reduce heat to low, cover and simmer for about an hour, until grains are tender.
To cook the vegetables:
Heat the oil in a large skillet set over medium-high heat and add the carrots, cook for 4-5 minutes until just tender. Transfer to a plate and add the red pepper slices, cook until softened. Transfer to a second plate. Add the spinach to the skillet with 2 tablespoons of water and cook just until wilted.
To make the Curry Sauce:
Melt the butter in a heavy-bottomed saucepan. Stir in the flour and cook, stirring constantly, until the paste cooks and bubbles a bit, but don't let it brown— about 2 minutes. Add the chicken broth and the coconut milk, continuing to stir as the sauce thickens. Bring it to a boil. Add the curry powder to taste, lower the heat to simmer and cook, stirring for 2 to 3 minutes more.
To assemble the grain bowls:
Divide the kamut, chicken, carrots, red pepper and spinach equally between 4 shallow bowls. Pour a healthy amount of the curry sauce on top and add 1/4 cup pickled red onions, 1/4 cup raisins and 1/4 cup peanuts to each bowl.
Notes
For convenience the kamut and the curry sauce can be prepared the day before and refrigerated. Simply reheat them while cooking the vegetables.
Nutrition Information:
Yield: 4
Serving Size: 1
Amount Per Serving:
Calories: 428
Total Fat: 22g
Saturated Fat: 10.6g
Cholesterol: 10.8mg
Sodium: 310mg
Carbohydrates: 40g
Fiber: 6g
Sugar: 14g
Protein: 25g