I have jumped on the wagon to create this Ahi Tuna Grain Bowl, sushi style. Sushi is one of my great culinary delights and I can eat it for breakfast, lunch, dinner or anytime.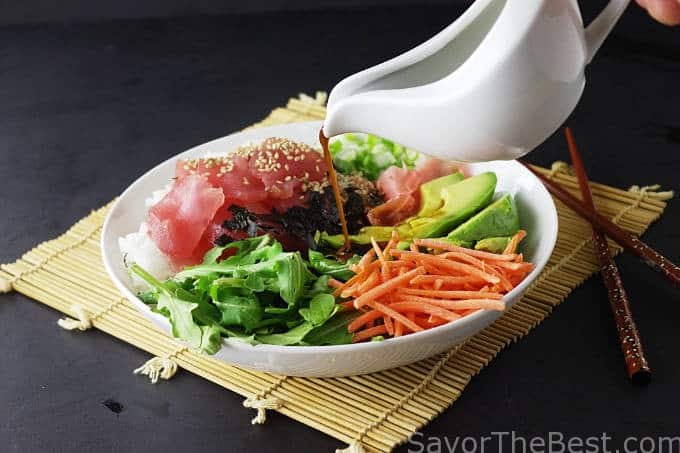 I love this Ahi tuna grain bowl and it has all the components of a sushi roll. There is a blend of flavors from the tangy vinegar rice, fresh smooth ahi tuna, creamy avocado and the crunch from the scallions and carrots.
I added some pickled ginger, toasted sesame seeds and chopped nori seaweed, then topped it all off with a dressing made from soy sauce, wasabi paste and sesame oil. It was the best-tasting grain bowl I have had yet!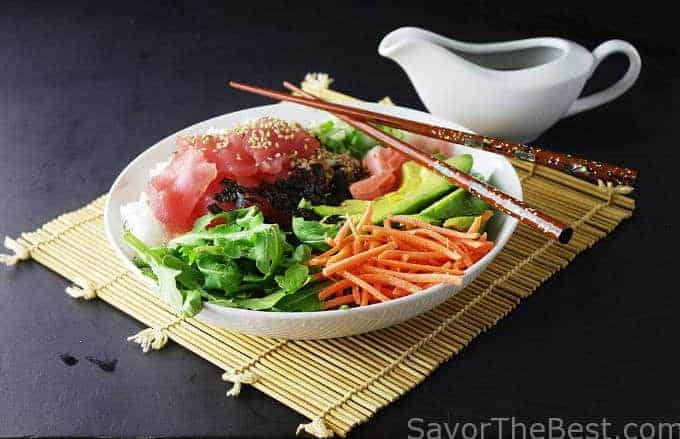 WHAT IS A GRAIN BOWL?
Grain bowls are healthy, wholesome, nutritious and delicious. They consist of grains, proteins, veggies, and/or fruits, nuts, seed and some sort of dressing or sauce. It can be a hot grain bowl or a cold one like my ahi tuna grain bowl.
Choose a theme and put it together with appropriate grains, proteins, veggies and sauces or dressings.

Then, choose the add-ons which will take the flavors and textures of your grain bowl to a new dimension.

The add-ons should include something crunchy like toasted seeds or nuts, crisp bacon bits, chopped crisp carrots or crunchy croutons they all work well.

Other choices to include would be pickled vegetables like cucumbers, radishes,

red onions

or

green beans.
You could also add some sweetness like dried cranberries, raisins or coconut. Be creative, have fun and enjoy.
HOW TO CREATE THIS AHI TUNA GRAIN BOWL: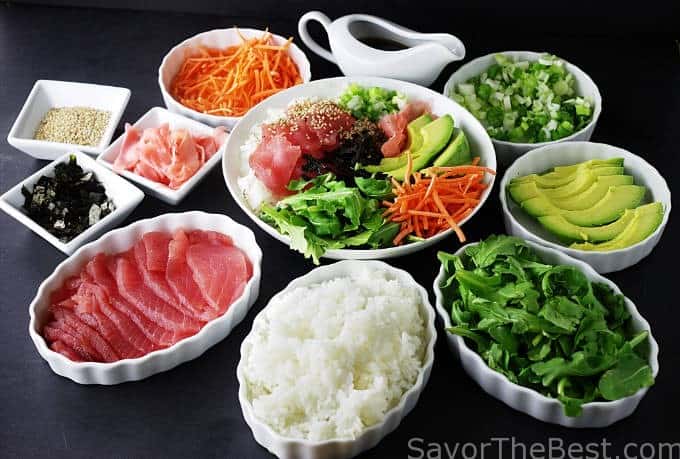 In making my ahi tuna grain bowl, I eyeballed the bowl for size and mentally sectioned it off and added about one cup of sushi rice, which was about one-third of the bowl.
I topped it with a good four ounces of thinly sliced fresh ahi tuna, then about a half-cup of arugula and a half-cup of the crunchy raw carrots.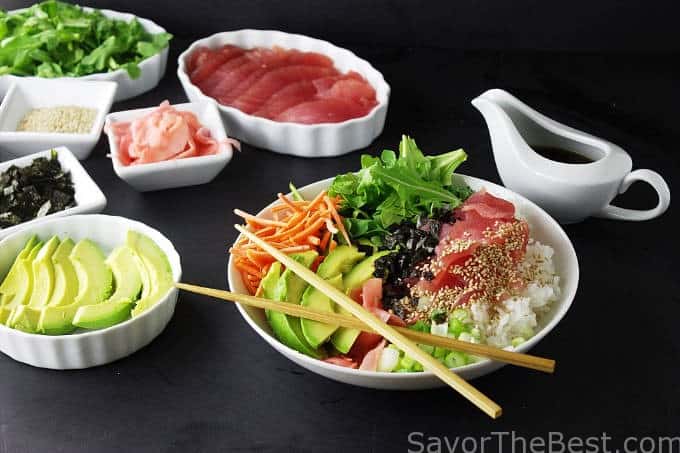 Next I added a couple tablespoons of sliced scallions, one-forth of a creamy avocado and a little pickled ginger.
The toasted sesame seeds and chopped nori was sprinkled on top of the rice/tuna section. Finally, a salty- spicy dressing was pored over the top. I'm telling you, this was so good!
Some More Recipes You Will Love:
Connect With Savor the Best:
Please follow us on our social media accounts
Facebook * Instagram * Pinterest * Youtube * Twitter
Did you make this recipe? We would love to hear from you. Drop us a comment below.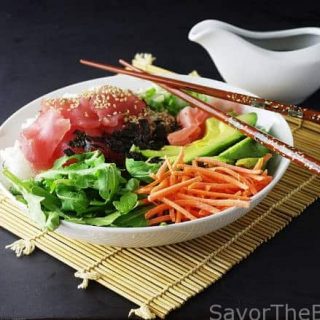 Ahi Tuna Grain Bowl
This grain bowl has all the components of an ahi tuna sushi roll. With vinegary rice, fresh tuna, crunchy veggies. It is topped off with pickled ginger, sesame seeds and chopped nori and a wasabi-soy sauce.
Ingredients
For the Sushi Rice:
2 cups sushi or short grain rice
2 cups water, plus extra for rinsing rice
1/4 cup rice vinegar
1/4 cup sugar
2 tablespoon kosher salt
For the Dressing:
1 cup soy sauce
4 tablespoons toasted sesame oil
2 tablespoons prepared wasabi
For the Filling:
1 pound fresh Ahi tuna, thinly sliced
2 cups fresh arugula
2 cups shredded carrots
1 cup chopped green onions
1 avocado, sliced
1/2 cup toasted sesame seeds
8 ounces pickled ginger
1 nori seaweed sheet, chopped
Instructions
Add the rice to a medium-size saucepan and rinse with cold water, drain through a strainer and repeat rinsing and draining until the water is clear.
Add 2 cups of water to the saucepan and place over high heat. Bring to a boil, uncovered, then reduce the heat to moderate heat and cover. Cook for 10 minutes. Reduce the heat to low and continue cooking for 10 minutes. Remove from the heat and let stand, covered, for 10 minutes and fluff with a fork. Transfer the rice to a non-metallic bowl and reserve while making the vinegar dressing.
Add the rice vinegar, sugar and salt to a small saucepan over moderate heat stirring until disolved. Drizzle the vinegar mixture over the reserved rice and using a non-metallic utensil such as a silicon or rubber spatula, fold the rice thoroughly, combining and coating the rice. Reserve
For the Dressing:
To a pint jar with a lid, add the soy sauce and sesame oil. In a small dish add the wasabi paste and enough water to make a thin consistency. Add the wasabi to the jar, put the lid on and shake to combine. Reserve
To assemble, prepare four bowls in the following manner: Add one-forth of the rice to each bowl and top with four-ounces of sliced tuna, one-half cup of arugula, one-half cup carrots, one-forth cup of green onions, one-forth of the avocado slices and two-ounces of the pickled ginger. Sprinkle two tablespoons of the sesame seeds and one tablespoon of the seaweed on top of the tuna.
Spoon one-forth of the dressing over the top of each bowl and serve.
Nutrition Information:
Yield:

4
Serving Size:

1
Amount Per Serving:
Calories:

927
Total Fat:

41g
Saturated Fat:

6g
Trans Fat:

0g
Unsaturated Fat:

33g
Cholesterol:

63mg
Sodium:

7794mg
Carbohydrates:

90g
Fiber:

12g
Sugar:

29g
Protein:

50g
Nutrition information is a guideline only, is calculated automatically by third-party software, and absolute accuracy is not guaranteed.