This Ahi Tuna Poké Bowl just might be the easiest one-bowl, healthy recipe you make! If you're a fan of a traditional Hawaiian Poke bowl, you'll loooooove this quick and tasty Ahi tuna bowl. And what's not to love? Rich, tender cubes of marinated sushi-grade Ahi tuna, avocado cubes and pickled ginger, all served over sushi rice– the perfect healthy lunch or dinner bowl you can assemble quickly and enjoy.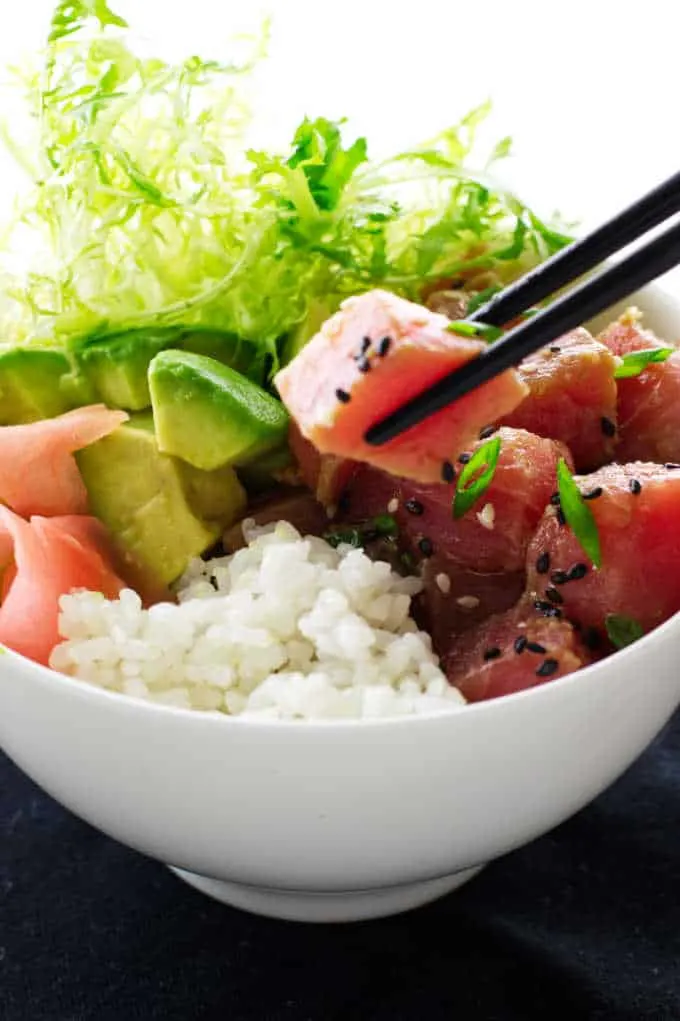 Do you know the correct way poke is pronounced? I always called it poke as in 'I'm going to poke you in the ribs' but the proper pronunciation is….poh-kay as in, "Okay! Let's have Ahi tuna poke for dinner tonight". It is often spelled with a hyphen over the word….Poké.
What is in a poke bowl?
Ahi tuna poke bowls are Hawaiian to the core. This native Hawaiian dish is popular in most Hawaiian restaurants and cafés, even grocery store delis in the islands carry fresh poke. Ahi tuna bowls are now very mainstream, although you don't have to order take-out to get to enjoy poke anymore. All the ingredients you need are very accessible!
Here's what you need to make an Ahi Tuna Poke bowl:
Sushi rice. Make sure you get sushi rice which has more starch than normal rice.
Nori (roasted seaweed)
Powdered sushi seasoning mix (we like Tamanoi Sushinoko)
Fresh sashimi-grade Ahi tuna. Ask your fish supplier if you not sure.
Soy sauce and Sesame oil.
White or black sesame seeds.
Fresh ginger root.
Green onion, avocado, and salad greens (for garnish)
So, what's with eating raw fish?
Yep, you can eat Ahi tuna raw! When Ahi tuna is raw it is smooth and silky and has a clean, fresh flavor. It is a delicacy. But we realize that not everyone enjoys tuna raw. If that is the case for you, go ahead and sear the fish first.
You also need to make sure you are especially careful when you select the Ahi tuna for raw consumption. Make sure it is fresh or freshly frozen. The FDA recommends selecting previously frozen fish if you plan to eat it raw. Freezing the fish helps kill off any parasites.
But freezing doesn't kill ALL the parasites. There is still some risk involved when you eat raw fish. So if you are pregnant, immune-compromised, very old, or very young, you should cook the fish first.
However, if you are reading this post you probably love raw fish as much as we do. Check out our black rice sushi rolls, our tuna crudo, our tuna sashimi salad or even a grilled tuna steak that we just flash sear, keeping it rare in the center.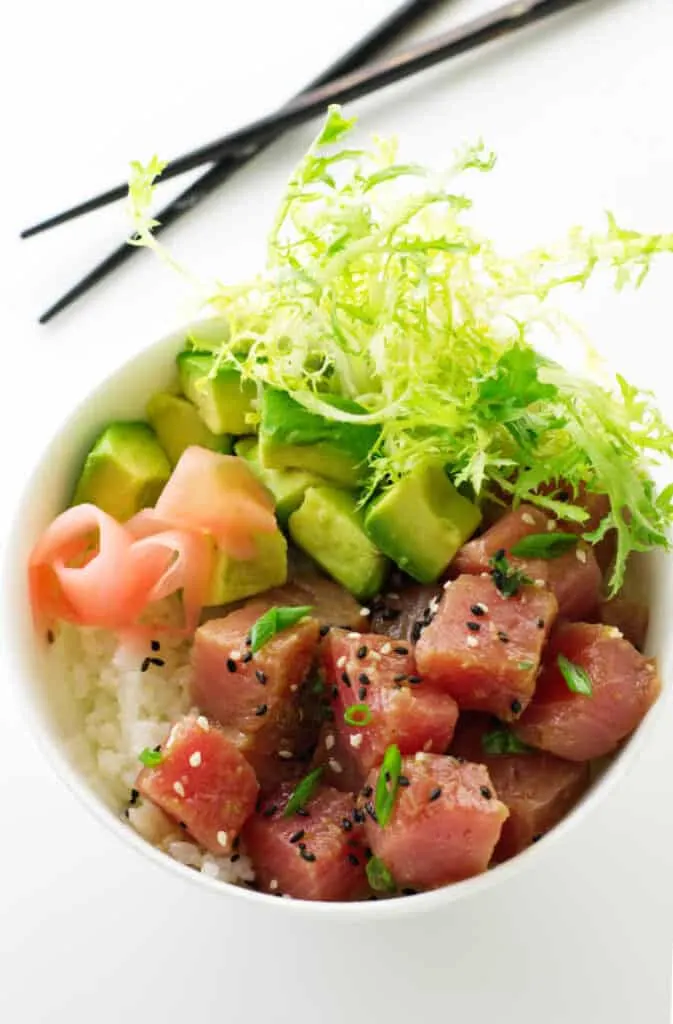 How to make an Ahi tuna poké bowl
I love how simple of a process this is! Just a few steps (FOUR steps to be exact!) and you've got yourself a restaurant-style Ahi tuna bowl. Here's how it all comes together:
Make the sushi rice, fold in the sushi seasoning and set aside to cool.
Cube the ahi, mix the marinade and pour over the tuna. Chill in the refrigerator for five minutes.
Dish up the sushi rice and arrange marinated ahi cubes on top.
Cut the avocados to top the bowls and garnish with pickled ginger and salad greens.
Make sure you scroll all the way down to the printable recipe card for detailed instructions.
Pro tips for assembling an Ahi tuna poké bowl
Although a homemade Ahi tuna poke bowl is a super simple recipe, there are a few things to keep in mind to make sure your Hawaiian poke bowl turns out perfect:
We suggest mixing the cooled sushi rice in a wooden, glass or plastic bowl with non-metal utensils. Metal can react with the vinegar and affect the taste of the rice.
If you don't have powdered sushi seasoning mix, you can make it from scratch by combining 1/4 cup of rice vinegar, 1 tablespoon of sugar and 1/2 teaspoon of table salt. Stir until dissolved, then fold into the hot sushi rice.
Don't forget to chill the rice before assembling!
If you marinate the tuna too long, you'll compromise the texture of the ahi and it will turn into ceviche. Only marinate for 5 minutes!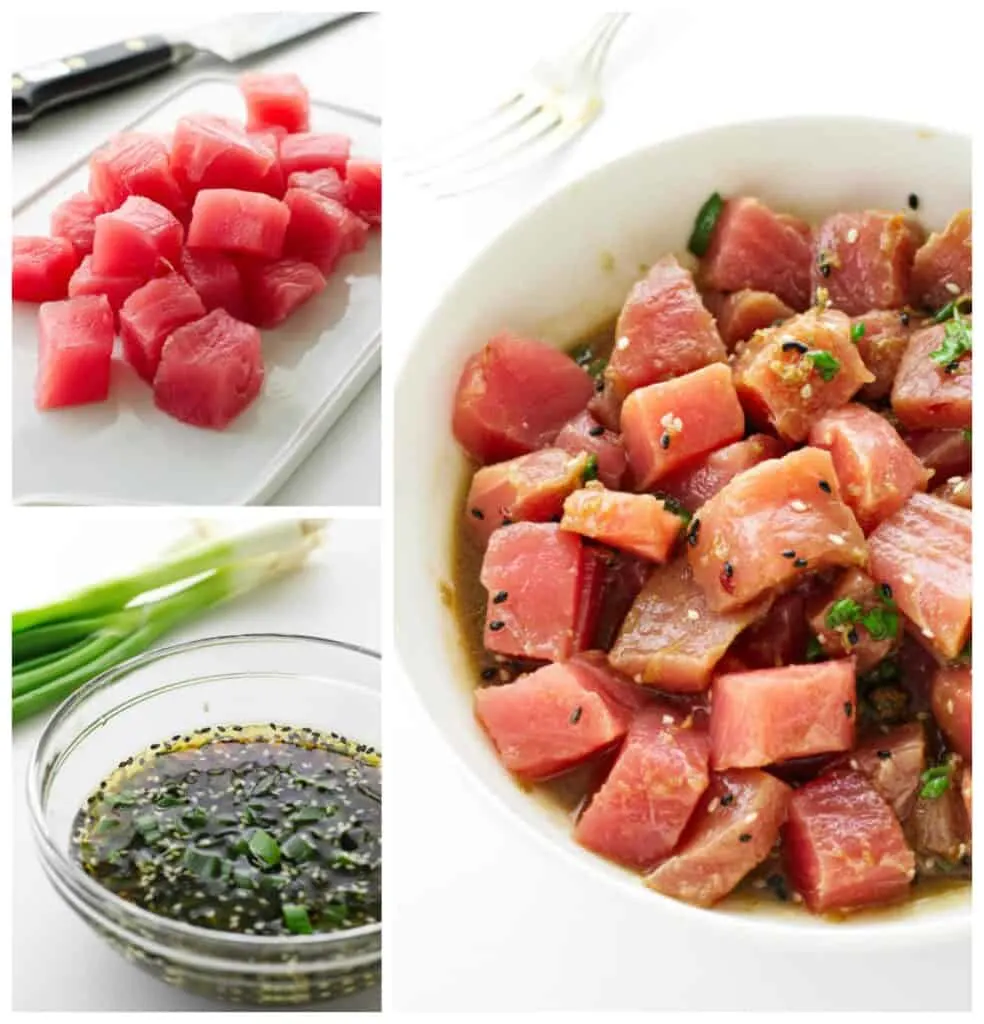 The Poke Sauce
Speaking of marinade, the poke sauce for this Ahi tuna bowl is so simple and consists of ingredients you might already have on hand:
That's it! A poke marinade/sauce that is easy enough for even the busiest weeknights. And, no need to spend a lot on a restaurant-style Ahi tuna poke bowl when you can enjoy it homemade! Double win if you ask me. 😉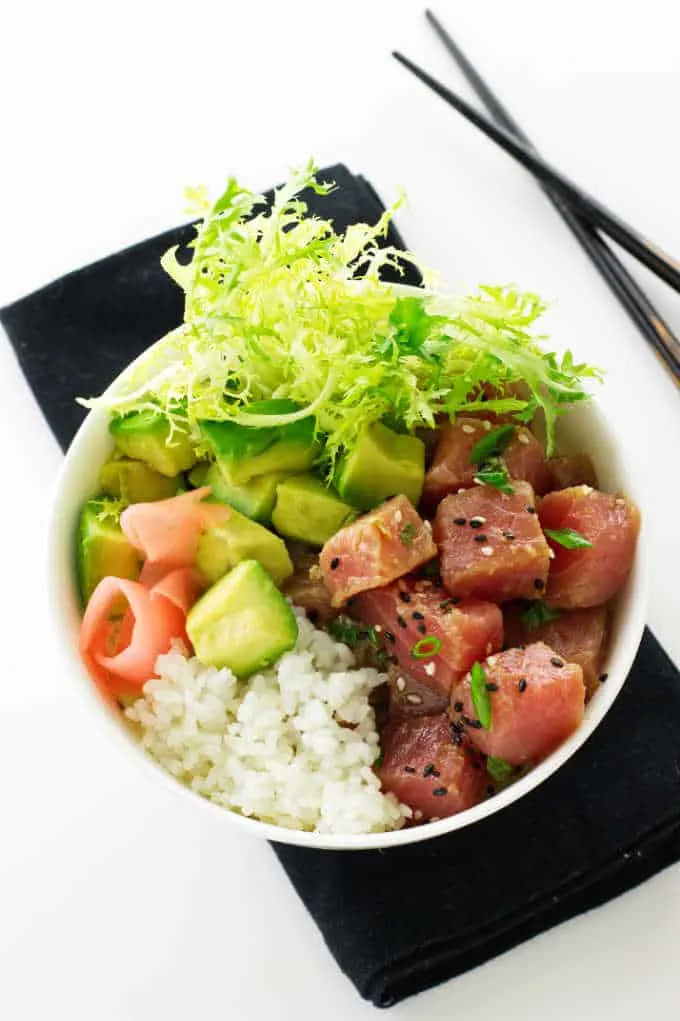 SOME OTHER RECIPES WE ARE SURE YOU WILL LOVE:
Are you looking for something to serve with this Ahi tuna poke bowl? Try this light and crunchy Japanese cucumber salad. It is a perfect side for any poke bowl.
Ahi Tuna Grain Bowl: This grain bowl has all the components of an ahi tuna sushi roll. There is a blend of flavors from the tangy vinegar rice, fresh smooth ahi tuna, creamy avocado and the crunch from the scallions and carrots.
Smoked salmon Philadelphia rolls: These sushi rolls are filled with smoked salmon, cream cheese, cucumber, and avocado. They are a great way to introduce yourself to sushi.
Connect With Savor the Best:
Please follow us on our social media accounts
Facebook * Instagram * Pinterest * Youtube * Twitter
Did you make this recipe? We would love to hear from you. Drop us a comment below.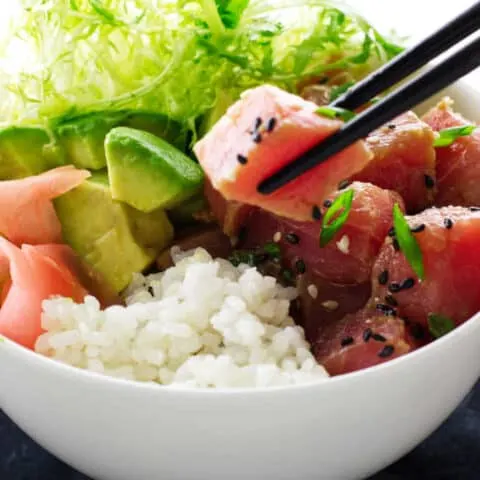 Ahi Tuna Poké Bowl
Fresh, sushi-grade tuna cut into cubes and lightly marinated in a zesty sauce. Served with sushi rice, avocado cubes and sweet-tangy pickled ginger. Yum!
Ingredients
For the Sushi Rice:
2 cups (400g) sushi rice
2-1/2 cups water
1/4 piece nori sheet
1 package powdered sushi seasoning mix (we use Tamanoi Sushinoko)
For the Ahi Poké and Marinade:
1 pound fresh sashimi-grade Ahi tuna
4 tablespoons soy sauce
3 tablespoon sesame oil
1 teaspoon white or black sesame seeds or a mix of both
1 teaspoon chili garlic sauce
2 teaspoons grated or minced fresh ginger root
1 teaspoon honey
1/2 cup sliced green onion, green parts only
1 avocado, cut into 1-inch cubes
Pickled ginger
Salad greens for garnish
Instructions
For the Sushi Rice:
Place rice in a strainer and rinse with cold running water, stirring with your hands for 10-15 seconds only.
Drain well and transfer to a large saucepan with water and nori. Bring to a boil over medium heat, reduce heat to low, cover the pan with lid, set timer and cook for 15 to 18 minutes. Do not lift the lid.
Remove from the heat. Do not remove the lid, and let undisturbed for another 15 minutes.
Lift the lid off the saucepan and remove the nori. Transfer the hot rice to a large shallow bowl such as a wooden or glass salad bowl. (see notes)Sprinkle 1/2 of the package of sushi seasoning over the hot rice and gently fold with a silicon or rubber spatula. Add the remaining package of seasoning mix and fold into the rice.
Cover with a kitchen towel and cool to room temperature.
For the Ahi Poké and Marinade:
Cut the tuna into 1-inch cubes and place into a large bowl.
In a small dish add the soy sauce, sesame oil, sesame seeds, chili garlic sauce, ginger, honey and green onions.
Whisk to combine, pour over the tuna cubes and gently fold together. Refrigerate for 5 minutes.
Assembling the Ahi Poké Bowl:
Divide the cooled sushi rice equally into 4 bowls.
Arrange 1/4 the marinated Ahi cubes on top of each bowl of rice.
Divide and add the cut avocado between the bowls.
Garnish with pickled ginger and salad greens.
Notes
Mix the cooled sushi rice in a wooden, glass or plastic bowl with non-metal utensils. Avoid metal as there will be a reaction from the vinegar that affects the taste of the rice.
Powdered sushi seasoning mix is available in most Asian markets.
To make the sushi seasoning from scratch combine 1/4 cup of rice vinegar with 1 tablespoons sugar and 1/2 teaspoon table salt. Stir until dissolved than fold into hot rice.
Be sure to cool the rice before assembling the Ahi tuna bowl.
Marinating the tuna too long will affect the texture of the tuna and become ceviche.
Nutrition Information:
Yield:

4 Servings
Serving Size:

4 oz tuna/1 cup rice
Amount Per Serving:
Calories:

564
Total Fat:

28g
Saturated Fat:

5g
Trans Fat:

0g
Unsaturated Fat:

22g
Cholesterol:

115mg
Sodium:

1492mg
Carbohydrates:

43g
Fiber:

6g
Sugar:

5g
Protein:

35g
Nutrition information is a guideline only, is calculated automatically by third-party software, and absolute accuracy is not guaranteed.